Valentine's Day is here! But you probably didn't realize until it was too late. Maybe you were too busy studying or working yourself to the bone. We've all been there. But there's no need to fret! We've got some great last-minute beauty tips that are simple, chic, and oh-so flirty. You'll be able to put together a spectacular Valentine's Day look in literally no time and look your best for bae on the most romantic holiday of the year.
Get "Sweetheart" Hair For A Dreamy Valentine's Day Look
So, you have a date but no time to get a new haircut at the salon. You don't even know what to do to your hair to spice things up. Don't worry. Here's a dreamy shade of pink with swirls of gold and purple for your hair.
You don't even need to commit 100% to this romantic look. You can just use a temporary dye like L'oreal's Colorista, which washes out in the shower.
Try Some Red Eyeliner Like Kendall Jenner
Red is the color of love. With a single flick of your wand, you can end up with the perfect touch of red eyeliner that'll make any eye color stand out. You don't even need to go over the top with it. Whether you choose a burgundy shade or a bold red color, it will let your bae know you're head over heels in love… with this holiday.
A Bold Leather Jacket With Romantic Detailing
Leather jackets may not sound like the most romantic accent you can put on top of a dress. Unless you know how to work it! If that's not the case, but you want to try something bold, go for a  leather jacket with romantic detailing like pink roses. You'll look like a total rebel in search of love.
Add A Thick Black Ribbon On Top
Picking out your last-minute outfit is tough enough. Don't waste precious minutes on your hair. Just wrap a thick black ribbon to keep your hair in place. It will look adorable, stylish, and you won't have to worry about wind messing up your hair.
A Low Ponytail And A Statement Lipstick Will Steal The Spotlight
Nail the "effortlessly chic" look by combining the brightest red lipstick you own with a middle-parted low ponytail. Dust some golden highlighter on the highest points of your face for that top model glow. You'll be hinting all night that you mean some serious business in February's most romantic holiday.
Boyfriend Jeans And A Stylish Pink Blazer
Relax! It's a date. You're not going to the Grammys. So, slip into a comfy blush blazer, a white tee and some boyfriend jeans. If you're feeling bold, you can wear a pair of neutral heels. But lace-up flats can look equally adorable.
Don't Be Afraid Of A High Bun With Flyaways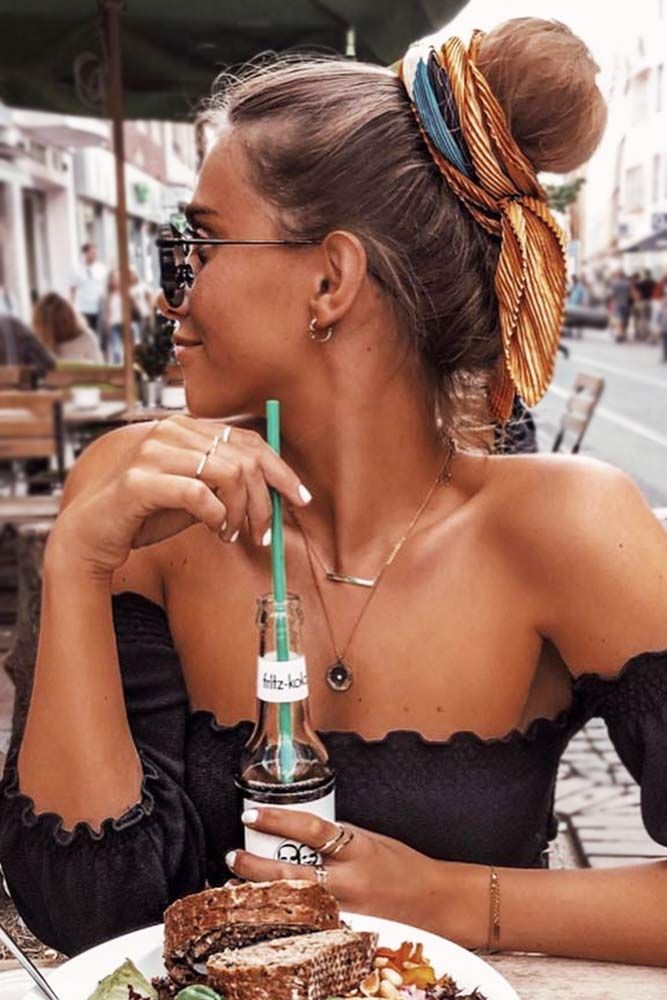 Sometimes, super perfect and polished hairstyles can end up looking way too rigid. But you can counter this by putting your hair up, then tugging down a few strands along the temples. That way your face will be framed by these little flyaway fuzzies while the rest of your hair is in a high bun. Add a scarf for a touch of extra glam.
A Simple Red Stain And Glowy Skin
You don't need to spend hours in a makeup chair to look great for your date. Sometimes, a red stain on your lips and bright glowy skin is really all you need. You can get the latter by using a body lotion that moisturizes your skin while adding a touch of shimmer. Try Juicy Skin Care's Gold Glitter Up, ($18.94) or Hempz Coconut Fusion Herbal Shimmering Body Souffle, ($8.88) Grab a fluffy brush and dust some rose gold highlighter on your shoulders and your clavicle for an extra 3d effect.
Try Jeans, A Graphic T-Shirt, And A Statement Coat
You won't feel underdressed if you go for a nice pair of jeans and a graphic t-shirt and you pair it up with a statement (faux) fur coat. While you're at it, slip into a pair of stiletto heels. Go the extra mile by adding dark sunglasses and a flashy lip color.
Get Head Over Heels Allover Glow
Highlighter is our best ally. There's no denying it. But there are other ways to get that gorge allover glow. Try a quick face massage using Neutrogena Hydro Boost Serum before putting on makeup and you might blind your date with your skin's sensational glow.
Try Something Edgy But Stylish
Have fun with a style that's new and edgy. Don't be afraid to mix and match to create an ensemble you've been too afraid to wear before. Daring combos can make you look oh-so-elegant, especially if you wear them with confidence.