Toothpaste is a reason behind your shiny white smile. Well, it's not just that. It is a very flexible item, not only vital for oral hygiene, but it also has many important uses in our daily lives. Right from cleaning your teeth to clean your pimples, from cleaning your shoes to your piano keys and a lot more. This little product off your bathroom shelf saves a lot in your life. 
Here are 16 ways you can use toothpaste for apart from cleaning your teeth.
1. Crayon marks on a beautiful white wall, just take some of your toothpaste and rub hard with a scrubber until marks vanish. 
2. Got Scuff marks on your shoe soles, your tooth cleaner will do the trick.
3. If you don't find a proper ointment at home, tooth cleaner provides relief to your bites and itches.
4. Cleaning faucets and fixtures are not tedious anymore with some toothpaste on a sponge.
5. Pimples are the most unexpected annoying guests in our lives. Aren't they?
Not to worry, anymore! A pinch of toothpaste on your pimple is the quickest way to vanish them overnight.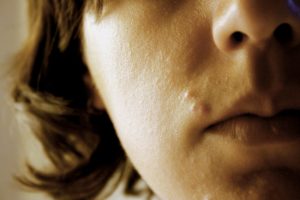 6. Toothpaste surely cleans ivory, but it's equally helpful for cleaning the modern piano's plastic keys.
7. Just ended up putting a stain on your favorite shirt? Rub some toothpaste (not the whitening type) on the stain, keep it for a moment and then, wash it off.
8. Annoyed by the stains left by your coffee mug, just wash them off with a little toothpaste and a damp cloth.
9. It's tough to get rid of a red wine stain. Take a scrubbing bar and toothbrush and keep rinsing and cleaning until the marks are gone.
10. Toothpaste is the best polish for your white sneakers. How?
Well, Just put some toothpaste on your old toothbrush, rub it all over your shoes, and they will be brand new again.
11. Got these ugly bruises on your smooth skin?
Just relax and rub a mixture of your tooth cleaner and moisturizing lotion on it for some days and you'll see the magic.
12. What's the most important thing that needs shining after your teeth?
You guessed it, right. Put a little toothpaste on your Diamond ring and rub the dullness off using a clean cloth.
13. No food is complete without garlic and onion, but the stinky smell they leave on your hand is unbearable; just wash your hands with your favorite paste.
14. Apply some toothpaste on your nails and brush them little using your old toothbrush.
You won't need a manicure anytime soon on your clean and shiny nails.
15. Ouch! Got a scratch on your iPhone? Put some paste on your phone and rub it using a clean cloth until scratches are gone.
16. Squeeze a dollop of paste on your old toothbrush and get rid of rust and burn marks from your iron.