There's a reason why dad's make the world go round and round with their punny sense of humor. Just for them the word 'dad jokes' came into existence and the most amazing part being that one doesn't necessarily require to be a dad to crack one of the classics. You can be anyone, the only requirement is the innate notorious trait in your DNA.
So here is a compilation of some amazing dad jokes that will make you roll your eyes at the mere absurdity of them and then let out a chuckle. Then, maybe mumble a non-coherent 'nevermind'.
So while you are at it, just get a tub of popcorn because it is about to get a little bit punny in here.
1: When this dad joke was all about dead people trying to enter the cool club.
#MarchDadness every time we pass by the cemetery my dad says "people are dying to get in there!"

— John Frosty K (@JohnKMich) March 16, 2017
2: Don't question him. He knows what the heck he is talking about.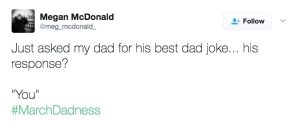 3: *Laughs nervously* Then, runs. Runs to another planet.
Every time the doorbell rang my dad would yell, "Everybody, act normal!" Loud enough for the person outside to hear it. #MarchDadness

— secretly political (@saveterrafirma) March 16, 2017
4: When you suddenly acquire a talent, you have to tell the world about it.
Dad broke his wrist, asked nurse if he'll be able to play piano. When she said yes, he said "Great! I couldn't play before!" #MarchDadness

— Lisa Snow (@1flakeofSnow) March 16, 2017
5: Now, this dad remains updated to all the stuff that is happening around the world.
Went to KFC the other day, didn't know Kentucky had a football club.#dadjokes #jokeoftheday

— Bad Dad Jokes (@baddadjokes) April 2, 2017
6: Dadness has never been this savage, has it?
Dad: What's Forrest gumps password for everything
Me: What
Dad: 1forrest1#MarchDadness

— Chase Hockman (@chase_hockman) March 15, 2017
7: Of course, they do. Who can forget charming and notoriously funny dads?

8: Because logic matter more than anything else.
[Job interview]
"Can you explain this gap in your résumé?"
Me: "I fell asleep on the space key."#dadjokes

— Bad Dad Jokes (@baddadjokes) May 7, 2017
9: Naming everything in style is their way of flaunting their grey cells like the pro they are.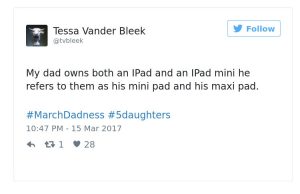 10: Dude, this makes more sense than my life right now.
When the cashier at the grocery store asks my dad if he would like the milk in a bag he says,'No, just leave it in the carton!"#marchdadness

— Ricky Reyes (@ricky_reyes35) March 15, 2017
11: Not that the concept of joke is lost on us but why? WHY?
Every time we drive past a gas station, my dad says "Excuse me, I just passed gas" @jimmyfallon #MarchDadness

— Emmy Lou Harris (@emmylouwho22) March 15, 2017
12: Just trying to protect the esteem that runs low with it.
My dad bought me a condom when I turned 18. The cashier asked if we needed a bag, my dad replied, "No, she isn't that ugly." #MarchDadness

— Perkinskiii (@adrunkguywrites) March 15, 2017
13: he cannot stress enough on the word happily enough. Not. Enough.
Me: Dad, how long hve u been married? Dad: 17 happily married years. Me: thought it was 24 years? Dad: like I said, HAPPILY. #MarchDadness

— markHTKgedman (@mHTKgedman) March 15, 2017
14: Ha! That's job description is so much better than what is actually done by him.
One time my dad walked up to a Samsung security guard and asked, "Are you guardian of the galaxy? #MarchDadness @jimmyfallon

— Molly Ligon (@mollyligonn) March 15, 2017
15: The car has feelings and they might get hurt.