Raising kids is an art of patience. You need to be very calm while explaining things to your kids especially if you have a super testy toddler. Parents everywhere know how difficult it is to understand what the kid wants and how to react to them. They understand that the struggle is real. Mom of four kids, Kristen Howerton knows the struggle well with so many kids around. Hence, she decided to create Instagram and Twitter accounts to show how crazy it is to be a parent. She started using the hashtag #assholeparent to relate to other moms and dads dealing with their little hotheads. Based on the popularity of the hashtag #assholeparent and other parents trolling her social media pages, it turns out Kristen isn't the only #assholeparent out there.
So what exactly is an #assholeparent you may ask? According to Kristen, if you have ever tried feeding your kid a burrito with cilantro or denied them to use the most dangerous knives in your kitchen, you qualify. On one of her accounts, she said, "I am an #assholeparent because I brought her to the beach and she has sand on her hands and feet."
Relating already? Well, here are the pictures that will show you how parents Instagram their kid's tantrums and become #assholeparent.
1. An #assholeparent because I did not let her play with the drill. 
2. Built him a fort and he knocked it down. Now, he's mad at me. 
3. He wasn't able to suck up his cereal milk because the cereal got stuck in the straw. He is angry at me. 
4. I cannot make the moon come back in the morning, hence, she is mad at me. 
5. There was a piece of cilantro in her burrito, she is not talking to me. 
6. I only got chocolate chip cookies and forgot the rest. 
7. I bought him the exact ice cream cone that he wanted. Halfway he realized he wants a shake. He is angry now. 
8. I took her on a vacation and I asked her for a picture. She is basically mad at me. 
9. She wanted to listen to the Hairspray soundtrack, I put on the Broadway soundtrack instead of the movie, so she hates me now.
10. I wouldn't let her smash the cake, she is crying on her birthday. 
11. She wanted curly hair ponytail. I could not do that. I am the bad guy. 
12. Tried to celebrate their heritage with green mustaches on St. Patrick's day, I am at fault. 
13. Her new Puma's don't light up. I am an #assholeparent. 
14. I asked her not to put her toys in her breakfast cereal.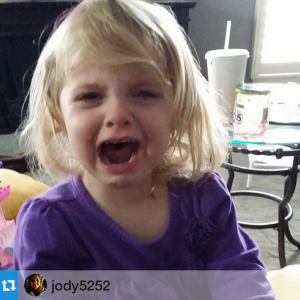 15. I refused to let him eat my chapstick. Hence, I am a bad parent.