Remember how back in the day, people would usually pick their arms as the venue for their new skin ink? Well, now people are tattooing themselves everywhere they please these days. In fact, the folks on this list have turned their necks into creative works of arts that will really trip you up.
Can't Stop Raven About This One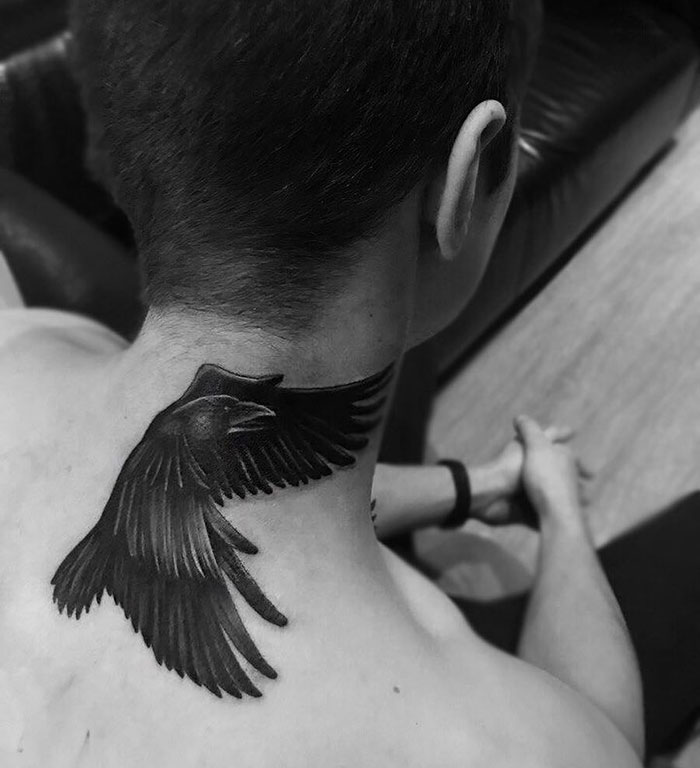 The tattoo artist who inked this raven on this person's neck undoubtedly got some raven reviews. You can clearly see the tattoo artist paid great attention to detail. They did a phenomenal job with this tattoo. And it's not so over the top that it can someone from getting hired.
The Trippy Optical Illusion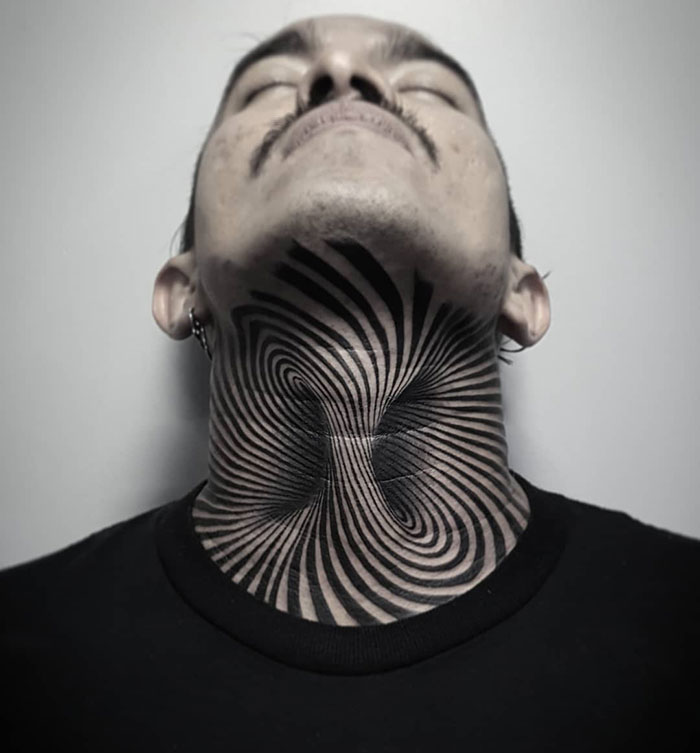 The symmetry of the lines and the overall design is amazing, weird, and kind of freaky but in an amazingly unique way. It's like the man's got a screensaver on his neck. We'll bet he gets a lot of requests from people asking him to look up so they can admire his work of art.
Fragile And Unique
This minimalistic neck tattoo features the word "tear" and it's located right below the ear. But does the word "tear" stand for "rip something into pieces" or does it symbolize tears? Only the proud owner of this tat would know. Either way, it's pretty stunning!
The Choker Neck Tat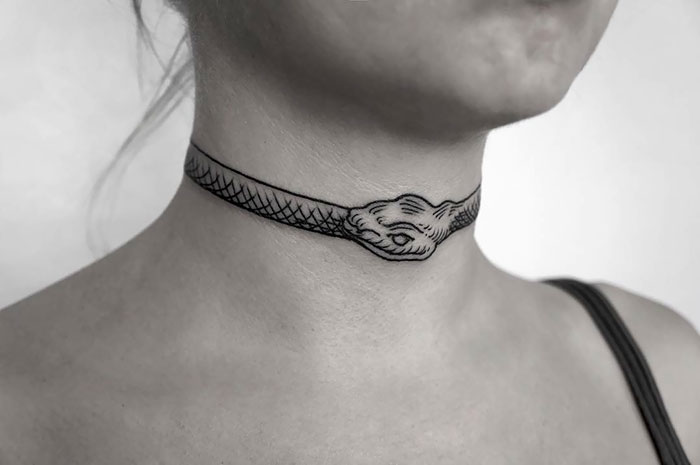 You don't even need to wear jewelry or accessories with this minimalistic, yet slightly intricate choker tattoo. It's simple, edgy, and it would probably enhance almost any outfit. Plus, it's a great conversation starter, don't you think? After all, there's got to be a reason why you placed a tattoo on your neck.
It's Not Charlotte's Web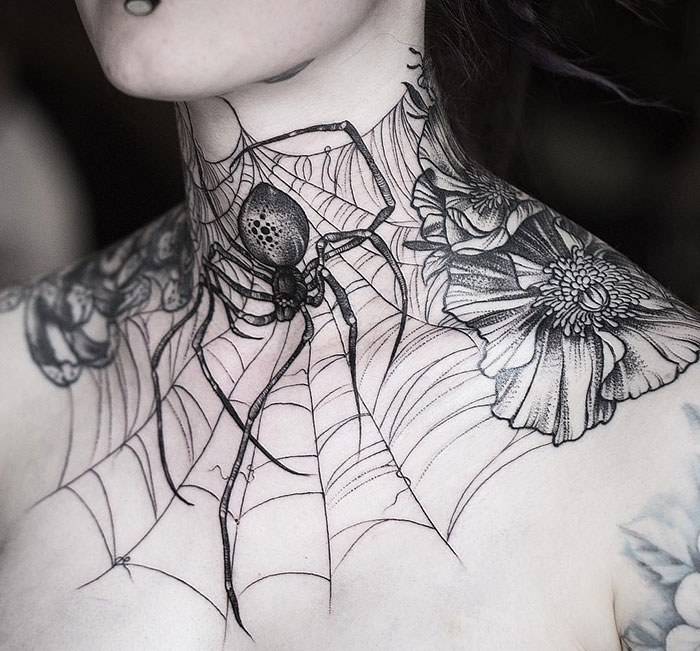 Okay, so if you're an arachnophobe, you'll probably turn the corner and run the other way if you ever run into this lady and her impressive neck tattoo. Sure, it's a pretty stunning design! But you'd have to be a major fan of spiders to go around wearing something like this the rest of your life.
This One Takes a LOT of Commitment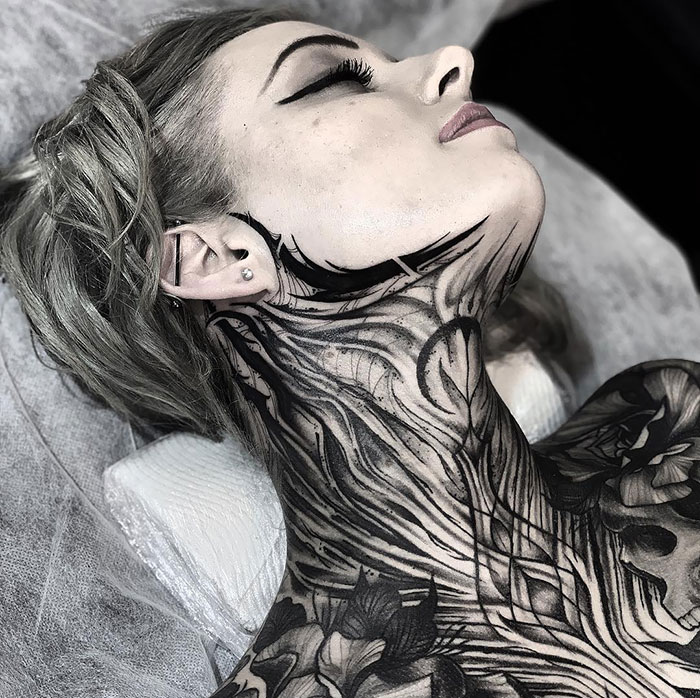 Well, she didn't stay conservative with her neck tattoo. Have you ever seen such an intricate work of art? It kind of looks like a cover-up tattoo, but either way, we're 100% feeling this one. Wow!
She's The Bee's Knees!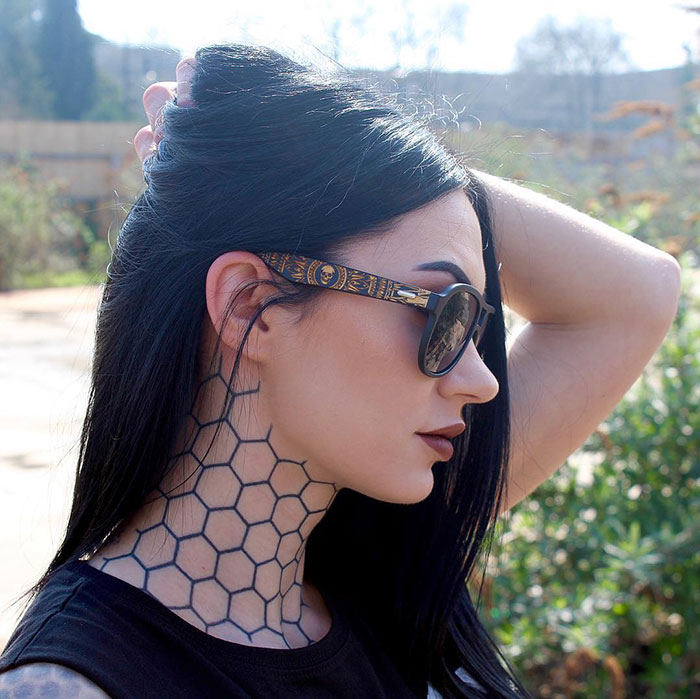 Maybe some folks would be pretty intimidated to cover such a large portion of their neck with a minimalistic honeycomb design like this one. But we can't help but hope she ends up turning this beautiful honeycomb on her neck into a 3d-work of art full of color and depth. That would be sick, wouldn't it?
Simple And Elegant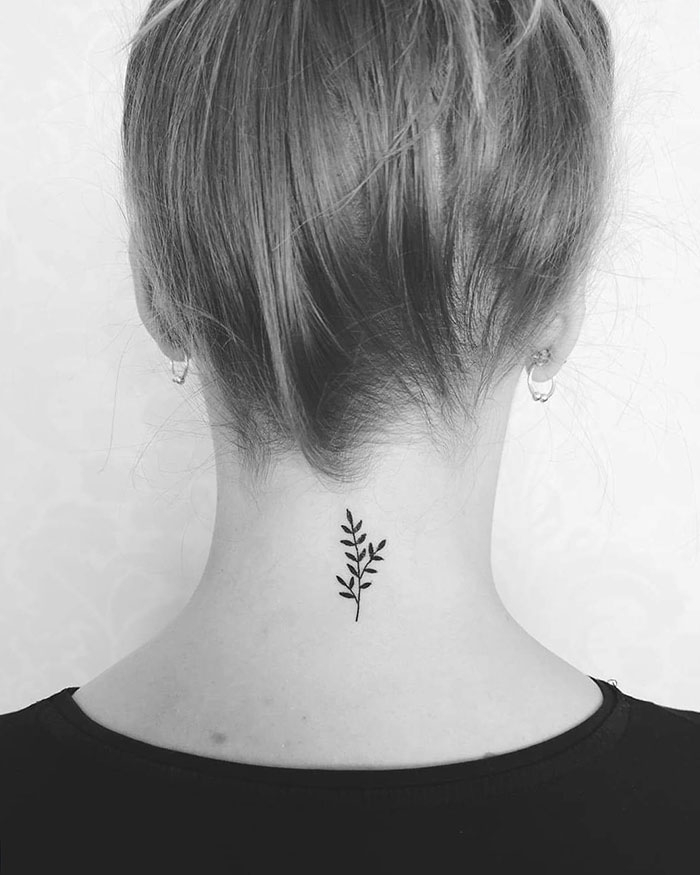 If you want to avoid coworkers and future bosses shrugging their shoulders, make sure you choose a neck tattoo you can easily disguise or cover up with your hair. This one's simply stunning to look at and not at all invasive. It's also proof that a little goes a long way!
Pretty Dark Vibes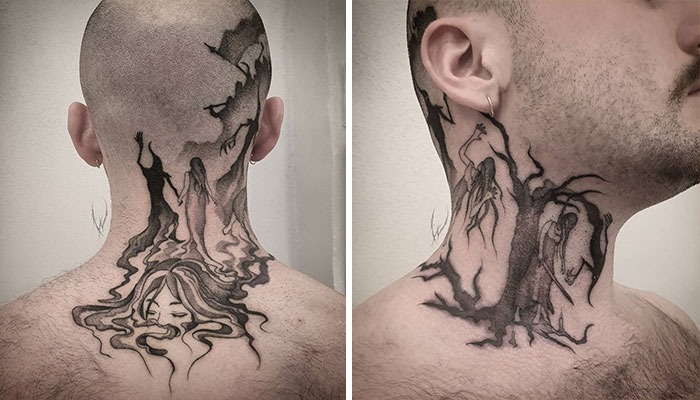 If you like dark, obscure, and memorable tats, then this one will totally be your cup of tea. Tattoo artist Gioele Cassarino, (@w.y.e.r on) posted a photo of this impressive design and captioned it: "A story of love, war and sacrifice, with two endings, portraied on neck/head and hand, thanks Auryn for travelling here to get this and for sitting through it so well. Swipe to see the entire tattoo and the hand too."