Bad tattoo jobs are some of the unfortunate moments that we regret all our lives. Tattoos are like those precious possessions that remind us something special, about an occasion or a person. For getting the perfect tattoo, we spend hours hunting for design. Finally, when we get it inked on our skin, sometimes, it doesn't come out as expected. And then, just like a haunting curse, we have to live with it for the rest of our lives. How we wish then that we had never got it tattooed in the first place. But if this is what has happened to you, then don't feel ashamed of yourself because you are not alone. Prepare to see 40 epic tattoo fails and form a gang with the bad tattoo victims –
The Copy Of The Nipple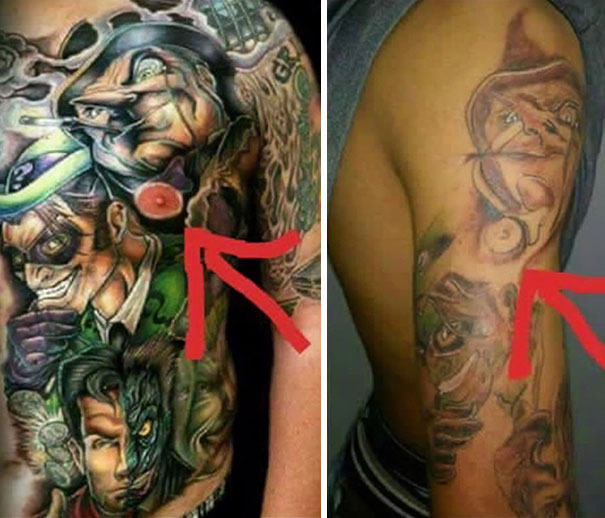 This is a cool Batman Tattoo that has all the cool villains etched out. While the one on the left is so cool, the one on the right is more or less of a disaster. The worst part? The artist who copied the 'penguin' tattoo copied the nipple as well.
Dave's Got No Brains And One Bad Tattoo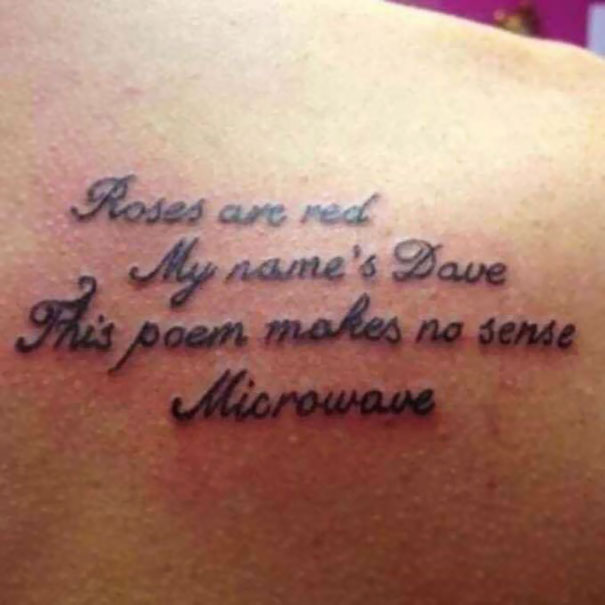 Dave sounds as if he's a darling, but he's a bit of a dumbass as well. Why? Just look at the stupid poem he has got inked on his skin. Now whoever sees it, will get the impression that he is a blockhead.  
Face It, Brother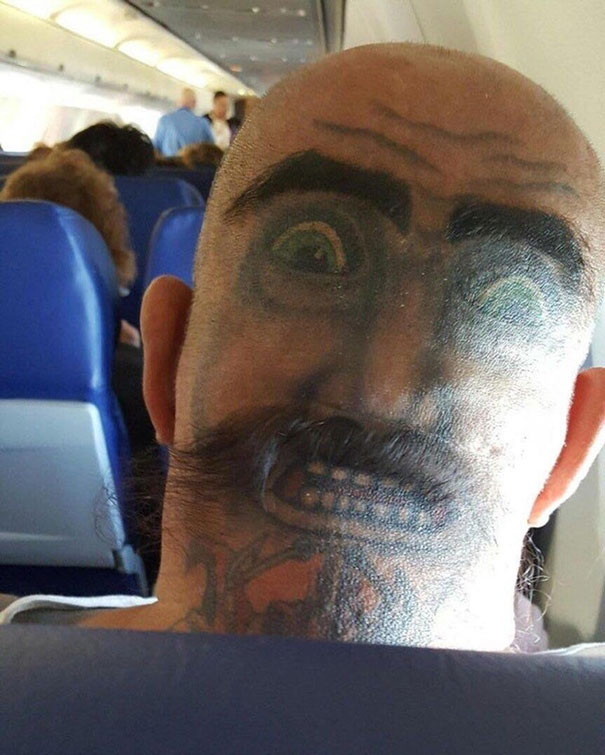 This man got an awesome tattoo which is quite witty as well. The worst part of having this tattoo is that he will always have a fixed hairstyle which does not look good if you do not see the tattoo.
You Are A Turkey Sandwich Yourself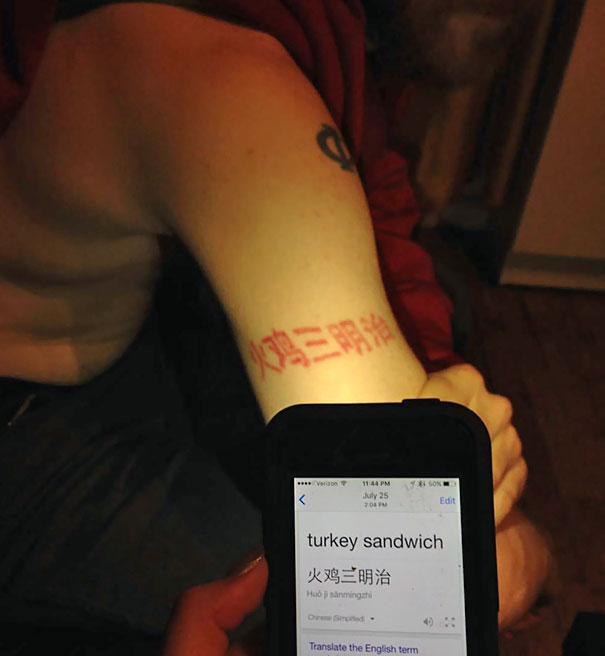 Never get a tattoo in a language you do not know. You will never understand what's written in the foreign lingo. And when once you do, you will regret if it turns out to be bad. Like this guy here, he got an oriental tattoo in a Chinese dialect. When he found out what he meant, he couldn't help but smack his head a million times.
Spare The Wart Out Of This
Can you make a basketball out of a wart? What? This man did. Look at the idea of his masterpiece. It's brilliant and he also placed a silhouette of Michael 'Air' Johnson under it. Pretty brilliant, if you asked me.
Another Nipple Tattoo Disaster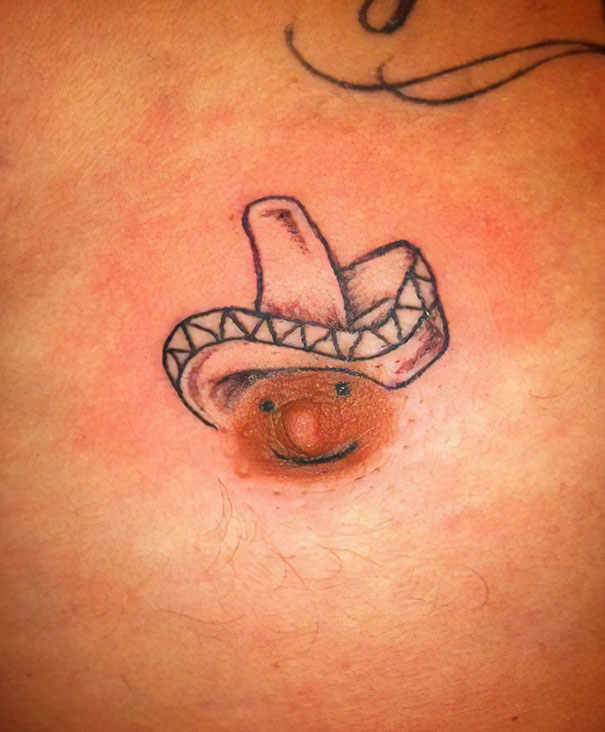 Making an amigo about of a nipple? Not a good idea at all. If you had even cared about the nipple, then you would not have meted out such a painful treatment to it. Be sensitive to your nipples guys. But the tattoo is fab. However, the smile of the amigo might have caused more pain.
You Don't Even Know These Simple Lines?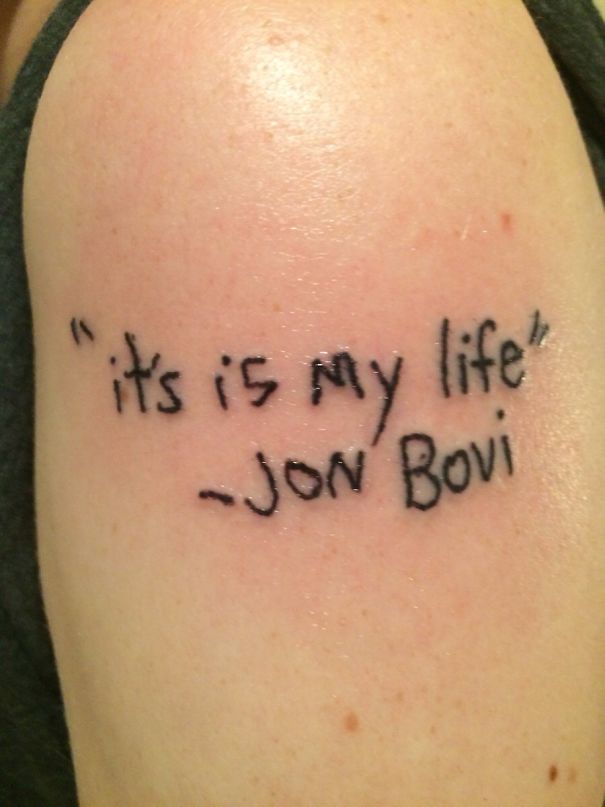 It's 'it's my life' not 'it's is my life'. If a tattoo artist can't get even these simple lines right, then he ain't much of a tattoo artist himself. And, he needs to enroll in an elementary school to get his grammar right.
The Tiger's Gonna Super Angry When He Sees This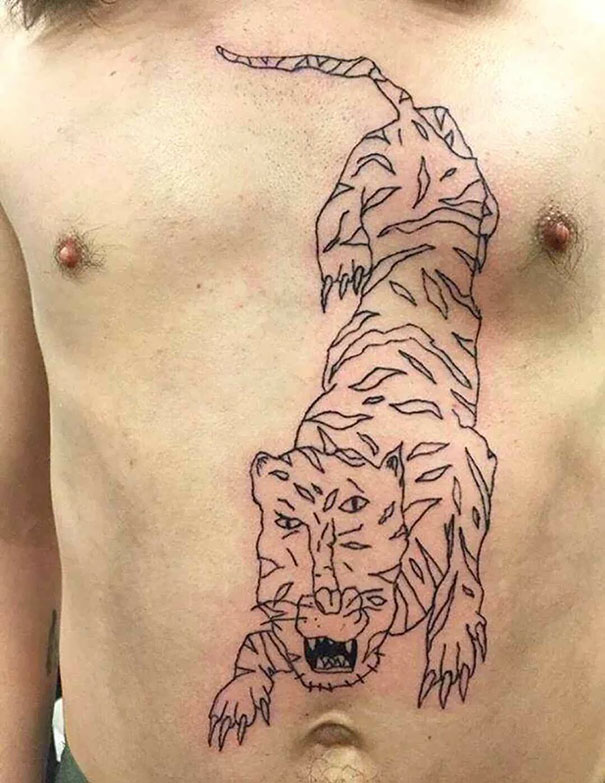 Learn to draw, Picasso, before you ink on somebody's skin. The tattoo artist must have been a dumb fool to draw this. Even dumber is this man who will have to bear it all his life and if this man has paid for it, then we can't help him at all.
Eye Of The Tiger Goes Down The Drain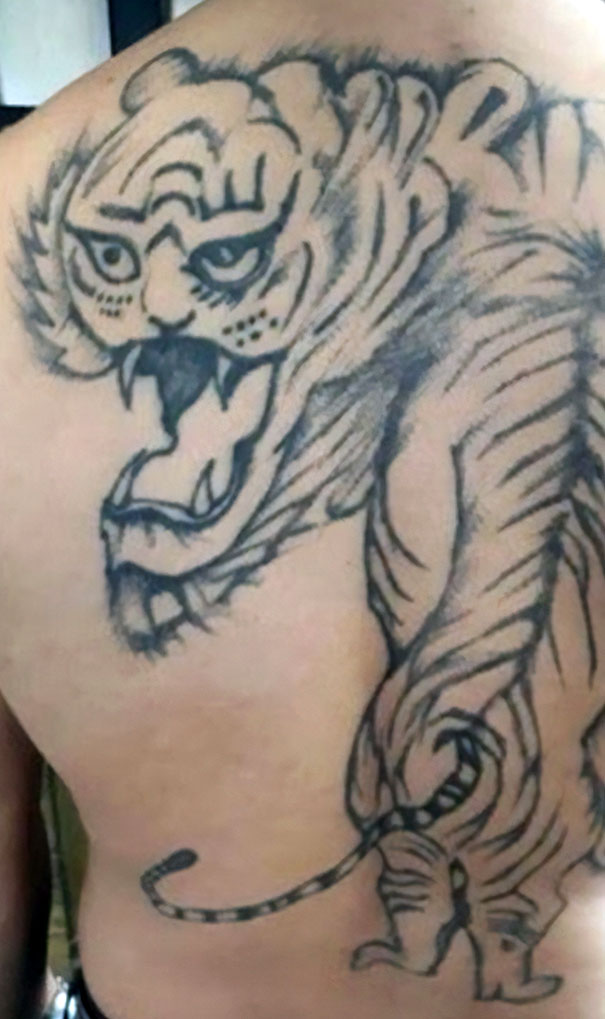 The tiger must have paid a visit to the boxing ring. Otherwise, can somebody explain the hell to me why this tiger has a black eye? How the hell did he get one?
A Good Tattoo Tattoo That Makes No Sense At All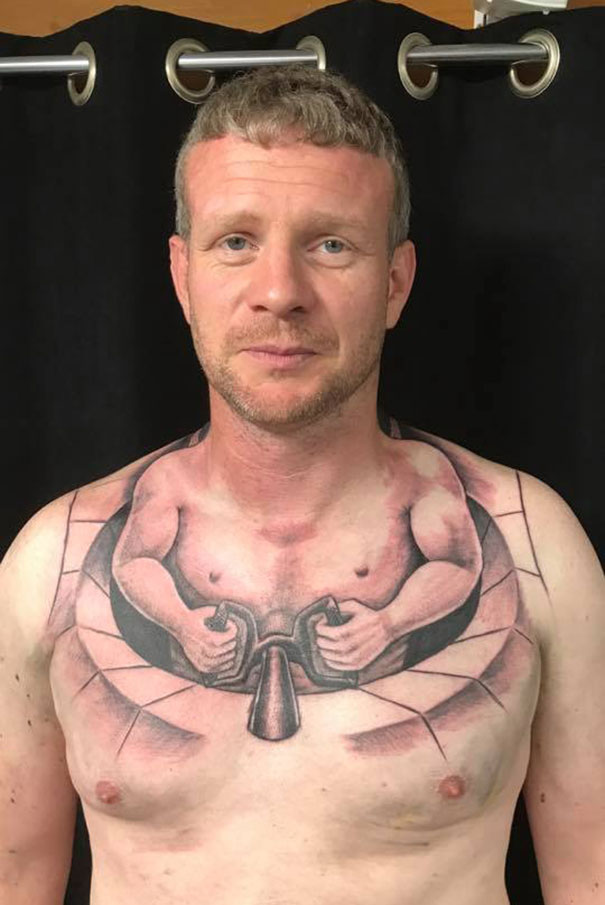 The concept of this tattoo is so brilliant that it leaves you speechless. But you got to ask this man once, Why? What does he mean by it? Does he exist as a parasite in himself? I think I will lose my senses if I look more at this. Scroll ahead, will you?
Tattoo Or Disease?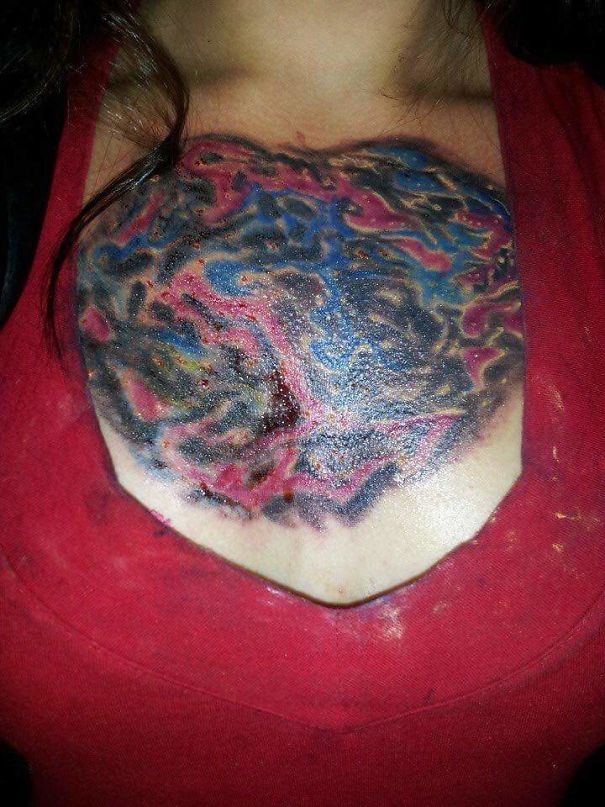 I won't say much, but still, if you ask me, it looks more like a skin ailment than a tattoo. At least, it looks like that at this moment. The skin seems to be extremely raw at the moment.
Marilyn Won't Be Much Happy About It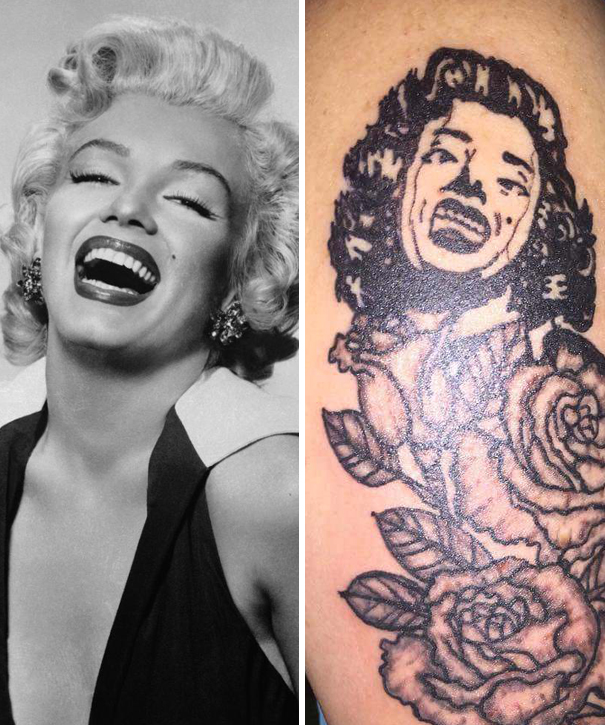 That looks more like a tipsy Marilyn Monroe who is squint-eyed. It is a good thing that the poor dame has passed away, because if she saw this, then she would have killed herself again.
That Looks Like Real Snake Skin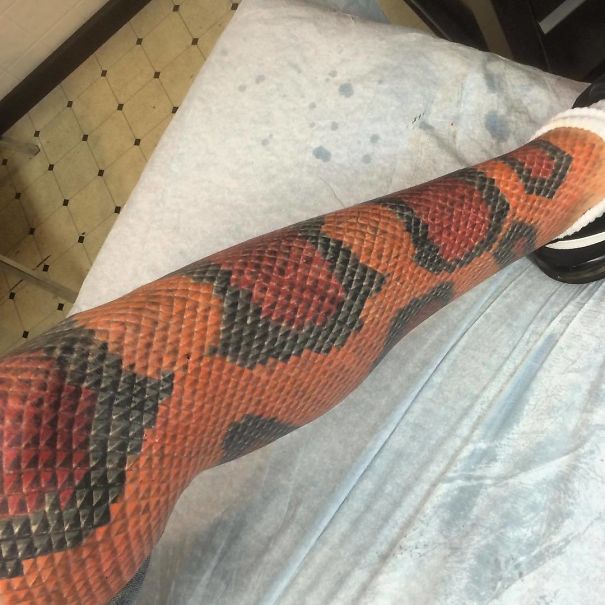 It does resemble snakeskin a lot. But imagine if you have to seduce a woman with this kind of skin? Would you dare to run your hand over the leg? Not me, it would give me the creeps and send too many shivers down the spine.
The Simpson Yin-Yang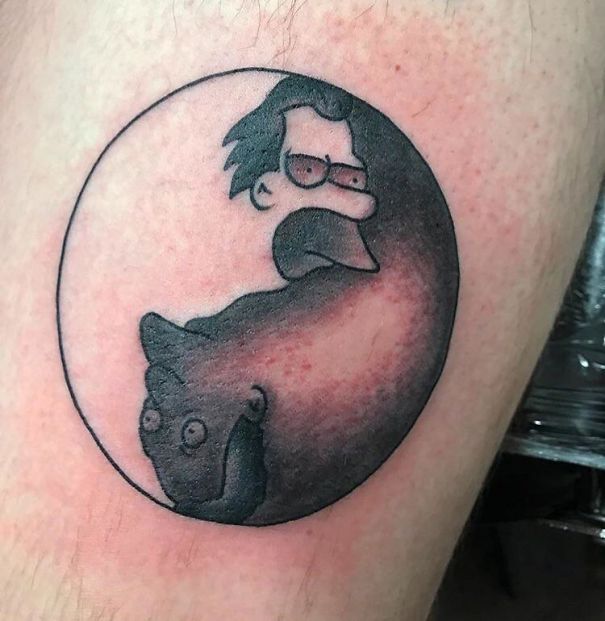 The Yin and Yang circle represents the perfect balance of dark and bright forces in our bodies and mind. It represents perfect harmony. But looking at the Simpson's faces on it doesn't make it look like it's harmonious at all.
That Was Supposed To Be A Galaxy.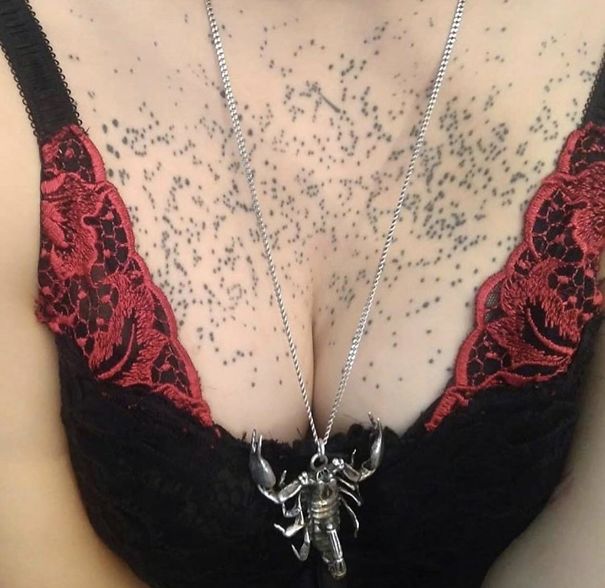 It was supposed to be a galaxy and all those spots are supposed to be stars. It turns out to be more of a mole riot and has tarnished the perfectly spotless skin. Use your brains if you have them.
The Sorry Tale Of Youself And Hoop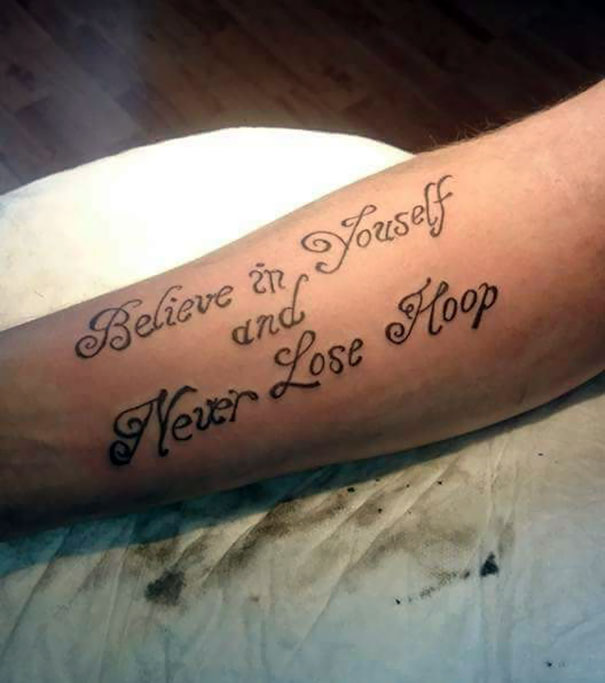 You might have guessed it by now. The words that are misspelled were supposed to be Yourself and Hope. But out tattoo artist did not realize that. Somebody send him to elementary school.
Surely, Not A Driver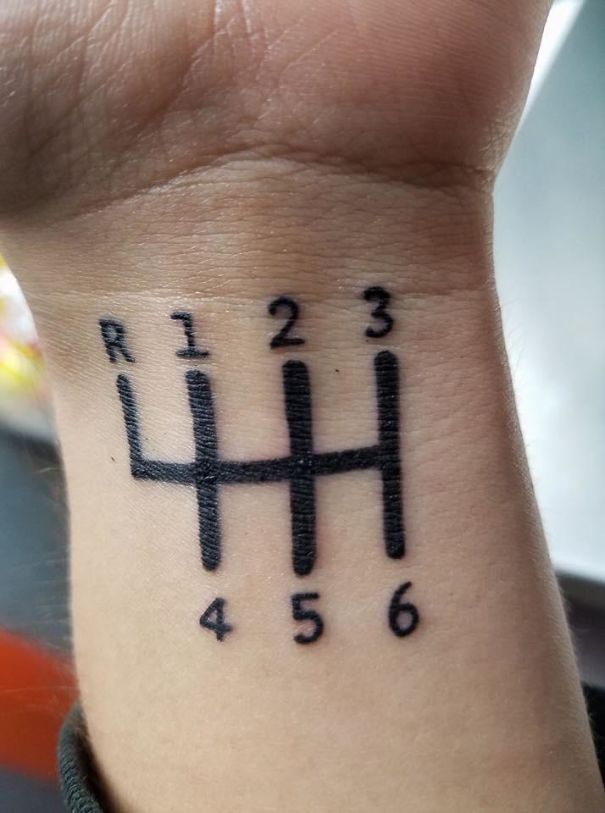 This guy must surely not be a driver. Might be, he has never even climbed inside a car. Otherwise, he would have realized that 3rd and 4th gear are supposed to be side by side. He must have also failed his driving test.
Eminem In Cartoon
Eminem's face is just perfect, but the blue face and the cartoon body simply don't match up to the artistry of the face. I guess a kid must have inked it on this dude's skin.
What A Monkey!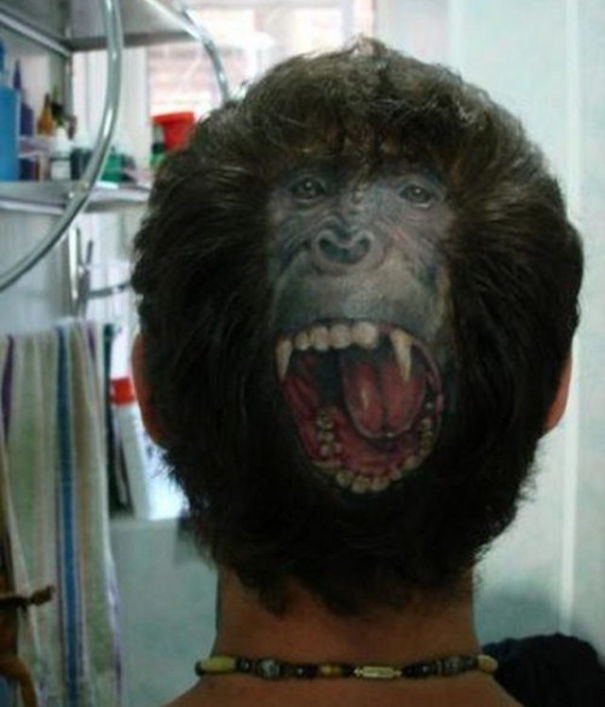 This is a perfect piece of art, without any mistakes. But what is wrong with it? The gorilla's face is fine. But what bothers me the bald patch on the forehead. And what about when the man becomes old? The gorilla will be left without the mane.
Somebody Does Not Have A Sense Of Direction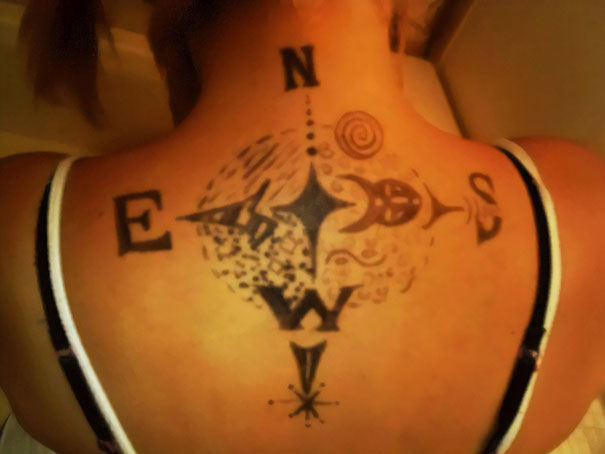 It's clear that somebody does not know the four directions properly. Otherwise, how can one get the cardinal directions wrong? Don't you have a compass? This particular tattoo artist should get some geography lessons.
What's The Tiger Doing In Midst Of The Dog Tits?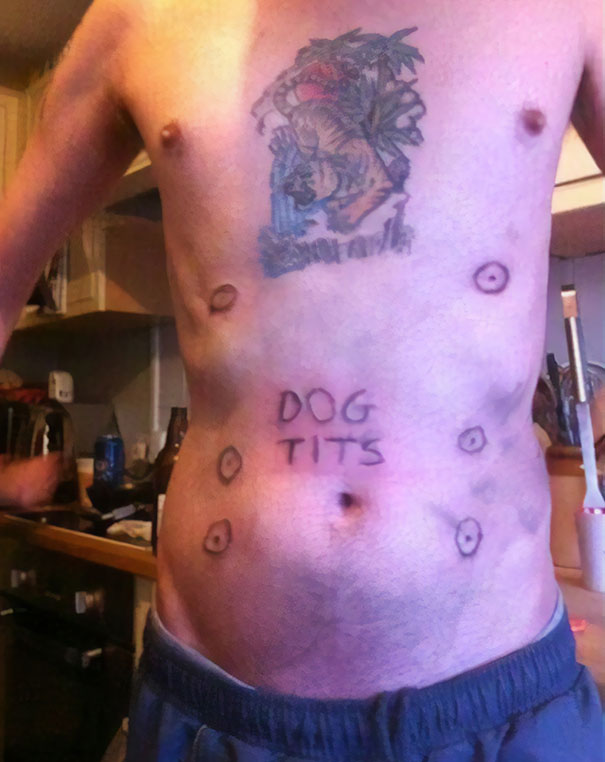 Is this guy trying to act bitchy? We do not know because he has a tattoo of a tiger on his chest and three pairs of dog tits with his regular tits. What confusion in this man's perversion. Twisted, if you ask me.
Slow Headed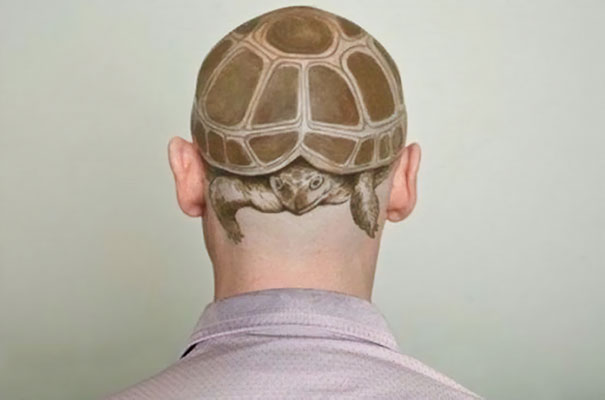 With a turtle on the head, what else do you expect me to say? But that turtle looks a lot cooler than all the other tattoo disasters on this list.
It's Cats And Bananas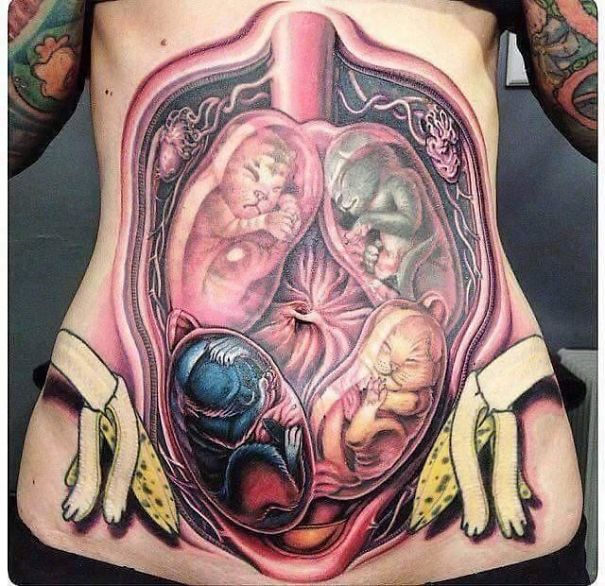 I understand the womb, the cats and the love of the lady for all these. She must have a strong motherly instinct and might have a strong affection for cats. But what about the bananas? Maybe she loves them too or she has herself gone bananas.
An Evil Twin Of Angelina Jolie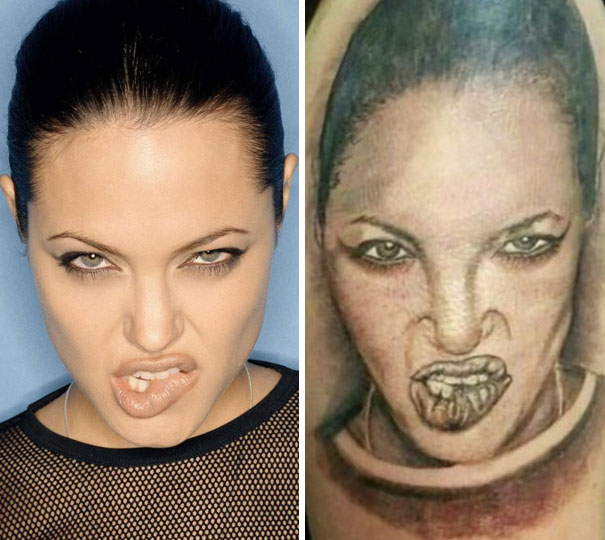 The woman on the left, everybody knows her, is our dearest Angelina Jolie. She looks so seductive on the left. On the right is her evil twin who has a faint resemblance to the actor. If you ask me, then the tattoo looks like an evil witch has gotten into the pretty actress and the result is this.
Dense Foliage Or A Catastrophic Disaster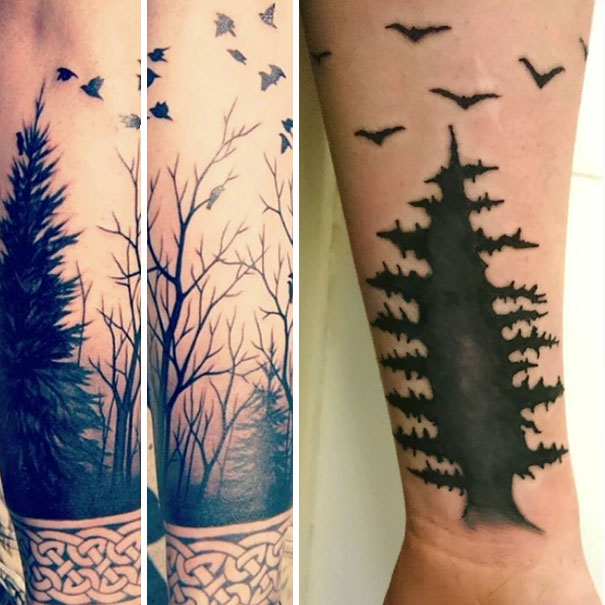 Look at the trees on the left. The foliage and the birds look so impressive. But when you look at the right, which is supposed to be an exact copy, you feel it is straight out of a nightmare. The tattoo artist still has a long way to go.
That's Not Your Mum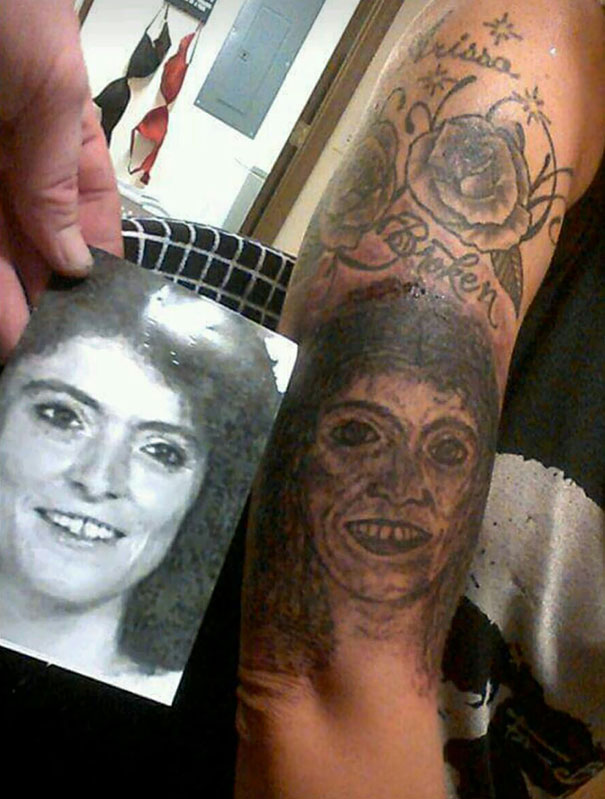 This is a picture of somebody's stepmom and he/she wanted to get it inked on the skin as a sort of reminder. Unluckily for him/her, the tattoo artist made it like it was a living mistake reminding him/her of his/her sins.
Who Would Like To Get The Tattoo Of Spectacles Over Their Eyes?

If you want to look like a nerd, then why not buy a real pair of spectacles? It's cheaper and less painful, you know? What a fool!
That Does Not Look Like Ben In Anyway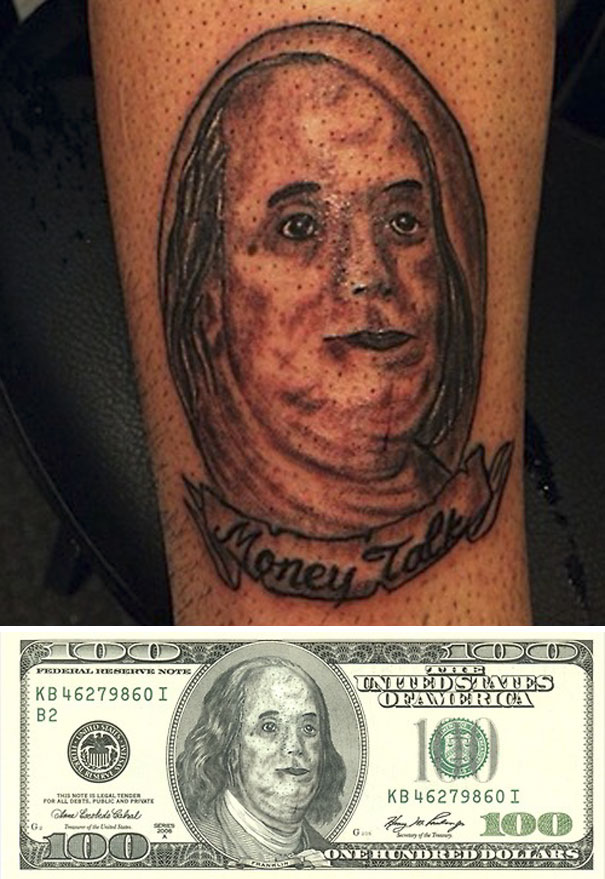 Does that look like Benjamin Franklin from any angle? Not at all. If you ask me, this whole tattoo is a living reminder of how many Bens he has spent on this disaster.
Living As A Vegan Must Be Extremely Difficult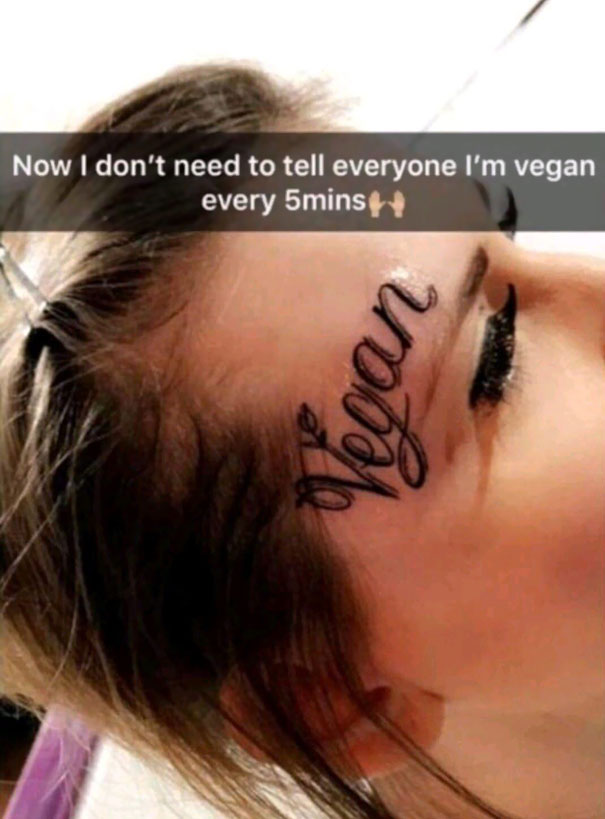 Vegans have a tiresome lifestyle. They need to always tell everybody that they do not eat meat. So, this smart girl came with a cool idea. She got it inked over her eyes. Should we applaud her on her wit or smile on her stupidity?
That My Dear Friend, Is The Symbol Of Getting Neutered

This guy thought that this symbol looked cool. But what that pea-brained hare forgot was that he did not know what it meant. Somebody presented the facts to him and he is, needless to say, devastated.
Pikachu Gotta Poo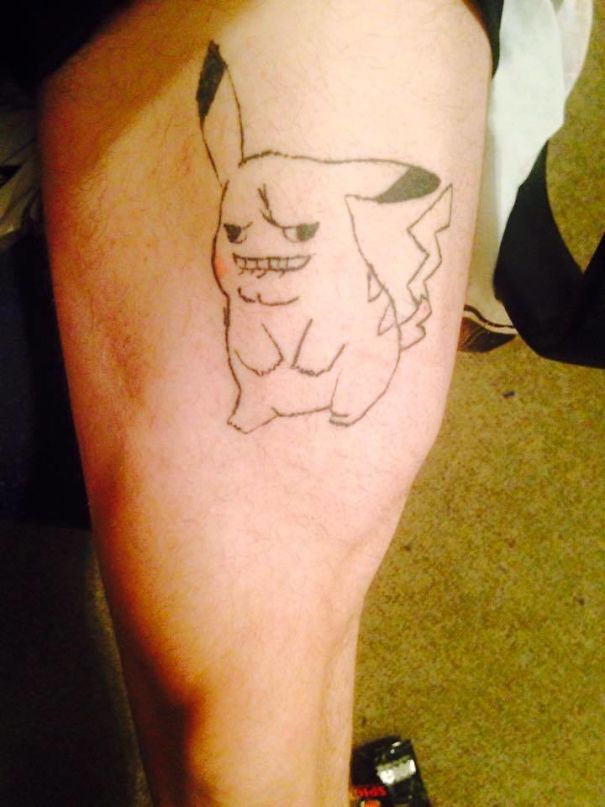 From the looks of it, Pikachu looks like he needs to use the toilet. Must be having loose motions or muscular cramps in his stomach. The expression on his face says it all. Use the loo, Pikachu. Otherwise, you are going to spray all the goo!
The Tiger In The Flower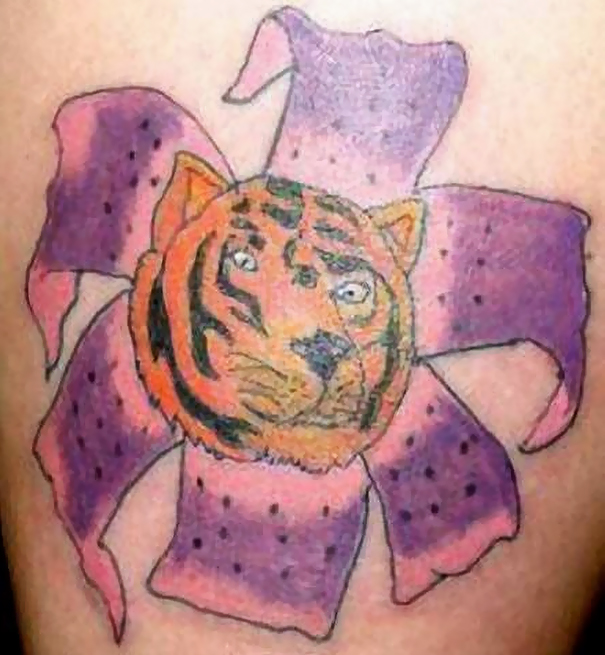 The tiger in the flower looks mortified. Wonder what's going in the big cat's mind? The expression seems to look more like it's embarrassed over something. If you put a man-eater in a girlie flower, what else do you expect? Another tattoo artist disaster, if you ask me.
What Is With This Tiger's Nose?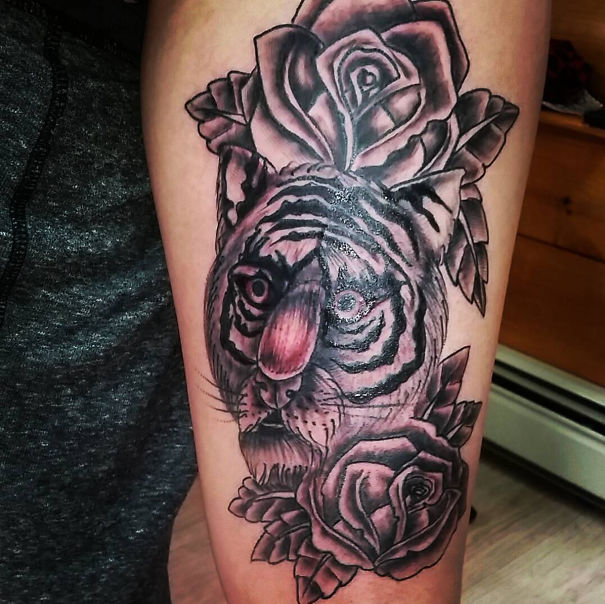 Brilliant piece of work with a bad nose job. Some woman has this over her thigh. She is afraid to reveal it to the world. You know the reason. The tattoo artist messed up with the nose.
Baby Or Gramps?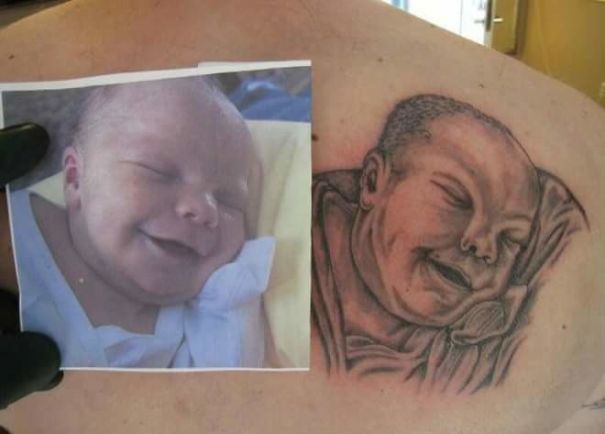 Is this the picture of a toddler or a bald senior? That is something we have left for you to decide.It is not good art. Better ask for a return, because the artist did not do his job well.
This Was Supposed To Be A Christmas Surprise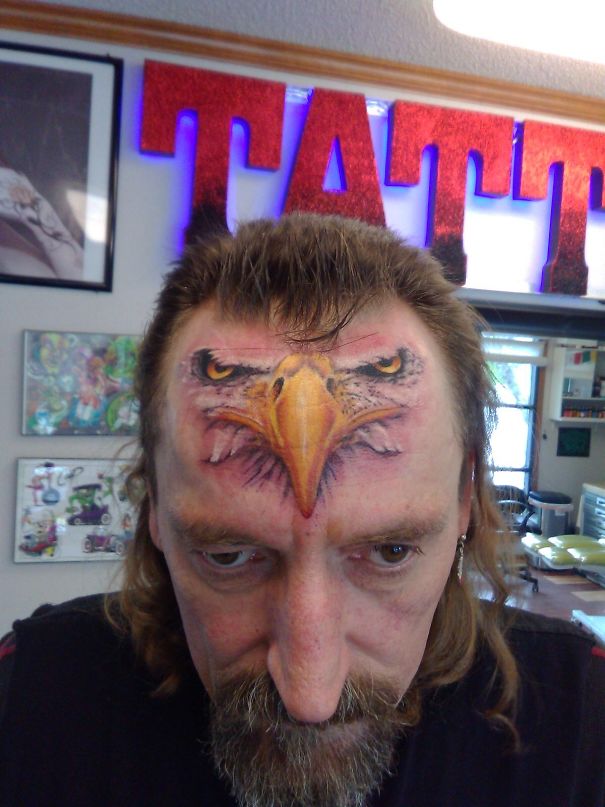 As you must have guessed by now that the Christmas did not go very well. This man's wife was shocked and has said that this was the worst present she had received, ever!
The Curious Case Of Tattooed Socks
Why would somebody tattoo socks on their feet? Why not purchase real ones? Maybe this man does not feel comfortable in socks but wants to look socially formal. Weird minds get the weirdest of tattoos.
Double The Stench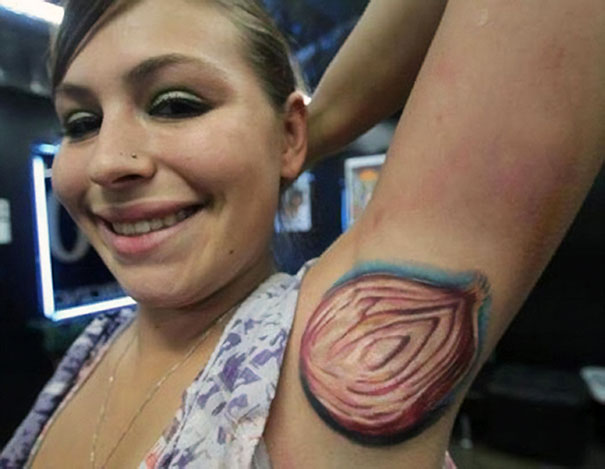 The onion in the armpit? The whole affair is going to be smelly. That is what I don't like those wisecrack tattoos which end up in a big disaster.
The Wonder Kid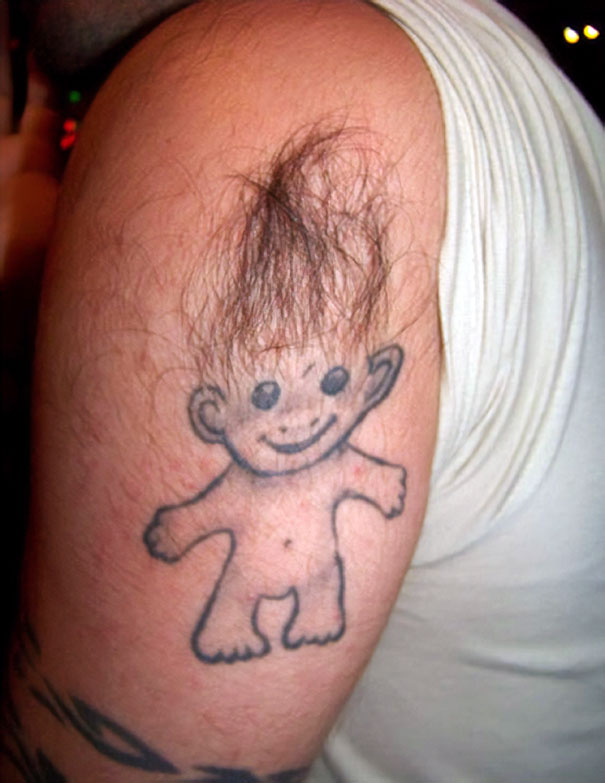 Just look at the wonder kid tattoo on this guy. It must have been his childhood fantasy because he has thoughtfully got it inked on his skin. He has even used the hair on the arm for this wonder kid's tresses. Oh God, what all do these people do!
That's More Horrible Than Chucky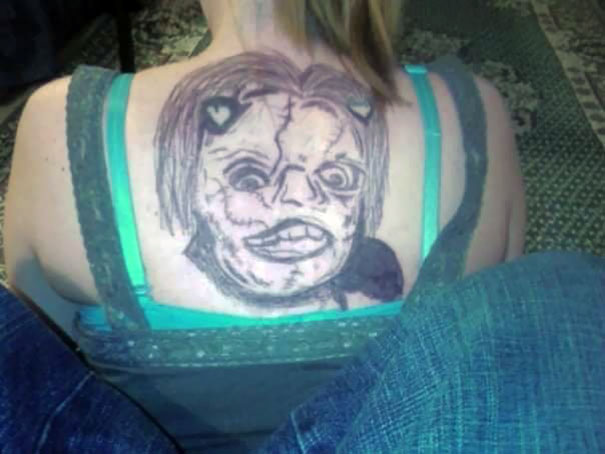 It was supposed to look like Chucky. It ended up looking more horrible than him. If Chucky sees this version of himself, he will get quite the scare and run away.
Who Needs Six Pack Dots?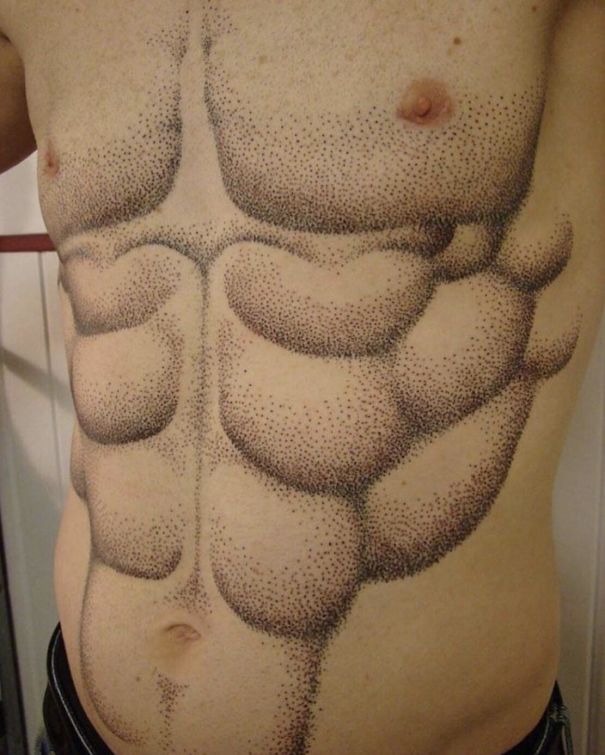 It looks more like the body of a hairy gorilla who just shaved all his hair. The dots give an uneasy feeling. More than the six-pack, it looks like a skin ailment.