There are a lot of perks to shopping online. It's fast. It's convenient. Best of all, you can do it any time, anywhere. But life is full of disappointments. Just ask these people who got a little trigger happy on the mouse and they lived to regret it. So here are some fails that will put you off shopping online for life.
The Backpack Was Cat-Size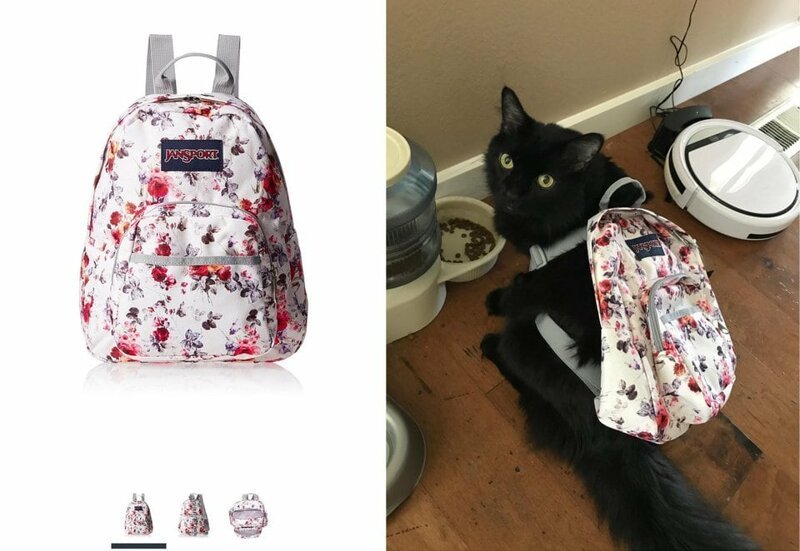 What a cat-astrophe! A customer ordered a backpack from Amazon to use as a carry on bag. Unfortunately, she didn't bother to read the dimensions or she might have realized that it was small enough for a cat to use.
The Spacesuit Was Mommy Size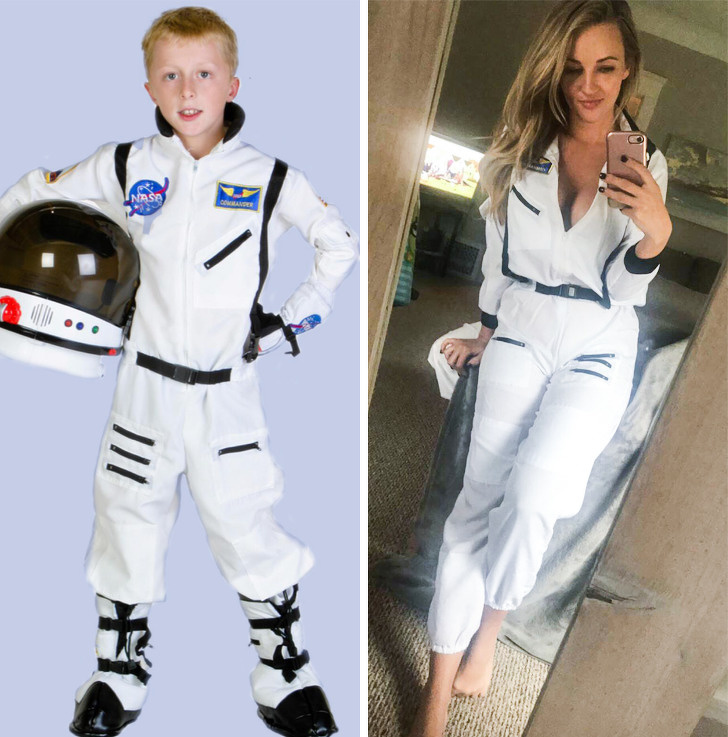 Houston, we have a problem! This mother ordered an astronaut costume for her 5-year-old boy. What she got instead was an outfit made for a grown-up. But admittedly, mom is totally rocking the space babe look.
ASOS Gender-Bended Him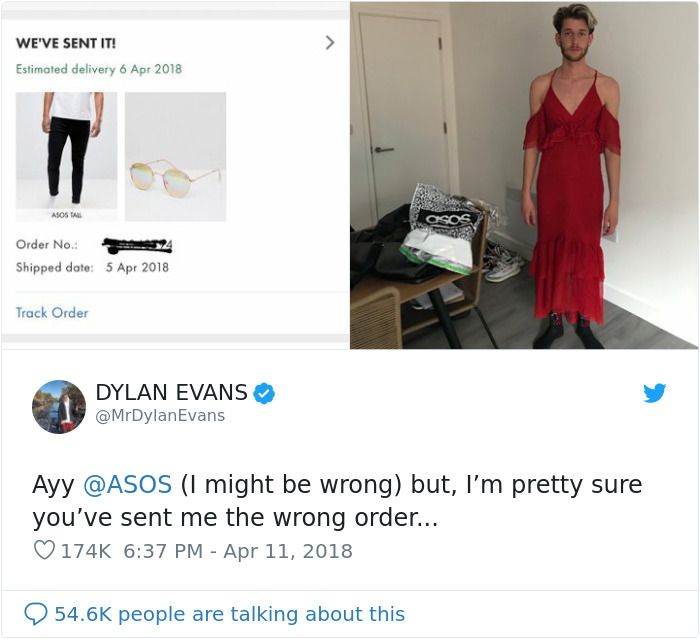 He ordered a pair of pants from ASOS and some cool shades. But when he got his order, he found they delivered a red dress instead. But in fairness, he did put it on and totally rocked it.
She Bought a Potato Sack for $60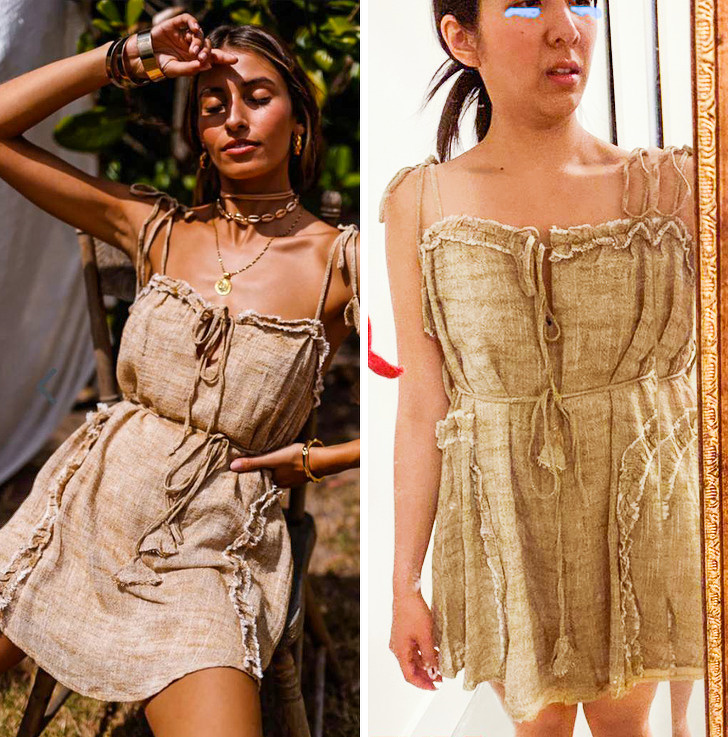 This poor customer thought she was buying a strappy boho-chic dress. But what she got in the mail made her look like some crappy designer decided to turn a potato sack into a dress.
Deadpool Costume Was a Shocker
Someone ordered a Deadpool costume for a Halloween party. Unfortunately, what they got wasn't a slick leather costume full of gadgets but rather some silly looking number that barely resembled the iconic character.
The Donut Floatie Didn't Fit
This shopper bought a cute donut floatie. She hoped she would look as good as the model in the ad, but instead she got a floatie fit for a barbie. And that's probably the last time this customer's going to buy anything online!
Patch Was More Prideful Than Russia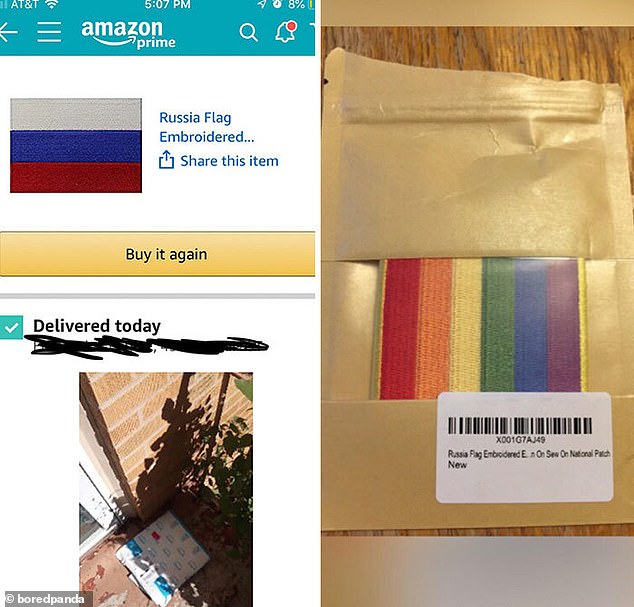 There was probably some foul play on this order given Russia's stance on LGBT rights. Someone ordered a Russian patch for their new jacket. Instead, they got a pride flag patch when they received it the mail.
She Needed Her Head Shrunk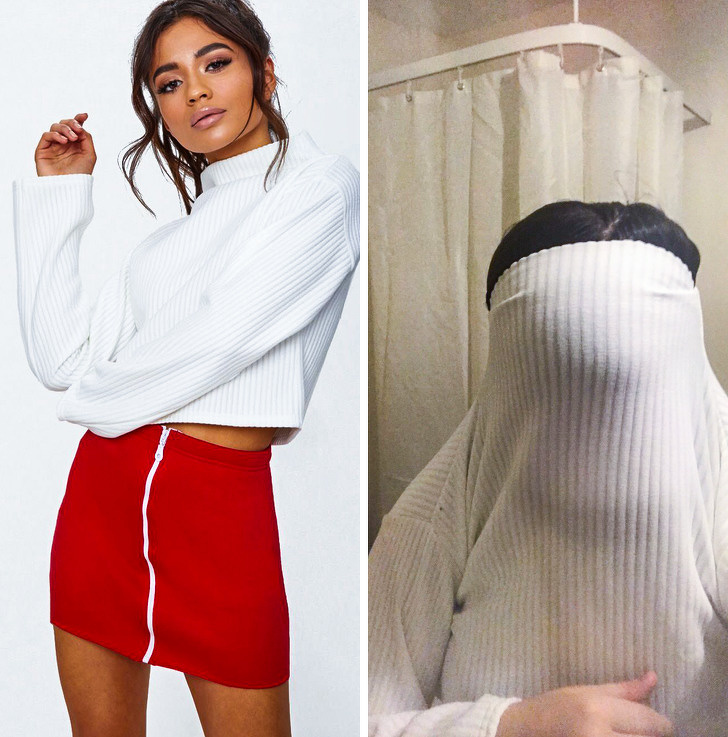 She thought she would look as bomb as the model sporting that white turtle neck top. But she ended up looking like a turtle with its head tucked in its shell because the rim around the shirt's neck was too big for her head.
The Dress Wasn't Opaque Enough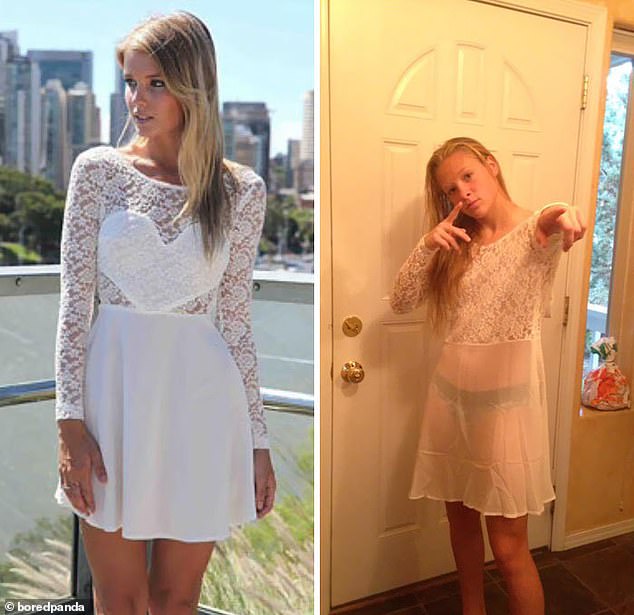 This shopper should consider going to the store instead of online shopping after buying what she thought was a dress with an opaque skirt. Instead, she got something so transparent it should be on sale at Victoria's Secret.
These Boots Weren't Meant for Humans
Next time this guy's sister wants combat boots for her costume, she should consider going to the local shopping mall or a costume shop, because clearly, online shopping isn't for her. Who were they trying to sell these boots to? Barbie?
She Looked Like an Ewok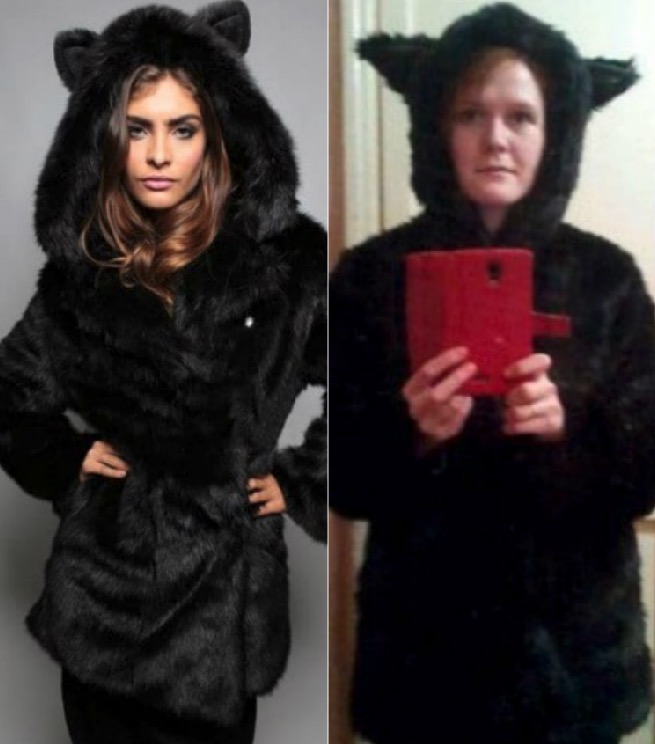 She thought she had ordered a fur coat with a hoodie that had bear ears. But her expectations came crumbling down when she put it on and realized she looked like she was next of kin to an Ewok from "Star Wars."
Baby Shower Cake Was a Monstrosity
A Reddit user ordered a cake they saw online for her sister's baby shower. But what she got instead was a total hot mess. Worst of all, she paid $135 for this. To add insult to injury, the caterer refused to give out a refund because the cake was still edible.
This Prom Dress Was Washed Out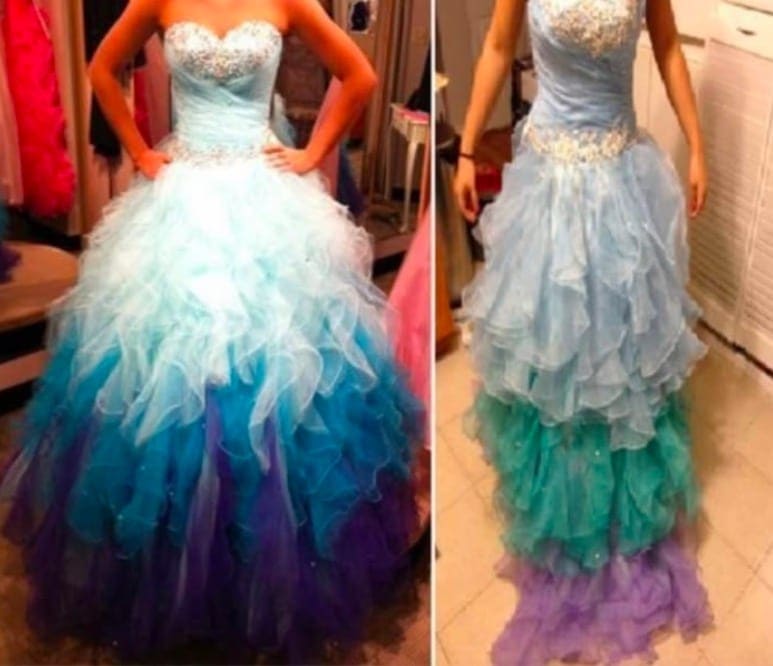 This customer thought she would be ready to party in time for prom. The photo advertised made it seem like the dress had a full skirt with the kind of structure that resembled Cinderella's gown. But what the customer got made it seem like someone had splashed her dress with a bucket of water.
They Got DHL Instead of Starfleet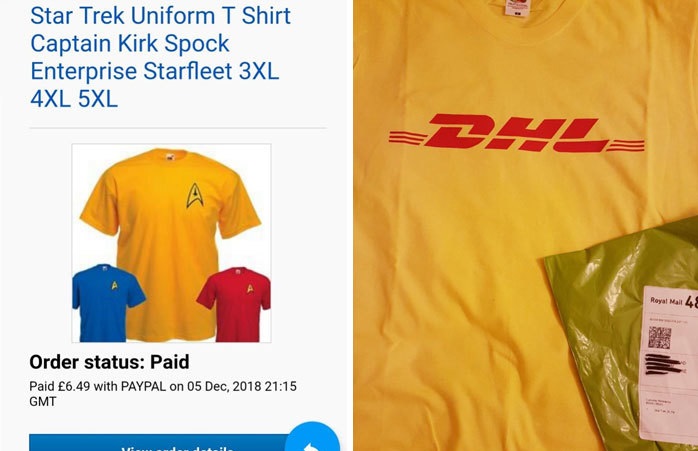 One shopper ordered a Starfleet t-shirt from the Original "Star Trek" series. But he undoubtedly went to red alert and wanted to fire all weapons on target after receiving a yellow shirt with DHL's logo on it.
The Jumpsuit Looked Like Sleepwear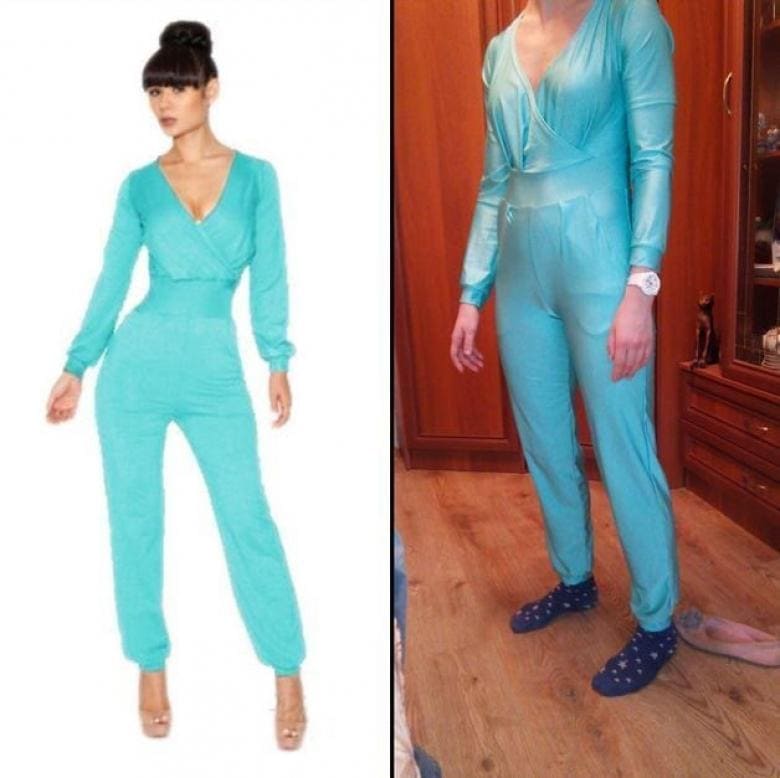 This gal brought herself a bright blue jumpsuit thinking that it would look fabulous and accentuate her beautiful curves. But when she put it on, she realized the jumpsuit looked more like a one-piece pajama.
$5 Skillet Wasn't a Bargain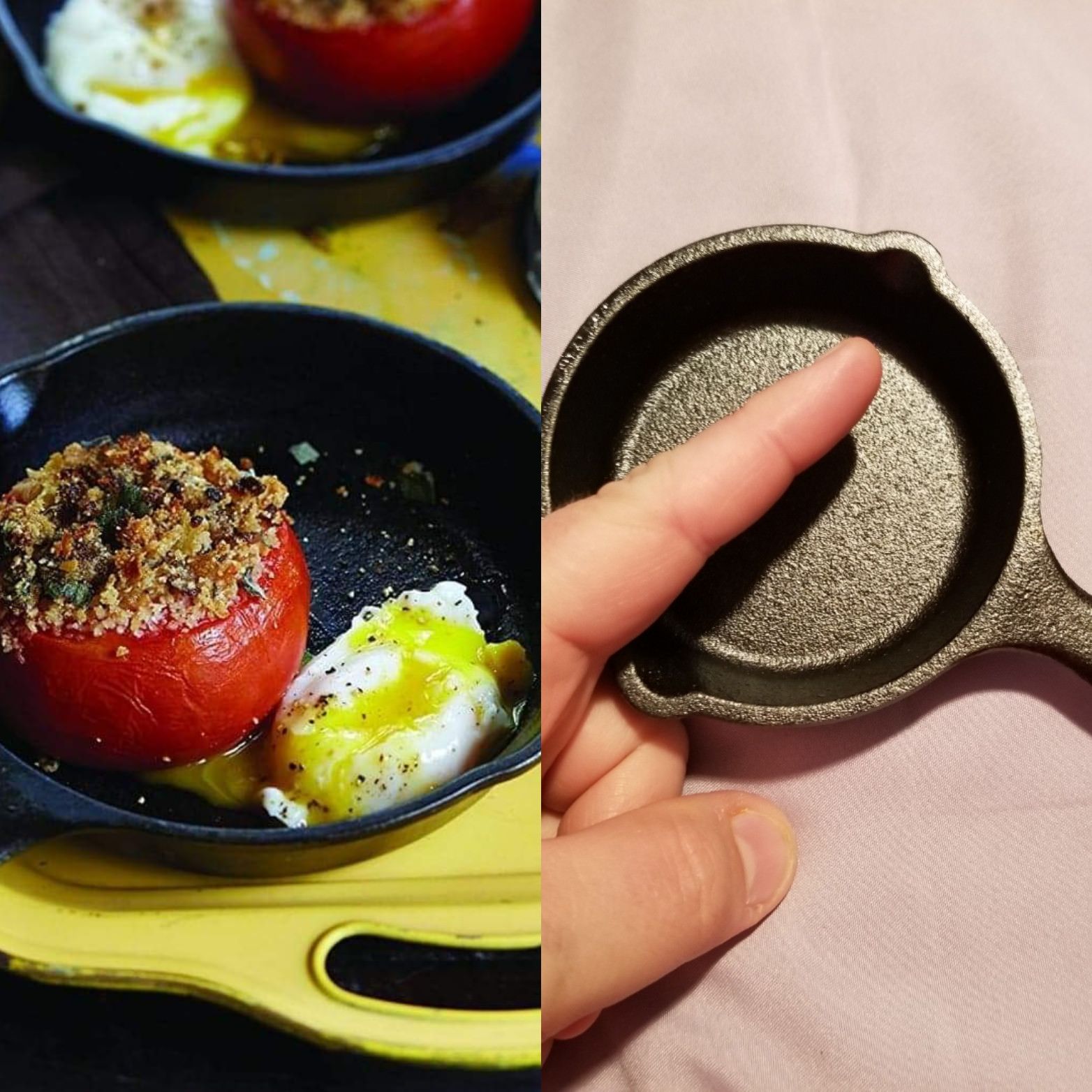 A man's wife assumed she was getting a bargain when she ordered a skillet on Amazon for only $5. But after it arrived, she realized that it was too small to cook a decent dinner. On a positive note, think of all the calories she's going to cut down on by cooking on that thing!
Gold Leggings Were Cropped
This customer saw a pair of gold leggings that went all the way down to the ankles and just had to have it. But when she got it, the gold leggings were cropped and only reached her knees. But at least they're still shiny.
The Blanket Wasn't Big Enough
This person ordered a red blanket from a site called Wish. But he ended up getting a weird piece of cloth that could barely keep a baby warm. Is this Superman's baby blanket? What the heck were they thinking?
The Dress Turned Her Into a Pufferfish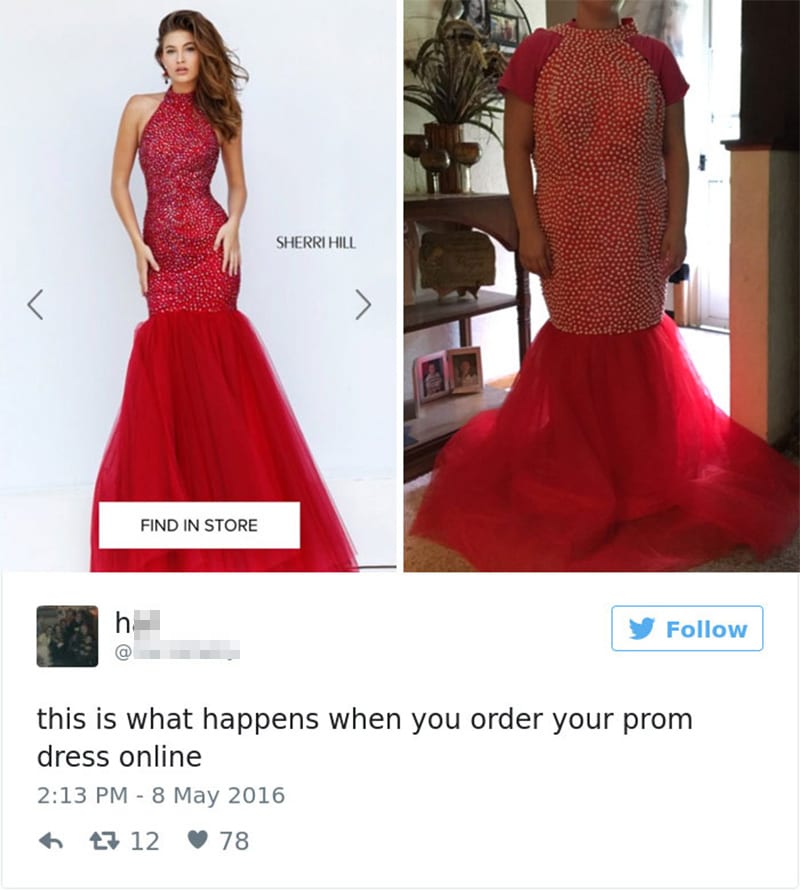 This unhappy customer bought herself a dress full of glitter from a popular dress company called Sherri Hill. But when she put it on, she found that the dress had sleeves, which the advertised dress didn't have. And the beautiful crystals adorning the dress were actually giant plastic pearls that made her look like a pufferfish.
It Wasn't a Man's Size Chair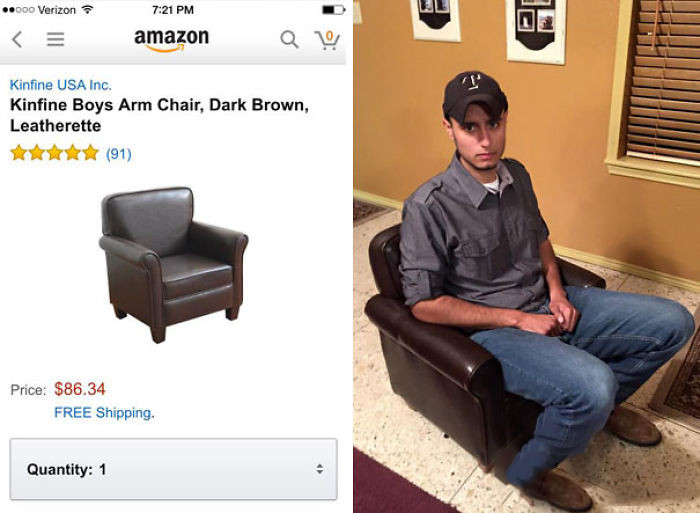 Here's another example of why reading the description is fundamental. This guy ordered a Kinfine Boys Arm Chair. Admittedly, the ad did state the chair was for kids! So when he got it, he had to squeeze his backside into it, and it doesn't look very comfy.
Thigh Socks Looked Like Garbage Bags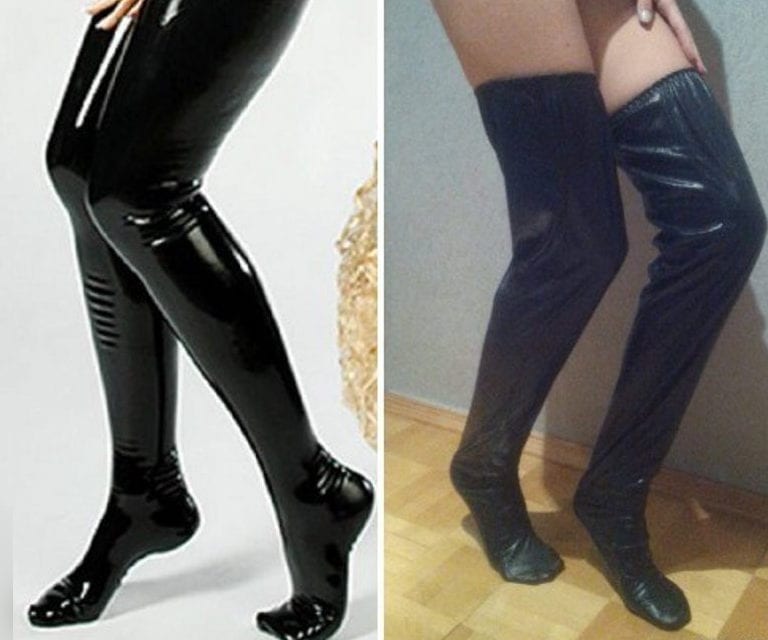 She thought she was getting a pair of latex tights. But what came in the mail looked more like thigh socks made out of plastic garbage bags. Whatever she intended to do with those latex tights didn't go as planned.
Rug Carpet Wasn't Big Enough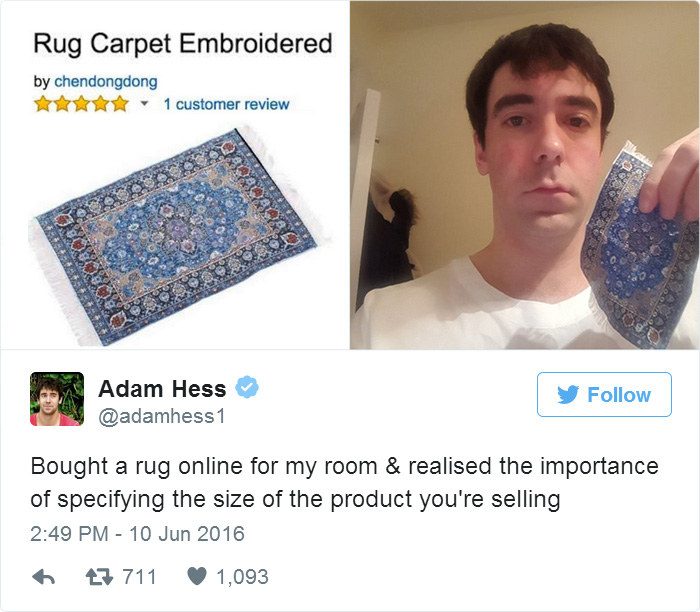 This guy was probably looking forward to getting this stunning embroidered rug. Then this happened. Well, he won't be going on any magic carpet rides anytime soon but at least he can still use it as a coaster!
Dress Looks Like Tinker Bell's Outfit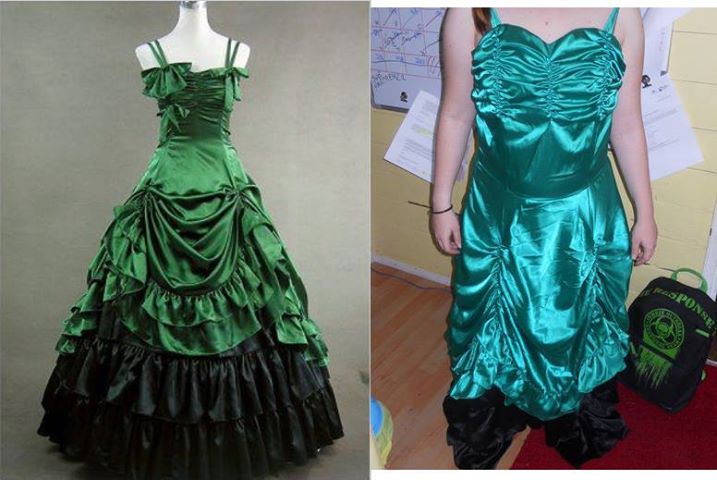 Poor thing! It's too bad that the dress didn't come with some complimentary pixie dust. Maybe that would have solved the wrinkly issue or the fact that the dress looks like it was made out of green wax paper instead of silk.
TV Stand Wasn't Life-Size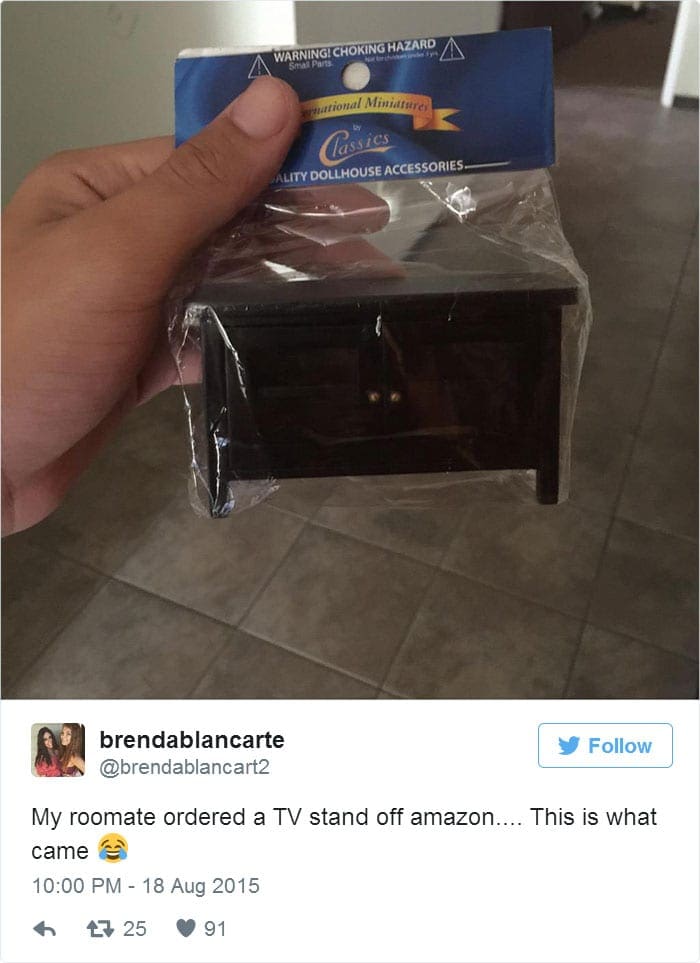 You're not always going to get a product that looks exactly the way it was advertised online. But at the very least, this customer expected their order to be a life-size version of a TV stand. This can barely hold a Smartphone.
It Was a One-Legged Skirt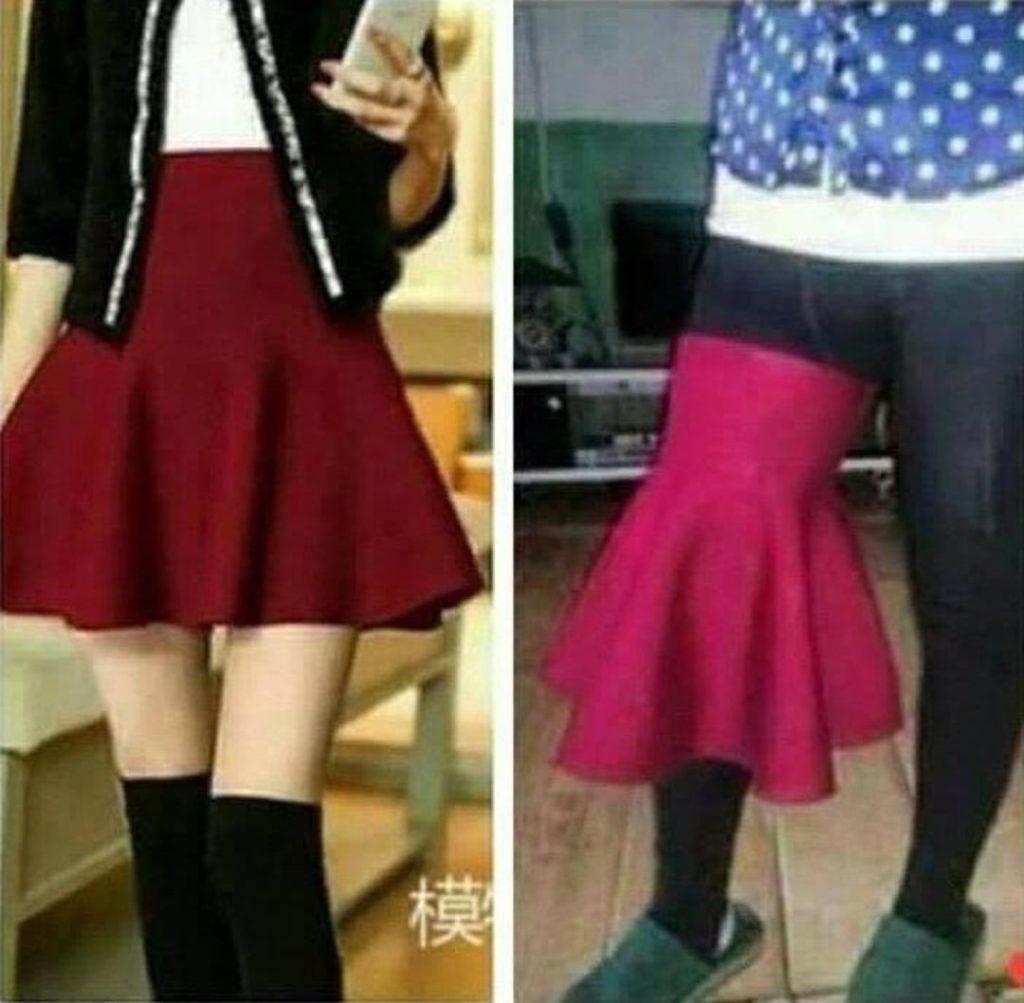 The customer took one look at this skirt online and thought, "Gotta have it!" What could possibly go wrong with this? Plenty! The waist size of the skirt was so small that it only fit around one of her legs. It wasn't even the right color either.
Flower Arrangement is a Total Fail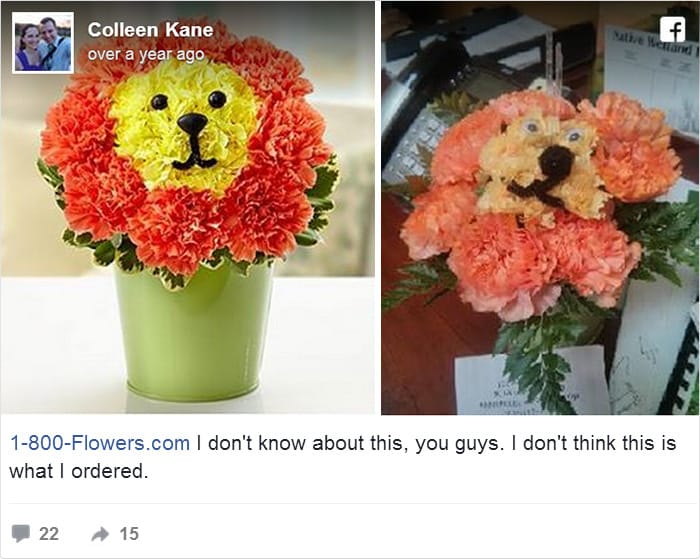 Try and do something nice for someone like order flowers, and this is what happens. It's insane! It looks like the Lion King's fur was just savagely taken and then placed on a planter and left on someone's desk.
Her Dress Looked Shrunken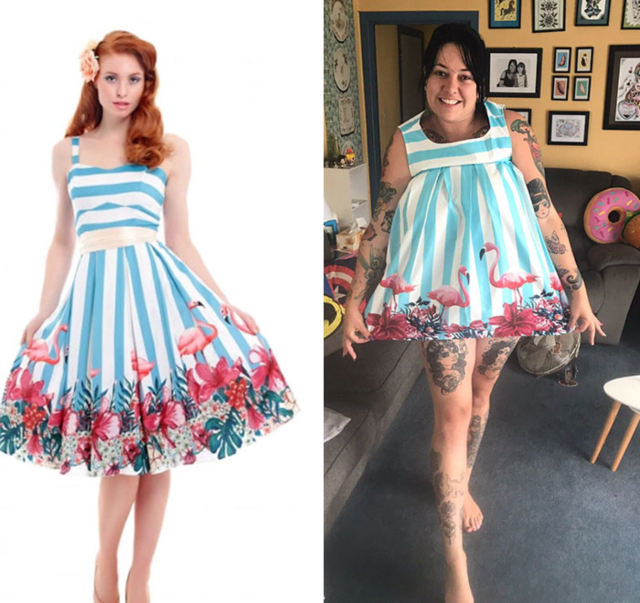 The image she saw online suggested that her dress would reach her knees. But when she took it out of the box and tried it on, it looked like she had raided her daughter's closet and slipped into one of her dresses.
Jeans Are Way Too Long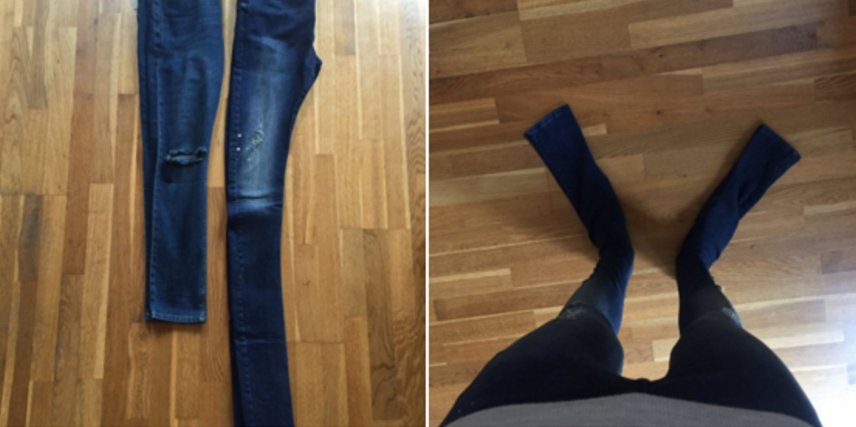 He ordered a pair of jeans from ASOS that were supposed to be 32 inches in length. But it ended up being way too long. In fact, the customer would have had to be some sort of a freaking giant to fit into this pair.
She Got This Green Monstrosity Instead of a Lovely Gown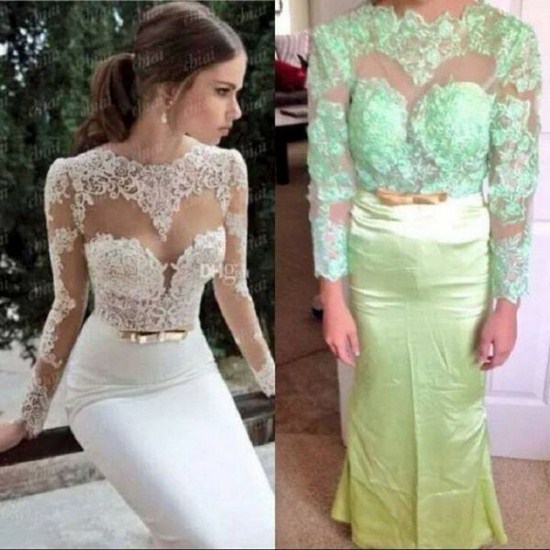 This customer wasn't expecting to look like the model in the photo. But when she ordered that beautiful white dress, she expected it to be, you know, white. Instead, she got a green dress that was all wrinkly from the waist down and looked more like a sack of potatoes made out of silk.
Doormat Photo Didn't Stop Traffic
This customer bought herself a doormat, but what she got in the mail was beyond disappointing. It was just a piece of rectangular foam with a photo of the doormat she actually wanted. How are they allowed to do this?
Converse Rucksack Was Microscopic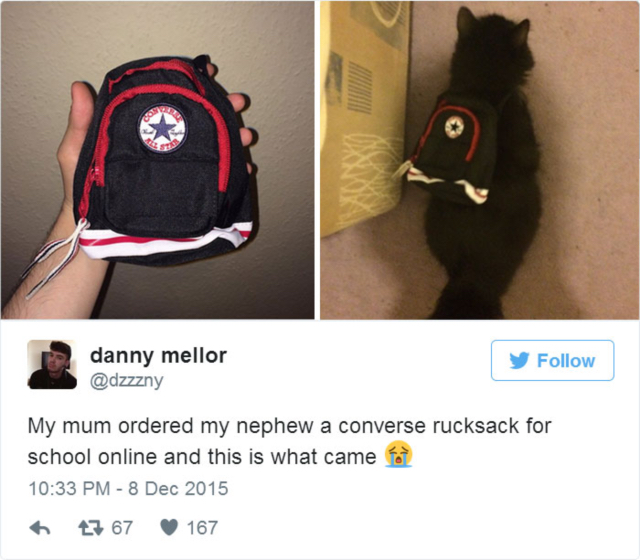 This Converse rucksack is perfect if your child's about the size of your hand. Unfortunately, the order was meant for a kid, so this was an epic fail. But if anyone has a kitty they need to use as a mule, then this backpack is perfect.
This Sweater was a Hands on Fail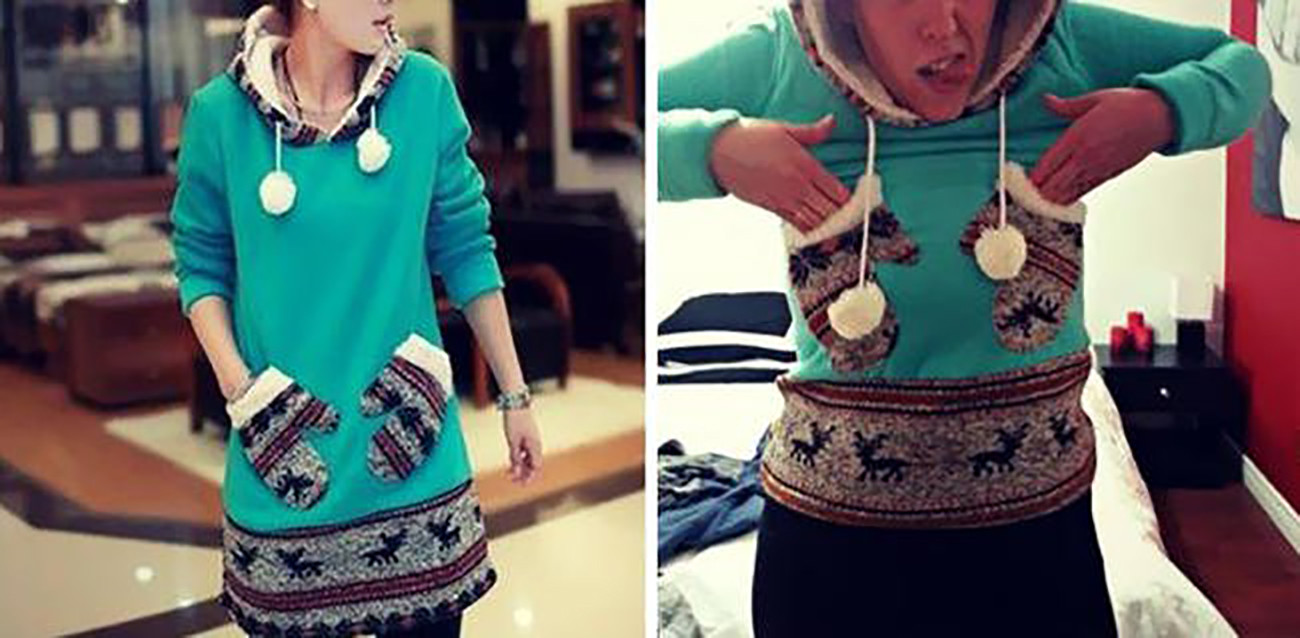 She wanted a sweater with a hoodie and mittens all in one for winter. But the built-in mittens weren't on her tummy but on her chest. Not only was the design a total fail, but she couldn't even fit her hands in the mitten holes.
X-Files Patch Was an X-Fail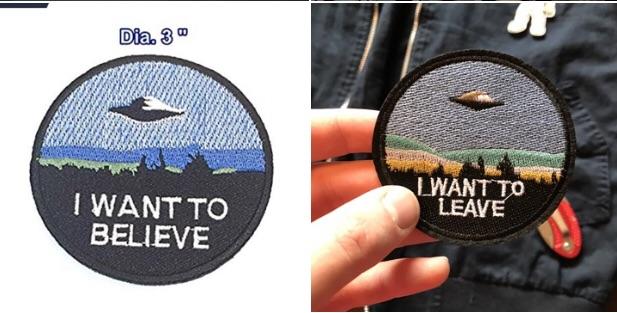 Someone ordered an "X-Files" themed patch from Amazon that was supposed to say "I Want to Believe." But instead they got a patch that said, "I Want to Leave." Scully and Mulder would not approve.
He Got a Dress Instead of a Tank Top
He'll probably think twice about ordering a tank top from Amazon ever again. And who could blame him? They sent him a silver dress in the mail. On the plus side, he looks absolutely fabulous in it.
Beauty Mask Didn't Quite Fit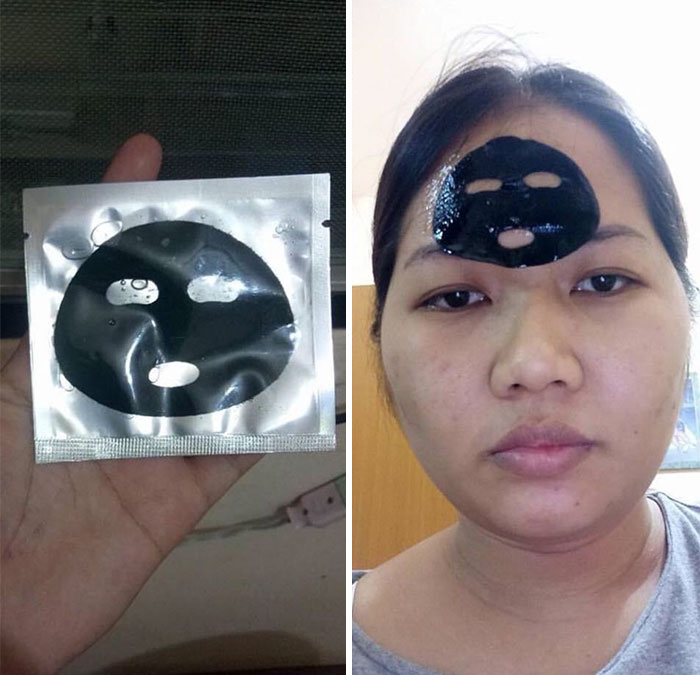 This customer bought herself what she assumed was a beauty mask. Alright, so maybe it looked small on the package already. That should have been a giveaway. But she figured the mask would stretch. Boy, was she wrong!
$10 Chair Wasn't Human Size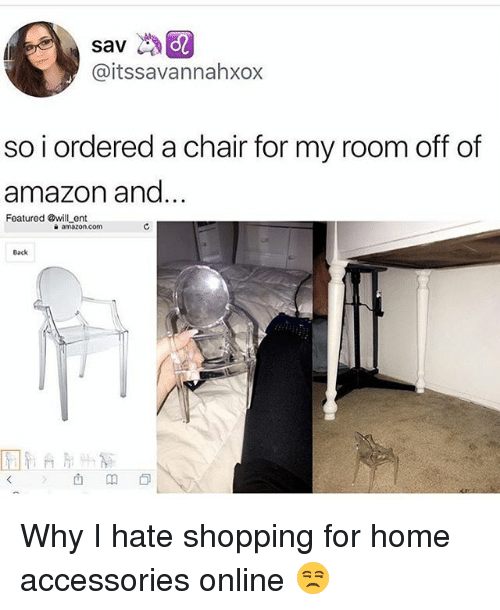 She thought she had gotten a bargain. Why wouldn't she? It was a cool transparent chair and it was on sale on Amazon for only $10. What a steal! Right? But then she got the package and realized only Barbie could use it.
Those Yeezys Look Like Bed Slippers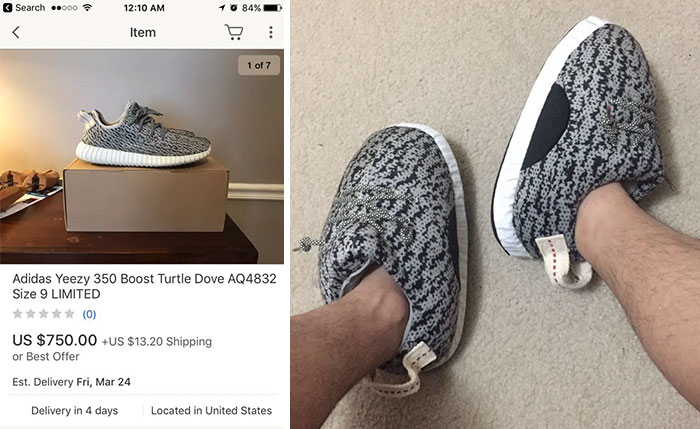 This customer spent $750 freaking bucks on what he thought was a pair of Adidas Yeezys. But what he got looked more like the kind of slippers you slip into after you get out of bed during winter.
Life-Size Teddy Had Long Legs
This poor customer ordered a 78-inch Teddy bear. But what they got was a sad-looking toy with legs that were 4 feet long. On the plus side, if they remove all the filling, they could turn it into a bear suit!
The Shirt Graphic Was Too Small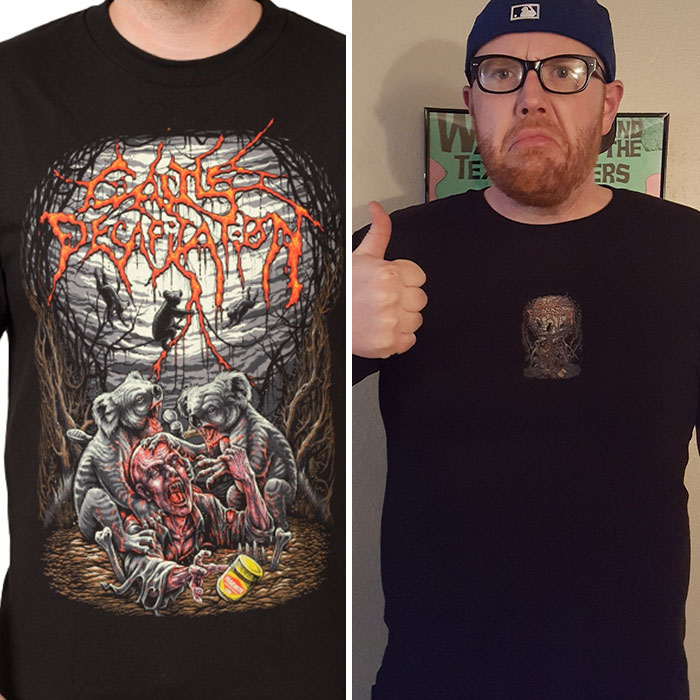 This guy ordered a t-shirt with a graphic photo of koalas munching on a zombie. But when he got it, he found that the graphic was only a fraction of the size shown in the advertisement. At this point, we're starting to think these online stores are trolling their customers!
He Bought Some Toe Tights
This guy bought a pair of skintight leather leggings. He had no idea that the size of his tights were the size of a doll and not a full-grown man. But luckily for him, he found another use for them. They made great toe tights!