The days when drones were only used by the military are gone and now ordinary people use it for recreational and professional purposes. As there are swift advances in drone technology, it is no surprise that people have started to capture some striking and unbelievable photos of places that weren't easily accessible before.
Morrison's Quarry
Don't ever miss a chance to take a picture from above if you ever fly your drone over Morrison's Quarry in Chelsea, Quebec. The water is so pristine there that you will love this place. Scuba divers have a lot of fun there as there are numerous tugboats and cars in the water as well.
Worst Traffic Jam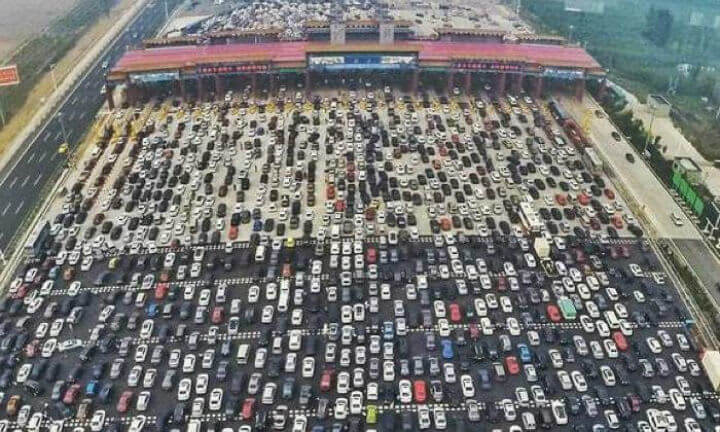 China is the world's most populated country with a population of over 1.42 billion. Given that the country is heavily populated, it is no surprise that they have some of the worst traffic jams in the world. This photo was snapped on the Beijing–Hong Kong–Macau Expressway in 2010. And yes, there are about 50-lanes that are filled with traffic to the brim. Believe it or not, this traffic jam lasted for an astounding 12 days.
The Fisherman and the Hammerhead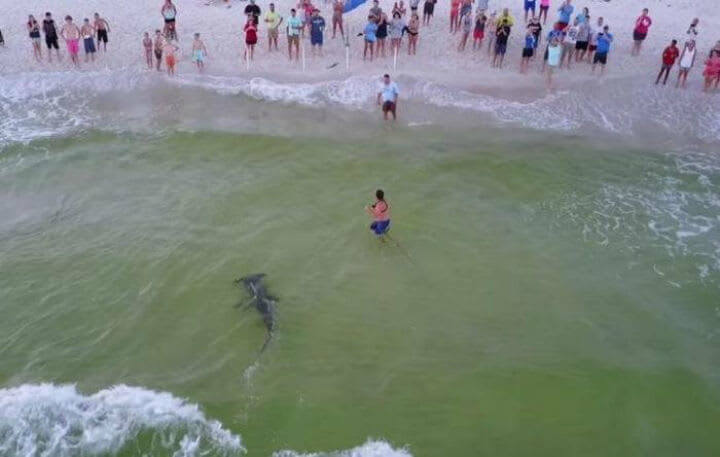 We'll start with this drone photo that is considered one of the most well-timed drone photos. So, it was taken over Panama City Beach, Florida. In this photo, you can see a fisherman trying his absolute best to reel the shark in while people watch it from a safe distance. Fortunately, he was successful in it and the shark was released back to the ocean unharmed. One of the fishermen present at the Panama City Beach said, "We weren't directly targeting hammerhead sharks but when your line is out there you never know what you're going to hook on to."
The Silverdome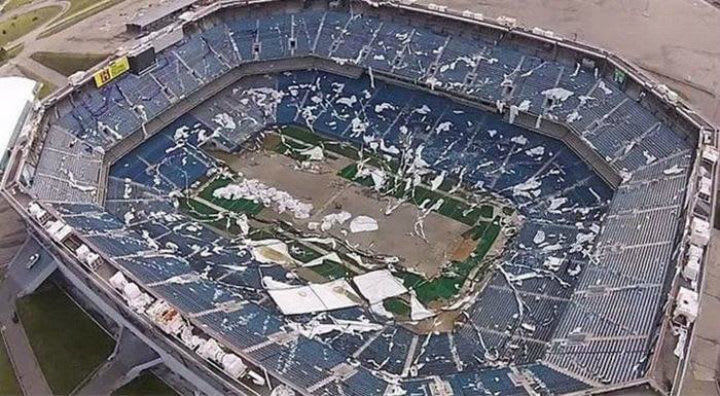 Once home to the Detroit Lions football team, it is unfortunate that the Silverdome stadium sits in ruins. It was moved out of place in 2002 and purchased by investors in 2009 to turn it into a soccer stadium, but that never happened. It is quite a historical monument as it was once a Super Bowl host, NBA finals were played here, the Pope visited it, and even Elvis had a concert in this stadium.
The Giant Pink Bunny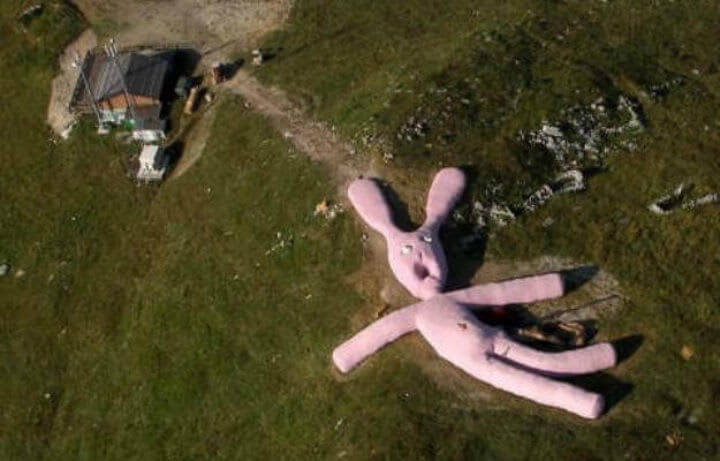 The pink bunny was first caught by a drone in the Piedmont region of Northern Italy back in 2005. Given the name Hase, it measured 200-feet in length and is 20-feet-high. Although plans were to keep it there by 2025, it had already decomposed by 2016.
Skyscrapers Everywhere
What you are looking at is the amazing birds-eye-view of the city of Hong Kong – a city known for its immense skyscrapers. Although skyscrapers are beautiful to look at, they have made it quite difficult for the citizens of Hong Kong to get an affordable place in the housing market.
Paddleboarding A Great White Shark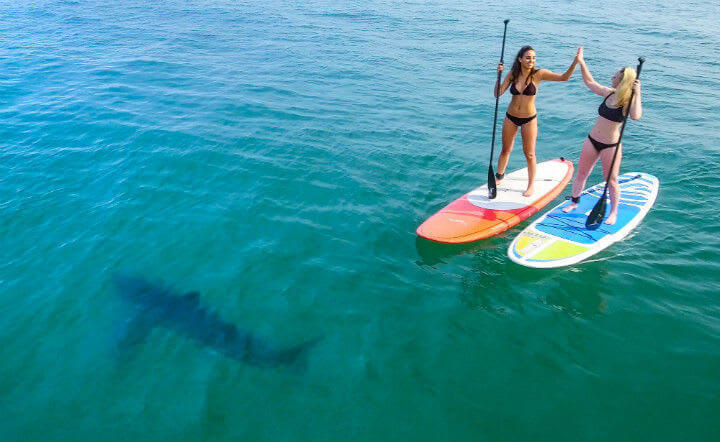 This photo was taken off the coast of Southern California with the help of a drone. Forrest Galante and Mark Romanov were filming a documentary about the relationship between humans and sharks. The women in this photo, Jessica and Kelly, were aware that a great white shark was swimming with them. The purpose of this photo was to show the world that sharks are not as dangerous as they are portrayed to be.
The Boneyard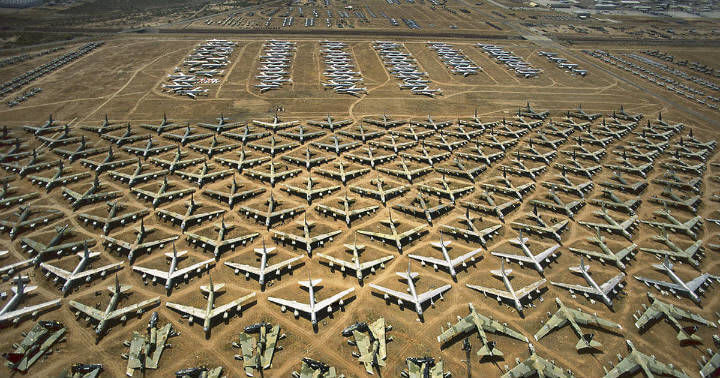 There is no denying that the US spends a lot of money on buying military equipment. But have you ever wondered what happens to the equipment that served its purpose? For that, there is "The Boneyard" in Tucson, Arizona. It is the resting spot of over 4000 different types of military airplanes. This is the world's largest storage center that has been around since the end of the Second World War.
Gulliver the Gentle Giant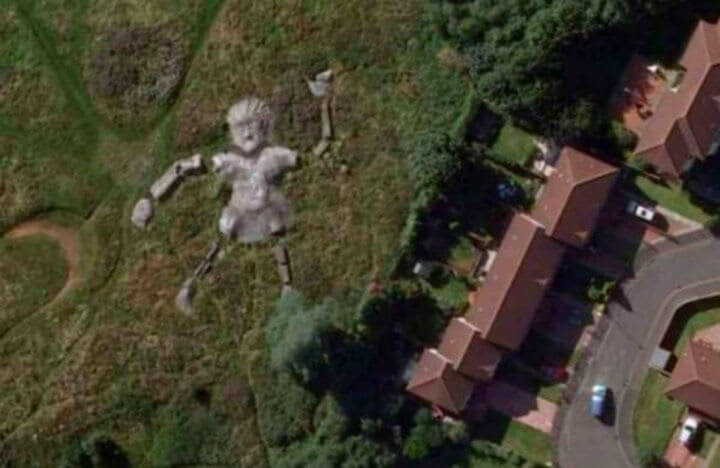 A drone flying over Edinburgh, Scotland took this photo. This is a statue dubbed as Gulliver the Gentle Giant. Jimmy Boyle, a convicted murderer, made it when was imprisoned in Barlinnie Prison in Glasgow. The statue that has become quite popular among the local population was placed and unveiled in 1976. As it became unstable over the years and the government wanted to establish a flood prevention system, the local government decided to remove it in 2011. Although it was demolished, it lives in cyberspace to this day.
Christ The Redeemer Statue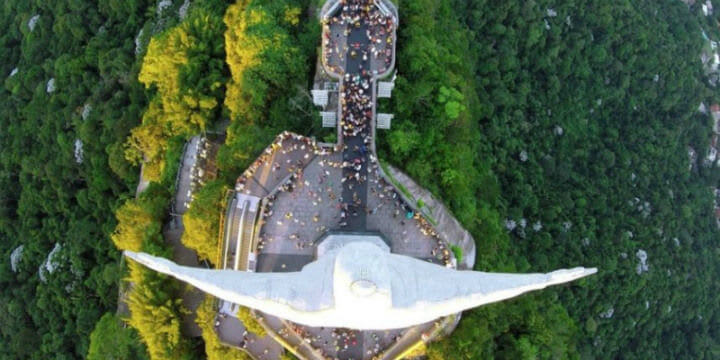 This rare view of Rio de Janeiro's Christ the Redeemer statue was captured with the help of a drone. It is 124.7 feet tall and is on top of the 2,329-foot-high Corcovado Mountain and that's why full credit must be given to the drone flyer to take such a perfect shot.