In the Catverse, all cats of different colors are welcome to dwell together in peace. If you read the news like I do, which is skimming through Twitter and Facebook, you'll see that racism has polarized the world to hazardous levels. People are grasping each other's necks in an attempt to get an advantage over the other. This entitlement needs to be addressed and removed from the core of this society because everyone who lives on this planet should have the freedom to do whatever they want as long as they follow the rules.
When it comes to cats, though, all you see is peace, joy, acceptance, and love. Cats, believe it or not, do not discriminate and adore everyone with equal vigor as long as you are willing to contribute in the same manner. Many of you cat lovers are probably aware of the stories and legends surrounding both white and black cats, but trust me when I say that when you see the two felines together, you will forget everything you think you know and desire that aesthetically stunning image to never leave your view. Despite the fact that they are separated by the visual and mythical spectrums, I believe that witnessing them together is the most relaxing experience one could ever have. The contrast between black and white is striking. So sit back and take in this lovely scene made by nature.
The ideal cat relationship does not exist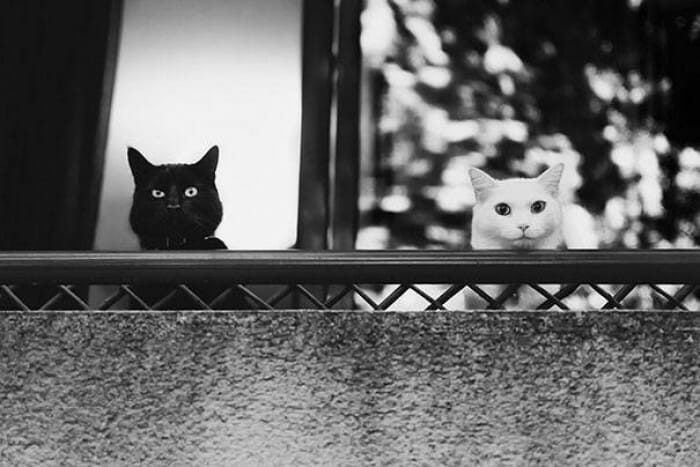 Just look at these adorable cats and the way that they are the complete opposite of each other. Even so, they look like they complete each other in every way.
An Aesthetic Picture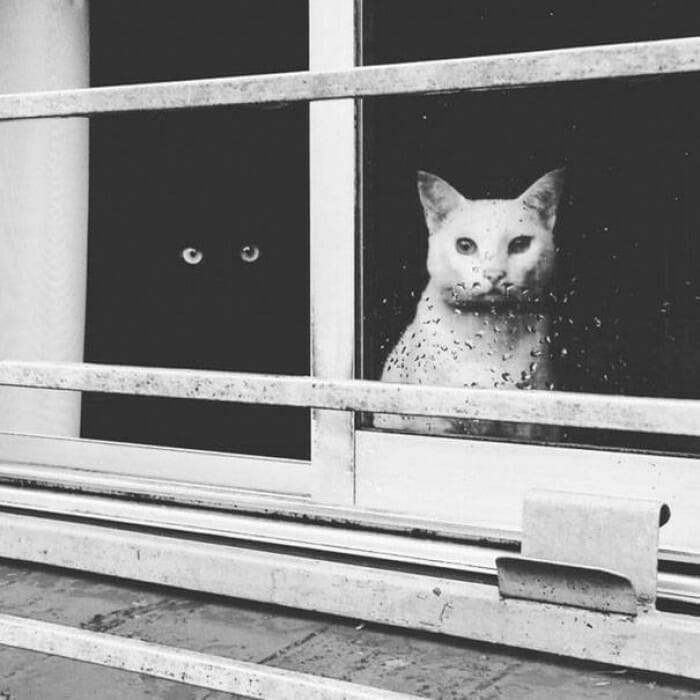 This is quite an aesthetic picture and the black and white cats are totally complimenting each other. You might even miss the black cat if it were not for those piercing eyes.
Invested Heavily
You can clearly see in the picture that the two cats are heavily invested in something on the table. They should clearly be left undisturbed.
Soulmates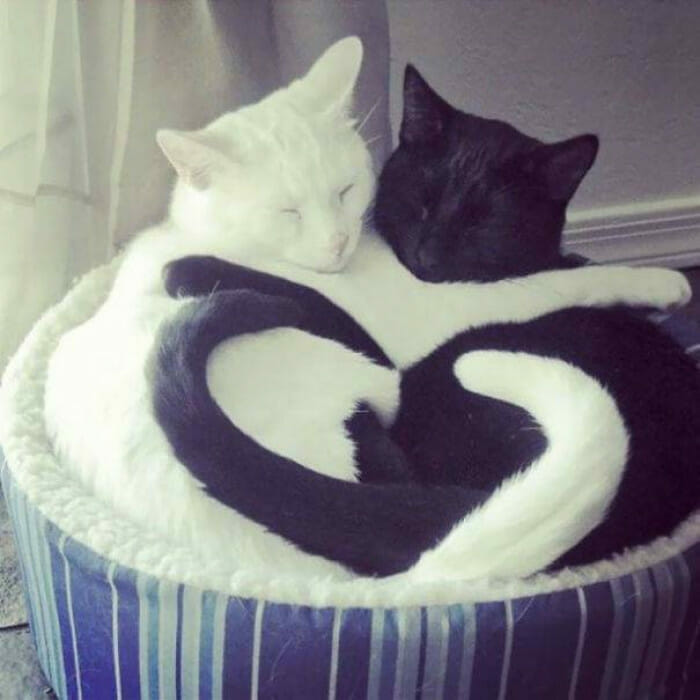 This picture is quite adorable. Their bodies complement each other to form a perfect heart and that too is by sheer coincidence.
Cats United
Yet another adorable picture of the two cats acting like one. Whatever one does, the other follows suit.
Something Out Of This World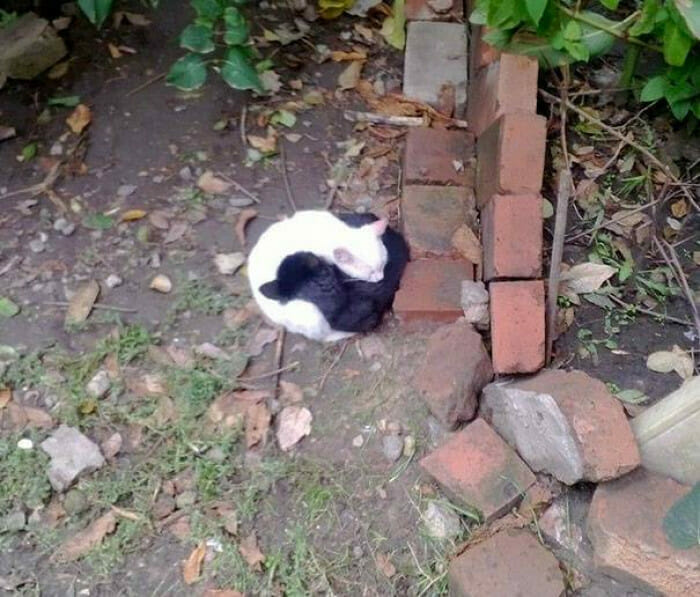 Their connection seems almost fictitious because you cannot forge something like this by force. They are intertwined into each other's lives deeply.
Against Racial Injustice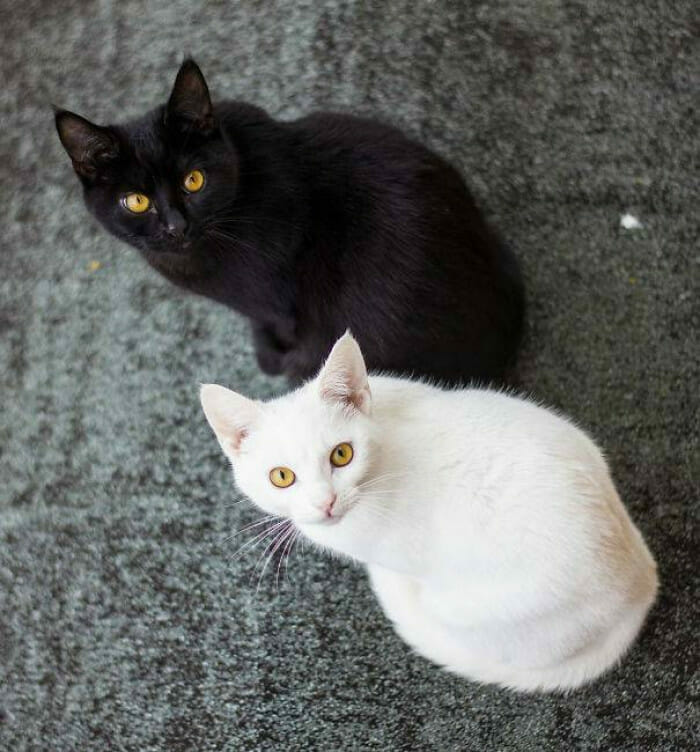 You would not believe but the song that was playing when this picture was taken was about racial injustice and the two cats were looking up as if they were totally behind the hustle.
Black And White Cushion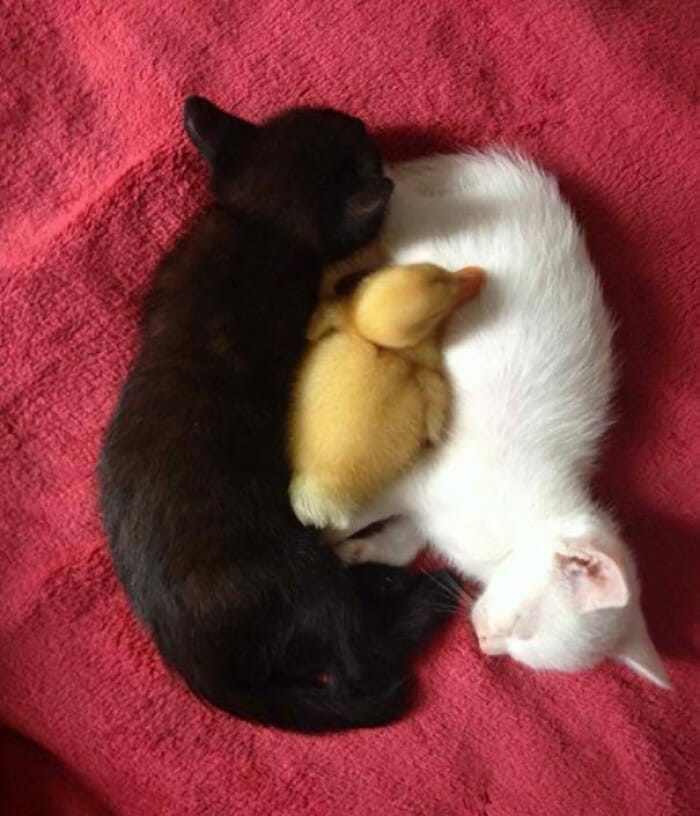 The two cats formed quite a comfortable cushion for the duckling to rest on.
Sharing The View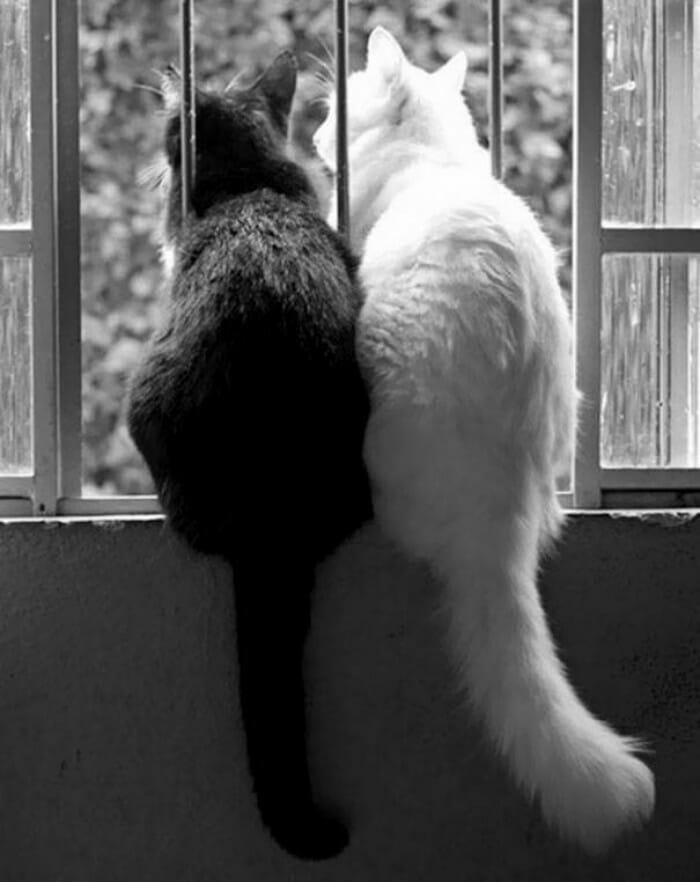 The view may be quite breathtaking but it is nothing compared to the feeling that you get when you enjoy it with your partner.
Self Defense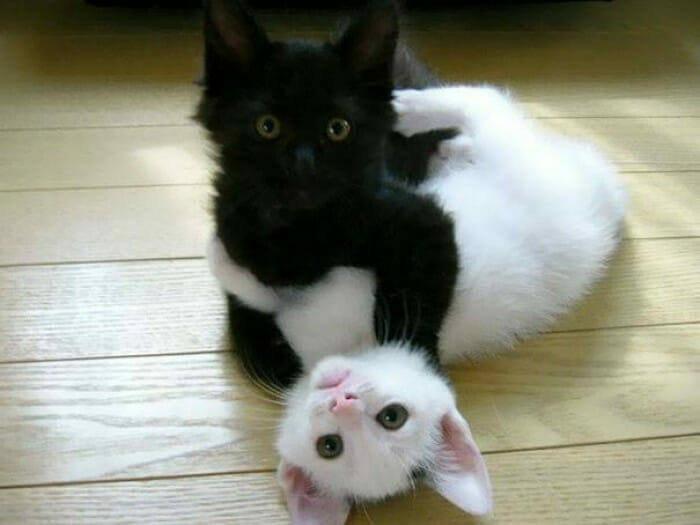 The cats are being trained in self defense and what better partner could they have than each other?