It is time to play a lot with colors and creative outfits and why should pregnant moms be left behind. We collected pictures from Instagram and Pinterest that gave a real good show of how moms all around the world who are embracing their bumps and not compromising any of the Halloween fun. Halloween may always be about cute kids getting ready as boo and the walking dead, but pregnant ladies can have their share of fun too. It is a great day for them to dress their bump up a little and fun.
Here are 26 mothers to be wearing imaginative, funny and downright quirky Halloween costumes.
Whether a mama-to-be is in the market for cute, sexy, comfy, or homemade, there are plenty of options to accessorize that belly and we have the entire collection for you to choose from.
1. That is definitely more than a beer belly. 
2. Already scaring the shit out of his/ her father. 
3. Oh! How could we miss a beauty queen? 
4. Because you just came to Boogie wonderland. 
5. OCTOMOM!!
6. This is definitely going to hurt her in the wedding day. 
7. This could have worked really well directly on the belly. 
8. Meet the human fishbowl. 
9. One guy clearly bulls eye a womp. 
10. One doodle that cannot be undone. 
11. A bun in the oven.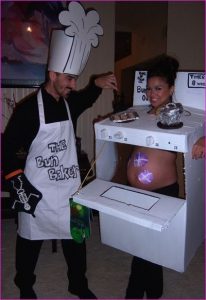 12. Outlook for sleep was not so good. 
13. This woman has a cute little clam. 
14. Thing 1 patiently looking forward to thing 2. 
15. Because it's a party in the USA.