Celebrities often have a habit of pushing the boundaries of fashion when they are on the red carpet. If you have anything wild on your mind that you think can become a dress, celebrities have gone a step ahead and flaunted it on the red carpet. You might remember that a dress made out of recycled bottles was also worn by a celebrity a few years ago. However, there is a bigger trend out there that is making everyone crazy. This is the trend of wearing "naked dresses", which are essentially gowns and outfits that show the maximum amount of skin possible without revealing the private parts.
Lady Gaga
Lady Gaga just loves it when she is the headlines of tabloids and magazines with her eccentric fashion sense. She loves to turn heads than to wearing a practically see-through dress with just a few beads for coverage.
Beyonce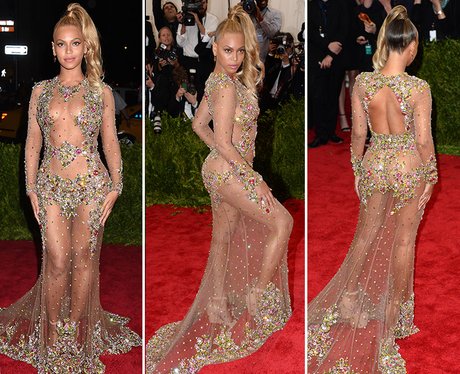 Yes, even the Queen of Pop has a fashion sense that is considered to be quite bold. It takes some guts to wear a dress like this on the red carpet; not only is it skin tight, it's also practically see-through with only a few sequins to conceal your modesty.
Miley Cyrus
Miley Cyrus is one to never shy when it comes to flashing the flesh, and this silver bejeweled ensemble she wore on the red carpet at the 2015 MTV VMAs was certainly no exception. Even so, this was one of the most shocking dresses that she has ever worn in public.
Rita Ora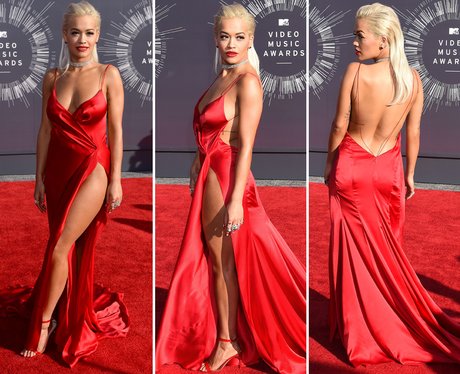 The 'I Will Never Let You Down' star turned heads all over the shop at the VMAs this year, showing off her back, a little cleavage, and most of her leg. It is a very daring dress but Rita Ora managed to pull it off without a hitch.
Jennifer Lopez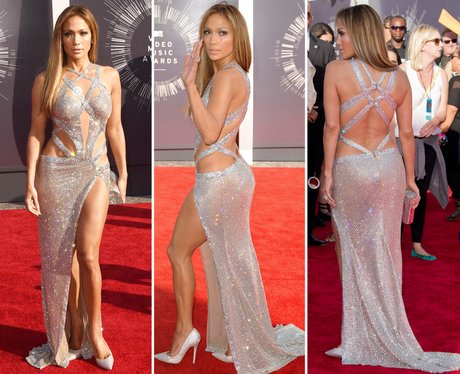 Jennifer Lopez proves she's still got it in this silver cut-out gown at the 2014 MTV VMAs. Not many celebrities have the courage to pull off a raunchy thigh-high split but Jennifer Lopez is not one to shy from showing a little skin.
Rihanna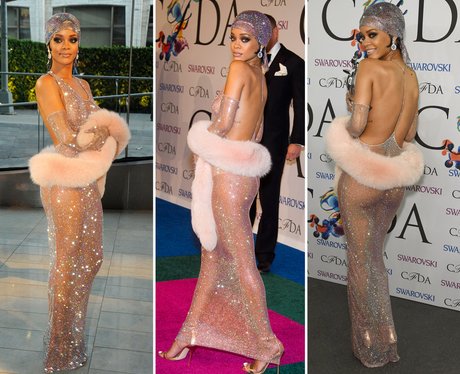 While attending a fashion event in NYC in June this year, Rihanna was clearly out to shock everyone! Her sheer dress showed off every curve and something much more for those who were close enough to see.
Iggy Azalea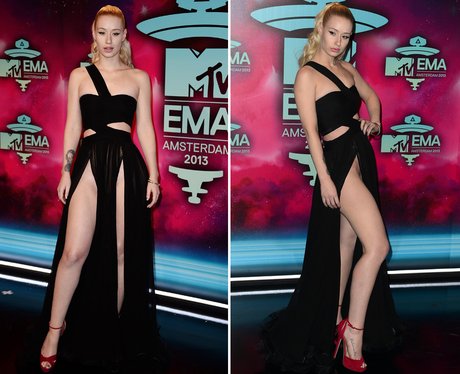 Iggy didn't seem to be worried about exposing herself in this incredibly revealing dress at the 2013 MTV EMA's. The singer gave Miley a run for her money in this black dress that featured two giant slits up the front revealing her nude underwear.
Cheryl Cole
Cheryl flashes the flesh in this white Versace gown. The perfectly placed cut-out panels revealed her toned body underneath complete with a thigh-high split.
Katy Perry
Although she is renowned for her fearless outfits Katy Perry took it one step further wearing a completely nude bodysuit. This worked on-stage when she teamed it with a pair of butterfly wings but she looked near to naked when she came out later to accept the award without the wings.
Pink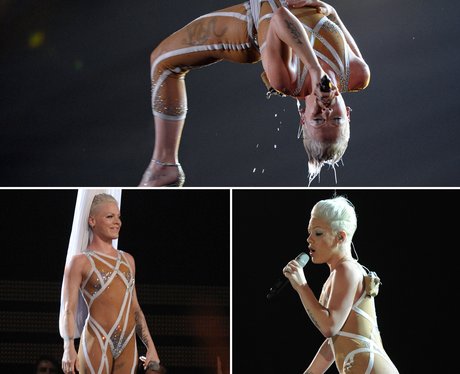 Pink opted for this nude bodysuit during a performance at the Grammys! After all, it was a night to steal all the thunder for yourself.