Celebrity style changes with every red carpet appearance. But the difference between fashion in the '90s to now is something to behold. While some stars are glamorous no matter which decade they're in, there were many 90s fashion trends people wish they could forget, such as kimono dresses and skirts. From JLo to Britney Spears, take a look at these Hollywood stars' fashion evolution.
Angelina Jolie Went From Edgy Capes To Classy Capes
In the 90s, Angelina Jolie was all about her bold and intense looks. For example, here, she went velvet on velvet, a fashion statement if there ever was one. not only that, but the second tier of velvet isn't a jacket or anything, but a solid black cape only Jolie would be able to pull off at a Hollywood event. Well, years went by, and Jolie is still sporting capes at movie premiers. Granted, this one is a bit classier and formal (if capes can be formal?). Either way, her style definitely went from edgy to classy in the best way possible.
Cate Blanchett Went From Drab To Fab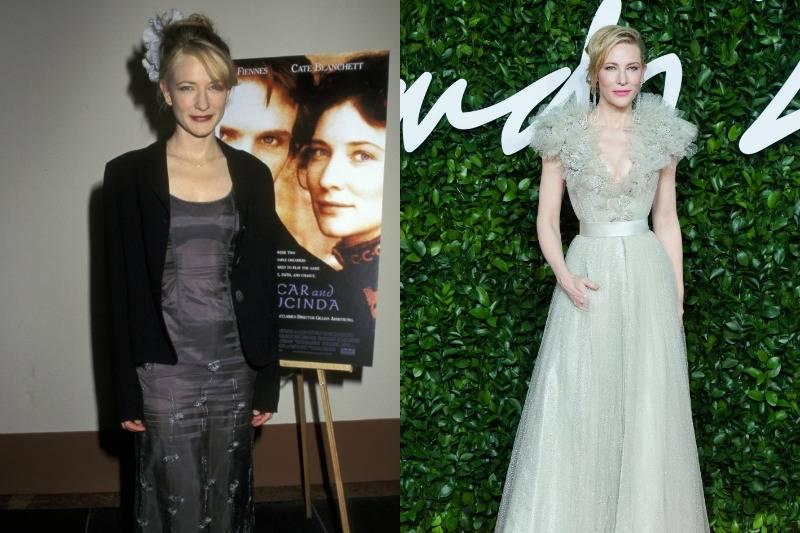 The 90s weren't a great decade for fashion trends, especially for stars like Cate Blanchett, who were photographed and now can never get away from the bad styles. A slate gray silk dress that does nothing for her figure paired with an oversized blazer and faux flower in her side bang-swept hair is one of those trends. Thankfully, Blanchett went through a bit of a fashion upgrade throughout the years, finally coming into her quirky, high-fashion style. This light green gown, for example, makes her look beautiful and yet somehow edgy at the same time. Not bad!
Claire Danes Finally Got That Hair Under Control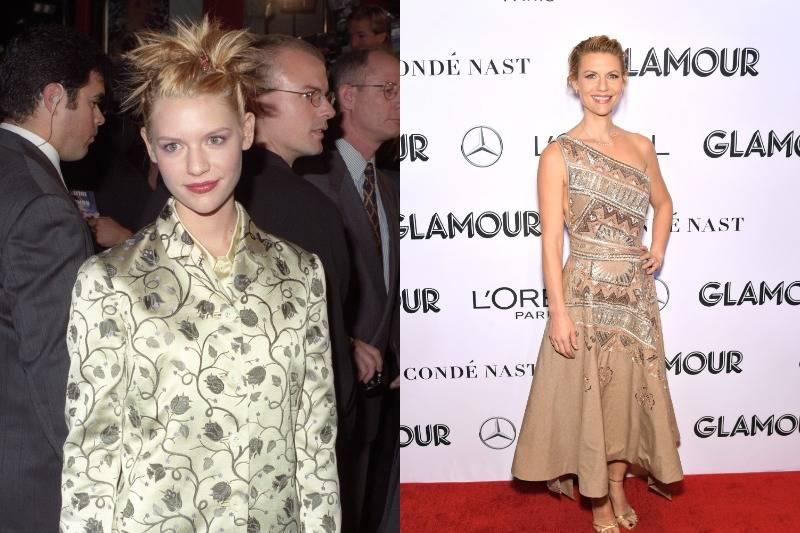 During the 90s, Homeland actress Claire Danes went, well, full-on 90s. From the spiked hair that might as well be held up by butterfly clips to the silk kimono dress, the entire look is a lesson in what not to wear to red carpet events. The good news is the actress has since upped her game. Behind her are the days of questionable hairstyles and fashion trends. Now, Danes make her way onto the red carpet in gorgeous gowns and professionally styled hair—a much-needed improvement.
Mary-Kate & Ashley Olsen Still Coordinate Outfits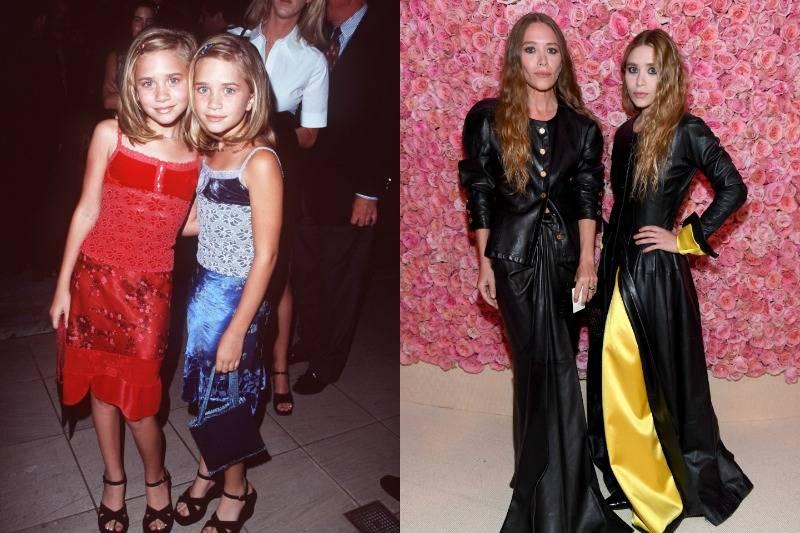 When it came to Mary-Kate and Ashley Olsen in the 90s, there was one thing fans could be certain of; they'd always match during their appearances. They might not wear the same color, but they'd definitely be wearing virtually the same outfit, like these spaghetti-strap tank tops with silk kimono-style skirts. Well, not much has changed over the years. Even though they swapped cotton and silk for black leather, the twins still seem to coordinate their outfits. Now it's just less Limited Too and more high-fashion with a gothic twist.
Scarlett Johansson Has A Thing For Silk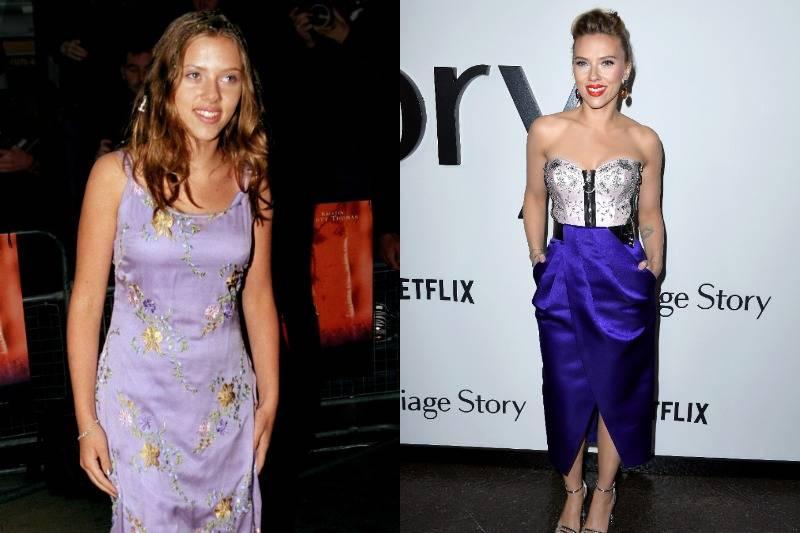 Actress Scarlett Johansson wasn't immune to the pull of the silk kimono-style dresses of the 90s, as seen in the picture above. She was a '90s teenager, after all, and that style was all the rage, especially that lavender color. And it looks as though she kept with the silk trend until the following decade. While she changed her hair from the randomized braids known to the 90s, Johansson is still sporting a silk dress. Granted, the one from the late 2010s is a bit chicer, being strapless, multi-colored, with a statement zipper on the top.
Miley Cyrus Has Always Stood Out From The Crowd
While Miley Cyrus didn't bring the multi-colored clip bow with her to the 2000s, she did bring something — her inevitable presence that makes her stand out in the crowd. Even though she most likely wasn't dressing like a toddler, she was wearing all of the popular items, from the bow on the top of her head to the high striped collar. Now, she's gracing the red carpet and showcasing her personality while doing it. Here, she's seen wearing an asymmetrical statement dress of green and black sequence, polka-dotted tights, and pin-straight hair. Well, the hair is a bit the 90s, but she's still making it work.
Courteney Cox's Finally Dressing Her Age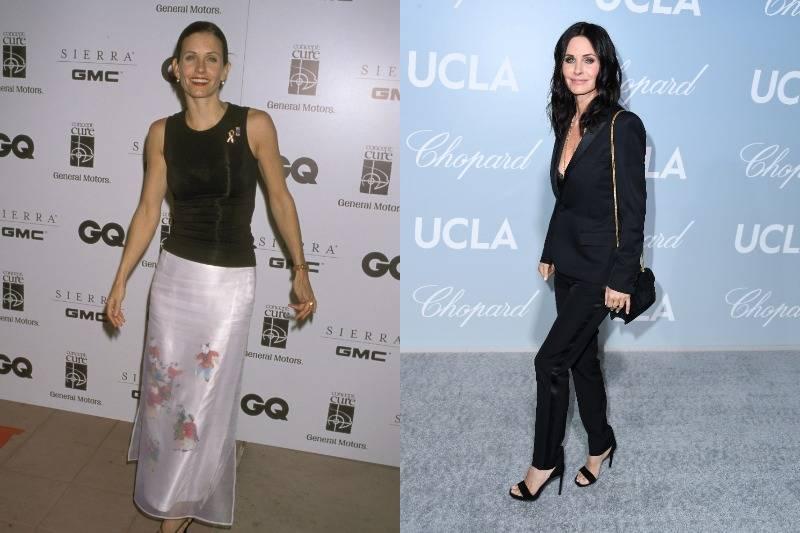 Actress Courteney Cox has always been beautiful, but she wasn't immune to the style trends of the 90s. Here, she's sporting a silk ankle-length skirt with a sheer overlay and form-fitting black tank top. If the store Limited Too was still around, this ensemble would most likely be in the storefront window. Moving ahead a few years and Cox is finally dressing her age, looking absolutely gorgeous in a fitted black suit, matching bag, and heels. And, hey, she went all out, even dying her hair a bit darker, making the look edgier and with the times.
Tia & Tamera Mowry, Sporting The Same Hairstyle Since The 90s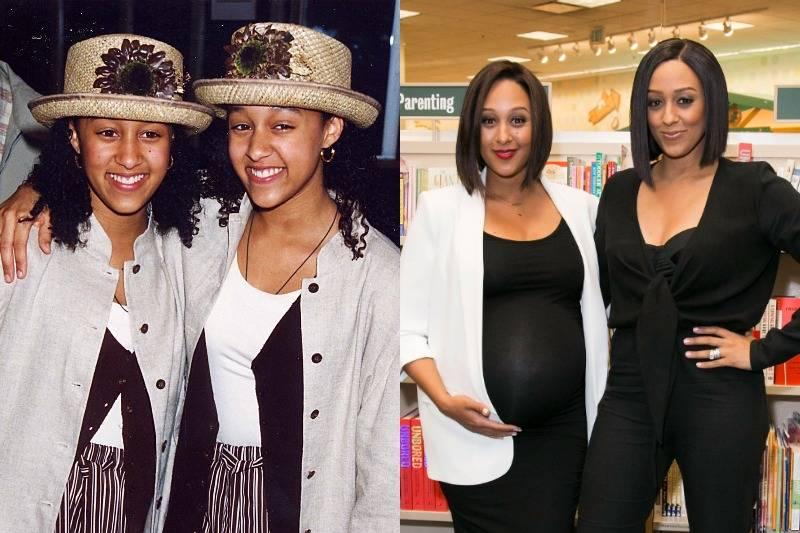 Tia and Tamera Mowry were absolutely adorable in the 90s. The Sister actresses typically wore matching outfits during their appearances, even if that meant sporting wicker hats that looked better suited for a Sunday morning drinking lemonade on the front porch. Even so, it looks as though not much has changed in recent years. The twins are still wearing coordinated clothing, down to their chic hairstyles. They might not be the stars of a teen sitcom anymore, but they're obviously still full of sisterly love when it comes to fashion choices.
Kate Hudson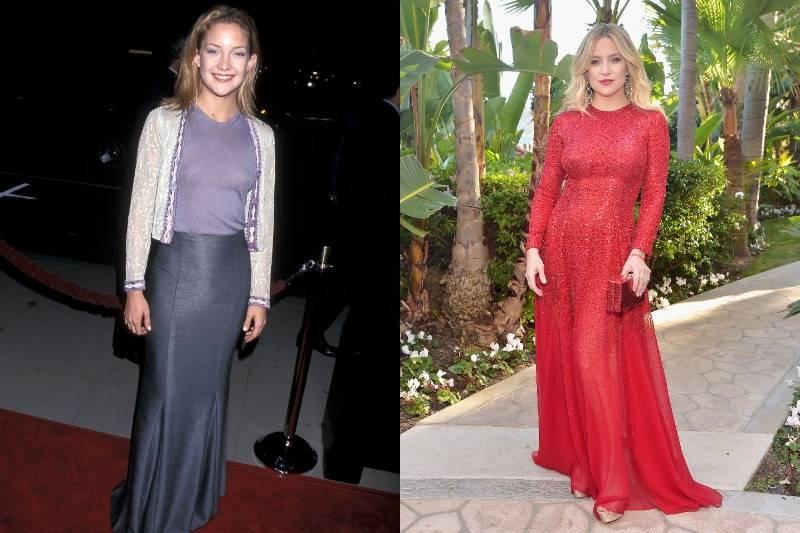 In the 90s, Kate Hudson fell prey to something most people who have ever straightened their hair know all too well: that one piece that doesn't want to cooperate. Unfortunately, for Hudson, that piece just so happens to be in the front of her face for the world to see. At least she swapped out the weirdly straightened hair for a more chic look, including the change from a plain t-shirt and grandma sweater to a gorgeous fire-engine-red gown. It was a much-needed upgrade.
Dakota Johnson Went Through A Transformation
It might be hard to imagine, but those side-to-side pictures are of the same person, actress Dakota Johnson. She was a product of the 90s, though, sporting a messy bun on the back of her head, a lavender kimono-style dress, and a sweater casually thrown over her shoulders. Thankfully, she grew out of that style in the following decade. But, hey, that's what happens when you grow up and star in major motion pictures! Johnson's dual bright white top and full skirt on the carpet should be her go-to look for everything.