There are some truly stunning pieces of architecture in the world. From the Casa Mila in Barcelona, Spain, to the Forbidden City temple in Beijing, China, the world is certainly blessed to have such breathtaking works of art. Recently, another treasured work of architecture was added to the collection. Keep reading to discover what should be the 8th wonder of the world.
The Golden Bridge, which is located in the Ba Na Hills near Da Nang, Vietnam, has gained the attention of tourists all around the world.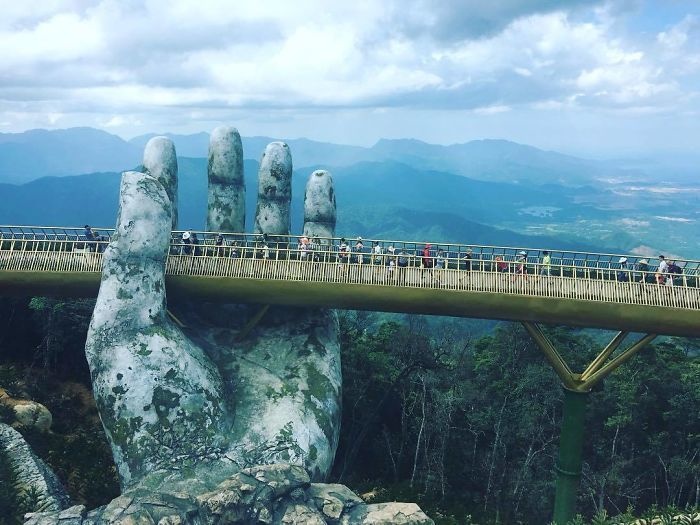 The Golden Bridge has been constructed in the forested hills of Vietnam. Since its opening in June, the Golden Bridge has brought in thousands of visitors. The bridge was originally created by French colonists as a hill station in 1919. But the bridge, which sits 490 feet in the air, isn't the most impressive part.
What appears to be holding the bridge in the air, are two large hands.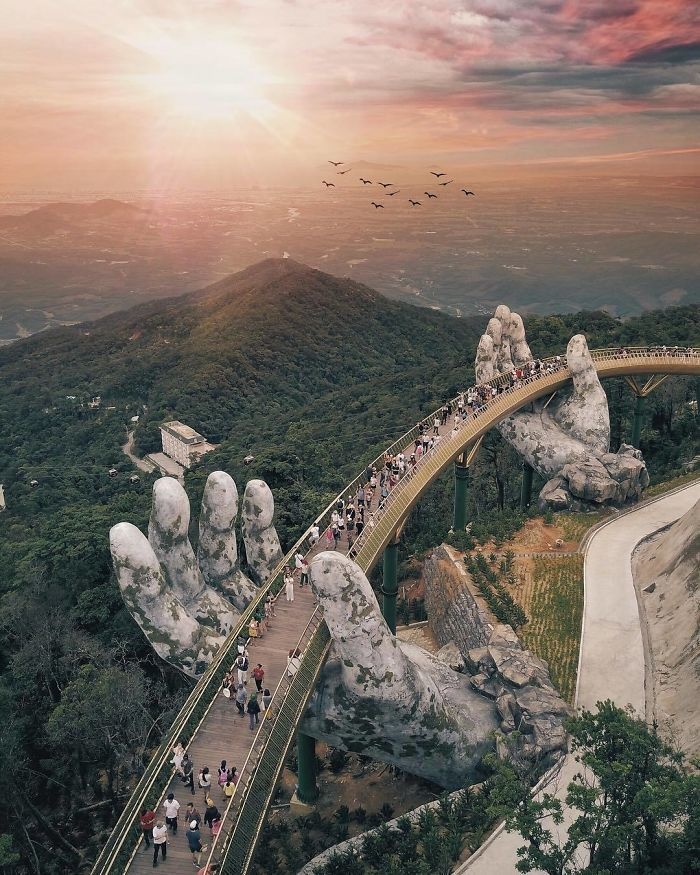 The hands were created to give visitors the illusion of "taking a stroll on a shimmering thread stretching across the hands of gods." Visitors are blown away by the amazing structure. "The bridge is beautiful with an amazing architectural style, from here we can see Da Nang City, it's so nice," said visitor Nguyen Trung Phuc.
The creators are more than thrilled about the attention that they have been receiving.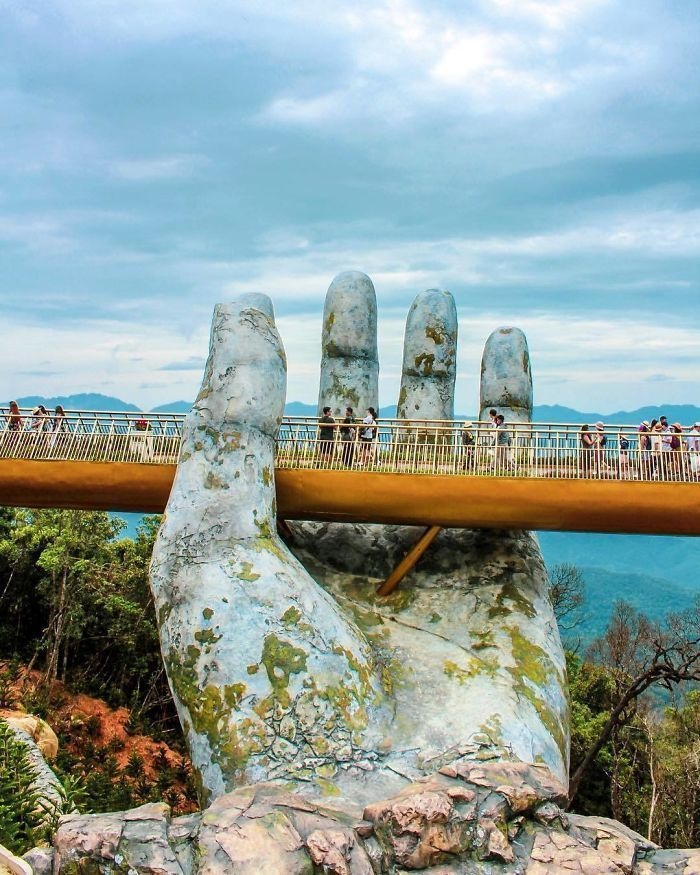 "We're proud that our product has been shared by people all over the world," said the principal designer and founder of TA Landscape Architecture, Vu Viet Anh. We're grateful that it's being shared, as well!
Most people believe the hands were constructed out of stone, but surprisingly, they're not stone at all.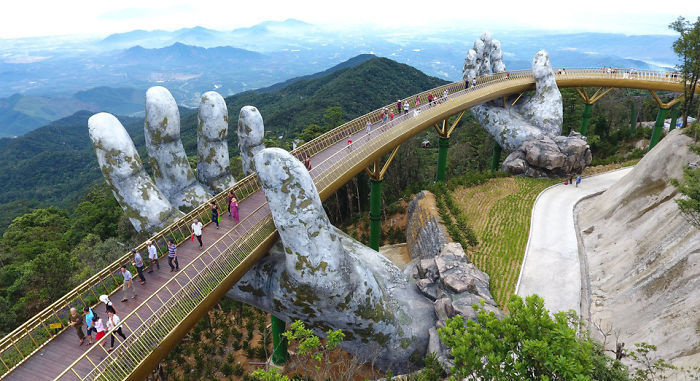 "We designed the skeleton of the hands and covered them with steel meshes. Then we finished with fiberglass and added the theming on it," said a representative of the company in an interview.
The project took approximately a year to complete, but the hands aren't the only thing that people are drawn to.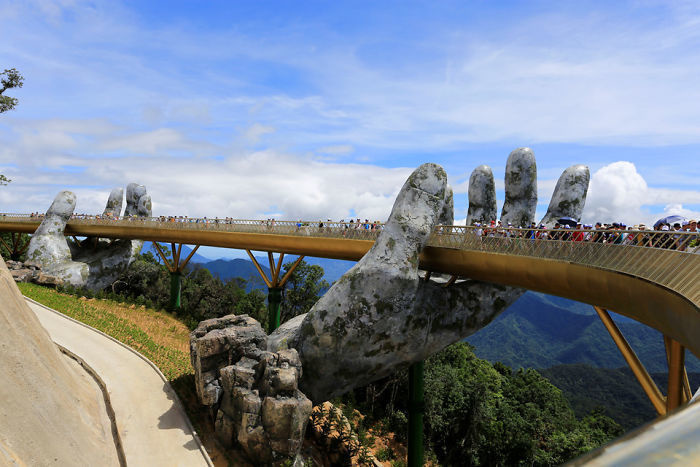 The bridge has become a total tourist attraction. A visit to the Golden Bridge includes taking a ride in a cable car and visiting a replica of a French medieval village, but that's not all.
Inside of the village is a beautiful faux castle and a cathedral!
Also located on the hill are breathtaking manicured gardens, as well as a wax museum, featuring people such as Michael Jordan and Lady Gaga. Gardens, bridges, and a castle? Talk about an eclectic adventure!
It's no surprise that visitors are raving about how spectacular it is!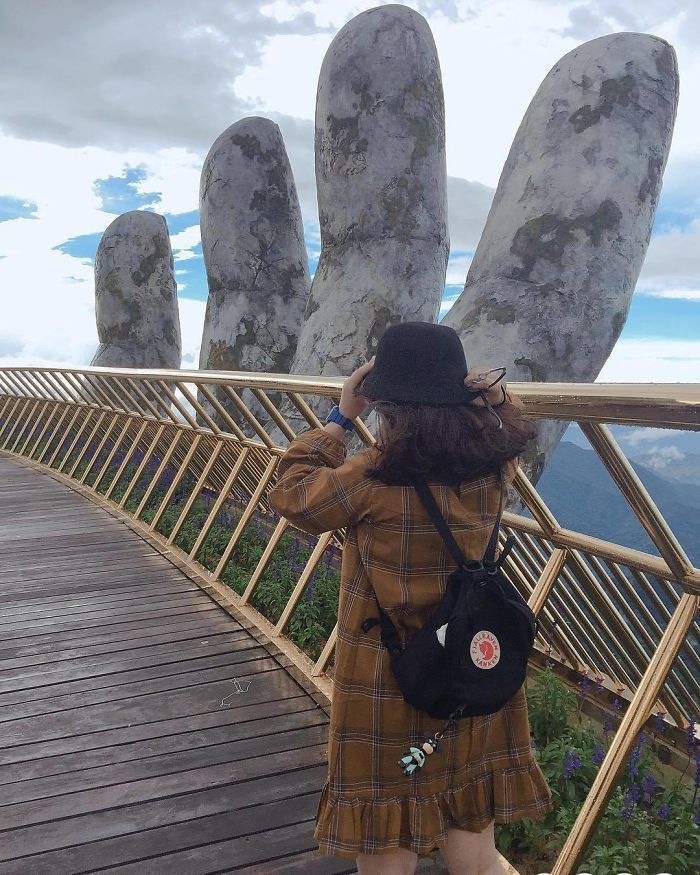 Visitor Nguyen Hien Trang has also said, "I have travelled quite a lot but I've never seen any bridges as beautiful as this one." Honestly, we tend to agree with his sentiment. What do you think?