The internet is going nuts over the FaceApp challenge and even celebrities are jumping on board and posting some jaw-dropping pics. With the help of an aging filter, fans get to see what their favorite celebs will look like in about 60 years or so. So, we've created a list of the best of the best, and possibly worst looks of Hollywood's aging elite.
Robert Downey Jr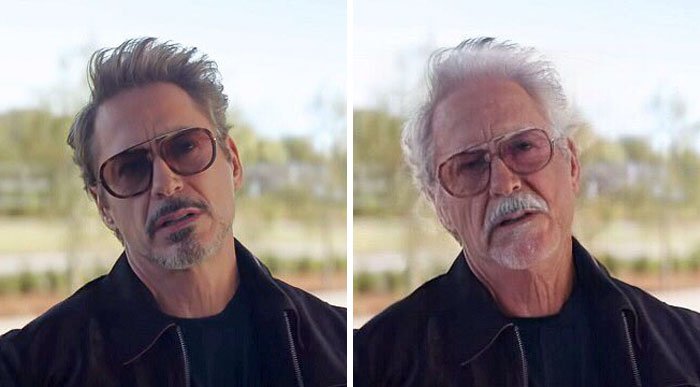 Playing Tony Stark, aka "Iron Man" took quite a toll on Robert Downey Jr. Oh, wait! It's just the FaceApp doing its thing. That's actually pretty cool and sort of what we imagine he's going to look like when he hits 70. But is it just us or does the actor look a whole lot like the late Stan Lee?
Kit Harington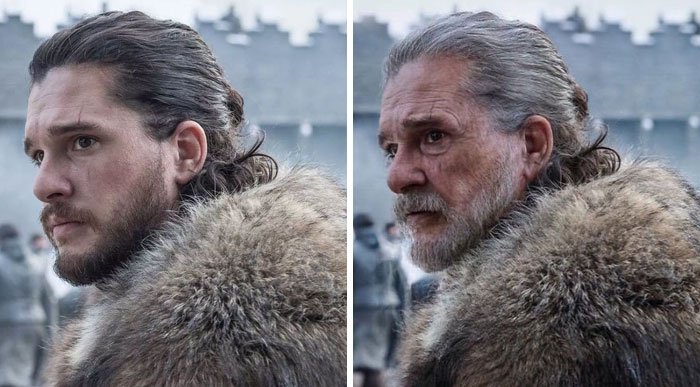 If you haven't seen the "Game of Thrones" finale… spoiler alert! Jon Snow played by Kit Harington apparently gets to live. This explains why an aging Jon Snow still exists. Needless to say, most fans would still find Jon ridiculously attractive even if he's grayer.
Daniel Radcliffe
Harry Potter may be a powerful half-blood wizard, but there was no spell strong enough to prevent the FaceApp from turning him into Maggie Smith from "Downton Abbey." No wonder Daniel looks kind of grumpy.
Kevin Hart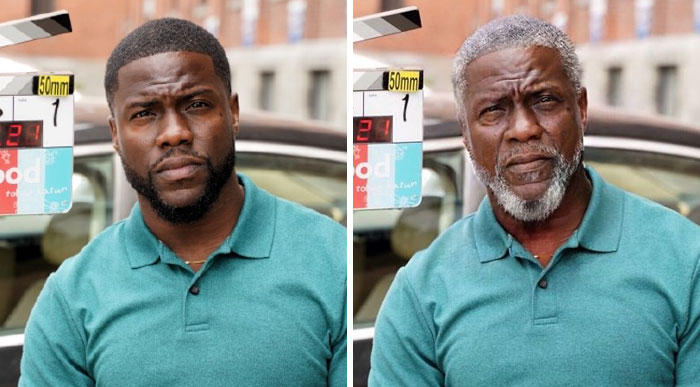 The American comedian makes fans laugh so hard that their sides hurt. But Kevin might be the one feeling hurt if this FaceApp render is right. Just kidding! Kevin would still look like a million bucks. You know what they say, "black don't crack," and the app clearly knows it!
Gordon Ramsay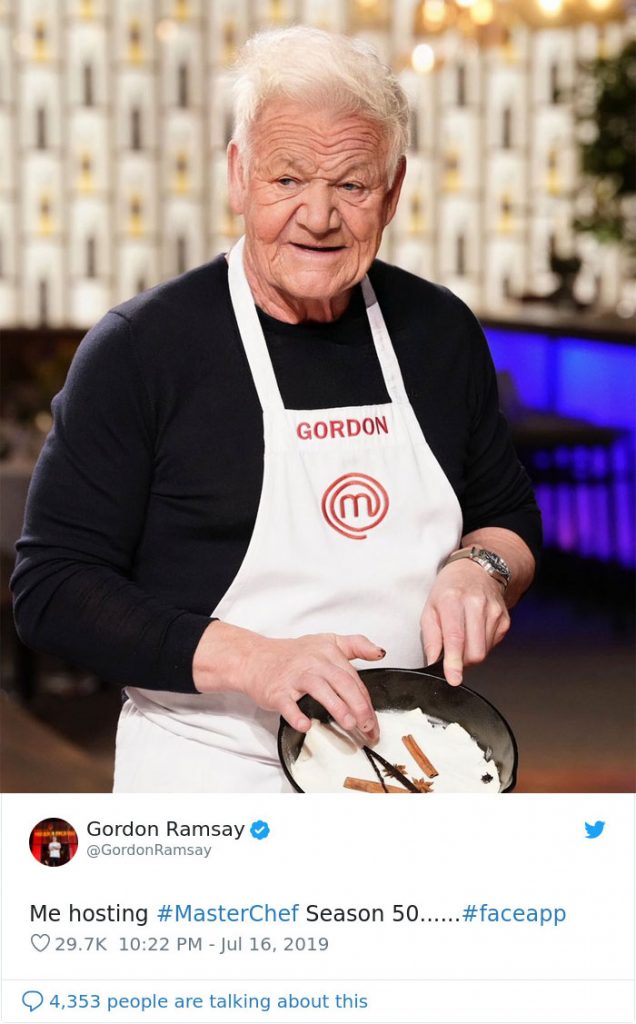 Gordon has us rolling on the floor when he snaps at someone on "Hell's Kitchen" and so does this aging pic of him. But apparently, FaceApp doesn't do hands because they still look super young, unlike his face.
Peter Dinklage
The fact that "Game of Thrones" fans love Peter has nothing to do with his size. It's simply because he's so freaking awesome as an actor and it seems like his awesomeness will continue to increase as he gets older. Are we crazy or does he look better with some salt and pepper hair?
Kanye West And Kim Kardashian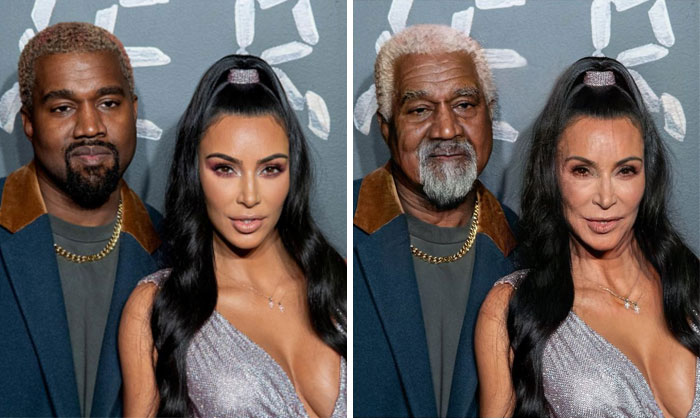 It seems that the reality star and her hubby will look more like Bill Cosby and Janice Dickinson when they're older if we're to believe the app. But they're so rich, they'll undoubtedly opt for plastic surgery to look young in their later years.
Tom Holland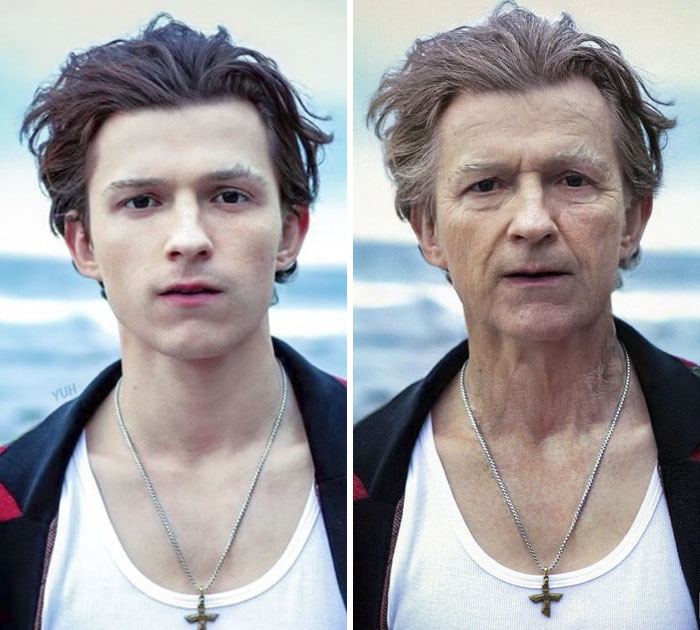 He was a young man once, but taking on the role of Spider-Man has really taken a toll on him. Now he's looking more like Liam Neeson in the FaceApp aging photo. But that's okay because he's still pretty terrific.
Lady Gaga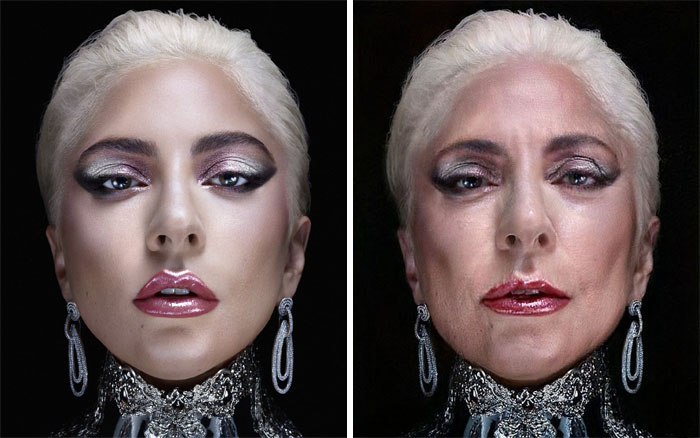 Whether she's Lady Gaga or Lady Grandma, she still looks like a fierce goddess. Gaga is eternally beautiful! And there's a hint of actress Olympia Dukakis in that aged photo, right? But if she ever ends up looking like this, she should just change her name to Madame Gaga.
The Jonas Brothers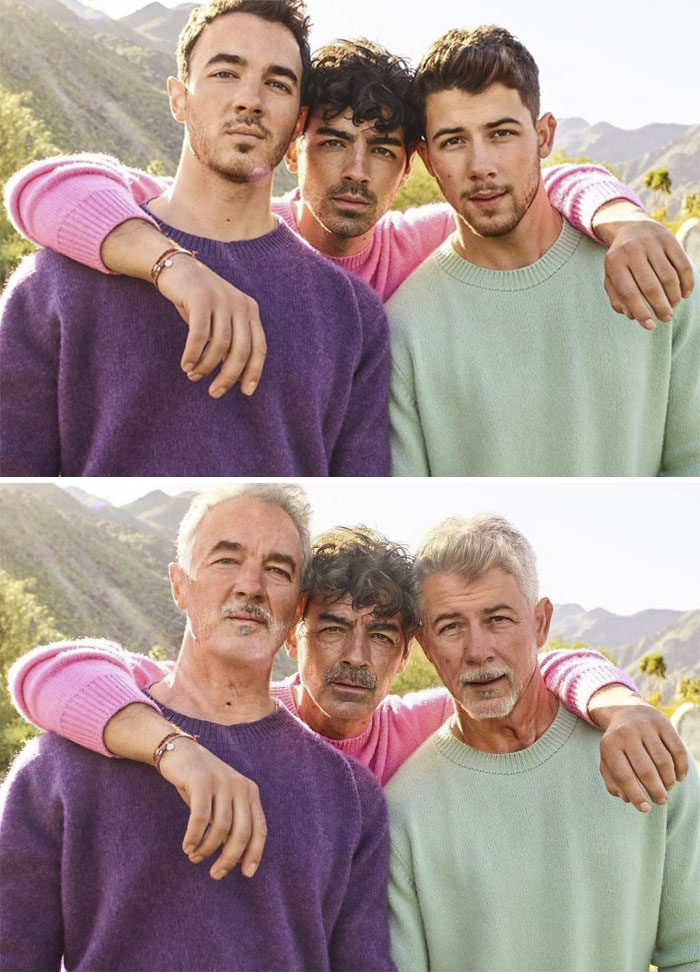 Brothers who sing together, age gracefully together. They certainly don't look bad at all, especially Nick. We can see the three hunky brothers performing at nursing homes when they're seniors or at a Carnival cruise for seniors.
Terry Crews
Anyone who has seen the "America's Got Talent" host and "Brooklyn Nine-Nine" actor on TV knows that Terry's got some serious muscles. And it looks like even when he ages, he'll still look like a force to be reckoned with.
Chris Hemsworth
Norse Gods like Thor might not age, but the actor who plays him will. And now we get to see what Chris Hemsworth will look like as an old man. Kind of reminds us of Pierce Brosnan and unsurprisingly, he's still seriously cute.