Thanks to the advancement in technology, now every person has a smartphone. That has resulted in the snapping of a lot of pictures. Now, not every bloke or gal has the perfect sense of photography nor do they have what it takes to capture the perfect shot. This can lead to a lot of errors which makes the respective person(who snaps those stupid shots) to go red with embarrassment.
Thankfully, due to the invention of Photoshop, we are able to rectify most of the errors. But if the image editor has cruel intentions, then he/she will make sure to snowball the error into a viral catastrophe.
Don't believe us? Then have a look at James Fridman's collection on Twitter. Now you will understand what we were warning you about.
1. Better To Have A Crooked Bow Tie Than Being Crooked Yourself
This man went near the sea to have a perfect family picture. Everything was seemingly perfect, until he noticed his son's crooked bow tie(You know what old age does to men!). He asked James to straighten out the mess. This is what he got instead.
2. Becoming A Relic In The Museum
This dude and his buddies got a groupie. But being French(Or maybe it's his name. We don't know), he wanted to look classy. Just look at their poses. He requested James to do a favor, to put a museum in the background. Maybe, he wanted the image to look scholarly and sophisticated. But what James did was classy. He made the three amigos, relics in the museum.
3. Be Careful To Be Specific About Details
Now here is another epic image. This guy in the brown tee, who is just standing behind the woman who is his wife, wanted to remove the man standing behind them out of the picture. He wanted to just have the picture of them as a couple. But as his stars would have it, James removed him instead. Why? He asked the man in the white hat to be edited out. He didn't realize he was wearing a white hat too.
4. Matching Tees
This man, Bryan, wanted to alter the similarity between the t-shirts of his wife and the Gondolier. With James magical touch-up, both Bryan and the Gondolier have the same tees. Don't they look like brothers?
5. The Shot Of A Lifetime
This guy was crazy enough to perform this stunt, that of acting as a human tee. If you have tried this insanity, then you must realize the painful consequences of this act. Well, it seems like this man in the green shirt has a penchant for being hard headed. He asked James to tweak something so that it might look that his friend had made the shot. The shot that James delivered is certainly what the man did not have in mind.
6. The Tale Of The Large Belt Buckle
If you thought that a larger belt buckle would seemingly add a lot of swag in a picture, then think again. If you have James on the Photoshop, then you might regret your own decision. Why? Now it looks more like a trophy than a buckle.
7. Getting In The Tree
You want to be inside the tree. Think that would make a cool pose? Well, it would have been better if you had yourself climbed in midst of those branches and created the pose. Just look what James did with it. He created a new meaning out of her request.
8. Touching The Top Of Eiffel
In popular places like the Eiffel or Statue of Liberty, such poses are common. These are mainly done to incorporate an optical illusion in the picture. It makes the seer believe that the person in the image is actually touching the top of the Eiffel Tower. But it looks like the photographer was way off target. So, this girl made an obvious request to James. James made her the tower instead and she was able to touch her top easily.
9. The Car And The Wedding Photo
This woman wanted to get the car removed from her romantic wedding picture. She forwarded her request to James. Looks like James was again upto some mischief. Instead of removing the car from the picture, he elongated her leg so that it could hide the car from view. You can't blame him for that though, because that's his perspective.
10. Removing The Whole Mop
There are always some objects in the picture that pinch the eye. Just look at this picture, there's a dirty broom in it. The boy is right on his part, asking James to remove the mop from the picture. But it seems like James has got his own ideas. He does remove the mop, but from the boy's head. Just have a look at what he has done!
11. Now There's No Height Discrimination
Friends always stand by each other, no matter what the case. The sign of a good friend is that he does not discriminate between him and his mates. Just have a look at this boy, he's a living example of a true friend. He asks James to make them equal in height, so that they all look equally tall. But James being James, played his cards and this is the result that we got.
12. Feet In The Mouth
She just asked her grubby feet to be removed from the picture and put them in shoes instead. James diligently put her feet in shoes but planted her bare feet on the boy. Even if they don't suit him, he does look kind of enticing in the tuxedo and the bare feet.
13. Removing The Phone…And The Pant Also!
The boy felt that his phone in his pant's pocket looked a bit awkward in the picture. He asked James for a small favor. What James did was he removed the square patch and let the pant rip, metaphorically. That is a hilarious take indeed.
14. Holding A Sign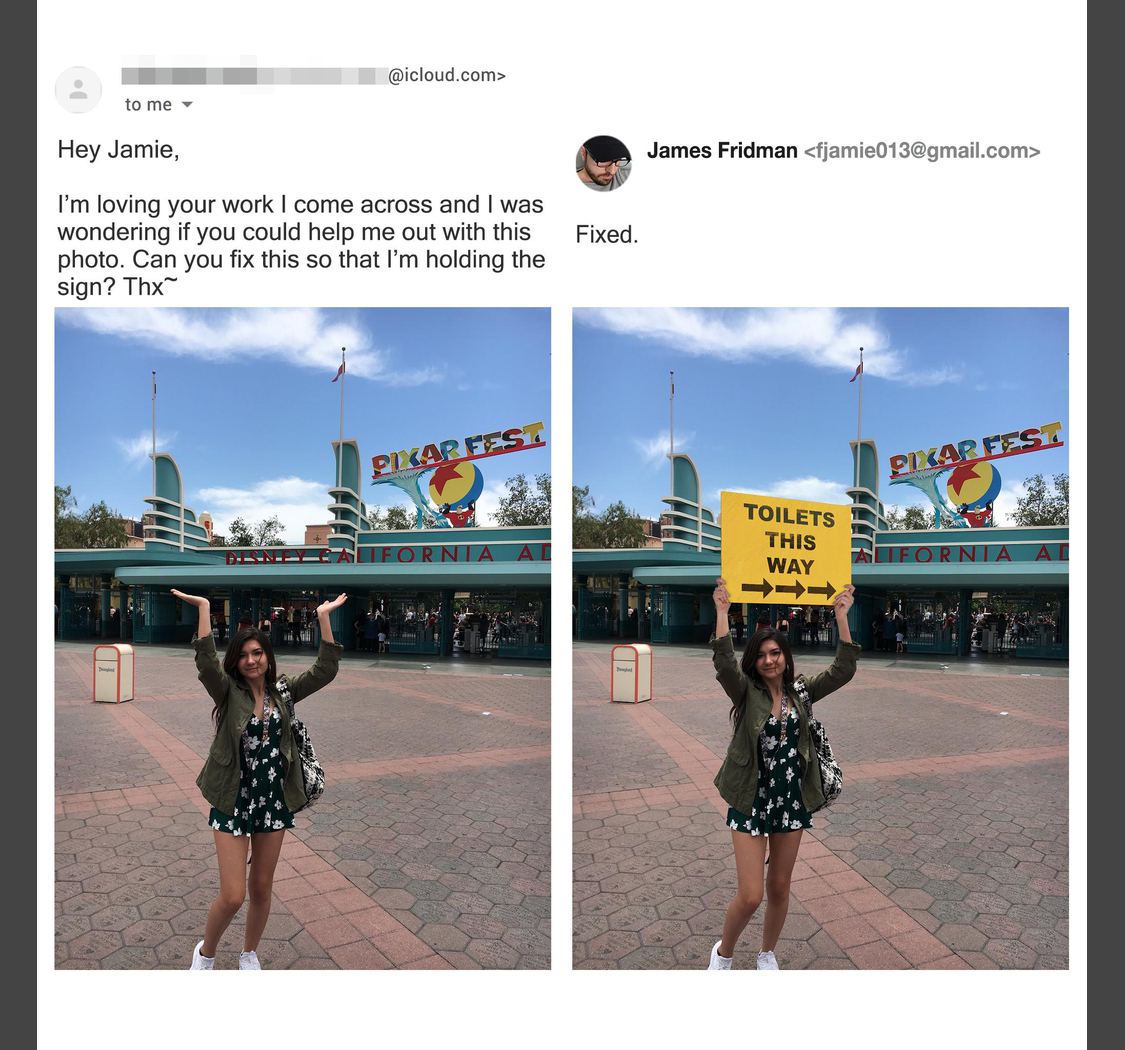 She was so eager to hold a sign, that James did give her a sign to hold. That sounds like a tongue twister though. But it is not as twisted as the editor's mind. She meant to hold up the sign on the building, not to the toilet.
15. Life Without Glasses
This boy thought he did not look cool with glasses. According to him, he had forgotten to remove them, so he asked James to remove the spectacles for him. James showed him what the consequences would be if he actually removed them. A blurry vision!
16. Yeah, That's The Most Expensive Thing
This boy, Tanner, wanted to show off to his friends. He was posing in front of his car on his graduation day. He probably wanted a new car or something that was more expensive than he could actually afford. True to his word, James gave something that was really expensive, not as flamboyant though. A student loan, that's the costliest thing in the world.
17. In The Same Tee
Aww, brotherly love can actually be cute, especially if there is actual love in between the siblings. This boy wanted that he and his brother could sport the same tees, and asks James to do it. But James had something else going on in his mind. He packed them both in the same tee.
18. Pizza Makes Him Happy
Sloppy and expressionless couple pictures can be so boring! This girl also thinks the same way. She asks James to tweak something that changes the whole mood of the picture. What James does is awesome! He adds a pizza slice to the equation and presto! the food works its magic.
19. Long Face Or Small Face? Take Your Pick
She felt that her boyfriend's face was way bigger than hers. So she asked James for a solution. James concocted a wonderful recipe in return. Look how he shortened the length of the boy's face.
20. A Bucket Full Of Wings
She wanted James to add wings to her. James gave her the wings, a bucketful of it. But hey, she asked for real wings, so that she could look like an angel. What she got in return was a pailful of fried chicken wings instead.
21. Always Advisable To Wear The Seatbelt
She wanted a cool pic in the car and felt that the seat belt was getting in the way. James was requested to get the seat belt removed, but he did not feel that it was safe to do so. So he added a bump to her forehead to show her the dangerous consequences.
22. Closer To The Hubby
This woman wanted to get closer to the hubby, to show the wife-husband bonding. She is the one in the spaghetti straps and her hubby is the one in the uniform. James was requested for a favor and he always complies to a woman's wants. That's because he's a thoroughly chivalrous gentleman. But if you know James, then you got to understand there's mischief brewing in his mind.
23. Grandmasters Are Never Out Of Place
The couple were shooting for an engagement picture in some iconic building. And from the looks of it, there's romance building up in the air. The girl, however, feels that the two people playing chess are out of place and do not suit the moment at all. She, therefore asks James to remove them both. James removes the duo, the wrong ones though. And he also puts the two grandmasters in an appropriate setting.
24. Be Careful What You Wish For
The girls wanted to look older, and they also wanted to show that they were old enough to celebrate in an adult party. They asked James to add the required setup. James added the setup and the age, but it seems that he overshot it by a couple of years. A lot of wrinkles were added to the entire group.
25. You Can Never Have Everything
She wanted a perfect picture in natural surroundings and felt that sign was out of place. So she requested James to remove the take care of your pet sign. James showed her what the consequence of removing the sign. Just look at the turd of dog poop next to her feet.
26. She Is Actually Showing Her Teeth
She was baring her teeth and wished her sister to do the same. But her sister stuck to a lovely and simple smile. She asked James to even things out. James added the teeth to the picture, or should we say dentures.
27. Lots Of Leaves
The boy wanted to add some leaves to the tree. Thought it would look better if the tree had more greenery. James overdid the whole thing though. Now the whole thing is a bit too leafy for everybody's liking.
28. Everybody's Outside, Nobody's Inside
These boys wanted to be in an outdoor setting. But since they were indoors, they asked James to do the needful. James had a different idea about it though. He removed the boys and left nobody indoors. It means the same thing, though.
29. You Will Get Lots Of Ducks In Chinese Restaurants
Couple pictures are so cute. They wanted to look cute so chose a setting which had flowers and a lake in the background. She wants to have a few ducks behind her. Asks James for putting some in the background. James instead puts a Chinese restaurant in the background which serves Peking Duck.
30. The Statue Of Liberty Is Also Considered To Be A Person
This girl was visiting the Liberty Island in New York. She was there with other tourists as well and wants to have a solo pic. She asks James to remove the people. James removes everybody, even the Statue of Liberty itself. Why? The statue of Liberty was modeled after the Roman Goddess, Libertas, whom James considers to be a person. Intelligent, James, you always are.
31. The Definition Of Roundness
These boys were striking a pose for the pic, but their profile was way off. The sender feels that his face is a bit rounder, so he asks James to reduce the circular profile. James gives him three options, though I am not sure that he will like either of them.
32. Mirror On The Wall
The girl did not feel that her reflection in the mirror was looking cool. She asked James to remove it for her. James followed her instruction, but not to the word. Just look at the masterpiece he created.
33. You Can Do Much Better Things With Your Hand
People always desire to be picture perfect. This girl feels the same way. In fact, she feels that her hand looks awkward in front of her face. Again, Knight James was summoned to do the pretty queen a favor. But naughty as he is, he does bring in some guffaws of his own.
34. Engrossed In A Different Realm
A good brother always loves his siblings. Here the man's brother has passed out drunk, but he's relentless in making his brother look good. He requests James to add something that would make his brother not look like a drunk loser. James complies, but with a hilarious touch-up. What's more positive than playing music?
35. A Trooper's Outfit Makes Him Look More American?
He asked for something that would look more patriotic. What's more patriotic than being a soldier and serving the nation? Way to go, James!