A maternity shoot speaks a lot about a person, like if you go back in time and watch Beyonce and her shoot or even Kourtney Kardashian and her sexy naked photo shoot. All mothers have their own way of celebrating maternity. Likewise, Emily Mueller, a 33-year old beautiful mother-to-be shocked the internet with her unique and frightening maternity photo shoot. The pictures from the photo shoot show her baby-bump and arms covered with live bees while she laughs. While the pictures may look terrifying to you, Emily does not seem to have the slightest fear. Emily Mueller is a full-time beekeeper and runs the company 'Mueller Honey Bee' with her husband. They opened doors in 2015 with the mission to save the bees. Based in Ohio, USA, the company works with products related to honey. Especially the sale of honey. One of the company's primary jobs is relocating colonies and hives that appear in awkward places. The bees you see in the photo shoot were rescued from a park. The same park that the pictures were shot. The images were shot by
Kendrah Damis
, a 39-year-old passionate photographer.
Here are the pictures showing Emily, the pregnant woman with 20,000 bees crawling all over her baby.
The woman has sparked buzz with her maternity shoot.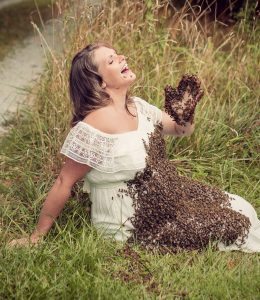 The pictures from the photo shoot show her baby-bump and arms covered with live bees while she laughs.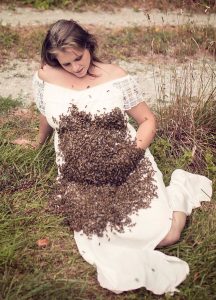 The 33-year-old Emily says that she and her family have been a part of her insects business.
The involvement in the business was an idea the entire family drafted on.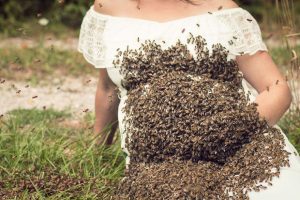 Emily runs the Mueller Honey Bee Removal with her husband Ryan and owns around 24 hives with 1.2 million bees in total.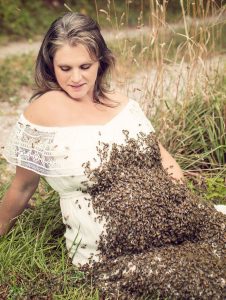 The photographs were taken by her longtime friend, photographer Kendrah Damis.
Emily said, "I also got stung thrice during the shoot but handled it with ease. However, I have been stung around 350 times just this year."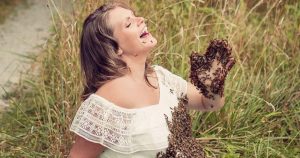 On the morning of the shoot, Emily had to remove a hive from the park, so she decided to use the hive for her photos.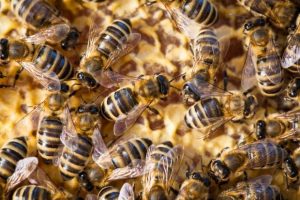 She planned the shoot and removed all the insects safely and let them calmly settle on her baby bump. For her bees aren't just a part of her work but are a meaningful part of her life. When the right opportunity knocked, she decided to incorporate the important bees into her maternity photo shoot. She said, "A lot of people think I'm insane, but I'm so comfortable with bees, so it was never something I had anxiety about." She added, "I was called to a swarm removal that morning, so I fed those bees sugar to make sure they would be content and gentle enough to work with."