Halloween is on our doorstep. So, don't get careless and forget to pick out your costume. But if you find yourself stumped on ideas, then here are a couple of genius Halloween costumes that are sure to be major head turners this Halloween season. Hurry up cause we're only days away from the big day!
A Boy and His Wheelchair Go Polar Express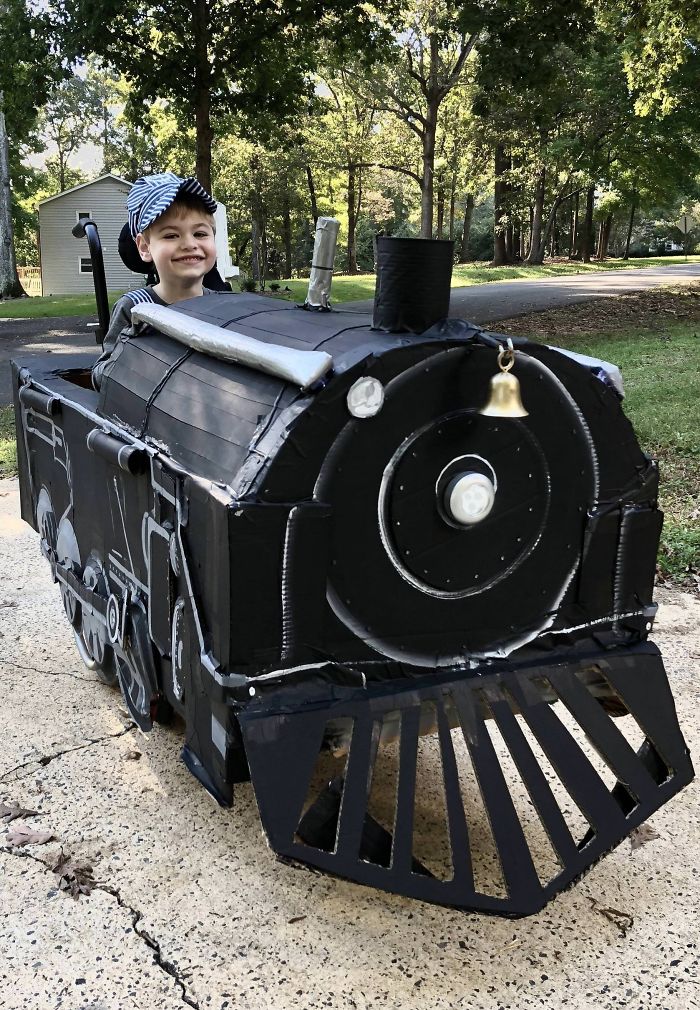 This child has cerebral palsy which left him wheelchair bound. But his mother knew he loved the film "Polar Express," so she dressed him up as a train engineer. She also built a train costume for his wheelchair so he'd be comfortable while playing dress up.
He Went as an Unlucky Mountain Climber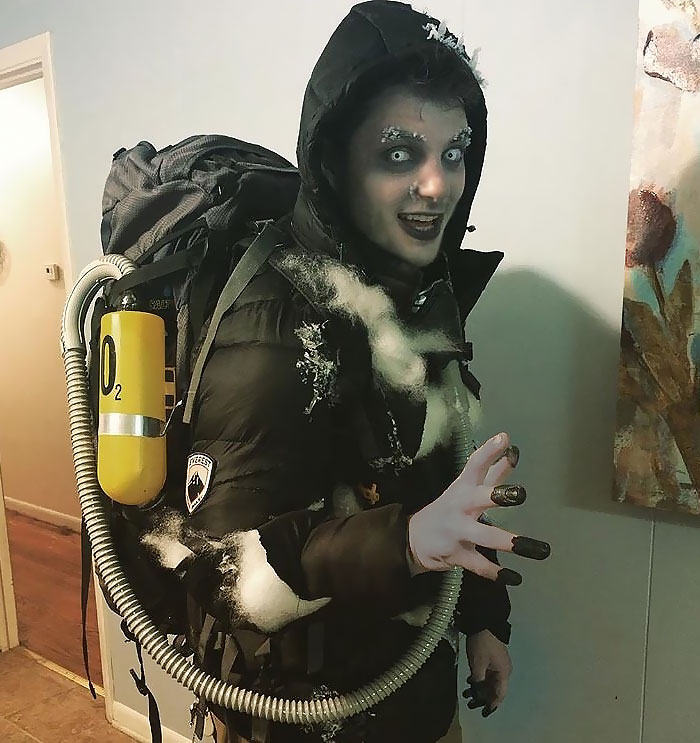 This one's kind of creepy and a little sad, too. This Reddit user went as a mountain climber who met an untimely end on Mount Everest. He even had the frostbitten fingertips and fake ice around his eyebrows and nose. But judging from those white irises, he probably came back as a zombie.
They Went as Forrest Gump and Lieutenant Dan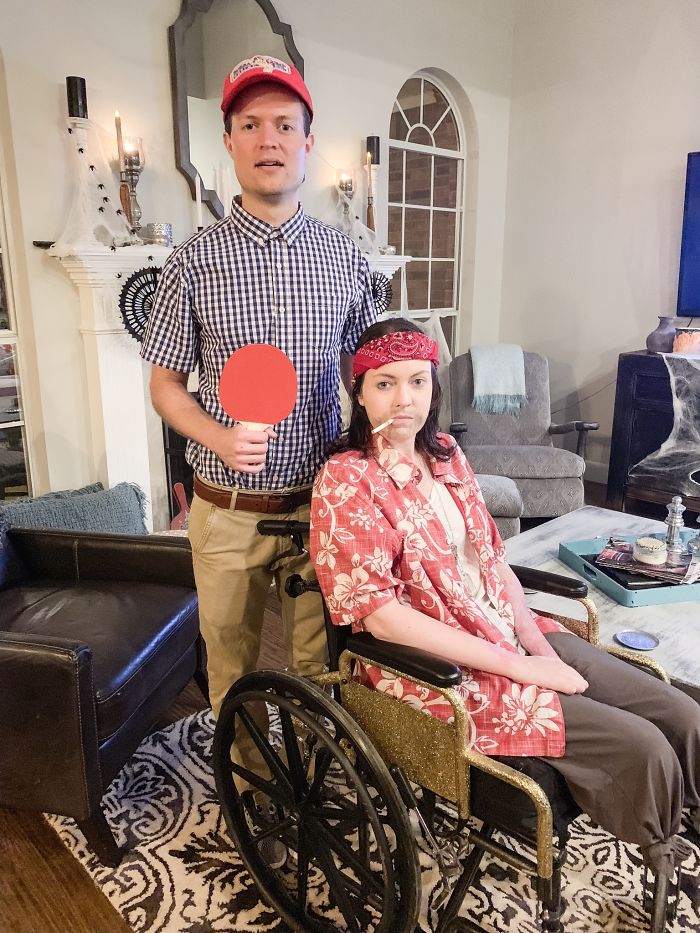 This couple turned an unexpected disadvantage into a Halloween opportunity. It was her first Halloween as a below the knee amputee, so she dressed up as Lieutenant Dan, the character from Forrest Gump who lost his legs in a war. And her boyfriend went as ping-pong champion, Forrest.
He Went as a Fungi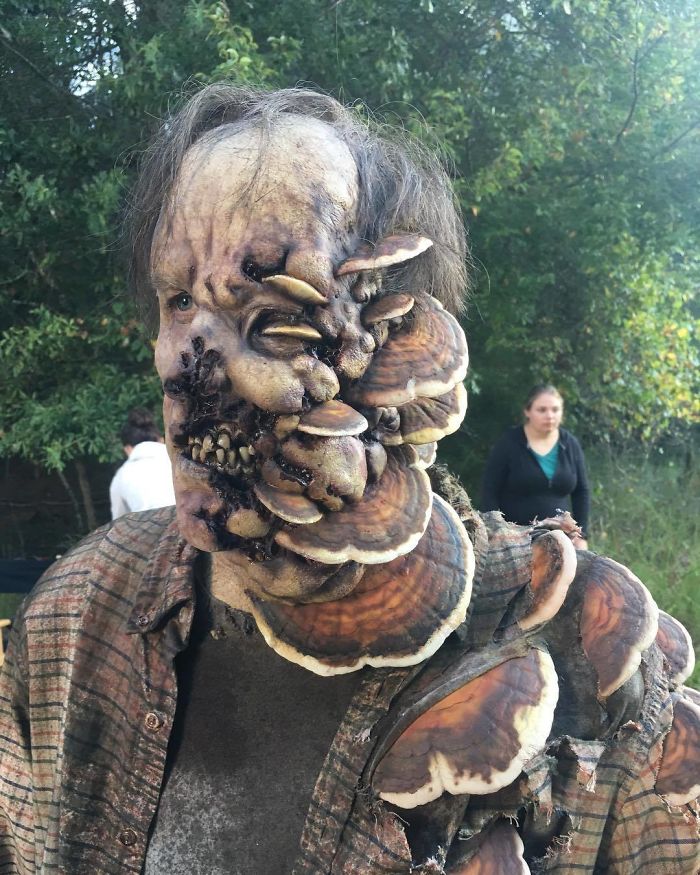 This guy went above and beyond with the use of latex and makeup to turn himself into a real fun guy, or in this case, a fungi. He looks like a zombie with fungus growing from the side of his face, neck and shoulder. You won't see that on "The Walking Dead."
She Went as a Bee With Her Beekeeper Husband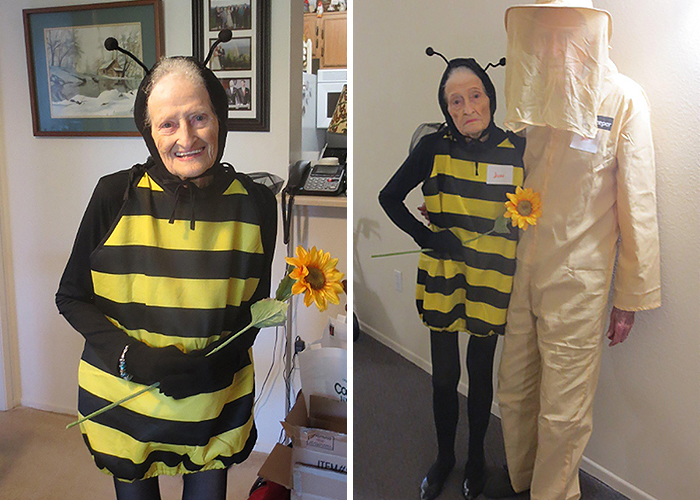 This 88-year-old woman and her adorable hubby have proven that you're never too old to get in to the spirit of Halloween. So, she dressed up as a honeybee and carried a plastic flower. Meanwhile, her 92-year-old husband got dressed as a beekeeper. They're so sweet together, they're giving us diabetes!
She Went as Rey with a BB8 Dog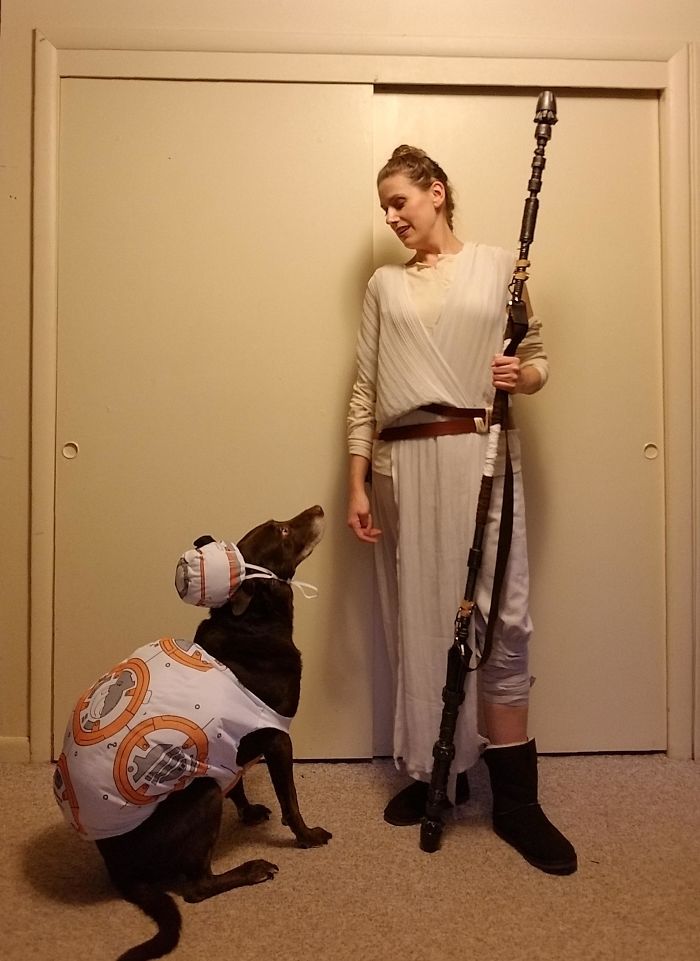 It was her first Halloween without a husband. But that didn't mean this Reddit user was about to pass up the chance of having a little fun. Even better? She didn't go alone! She dressed up as Rey, the main protagonist in the latest Star Wars films and she had her faithful pooch at her side dressed up as the droid, BB8.
The Office Went Jurassic for Halloween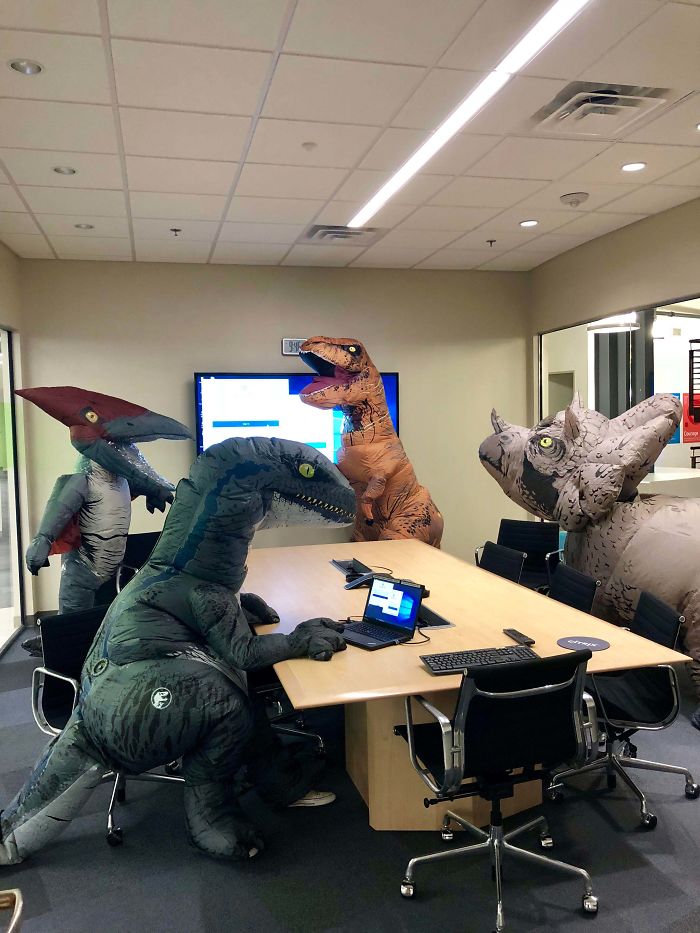 Unfortunately, Halloween isn't a legal holiday, so you still have to come to work. But it doesn't mean you can't have a little fun. So, these employees gave their otherwise dull meeting some extra pizzazz by dressing up as dinosaurs from Jurassic Park.
The Pooch's Costume is Boo-tastic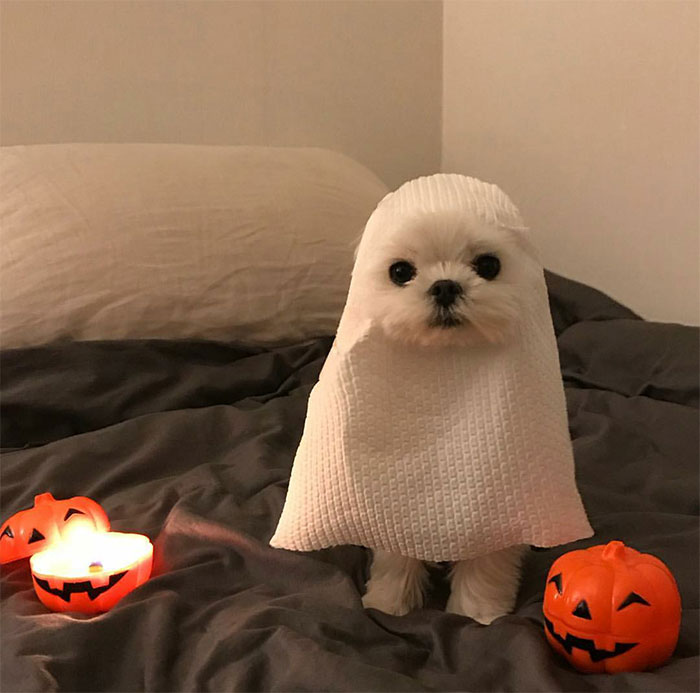 Who says that dogs can't get into the Halloween spirit? This pooch's owner dressed it up in a ghost costume. Now, usually, ghosts are supposed to be extra scary, but this little rascal is just too adorable to frighten anyone.
They Dressed as Little Green Army Men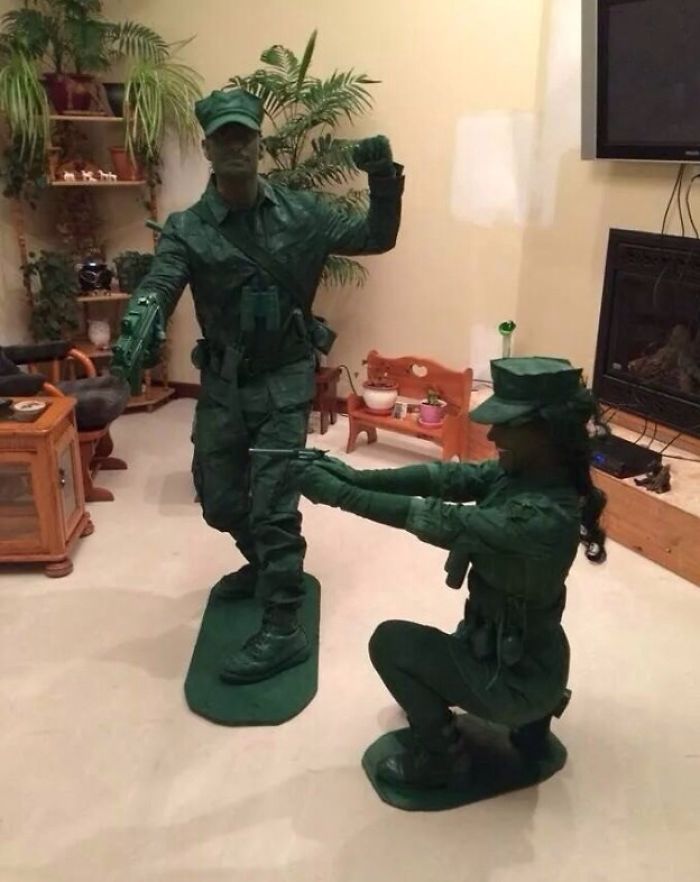 This couple went dressed as the little green army men kids have been playing with since the 1930s. Even their faces were painted green. But it must have been a little difficult to walk since they also came with the green stand the figurines normally have.
Shed Dressed Like a Tired Mom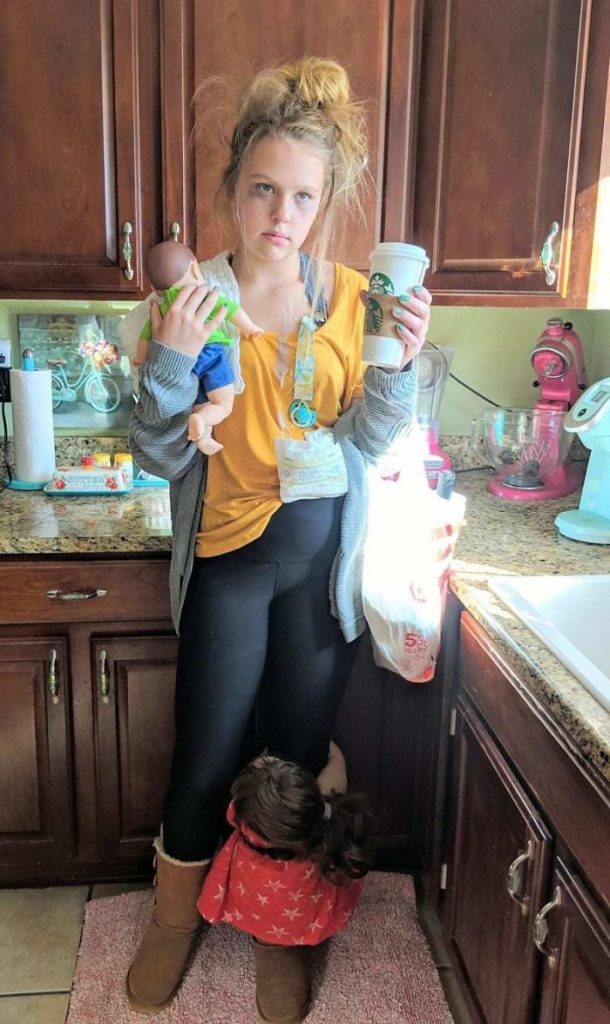 This teen went all out to look like a real-life tired mom. She has a fake kid hanging by one of her legs while she's holding a fake baby in one of her arms. To really get the message across, she carried a Starbucks cup in her other hand for energy. She even had fake spit up on her chest and shirt. And she's definitely rocking the messed-up makeup and disheveled hair look.
They Went as Edward Scissorhands and His Bush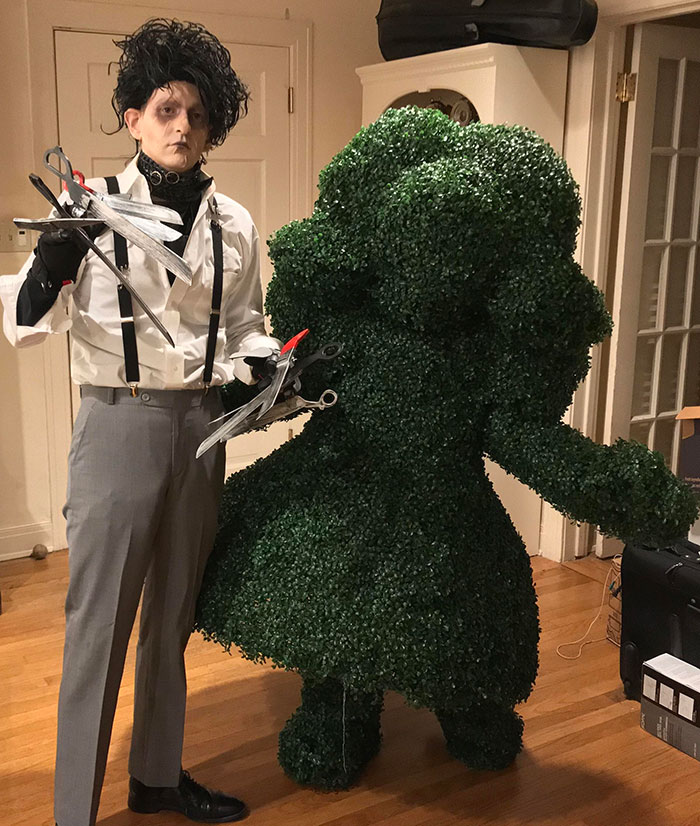 The guy went as Johnny Depp's iconic character "Edward Scissorhands." He not only nailed the makeup and the hair, but also the clothing and the blades on his hands. And his better half went dressed up as his bush turning this costume into one of the most badass thing we've seen so far!
Teacher Went as Van Gogh
This high school art teacher took living art to the next level by turning himself into a painting of the iconic artist Van Gogh. The color he put on his hair and beard is so spot on, we had to do a double take. Plus, the detail of the brush painting on his face, ear, neck, and clothes was ridiculously intricate. 
They Went as Aladdin and the Carpet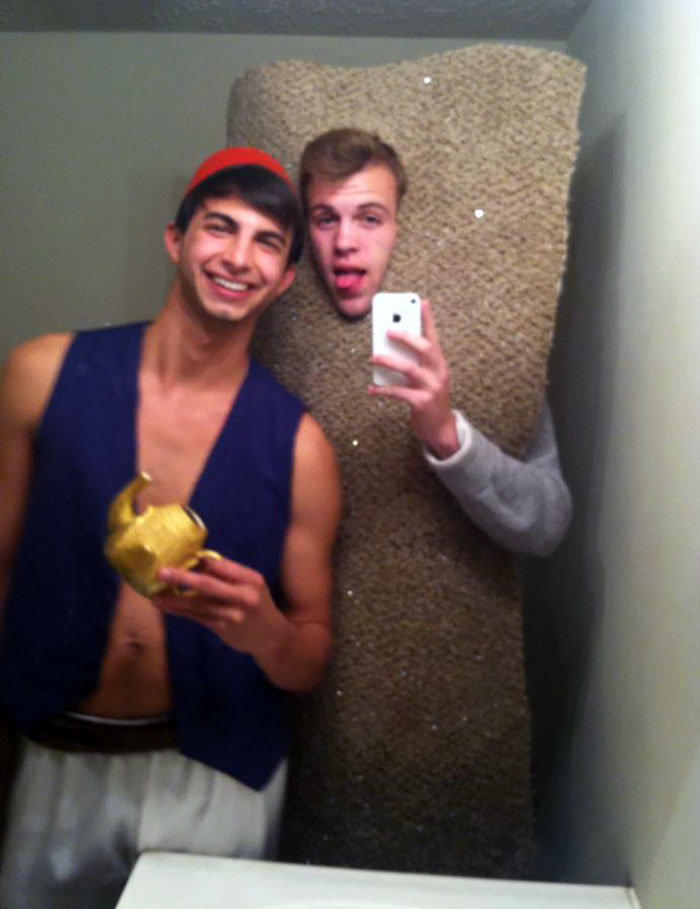 This couple was inspired by the popular animated Disney film Aladdin. So one of them dressed up as Aladdin complete with a miniature lamp. Now his boyfriend could have gone as the genie. But instead he became a total rebel and dressed up as the flying carpet.
He Dressed as a Mini Hannibal Lecter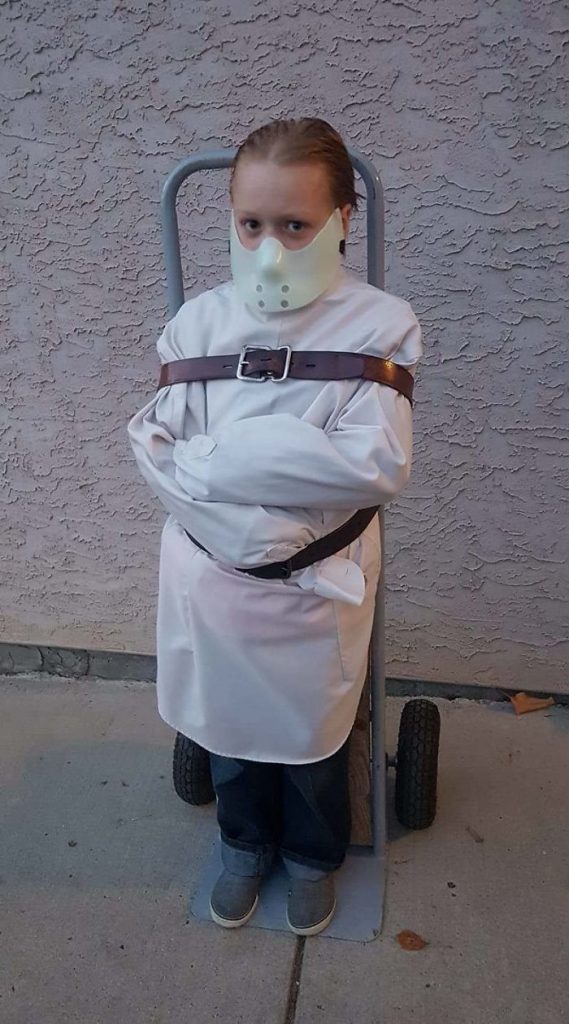 This kid had undergone a six-hour heart surgery the day before Halloween. But he still wanted to trick or treat. So, in order to get into the Halloween spirit without moving too much, his parents dressed him up as Hannibal Lecter in a strait jacket, so he could look cool while remaining restricted during his recovery. Unbelievable!
They Went as Characters From The Movie Misery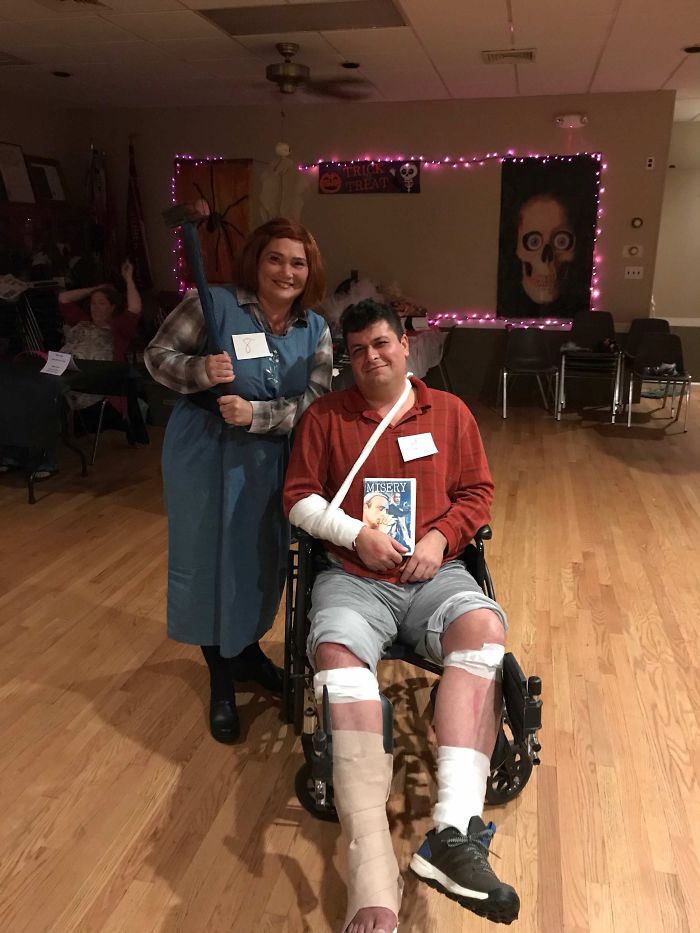 He broke his foot, so he and his girlfriend decided to dress up as characters from the film, Misery. He went as James Caan's character Paul Sheldon while she went as Kathy Bates character, Annie Wilkes. She even brought a sledgehammer. Together they proved that misery loves company.
She Dressed as the Cutest Pillsbury Doughboy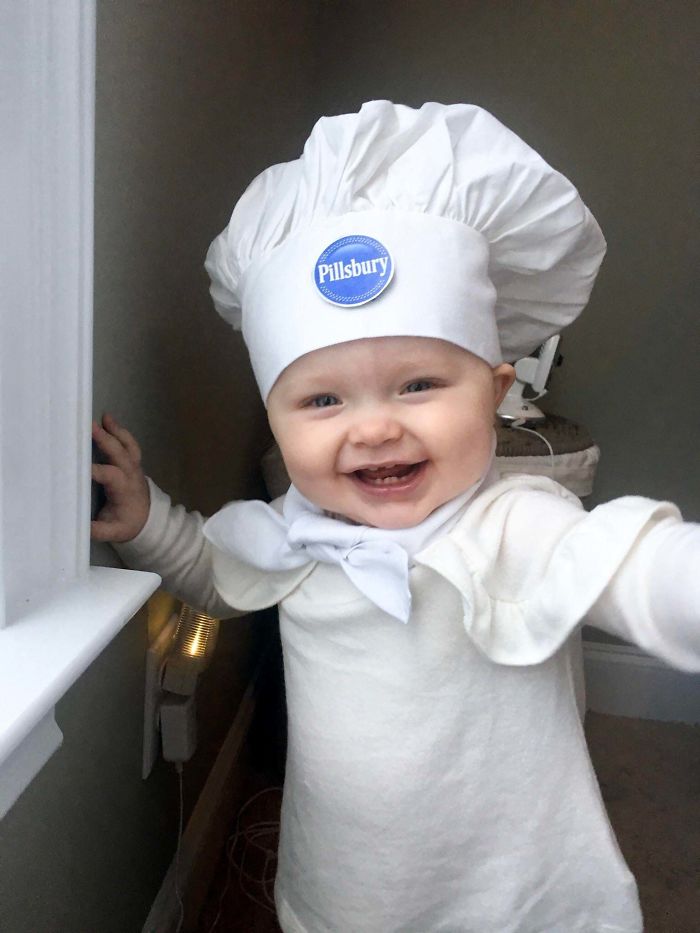 Girls can do anything, even dress as the Pillsbury Doughboy, which this baby girl did to perfection. She's so freaking adorable. Come on! Admit it! If you saw this child out and about, you wouldn't be able to resist wanting to poke her in the belly just to hear her make that cute giggle.
They Dressed as Zombies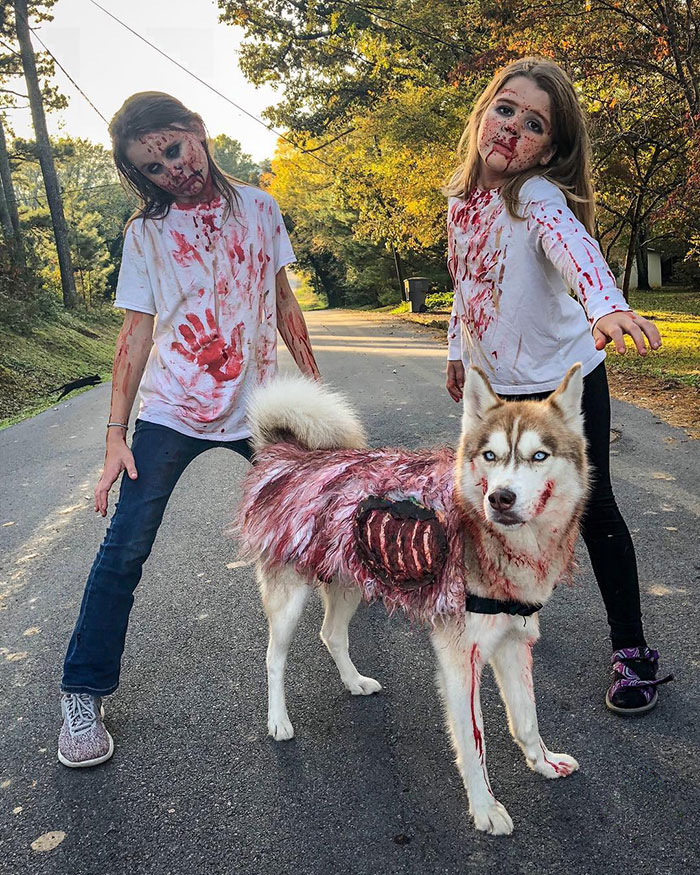 Whether this town is ready for a zombie apocalypse or not is debatable. But either way, they're going to have their hands full with these two girls who put on a white t-shirt, drenched it in fake blood and started hunting for human brains. Even their dog got into the zombie spirit!
They Went as Friday Night And Saturday Morning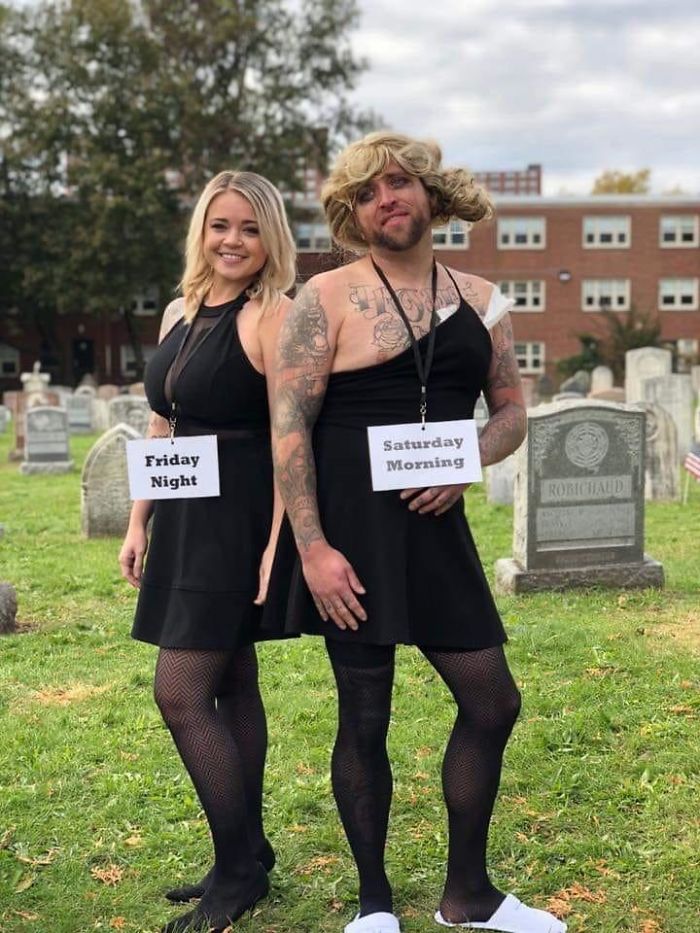 This couple absolutely nailed it. The woman is dressed like she's ready for one heck of a Friday night. But the guy is dressed up the way she'll feel the next morning with smeared mascara, messed up bed head, and one of the dress sleeves broken. The only thing missing are the broken panty hose and horrible breath.
He Dressed as Kid Joker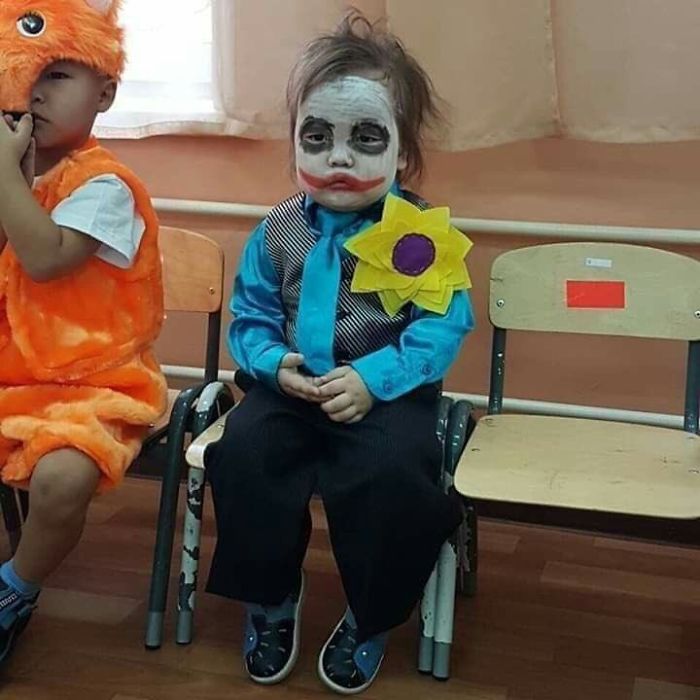 We all know how scary the villain from the Batman films, the Joker, truly is. But if he was half as a cute as a child as this little kid looks as the Joker, then we'd offer the criminal mastermind a full pardon for his past transgressions.
They Dressed as Taco Belle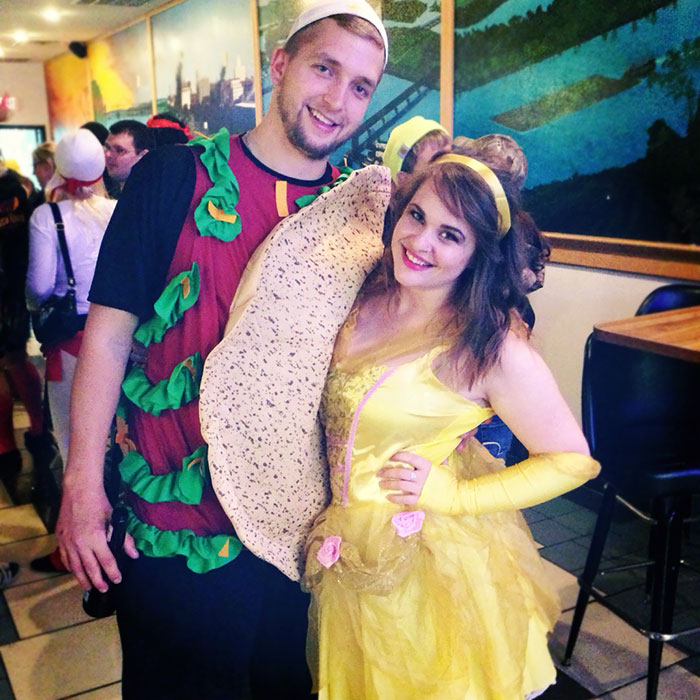 This couple could have gone as "Beauty and the Beast." But instead they chose to do something punny by having her dress as Belle while he dressed up as a taco. Together they became Taco Belle. It's a real good mash up, too.
He Had a Gender Crisis Costume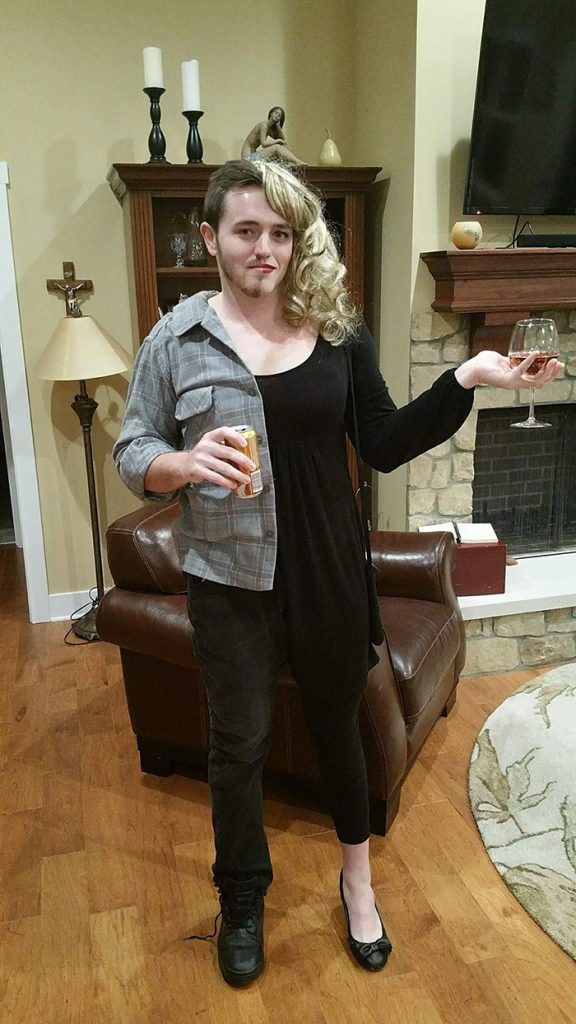 This guy didn't have a date to bring to a Halloween party. So, he came as both. Half of him looked like a guy with a beard, a shirt, and a beer in his hand. The other half of his body looked like a gorgeous blonde, complete with a black dress, a purse, and a glass of wine in her hand.
They Recreated Star Trek's Interracial Kiss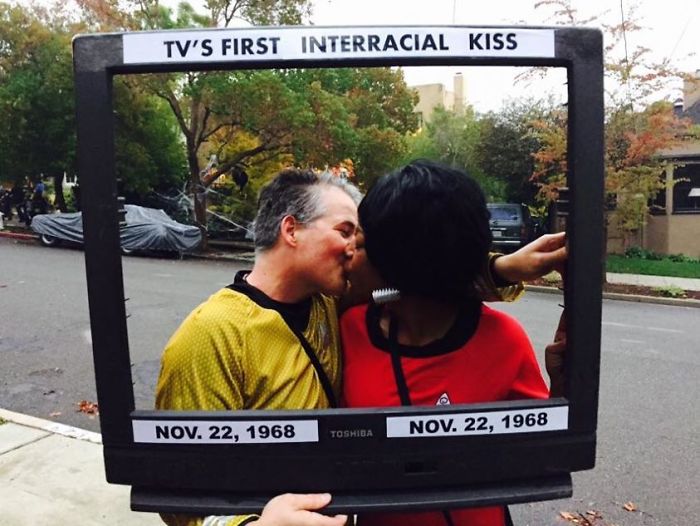 Star Trek fans are familiar with the first interracial kiss between Captain Kirk and Lieutenant Uhura during the show's original series in 1968. So, this couple decided to recreate the iconic smooch complete with a Toshiba television frame and costume.
They Went as This Hocus Pocus Couple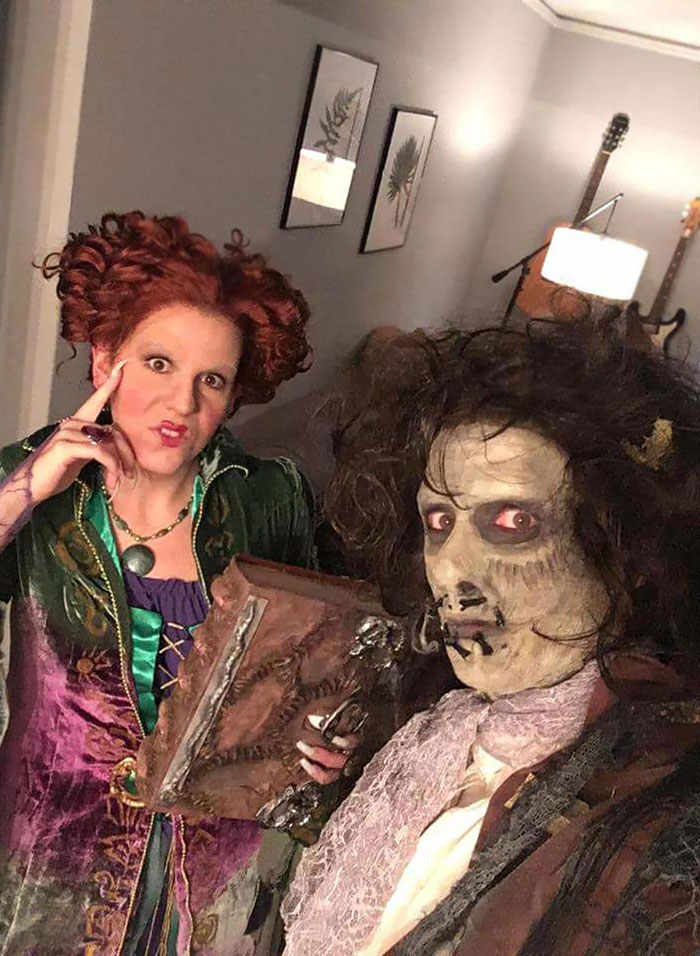 Witches are synonym with Halloween. So why not go as one of the most famous witches in pop culture history like Winifred Sanderson from Hocus Pocus? But don't go stag. Dress your boyfriend up as Billy, Winifred's resurrected ex-boyfriend.
She Dressed Like an Addams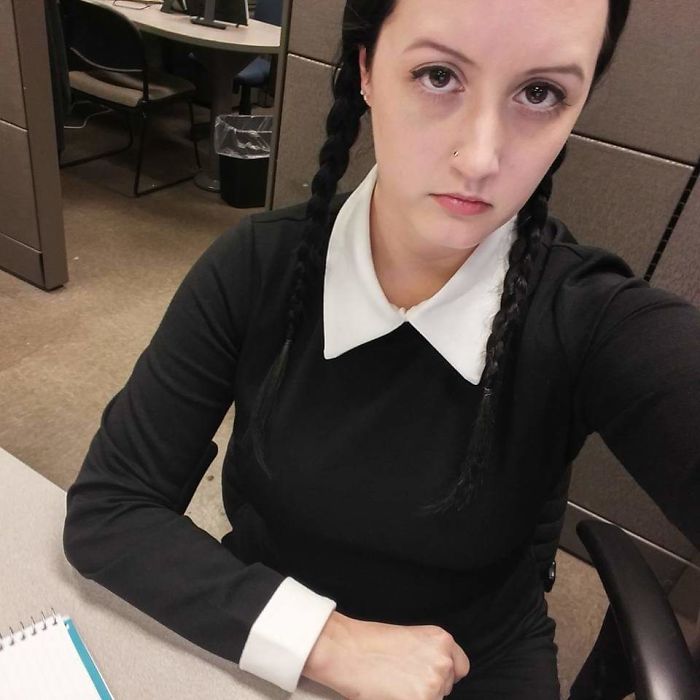 There's nothing creepier and spookier than dressing up as a member of The Addams Family. And this gal truly embodied the look of Wednesday Addams to perfection, from the dress all the way to the pigtails. But to show she's a total rebel, she left her nose piercing.
They Went as Super Mario and the Princess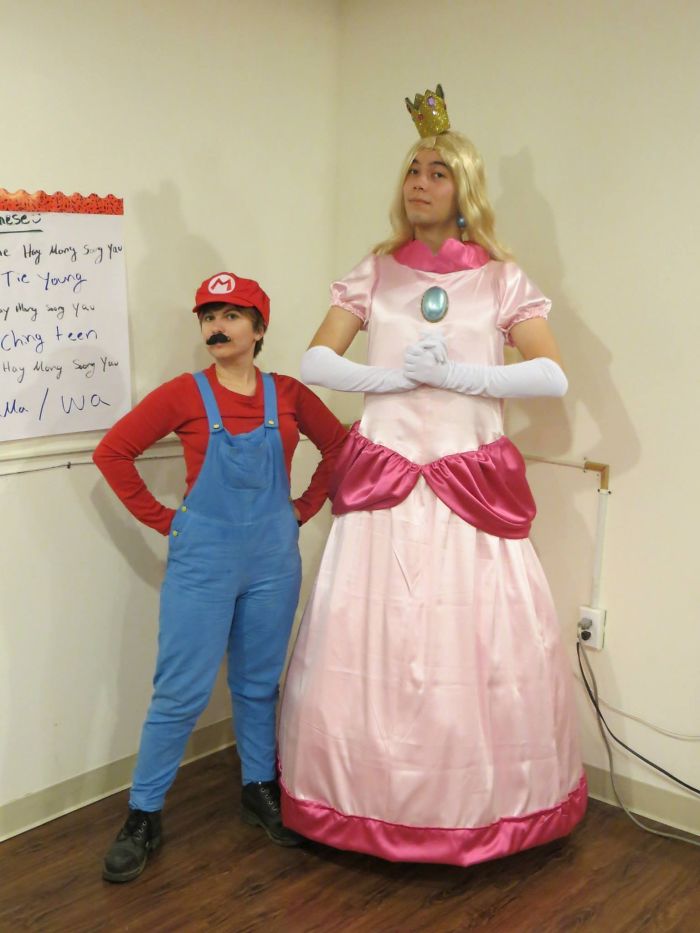 This duo had a major height difference, which wasn't an issue for Halloween. After all, Super Mario was short compared to Princess Peach. So, the girlfriend got dressed as the plumber-turned savior and the boyfriend proved he was the one who wore the crown and the fancy gown in this kingdom.
He Went Full on Freddie Mercury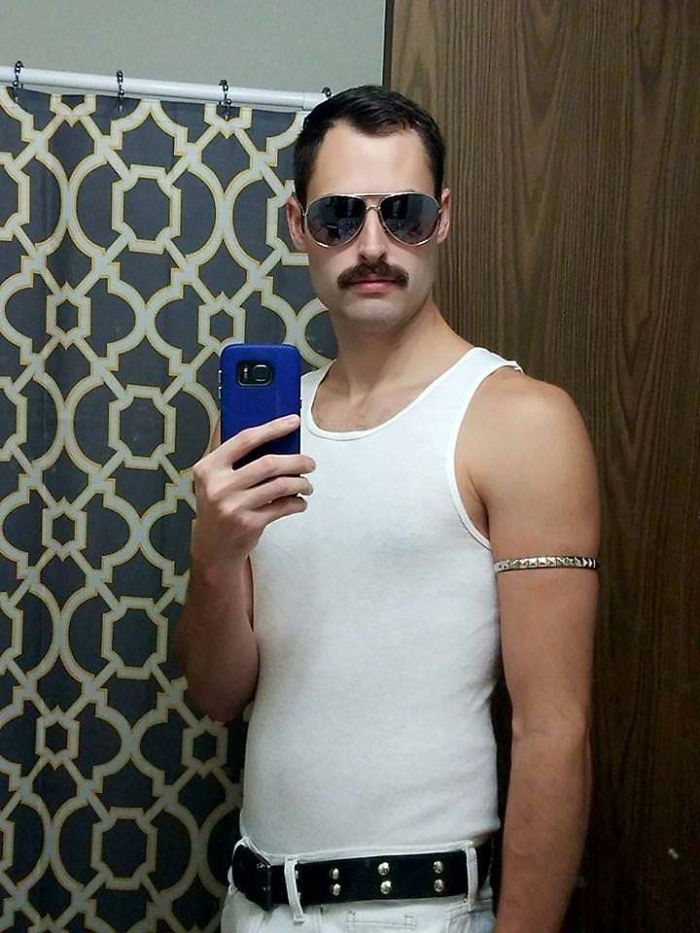 If you're going to embrace one of the greatest musicians who ever lived, then you might as well go as Freddie Mercury from the band, Queen. This guy got the look packed with the sunglasses, the mustache, the arm bracelet, and his unbelievable confidence. But can he sing, though?
They Went as Frodo and Gollum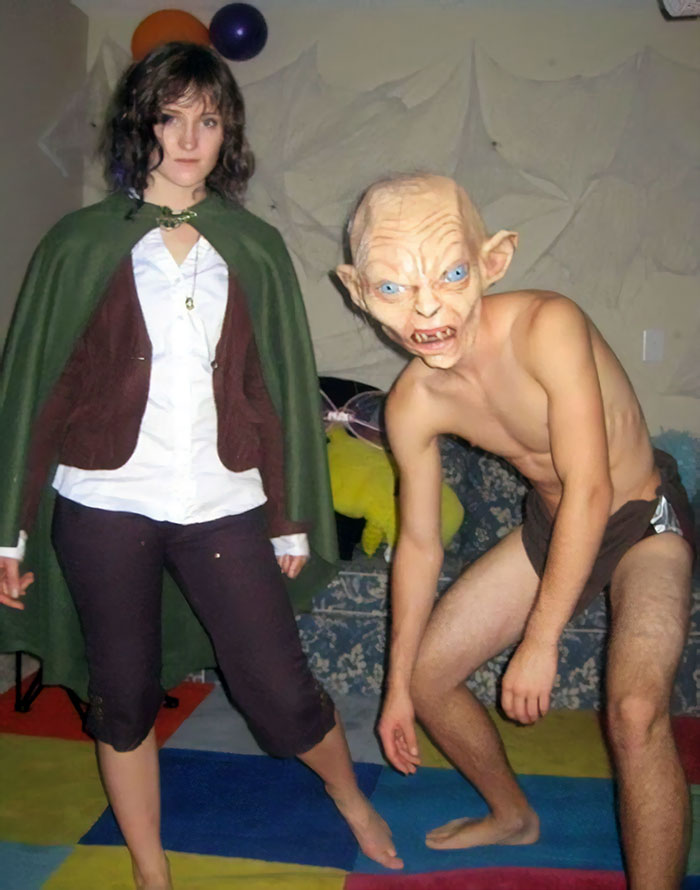 They could have gone as Frodo and Samwise from The Lord of the Rings franchise. But instead, they dressed up as an unlikely couple. She embodied Frodo while the boyfriend wore a loincloth and a latex Gollum mask. But does anyone recall Gollum looking so fit?
They Went as 7-Eleven from "Stranger Things"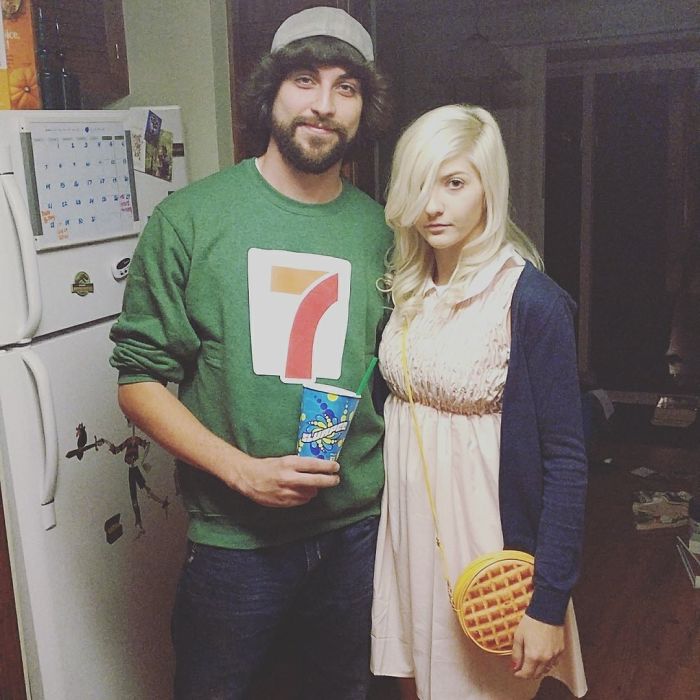 This guy convinced his girlfriend to go dressed up as Eleven from the hit Netflix series, Stranger Things. And he put on a sweater with a big 7 on the front. Together, they became 7-Eleven, like the popular convenience store.
He Went as a Man Without a Face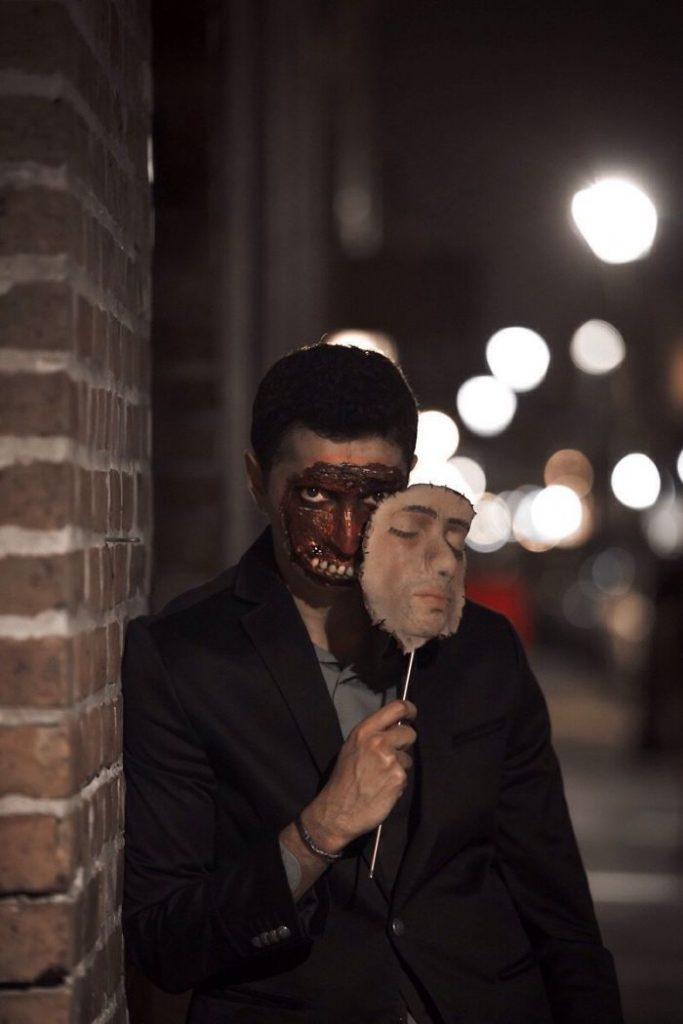 This guy went all out by creating a mask of his face for Halloween and then hanging it on a stick. Then he painted his real face with muscle-toned colors and added fake teeth to his lips so it would look like he pulled the skin out of his face.
They Went as "Silent Hill" Characters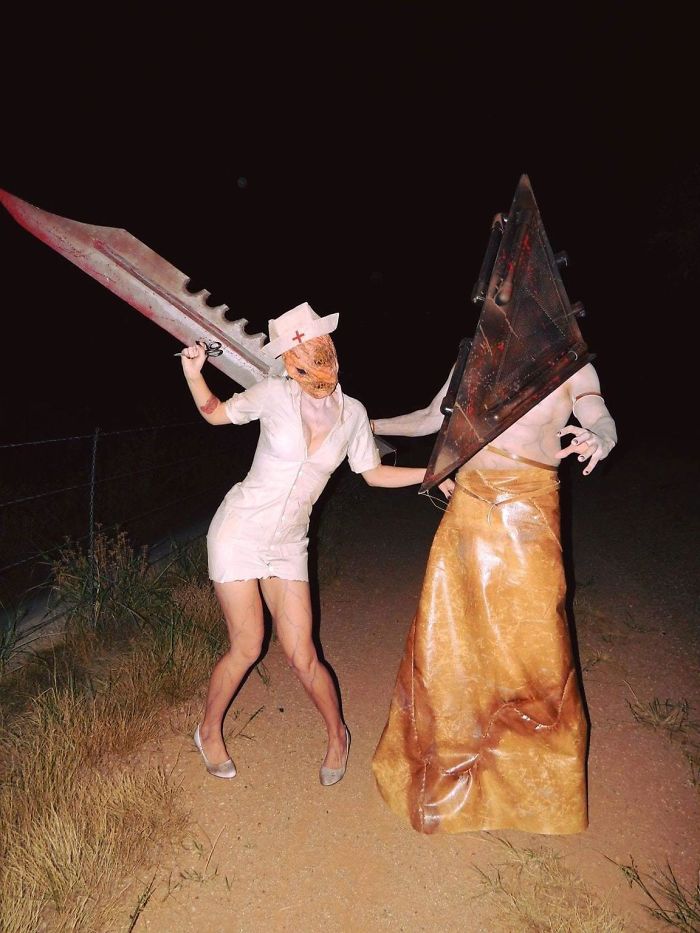 If you're going to dress up on Halloween, you might as well pick two characters that will freak everyone to the core, like these two did. She got dressed as one of those creepy scissor-wielding nurses from "Silent Hill" while he went as Pyramid Head, complete with a giant sword and all.
Cop Embraces Career Stereotype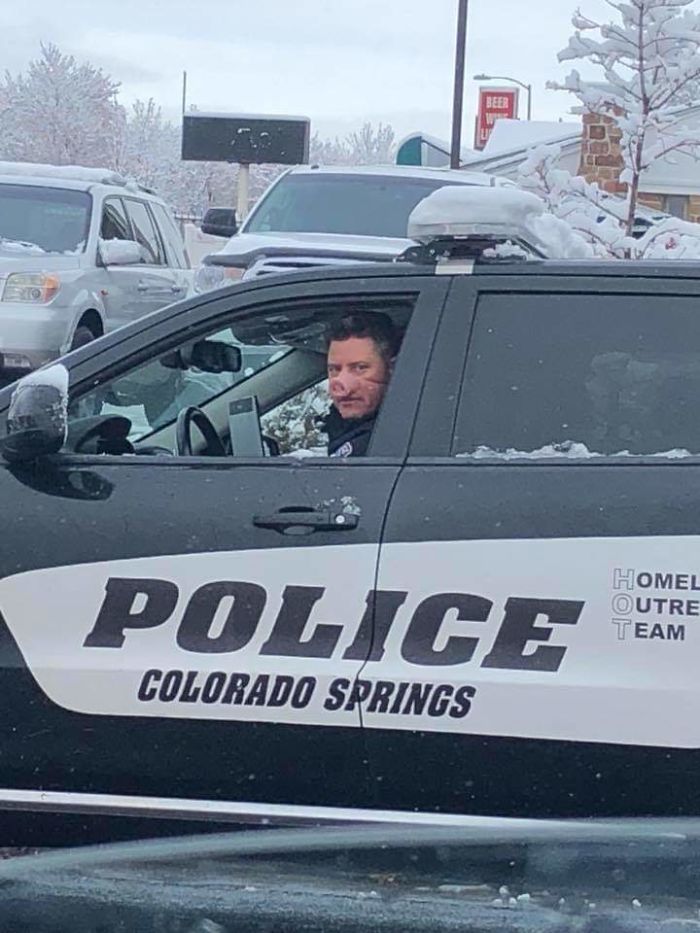 This cop has undoubtedly been called a "pig," which is a derogatory term used to refer to cops. But this officer of the law decided to have a little fun with the term by wearing a pig nose over his face. It's affordable, simple, and it undoubtedly made locals laugh.
They Went as Curious George and His Human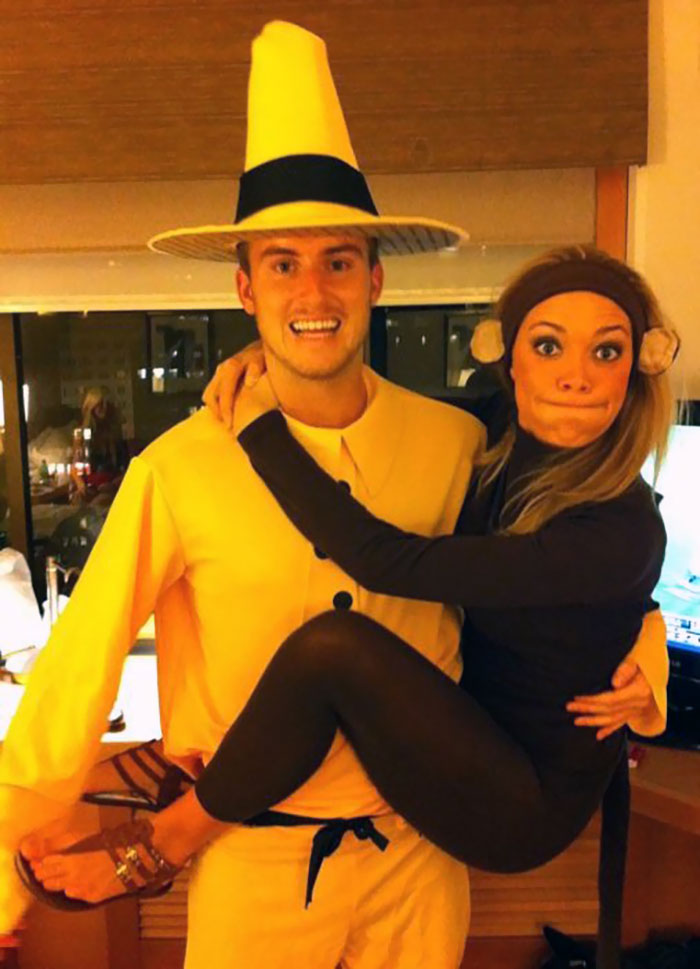 She went as a classic children's favorite character, the monkey known as Curious George. Not only did she wear the ears, but she clung to her human, aka the unnamed man with the yellow hat, the same way George does.
They Dressed Her Up as a Mini-Skunk
Kids are stinky little rascals when they soil their diaper. So, a friend of the family made a skunk costume for this child's first Halloween. The getup is perfect from the white lines in the back to the tail, to the paws on the baby's feet.
They Went as Stranger Thing's Joyce and Jim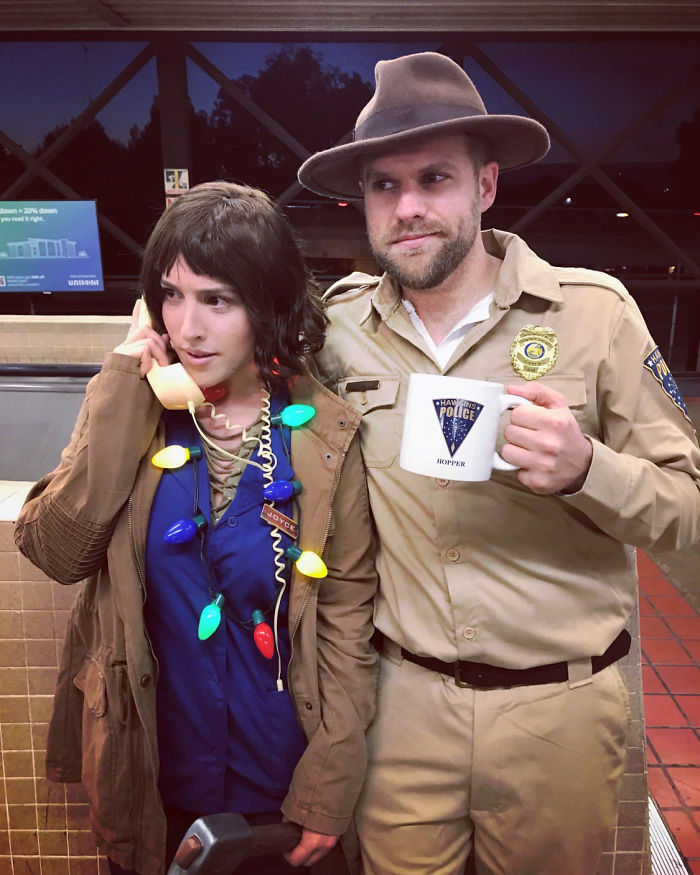 This girlfriend went as Winona Ryder's Stranger Things character, Joyce, complete with the Christmas lights that helped the character communicate with her son in the first season. And her boyfriend dressed up as Sheriff Jim Hopper played by David Harbour. Now who said adults can't have fun?
He Dressed as a Mexican Climbing a Wall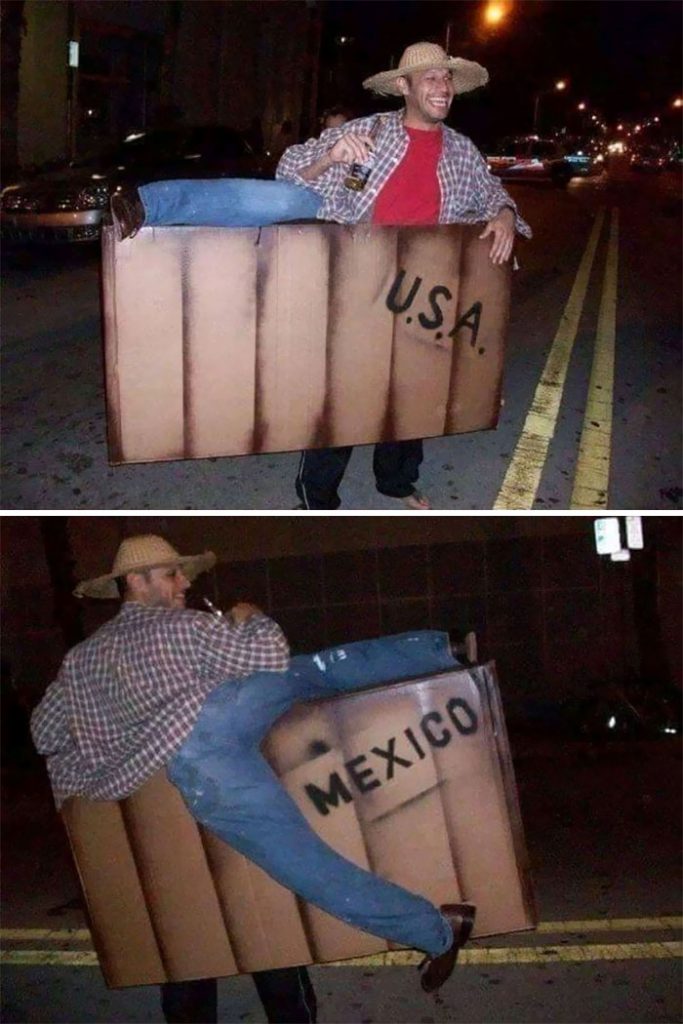 If you're going to climb a border wall, this guy recommends you do it while drinking a beer. The costume of a Mexican climbing a wall is really creative. He put on a straw hat, grabbed a beer, and even attached fake legs to make it seem like he was climbing over to the land of freedom.
They Went as Beetlejuice and Lydia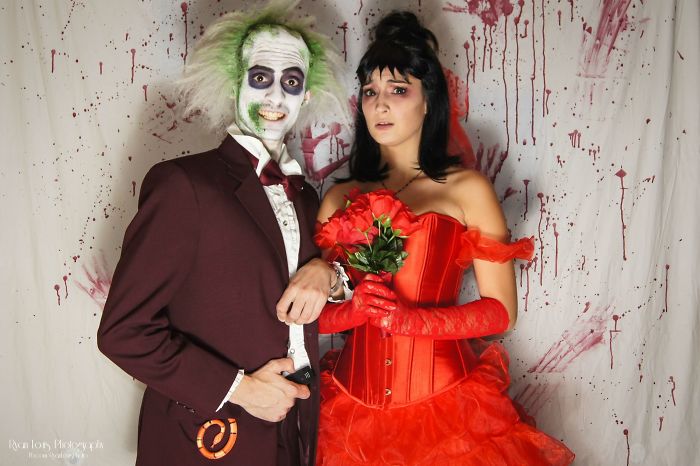 Beetlejuice was pretty funny, but extremely creepy, which might explain why Lydia is looking so horrified in her red wedding gown. And is that a snake in Beetlejuice's pocket? Now this is what we call a red wedding!
They Dressed This Kid as a Mouse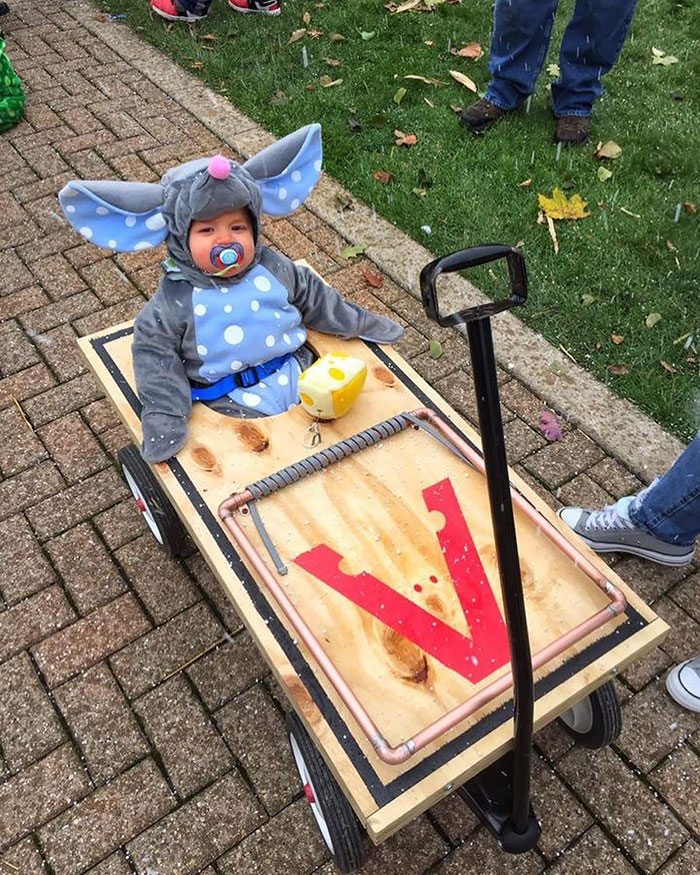 Have you ever seen a mouse as cute as this one? They definitely win the best parent's award with this getup. The giant ears alone will tug at your heart strings. Mom and dad also put the baby inside a giant prop that looks like a mouse trap. Hopefully, that spring won't come crashing down on him if he tries tugging on that fake piece of cheese.
They Went as Trump and Rosie the Riveter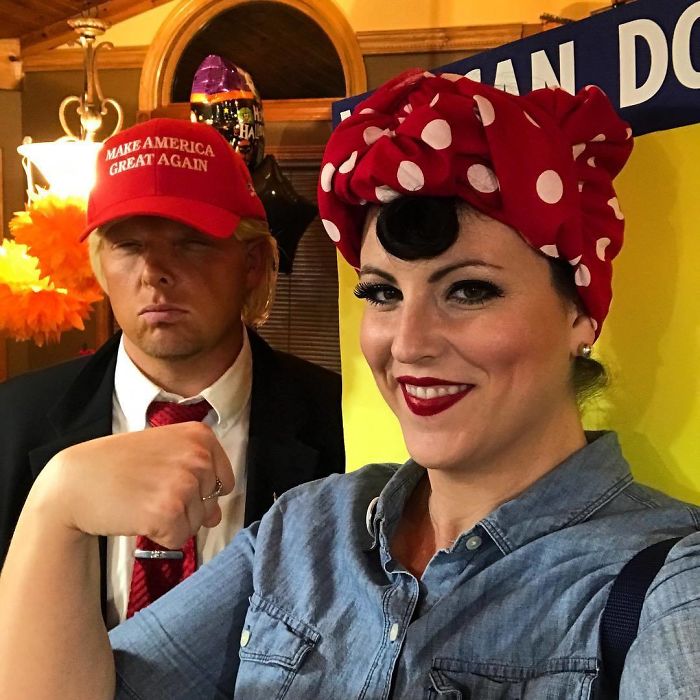 This boyfriend went as President Donald Trump complete with a MAGA Hat and facial scowl. So naturally, his girlfriend went as Rosie the Riveter, a World War II cultural icon who represented the women who worked in shipyards and factories during the war.
She Dressed as Big Bad Cruella De Vil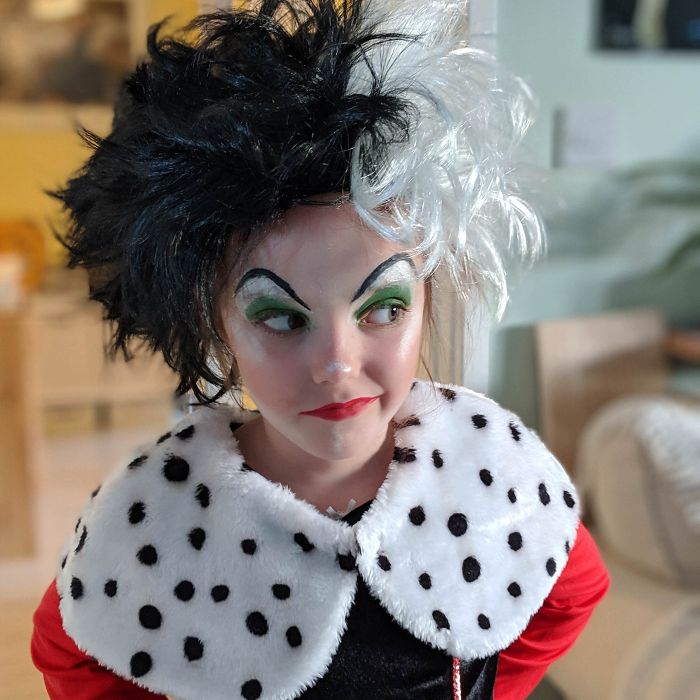 Some kids want to dress up as their favorite Disney Princesses. But this one decided to go a different route and dress as one of the meanest villains in Disney history. This mini Cruella De Vil is so perfect, you'll want to hide your dogs.
They Went as a Shark and Unlucky Swimmer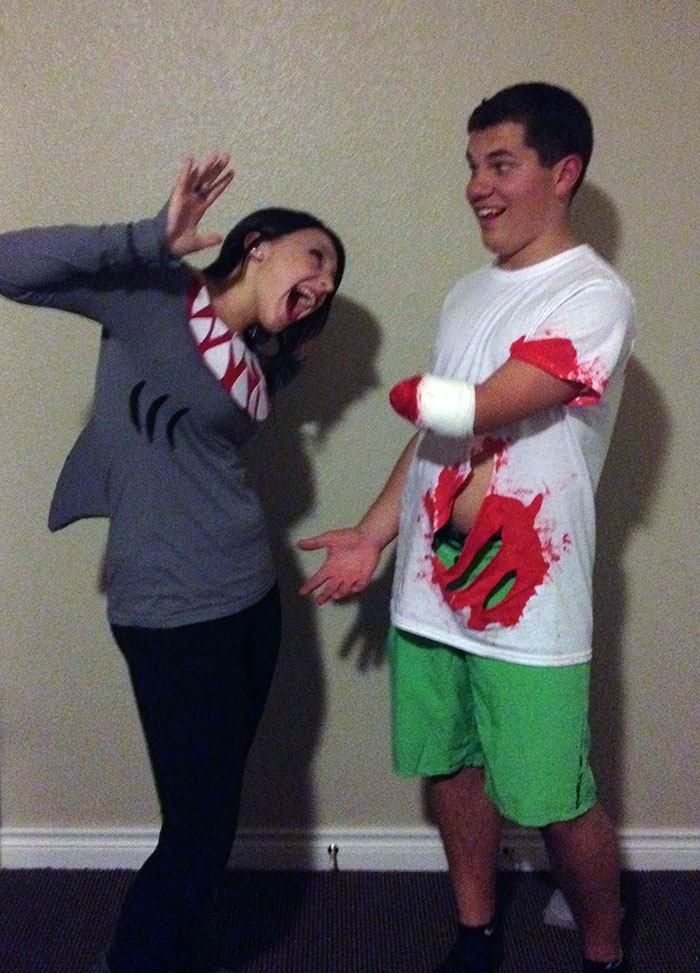 Her boyfriend doesn't have an arm, so they came up with a clever idea. She dressed up as a hungry shark, and he went as a shark victim with a bandaged arm. You have to hand it to them (no pun intended). They did a great job!