They say there's no such thing as a free meal. Well, the same applies to a free wedding photoshoot. But that didn't stop the agent of an unnamed social media influencer from trying to squeeze a free shoot in exchange for exposure for the photography and videography company. The story went viral fast, and luckily for us, the internet wasted no time and the responses are pure gold.
She Made an Impossible Offer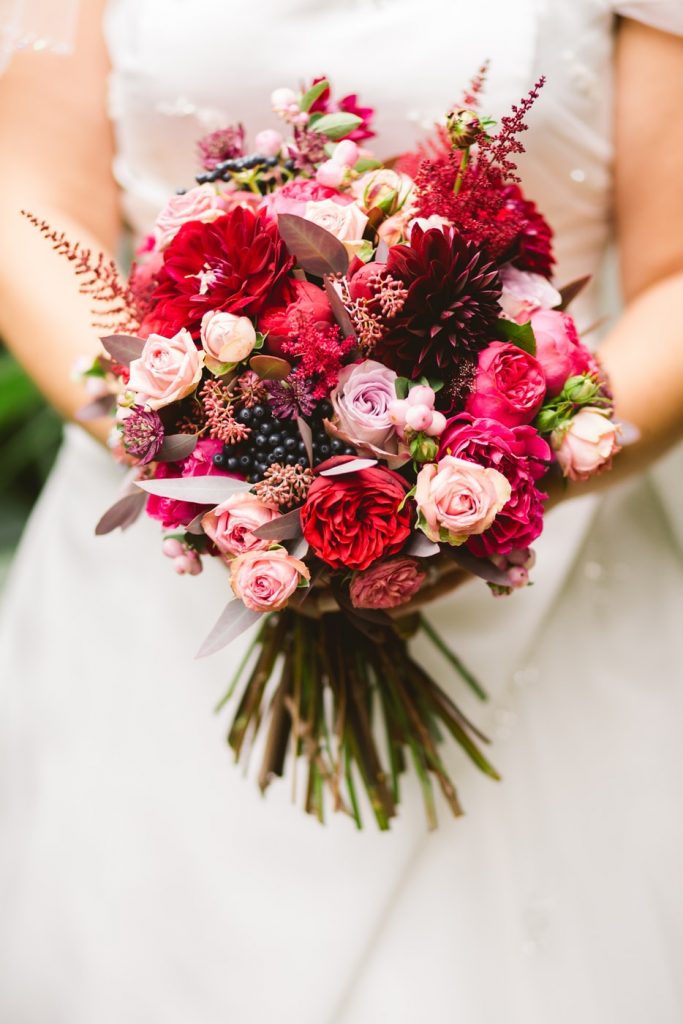 Melissa, the agent of a social media influencer reached out to Frankie from the Betrothed and Co., a photography company specializing in wedding photoshoots with a special request. But things didn't turn out quite the way she expected. As a matter of fact, everything went down hill really fast.
It Was All Documented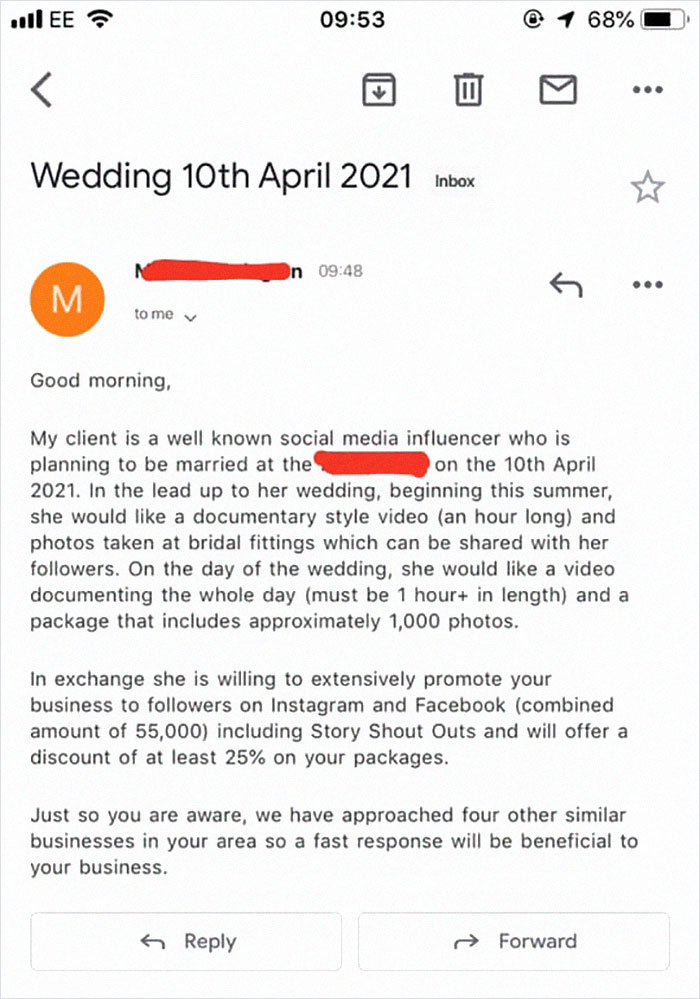 The conversation shared online showed that Melissa wanted a documentary-style video of the entire wedding for her client. In exchange, Betrothed and Co., would get promoted to the influencer's 55k followers.
Something Smelled Fishy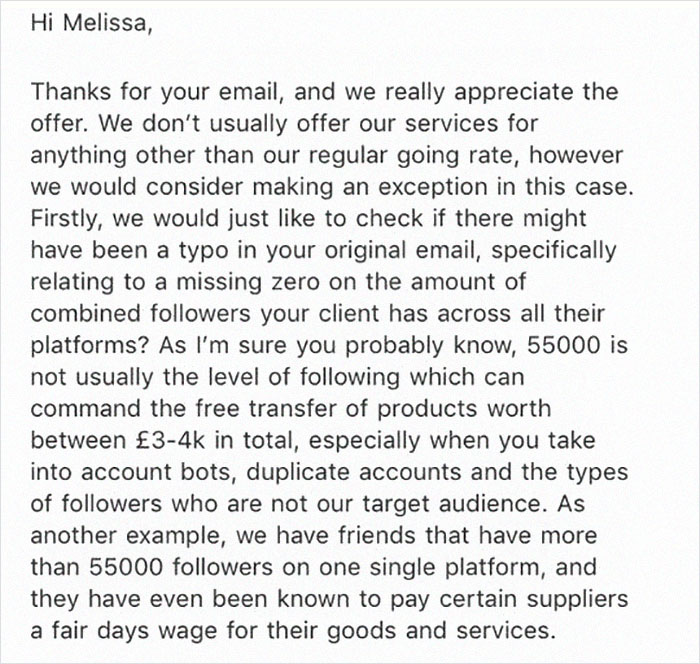 Frankie sensed something was off, especially when Melissa suggested he give any followers she sent his way a 25% discount. So, he found a way to turn her down without losing her professional demeanor.
What Made Them So Special?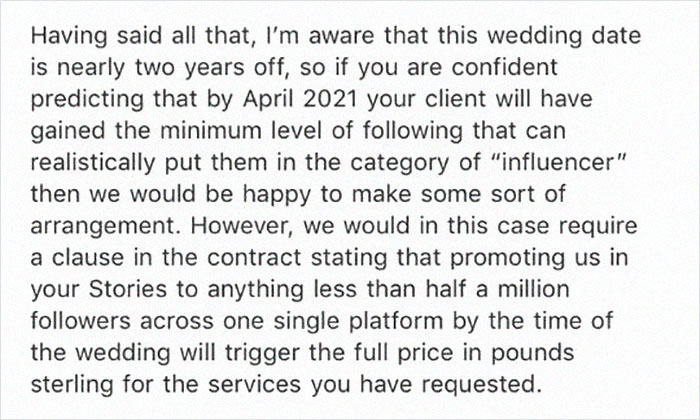 Frankie informed Melissa that he had gotten similar requests from other influencers with a higher number of followers and they still had to fork over the cash. But he did offer her a counter offer.
Passive-Aggressive and Witty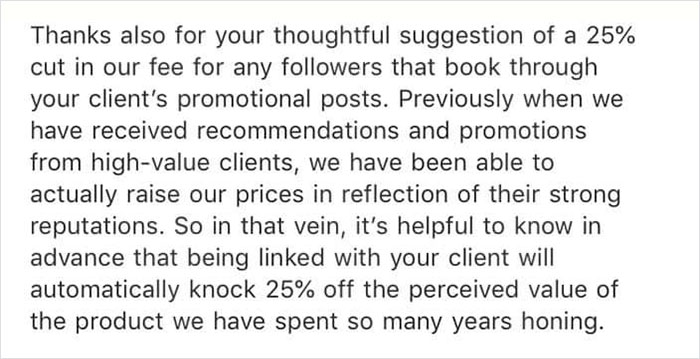 Frankie may have been upset but he didn't show it. Instead, he thanked her for suggesting that he knock 25% off the services his company provided to his clients. But his response reeked of sarcasm and Melissa wasn't happy.
Thanks, But No Thanks!
She thanked Melissa and suggested she get back to her if she had any questions. Never once did Frankie lose his composure and even suggested that they could work something out before the wedding date.
They Were Appalled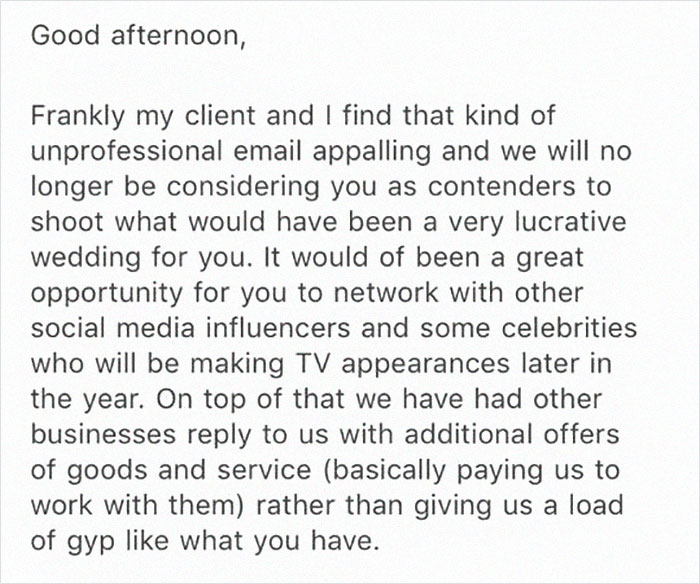 Melissa responded to Frankie's e-mail soon after, and she wasn't very happy, to say the least. She called him out for choosing to turn his back on what could have been a lucrative opportunity for him and for Betrothed & Co. Not that he seemed to care.
Don't E-Mail Again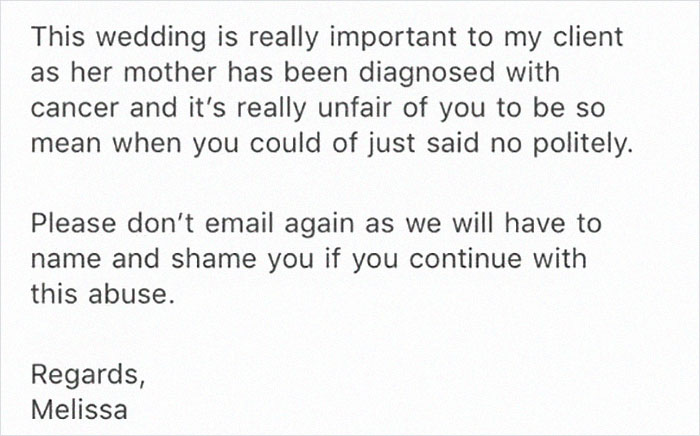 Melissa claimed her client's mother had cancer and that the wedding was very important, hence why she thought the e-mail was inappropriate. She even threatened Frankie and accused him of abuse, even though he had remained cordial throughout the lengthy e-mail exchange.
An Apology Was Issued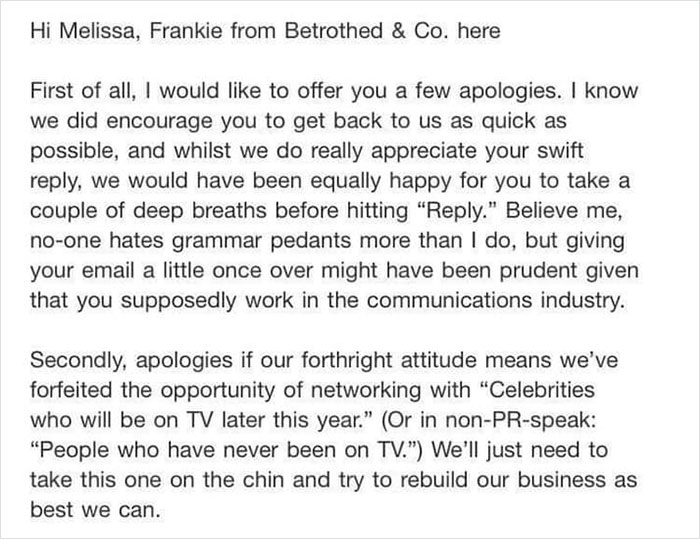 Frankie offered sympathy for the bride to be. He even shared that his mom had lost her battle with cancer too. But he suggested Melissa should "think" before sending a response and to check her grammar.
Naming and Shaming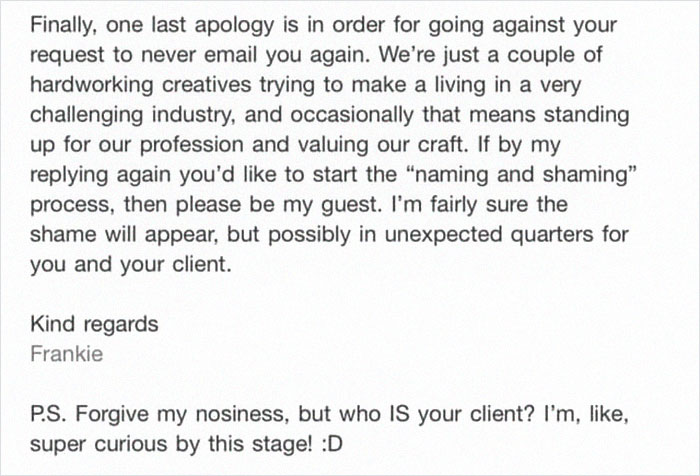 Frankie also apologized for responding to the e-mail, despite Melissa's request not to e-mail her again. He also challenged her to keep up the "naming and shaming" but that she and her clients would be the ones feeling ashamed for begging for a freebie and being so petty at not getting what they want. Ahhh! Social media! The gift that keeps on giving, huh?