If you are a star in Hollywood, you have to take good care of your looks because in most of the cases, the career lasts just as long as you are pretty. This is one of the main reasons why many celebrities go through extensive plastic surgeries to ensure that they look young. They also have teams of professional stylists whose one job is to make them look good. Before any shot is taken, the celebrities are up in their vanity vans, trying to get the final touches on their makeup so that the camera does not catch their aging looks. However, not all of them succeed in this endeavor and that is where photo editing software like Photoshop play a huge role, ensuring that the rest of the world sees the celebrities as flawless creatures.
Madonna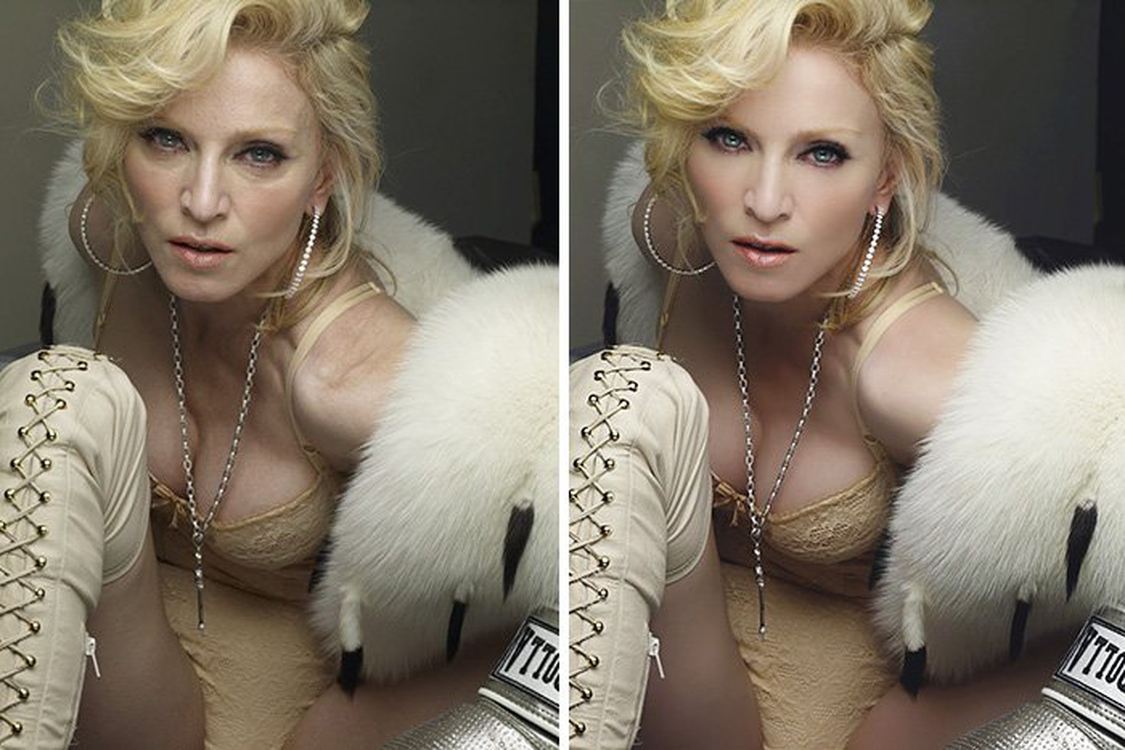 Looking at the picture on the right, you would never be able to guess the fact that the Queen of Pop has crossed the age barrier of 60. She has been a part of the music industry for nearly 40 years now and has played a huge role in the development of the pop genre. For a 60 year old woman, she looks really pretty. However, when she has to appear on the covers of magazines, she has to undergo retouches using Photoshop.
Candice Huffine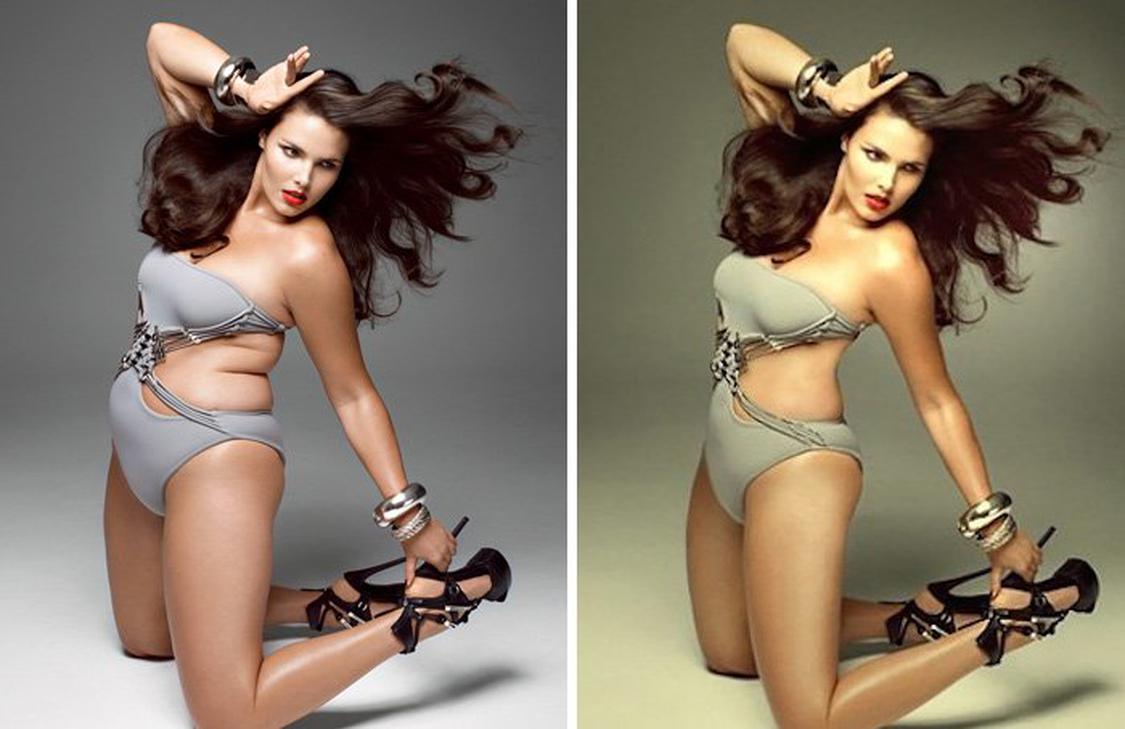 A plus-sized model, Candice Huffine has been in the industry ever since she was a child. She has been featured many times in CR Fashion Book, Italian Vogue, Vogue, W, V Magazine, i-D, and Glamour. She has achieved quite a lot in her life but even then, she has to need the retouches of Photoshop. The worst thing is that despite being a plus-sized model, the magazines often slim her up so that she is plus-sized according to their definition.
Cindy Crawford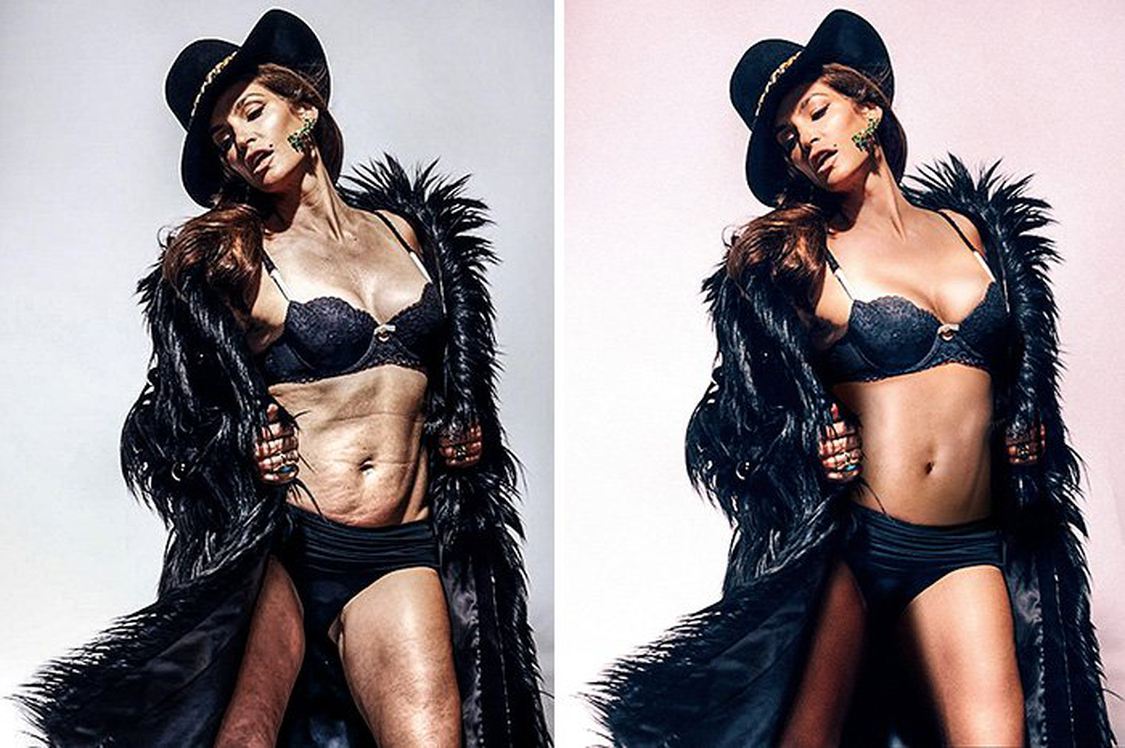 She was a heartthrob for many people during the 80s and the 90s and worked for a vast variety of magazines like Vogue, Cosmopolitan, and Allure. She also worked the ramp for Versace, Dolce & Gabbana, Ralph Lauren, and Calvin Klein. She was an A-List model but today, she is more than 50 years old and her body is past her prime. These pictures show exactly how she has aged and how much skill is required to make her skin look smooth.
Justin Bieber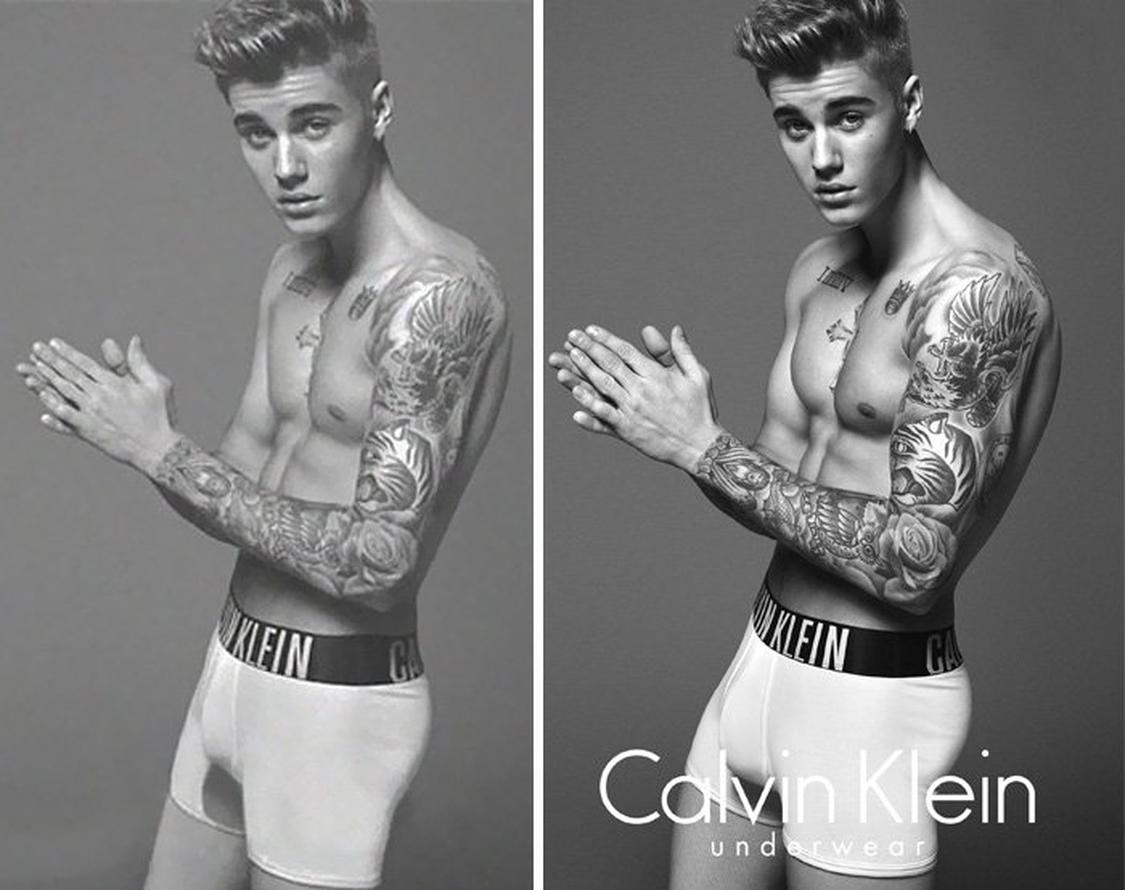 This pop star is famous all over the world and it all started with Baby becoming hit. However, he has gotten in too much trouble when he was throwing eggs at his neighbor's place and got naked in his balcony. He was also in a huge controversy when he was in an ad for Calvin Klein's underwear. Everything in the picture was made to look bigger, including his arms, chest, butt, and other parts.
Kim Cattrall
Kim Cattrall is most famous for her role as Samantha from Sex & The City. Even though she has played many other characters in a lot of movies, she is always remembered as Samantha. Now at the age of 63, she has lost of her tight skin and requires the editing by Photoshop experts.
Britney Spears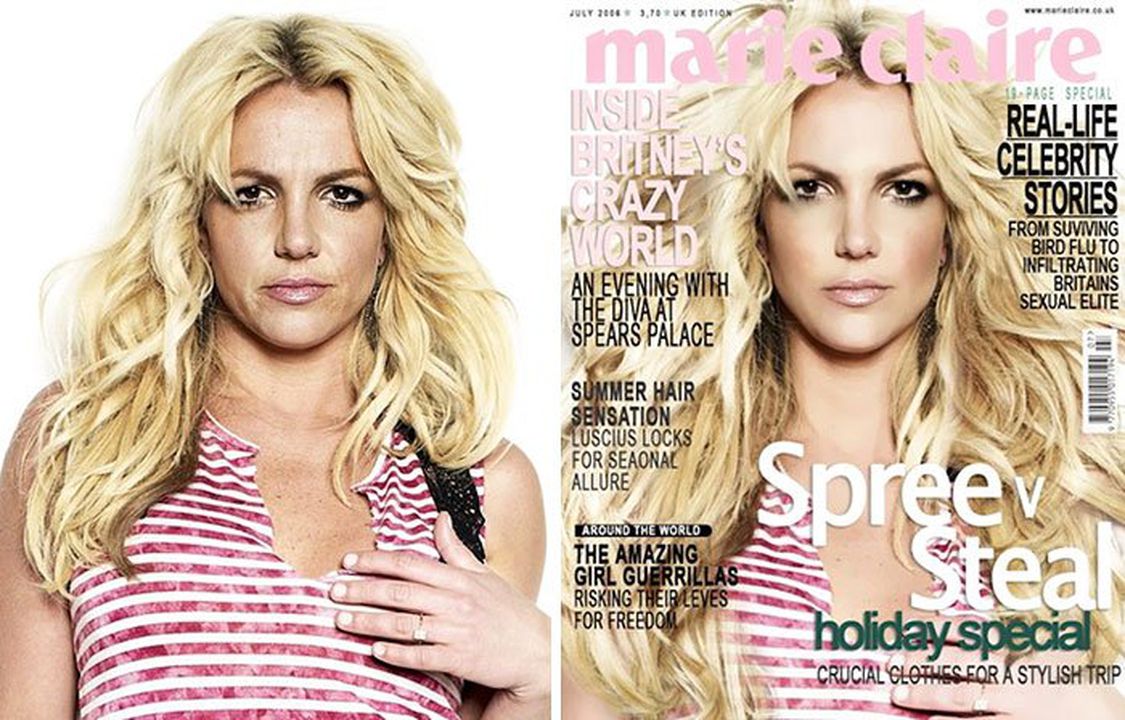 Britney Spears is quite a famous pop singer and one of the most recognizable stars from around the world. Britney has given a lot of good songs but the 37 year old star has reached a point in her life where she has a lot of flaws as far as wrinkles go.
Beyonce Knowles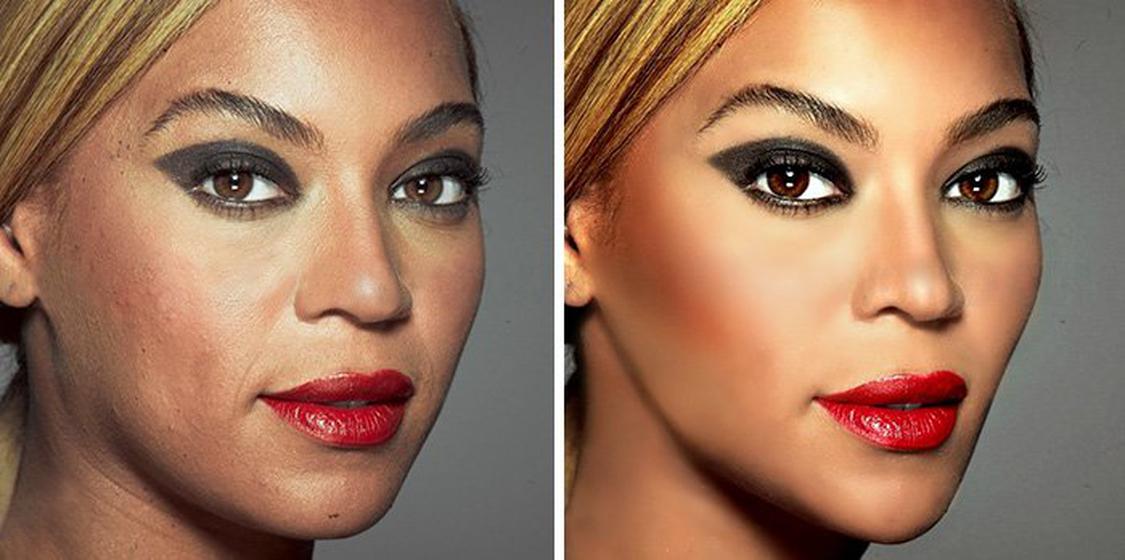 Beyonce is a true queen and most of the people around the world think that she is perfect and can do nothing wrong in her life. However, with evidence that she also requires Photoshop, people around the world can rest in relief that she is just a normal human being like the rest of us.
Fergie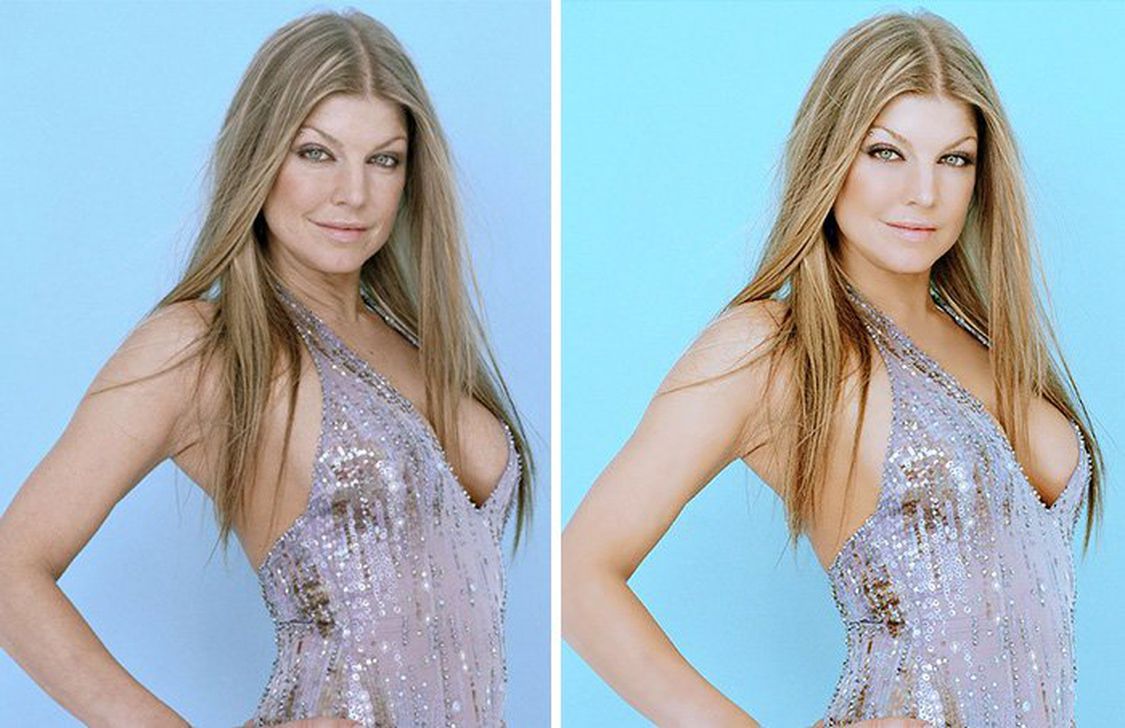 Fergie found her success with her band The Black Eyed Peas. However, she has also made it as a solo artist. She is also an actress who has given her voice in many movies and TV shows. Fergie has reached the age of 44 and requires editing on her pictures to ensure that they look good.
Lady Gaga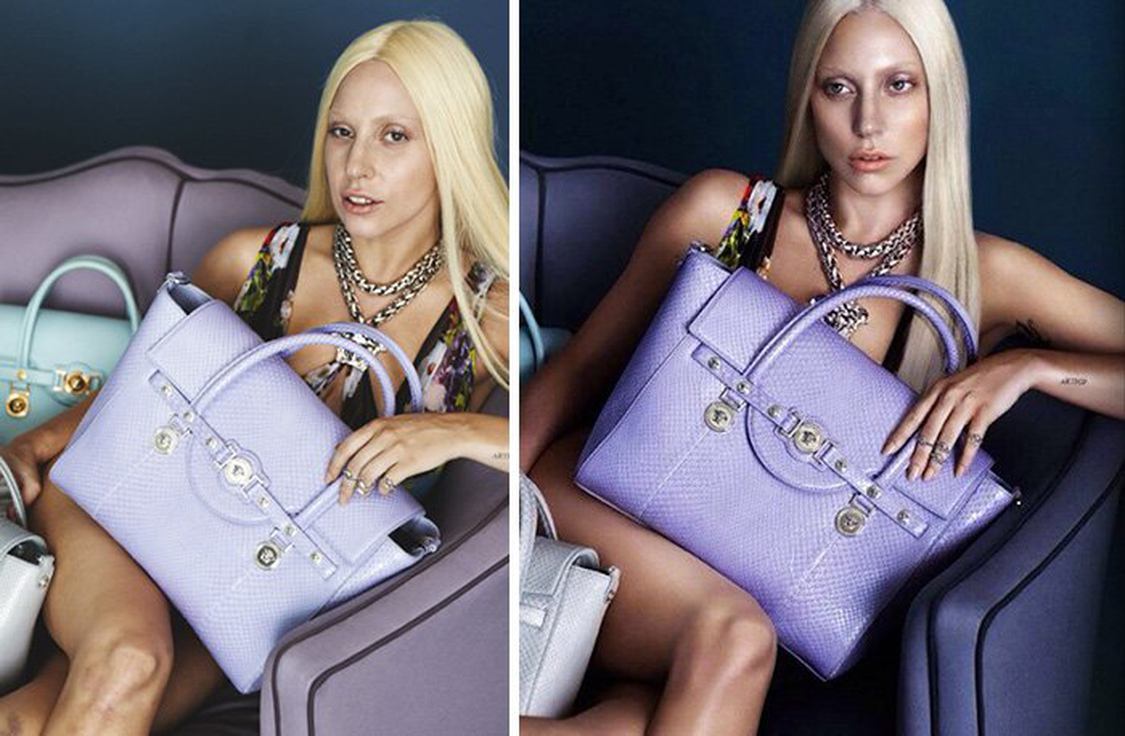 Everyone thinks that Lady Gaga is perfect but that is because all the pictures that you see of her are photoshopped. Her skin is made to look more toned and flawless than it actually is. The sad thing is that the media and even the people around the world cannot accept the stars as they are.
Lindsay Lohan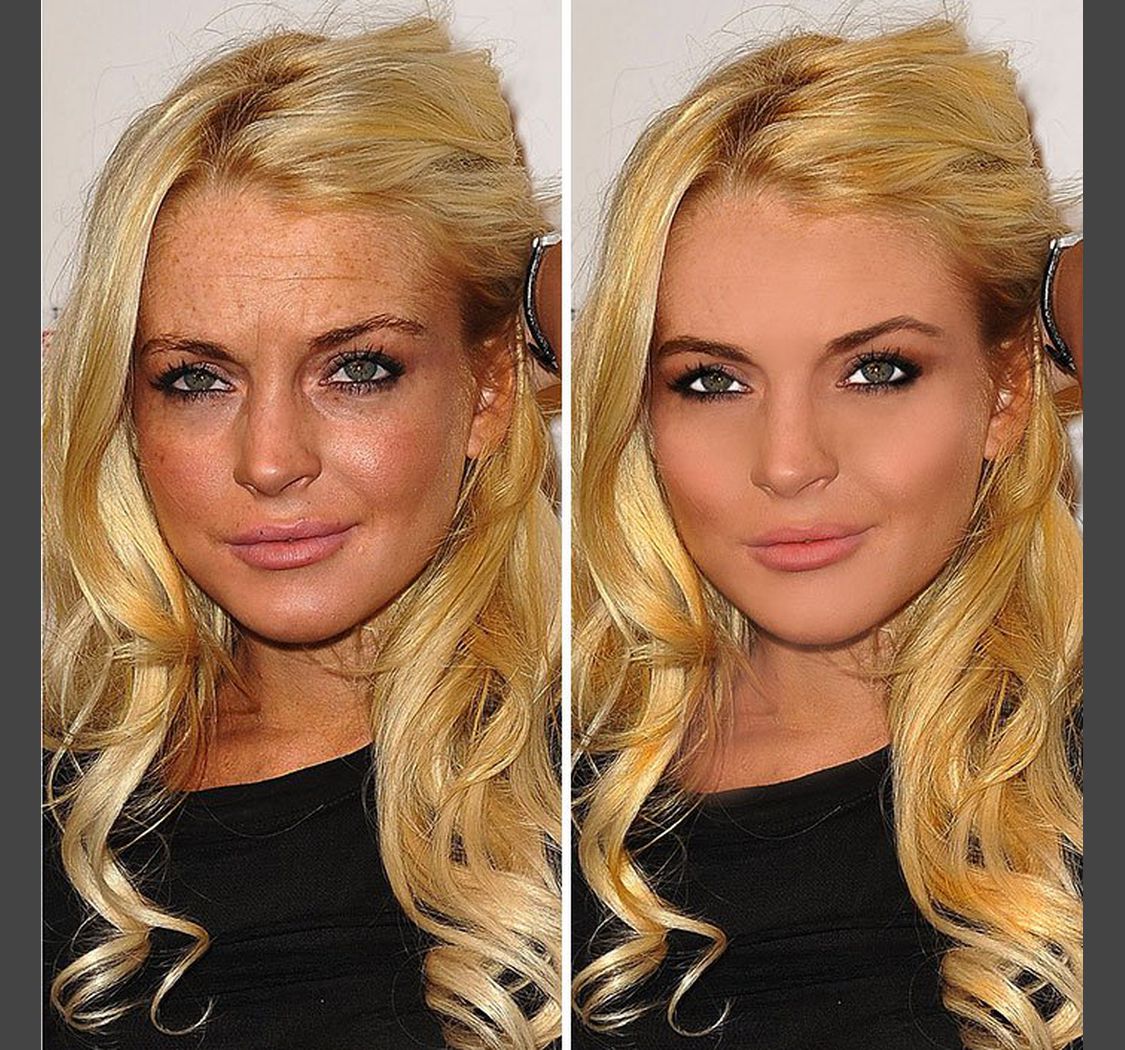 Lindsay Lohan has had many ups and downs in her life. She did not get much success early on in her life but when she did have success, she could not handle the stardom and had many lapses to rehab because of substance abuse. This took a toll on her skin and it really shows.
Madonna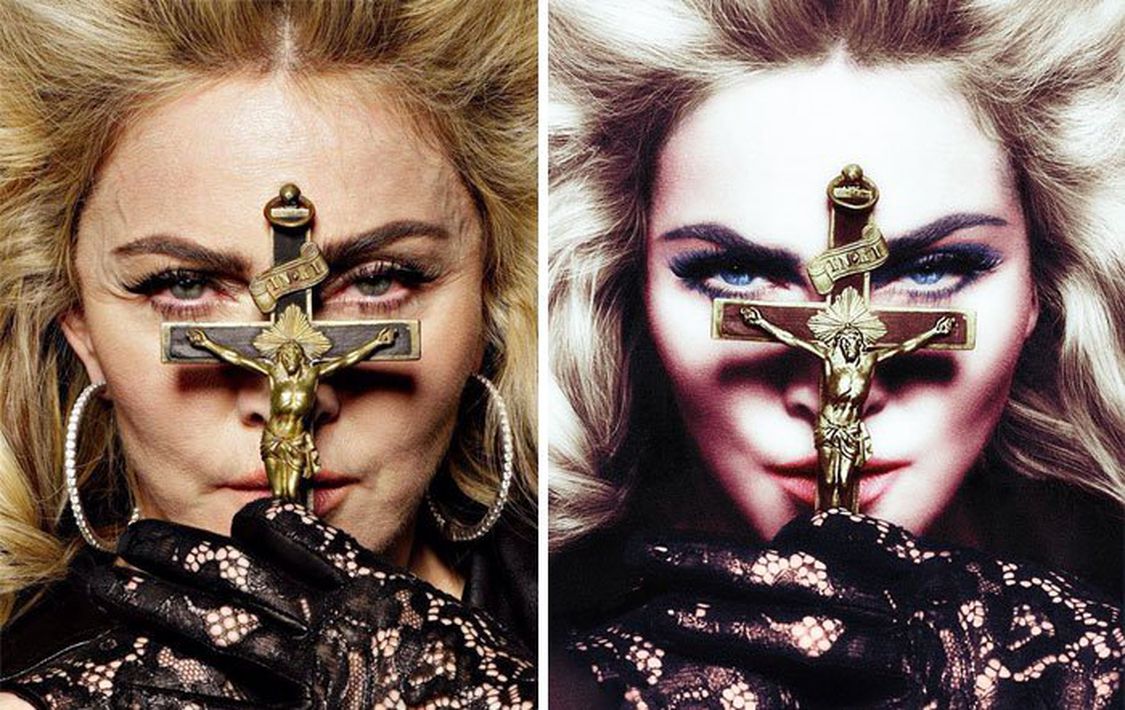 Interview Magazine used this picture back when they interviewed Madonna in 2010. The magazine tried their best to edit the picture so that Madonna looked young and flawless. However, we can see the toll that age has taken on her skin with the Crow's feet that is visible on her face.
Kim Kardashian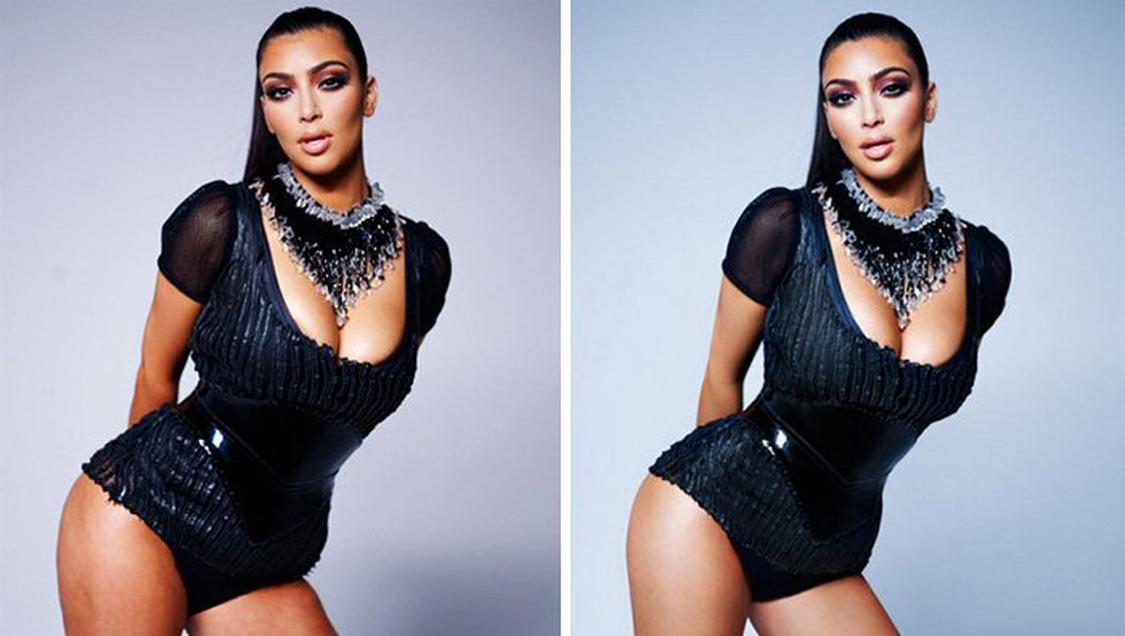 Kim Kardashian has gained a lot of popularity with her TV show and her various businesses. However, she gained a whole new level of popularity when she married the rapper Kanye West. We all know that Kim is rather voluptuous but the fact that everyone knows has not stopped her from slimming down in pictures. This is quite visible when you look at her arms and thighs.
Katy Perry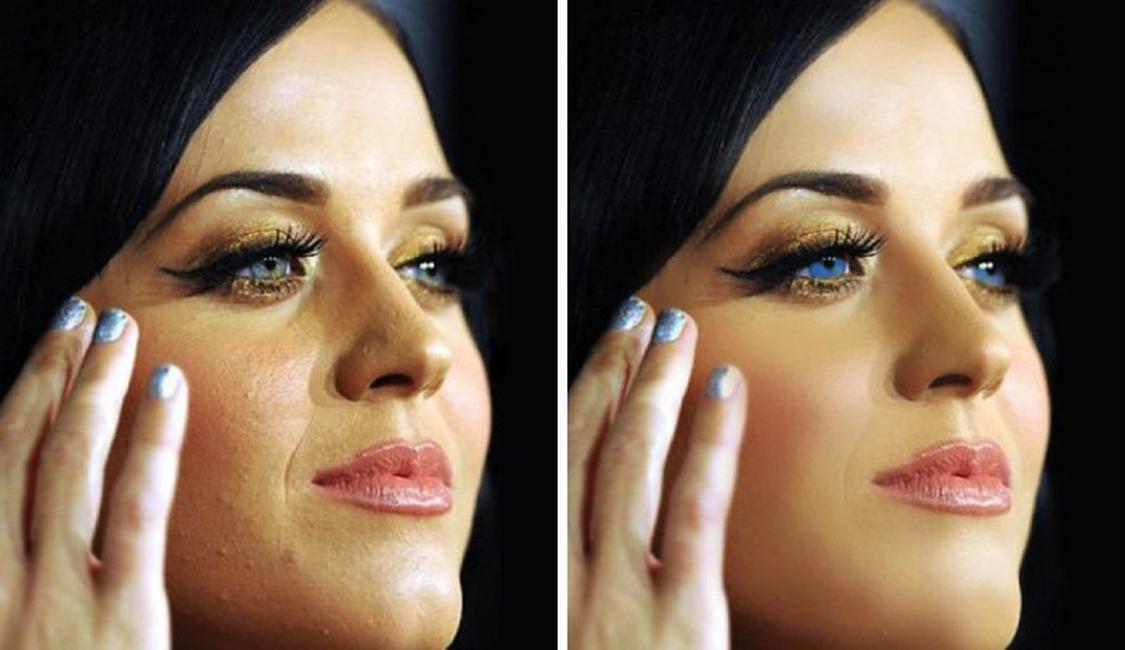 Katy Perry is one of the best and most talented singers of today. She is also known to be one of the best looking artist in the music industry. However, this does not mean that she does not have any flaws. There are a lot of spots on her face and her skin is not all that toned, as is clear from the pictures above.
Britney Spears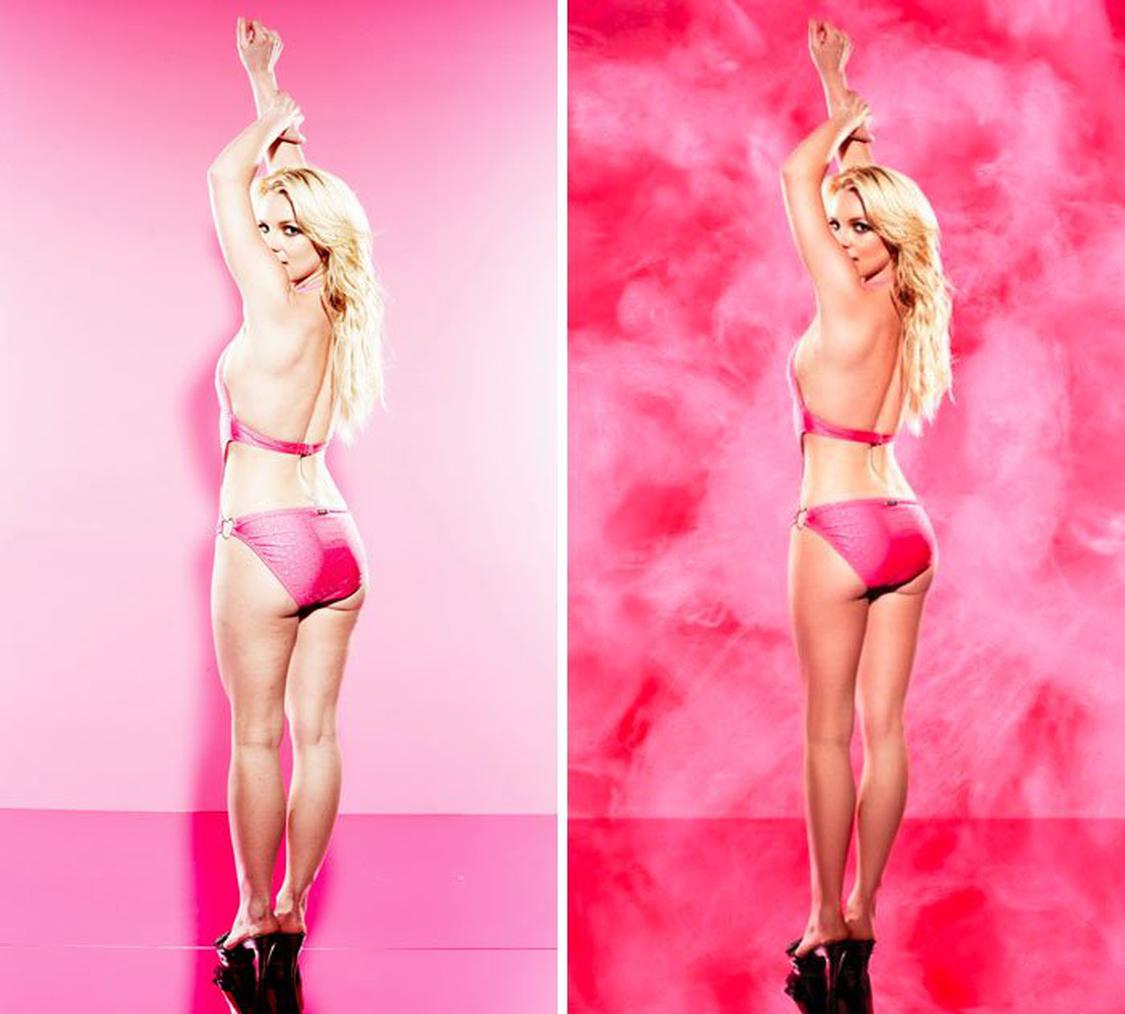 This is a picture back from 2010 when Britney modelled for Candie's fashion. The picture that was used by the magazine was the one on the right but Britney realized that she could not hide the fact that she was not that beautiful from the world. So, she revealed the picture on the left to the world.
Jennifer Lawrence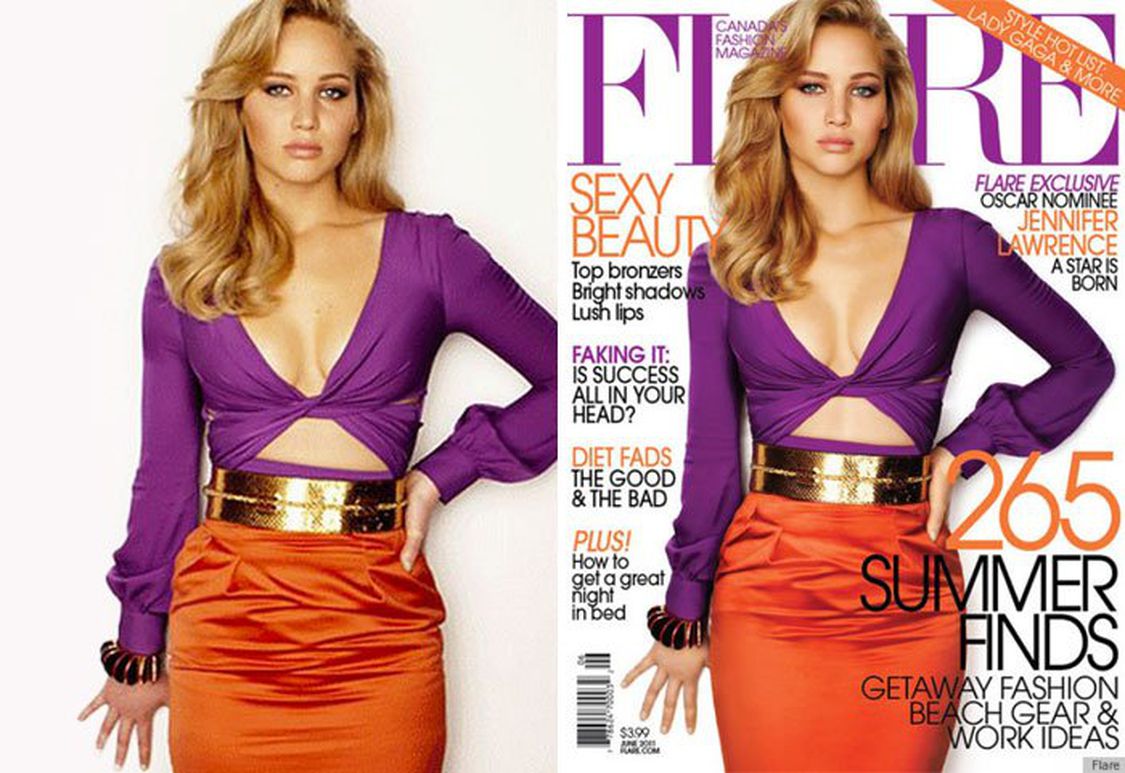 For Jennifer Lawrence, the career in the movie industry started at the ripe age of 16. The roles that she is most known for include Katniss in the Hunger Games and Mystique in the X-men series. Because she is young, she serves as an important role model for millions of people around the world. However, the magazine in the picture decided to use an edited picture of Lawrence in order to make her look more appealing to their audience.
Angelina Jolie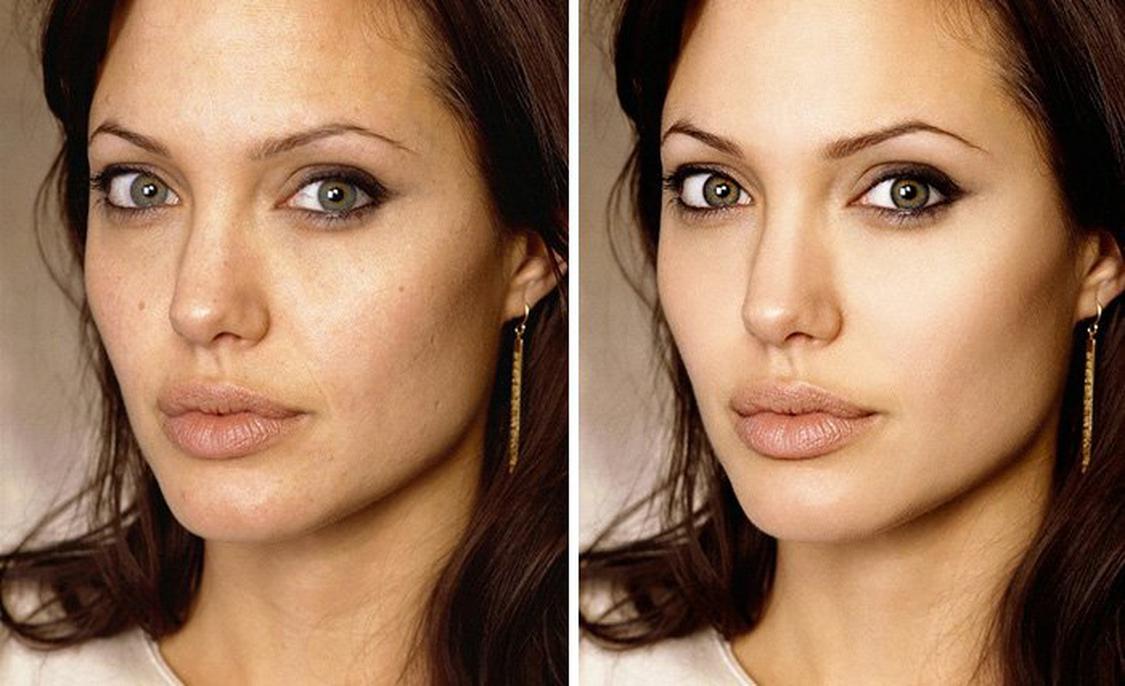 Angelina Jolie is one of the most famous actresses in Hollywood. She has won Academy awards and has been making movies for more than 30 years now. Apart from being an actress, she also does a lot of charity and humanitarian work. Even with all her perfections, Angelina Jolie is far from perfect as her skin has many flaws.
Miley Cyrus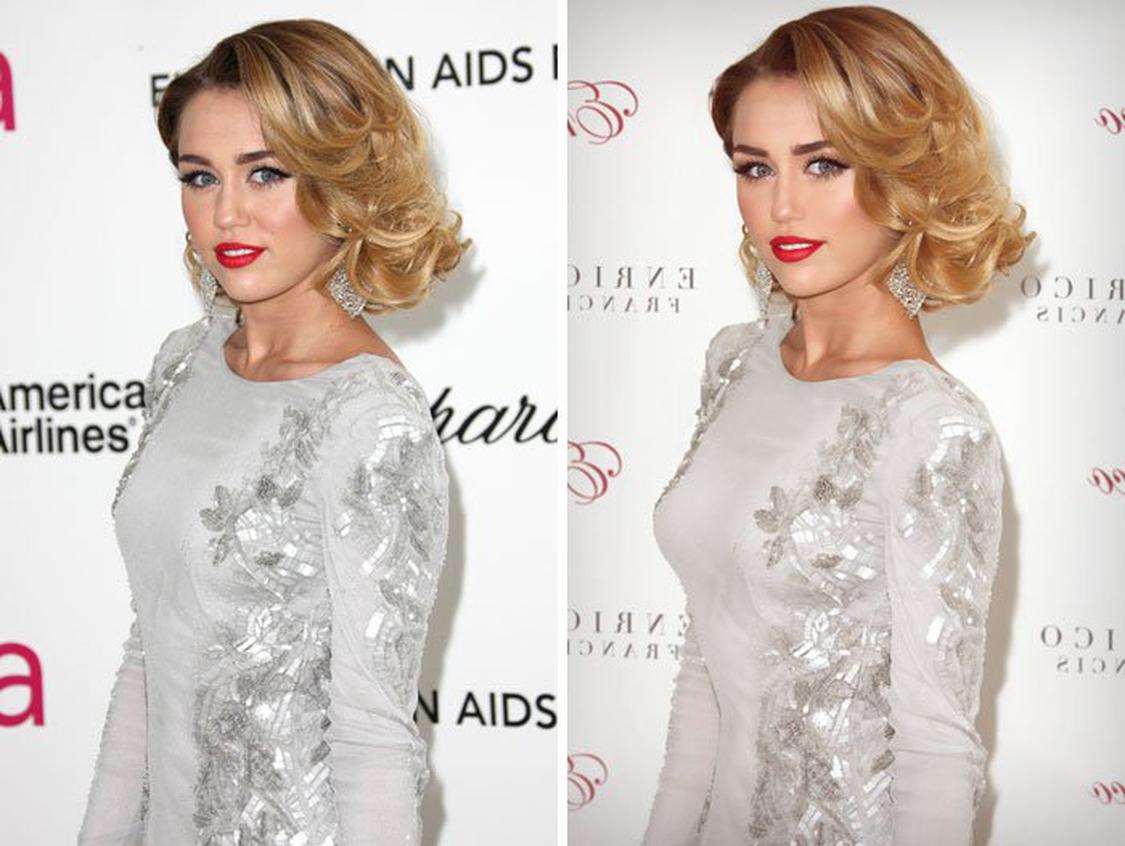 This child actor from Disney's show Hannah Montana has gained a lot of popularity for her music career as well. She appears from time to time in numerous TV shows. Even though many people know her from around the world, she requires slimming down her stomach as is evident from this picture above.
Penelope Cruz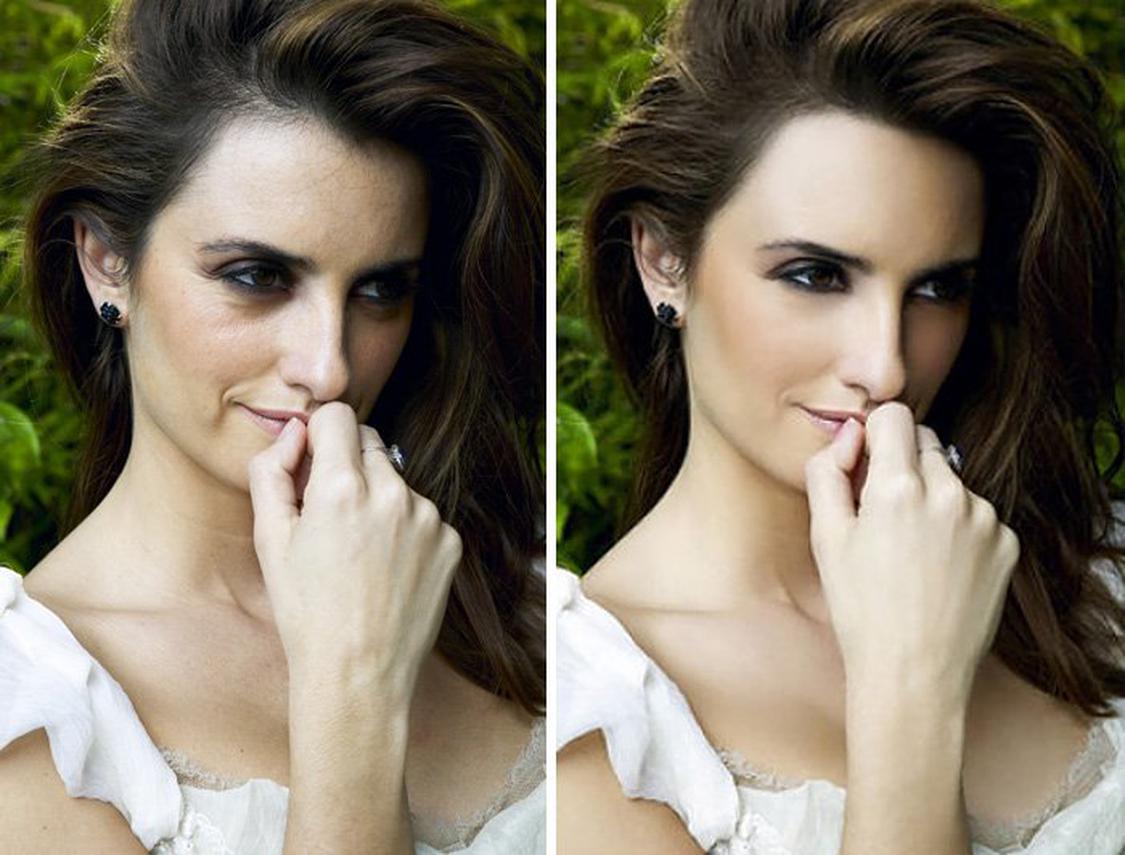 In the early 2000s, Penelope Cruz was the girl of every man's dreams. Her role in Pirates of the Caribbean immortalised a presence in Hollywood. This 45-year-old Spanish beauty does not look as flawless as she did once upon a time. Her face has many new wrinkles and her skin tone needs evening out with editing software.
Britney Spears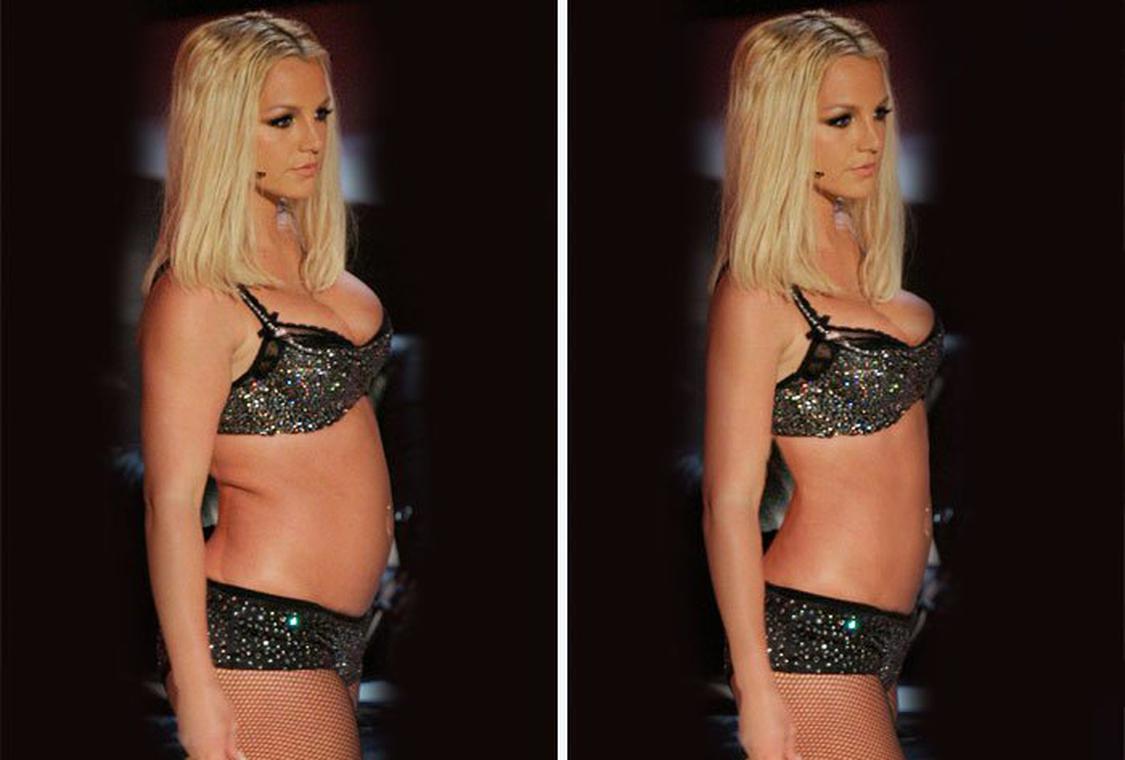 Bikini pictures do not come out to be as flattering as you'd want. Perhaps this is the reason why Britney chose to use Photoshop before posting the picture of herself in a bikini. Her skin was made tight and the rolling sides were all gone after the editing.
Avril Lavigne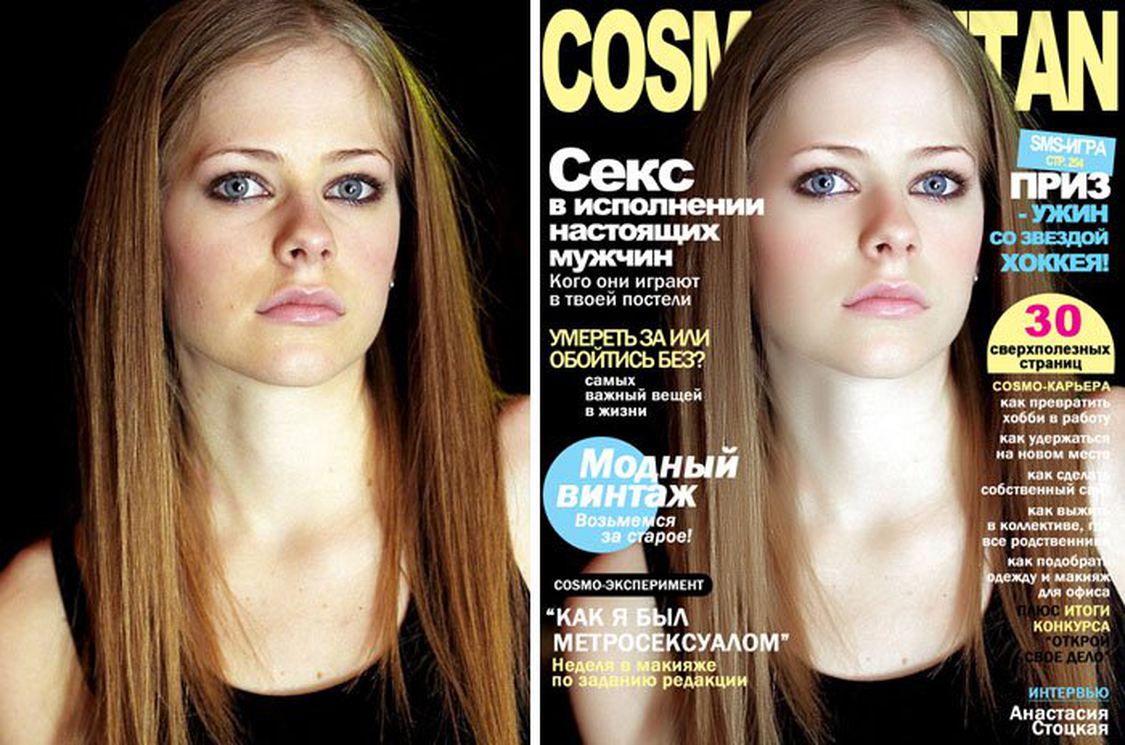 Many people from around the world believe that Avril Lavigne is immortal. Right from the age when she first started singing, it looks like she has not aged a bit. However, this is not true. Her looks have faded over time and Cosmopolitan magazine had this very reason to touch up her picture so that her nose looked smaller and her skin was even toned.
Gwen Stefani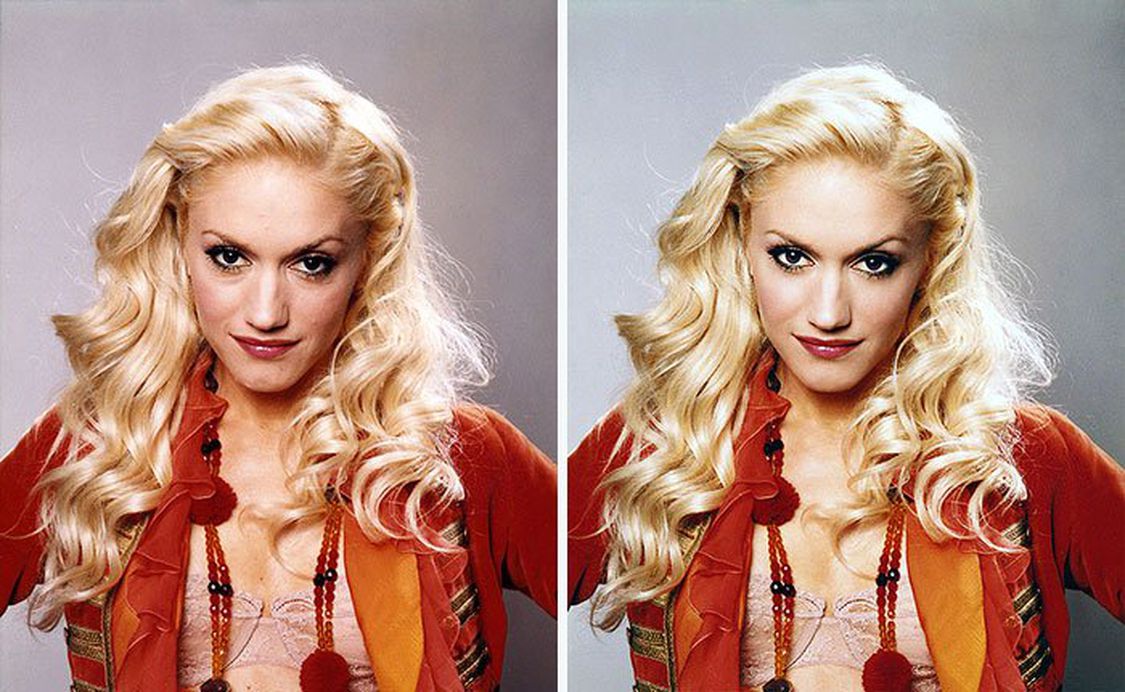 Stefani's career has been up and about for almost 40 years now. Even at the age of 50, she has managed to maintain her looks. One of the main reasons that she was able to do this is that she uses minimal makeup. However, even she likes to touch up pictures of it using editing software. The lines around her face have been removed and her skin tone has been made a little bit lighter.
Madonna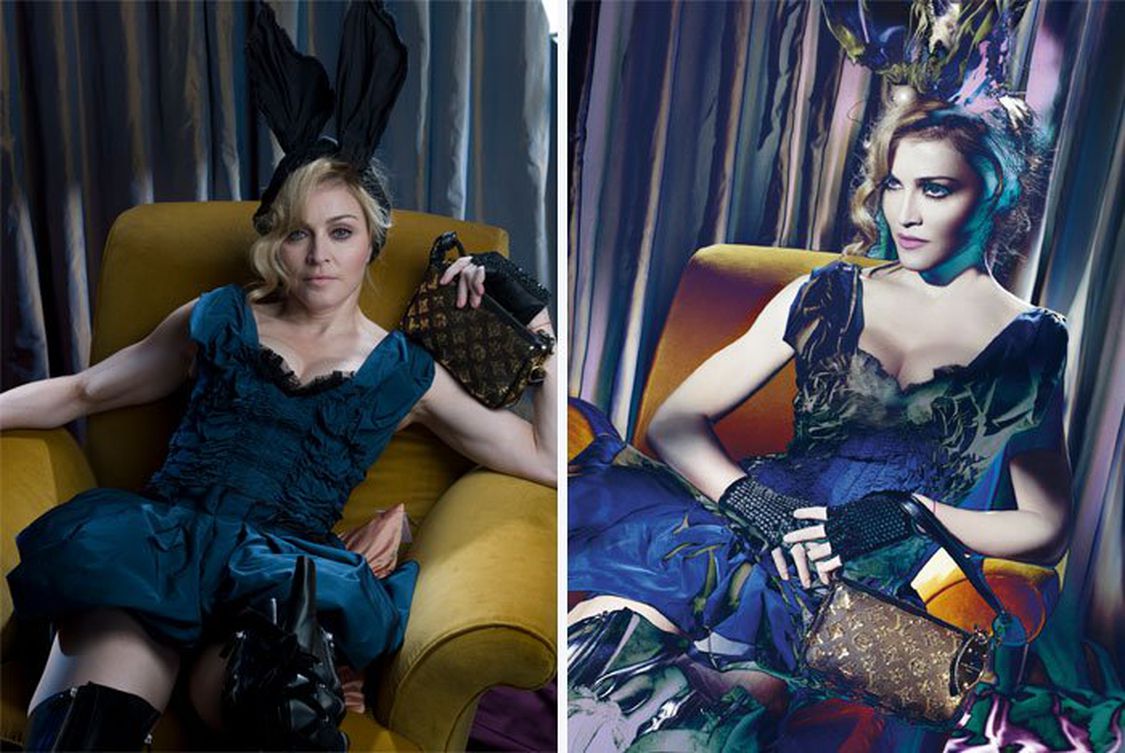 You might be wondering why Madonna has made it to the list again. Perhaps, this is because as a celebrity gains more popularity and success, they begin to look a certain way that is accepted by the public. In this picture, Madonna's arms for me to look firmer and more toned and even her face appears to be slimmer.
Meghan Trainor
Meghan Trainor is the singer who gave us the hit song "All about that Bass". Even though she is just in her mid-20s, she has been active among various charities and humanitarian efforts. She is a curvy lady who does not care much about what the industry thinks about her. Even so, the magazines and the overall industry at large does not care what Meghan thinks and has slimmed down her waist so that she looks more appealing to the audiences.
Madonna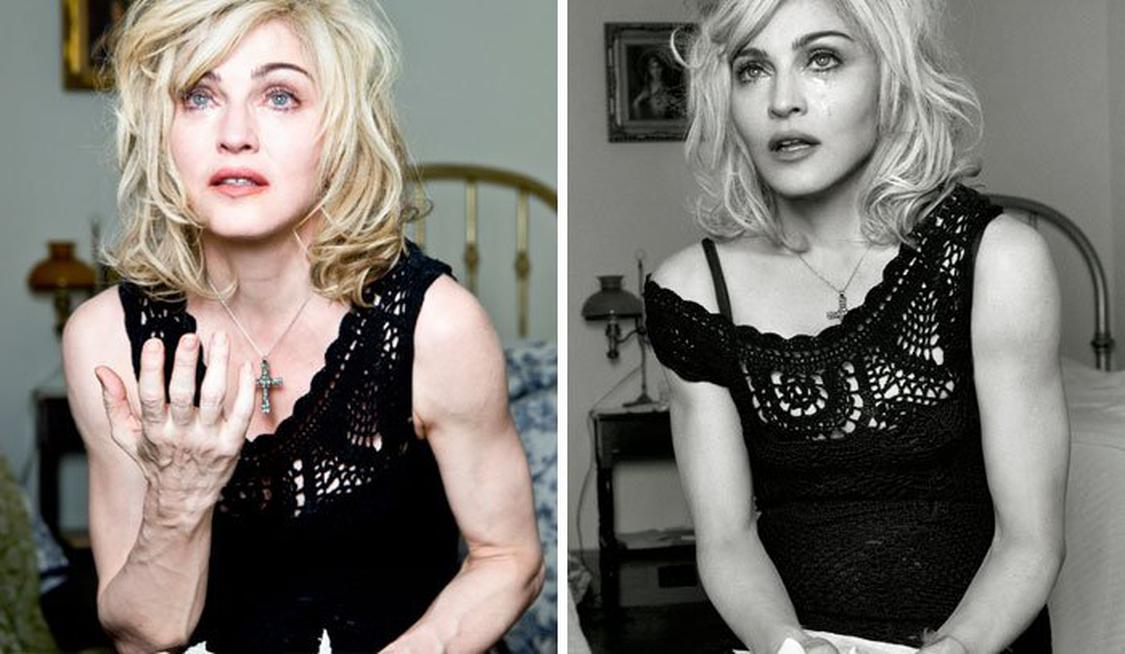 It seems like Madonna is a subject whose pictures are a favorite for the editors. Her age has begun to show on her skin but the photographers have to maintain the industry standards, which is why in her edited pictures, she does not look a day over 30.
Kristen Stewart
Stewart was the actress chosen to play the role of Snow White in Snow White and the Huntsman. This just goes on to show how beautiful she is. However, not everyone is a fan of the Twilight star. She was trolled by Donald Trump before he became president. Another person who is not a fan of Stewart is the editor who gave her a paler skin and shut her parted lips.
Miranda Kerr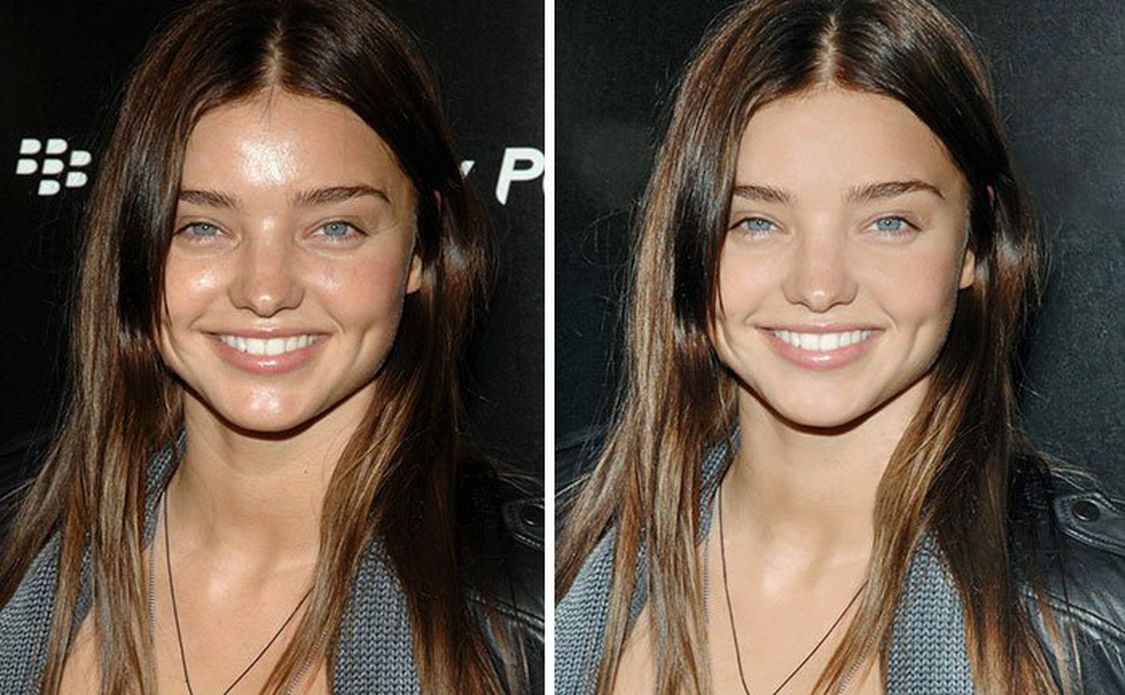 Miranda Kerr is one of the Victoria's Secret Angels. An Australian by birth, she is one of the most successful people of the generation. If it were not enough to show you how popular she is, she is married to Evan Spiegel, the co-founder of Snapchat. At a launch event, Miranda was not wearing enough makeup to please the photographer, which is why he used Photoshop to make her face paler.
Katy Perry
At first glance, you will not notice anything wrong with Katy Perry in the before picture. However, when you compare the picture with the one that was edited, you will notice that there were lines on her face and a slight hanging tummy skin, which was edited away in the final picture.
Faith Hill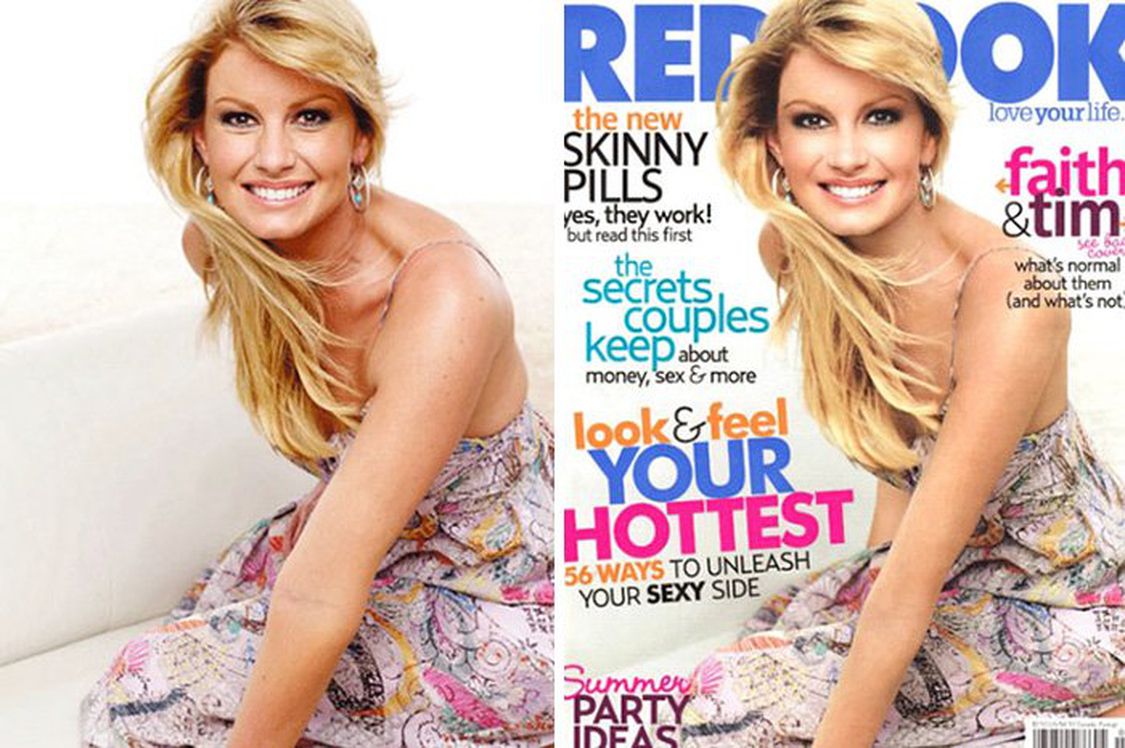 The winner of five Grammy Awards, 15 Academy of Country Music Awards, 6 AMAs, and many other awards, Faith Hill is one of the most popular female country singers in the world. Looking at her picture before the editing, you could never guess that she was 39 years old in the picture, which was taken in 2007 for Redbook magazine. Even though she was practically flawless, her arms were slimmed down and her face was made tauter.
Keira Knightley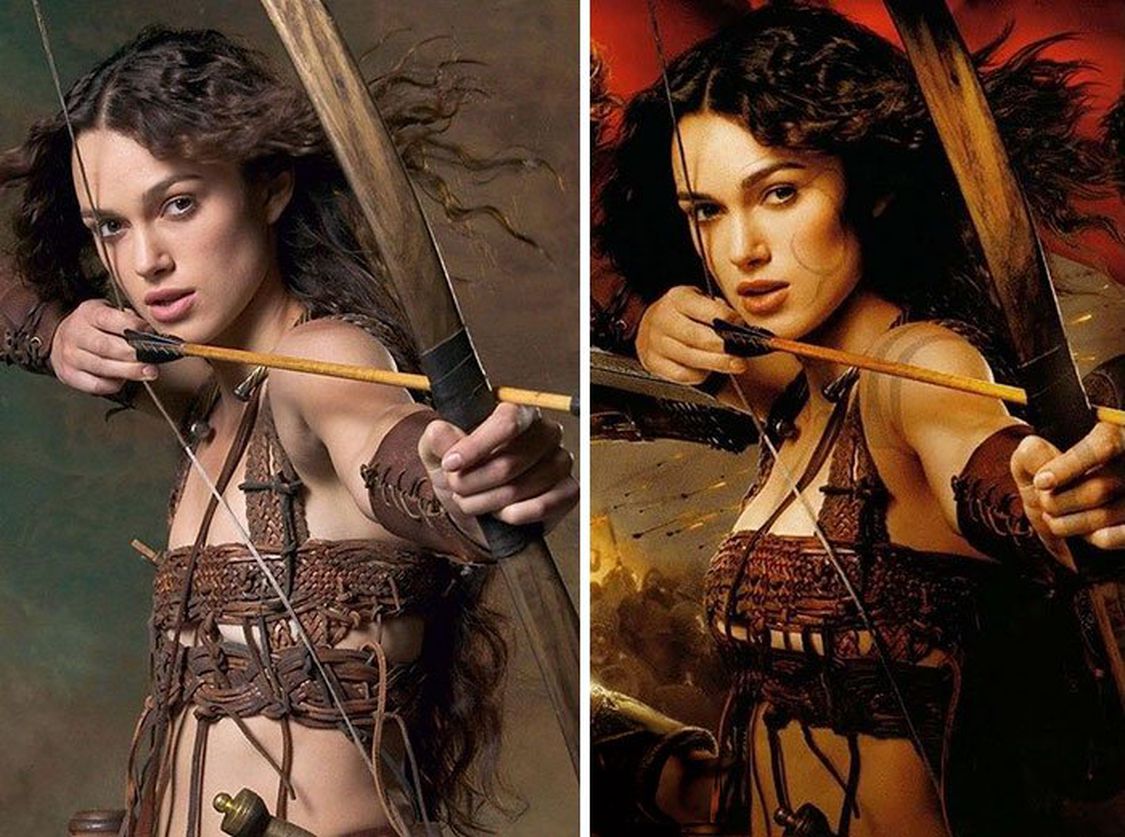 Keira is an A-List celebrity that has played many roles in movies like Star Wars, Pride and Prejudice, and Pirates of the Caribbean. However, back in 2004 when she was playing the role of Guinevere in King Arthur, the production team edited her picture to enhance her bosom and changed her skin tone as well.
Sharon Stone
Sharon Stone is way past the prime of her life but for a 61 year old, she looks stunning. However, even she had to face the adversities of aging but she has aged well, like a fine wine. The photographer chose to remove any signs of aging from her picture to ensure that her beauty remains immortal.
Lady Gaga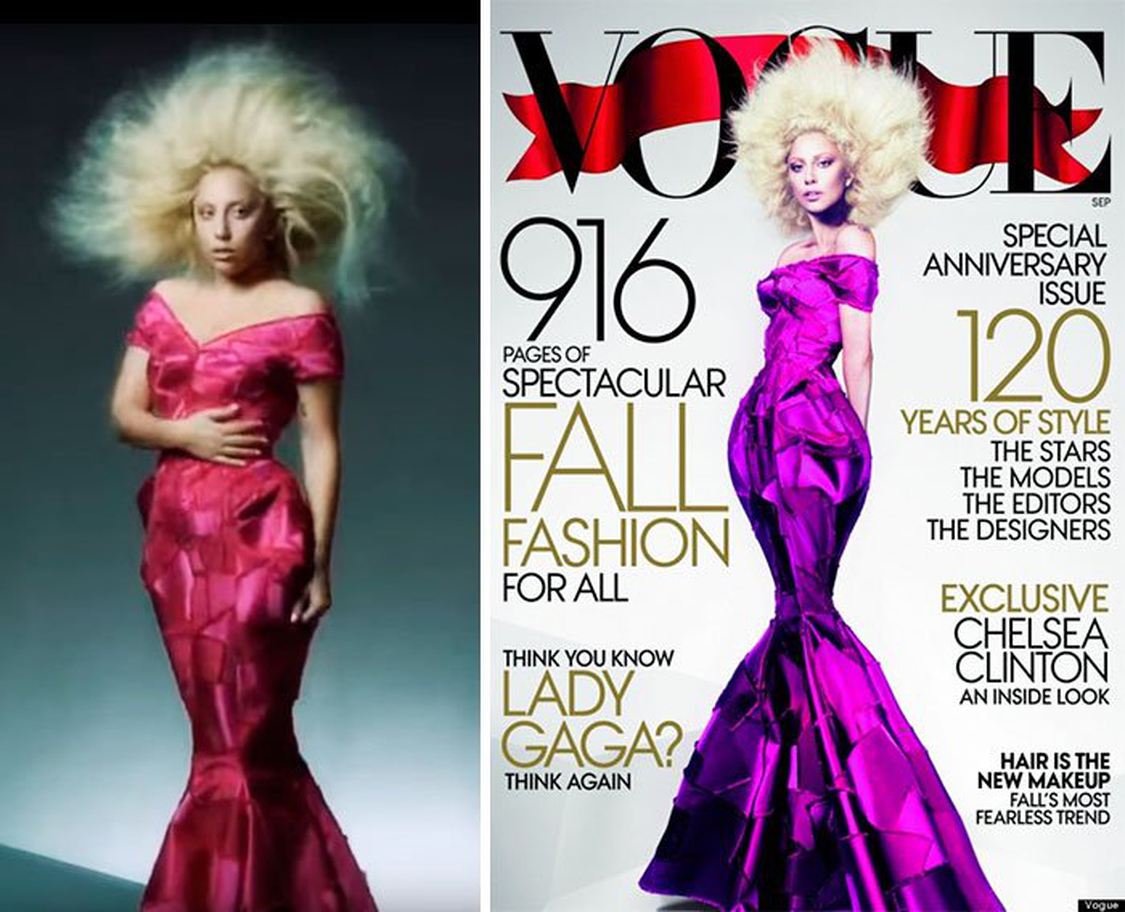 Lady Gaga is quite an eccentric lady when it comes to fashion and hair styles. She does not conform to the rules of the society and that is one of the many things that people love about her. When she was featured on the cover of Vogue, she had to, willingly or unwillingly, conform to the industry standards and editing the waist to make her look slimmer was the bill she had to pay to look beautiful.
Leighton Meester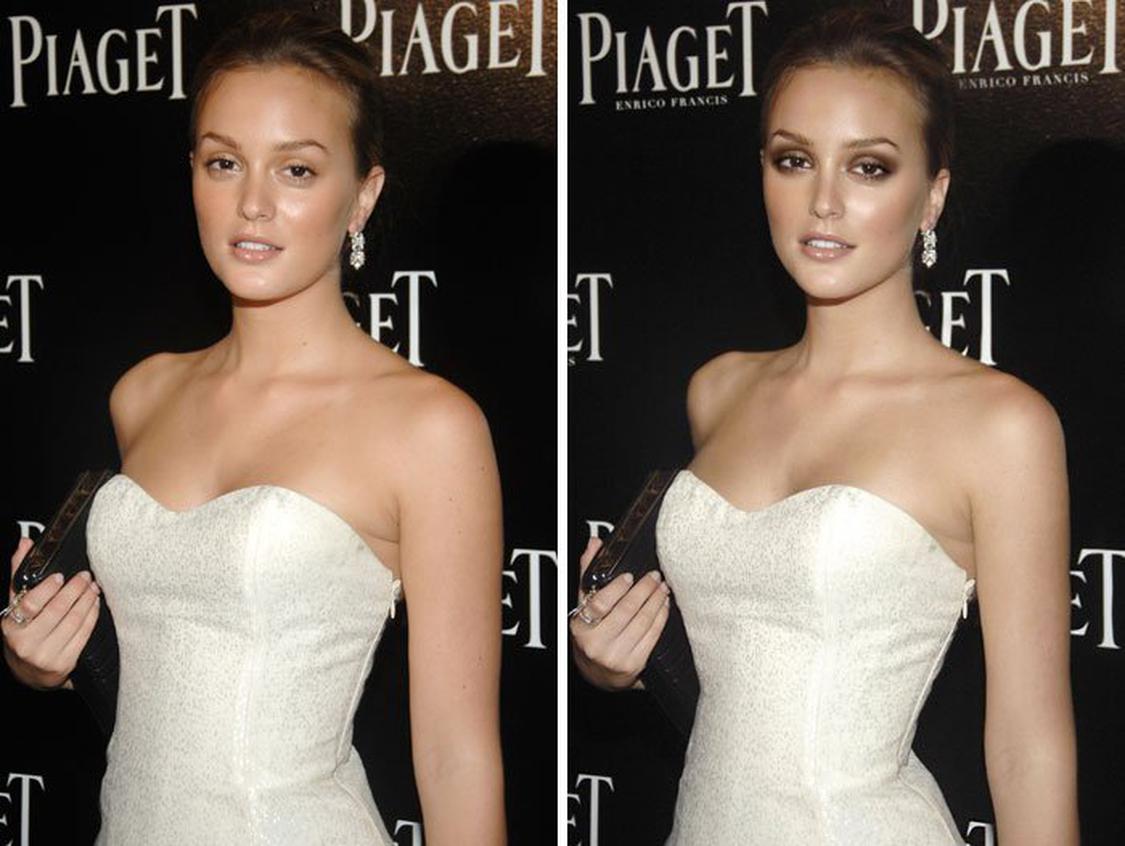 The star of Gossip Girl, Meester won the hearts of Americans all over the country. Her career is sprawled over the last two decades, during which she has appeared in many movies and TV shows. This picture was taken when she appeared on the red carpet without any makeup but the photographers decided to amp up the picture to a more traditional red carpet look.
Nina Garcia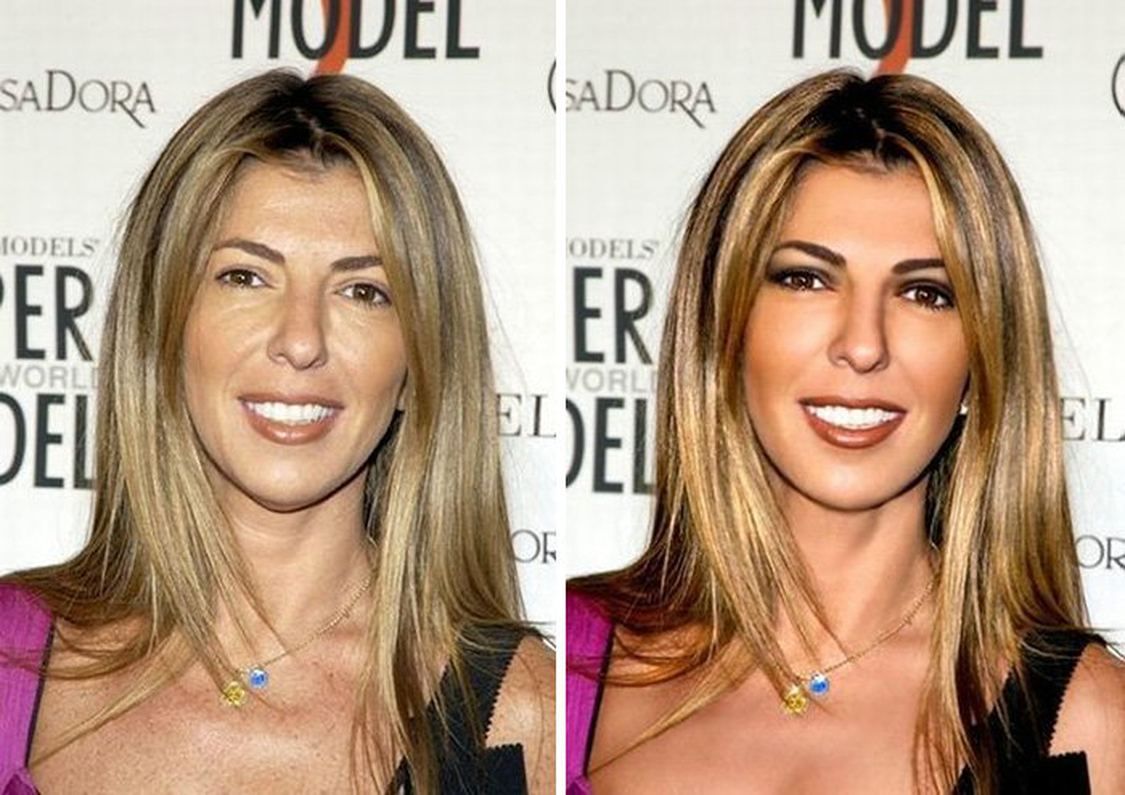 If you are looking for the most popular journalists in the fashion industry, Nina Garcia is a name that you would be familiar with. She is the editor-in-chief of Elle magazine and she had to be on the other side of the table when her face was edited to make her look more appealing.
Kim Kardashian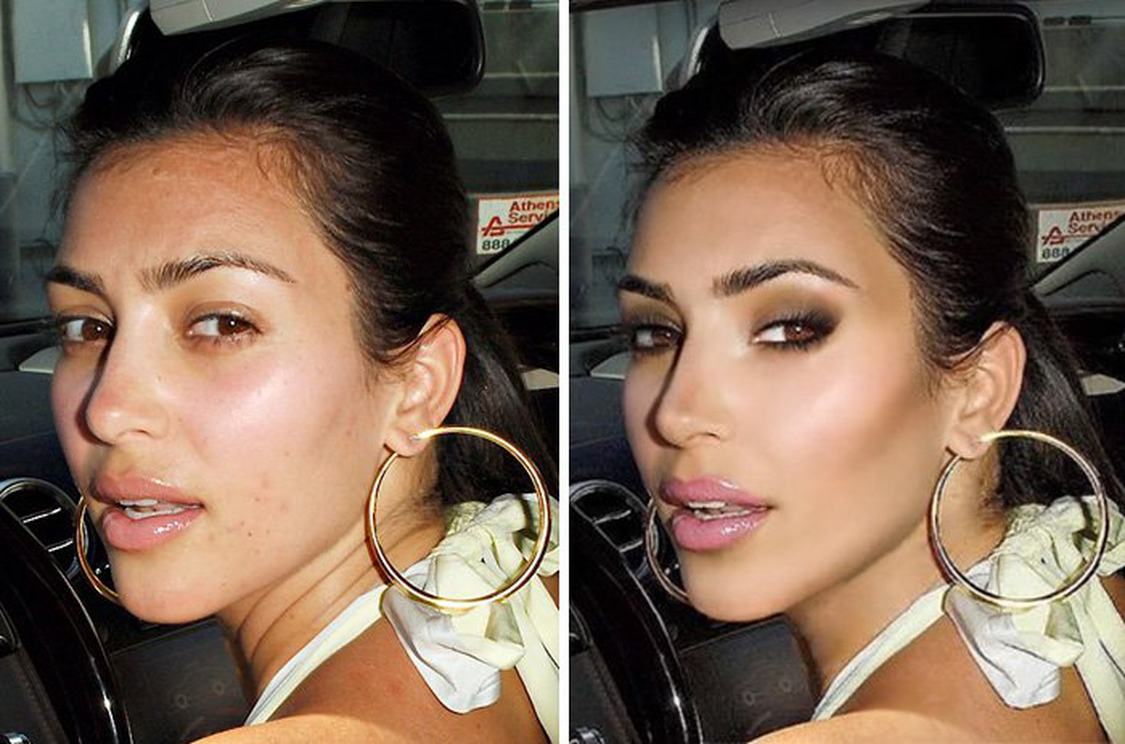 Bearing the burden of being a popular celebrity, Kim Kardashian has to always look amazing and flawless. However, that is not possible since she is known to go out in a minimal makeup look. The picture was edited to remove spots from her face, give her thicker eyebrows, and a lip color that is just so appealing.
Rihanna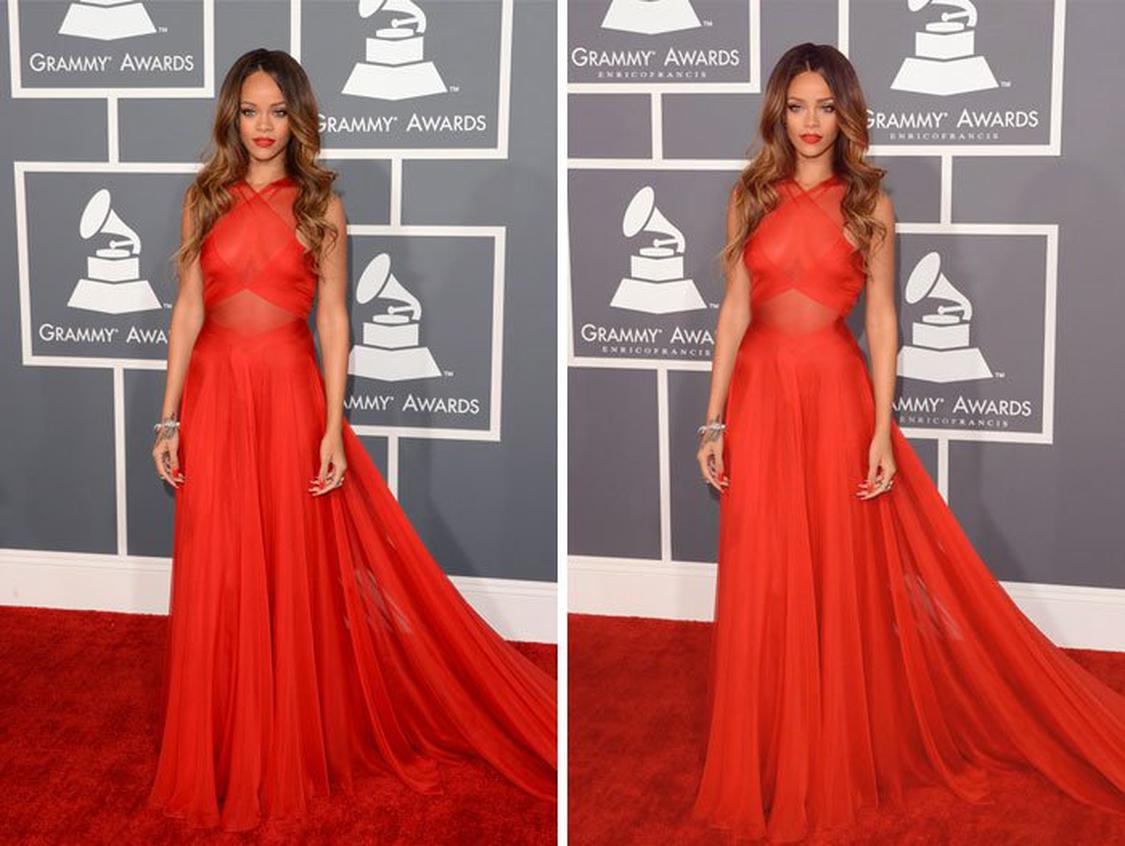 Rihanna is a goddess who does not appear to age a single day. She is one of the most gifted and most popular singers of the 21st century. However, she was also not spared when she appeared on the red carpet for the Grammy awards. Her picture was edited to make her waist smaller and cover up her hairline.
Megan Fox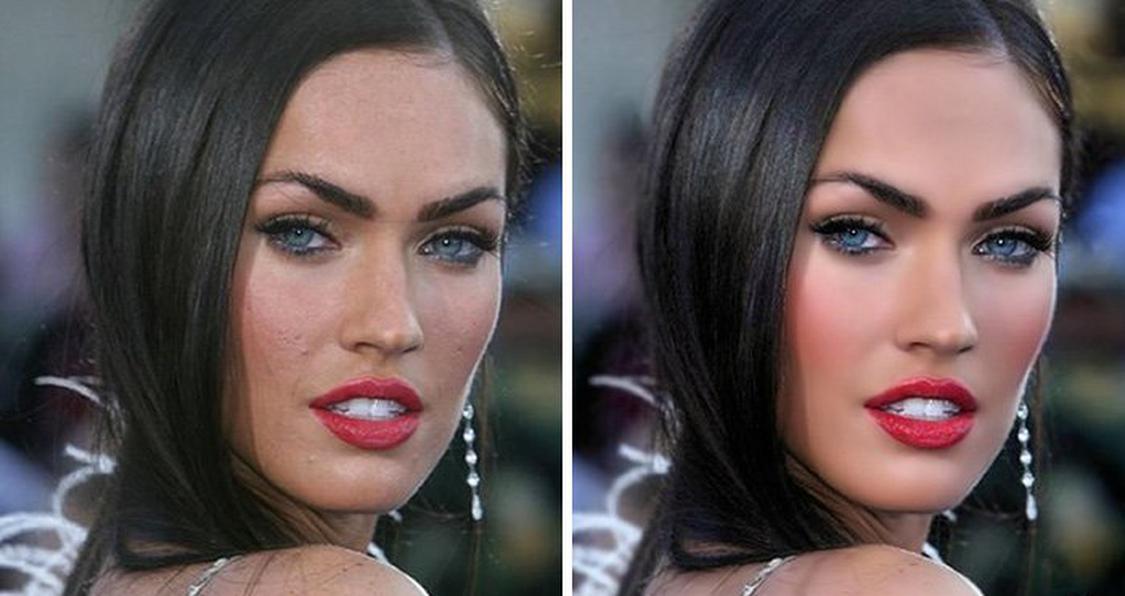 Every one of us developed a crush on Megan Fox when she appeared in the movie Transformers. She was smoking hot and there is nothing better than a hot chick who knows all about machines as well. However, she is human and there are many flaws on her face when looked closely. The picture was edited to make her look like a true goddess.
Prince George
Taking a break from Hollywood celebrities, Prince George is the eldest son of Prince William and Catherine Middleton. This is one of the reasons why he is so hard to take a picture of. When US Weekly snapped a picture of the little royal, they decided to make his skin glow.
Zendaya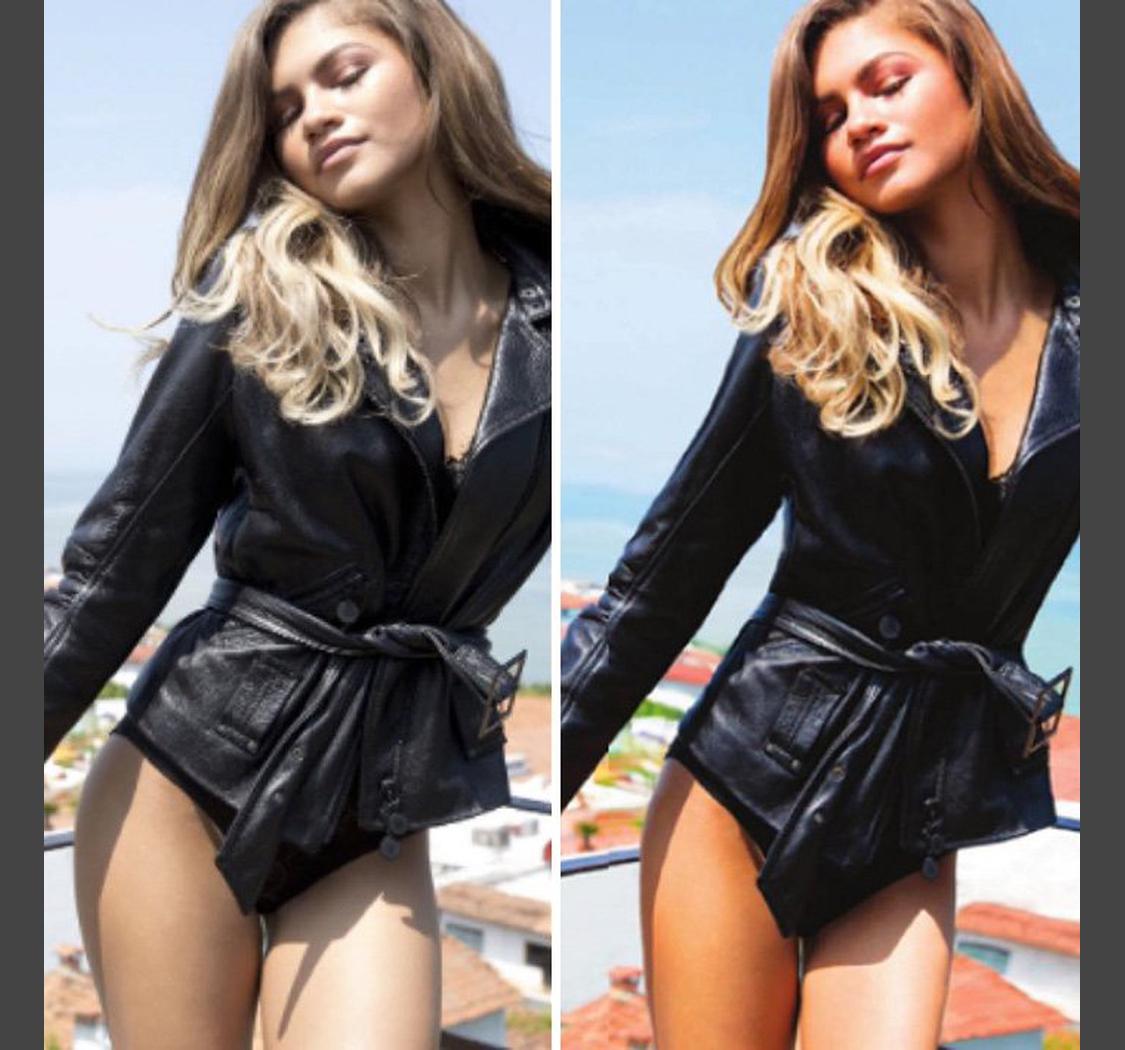 Zendaya has gained mainstream popularity for her role as MJ in the latest Spiderman series. She is extremely pretty and contrary to her role as MJ, very popular as well. However, she was the next subject of an editor who thought of giving her a slimmer waist and bottom, all the while making her skin brighter.
Miley Cyrus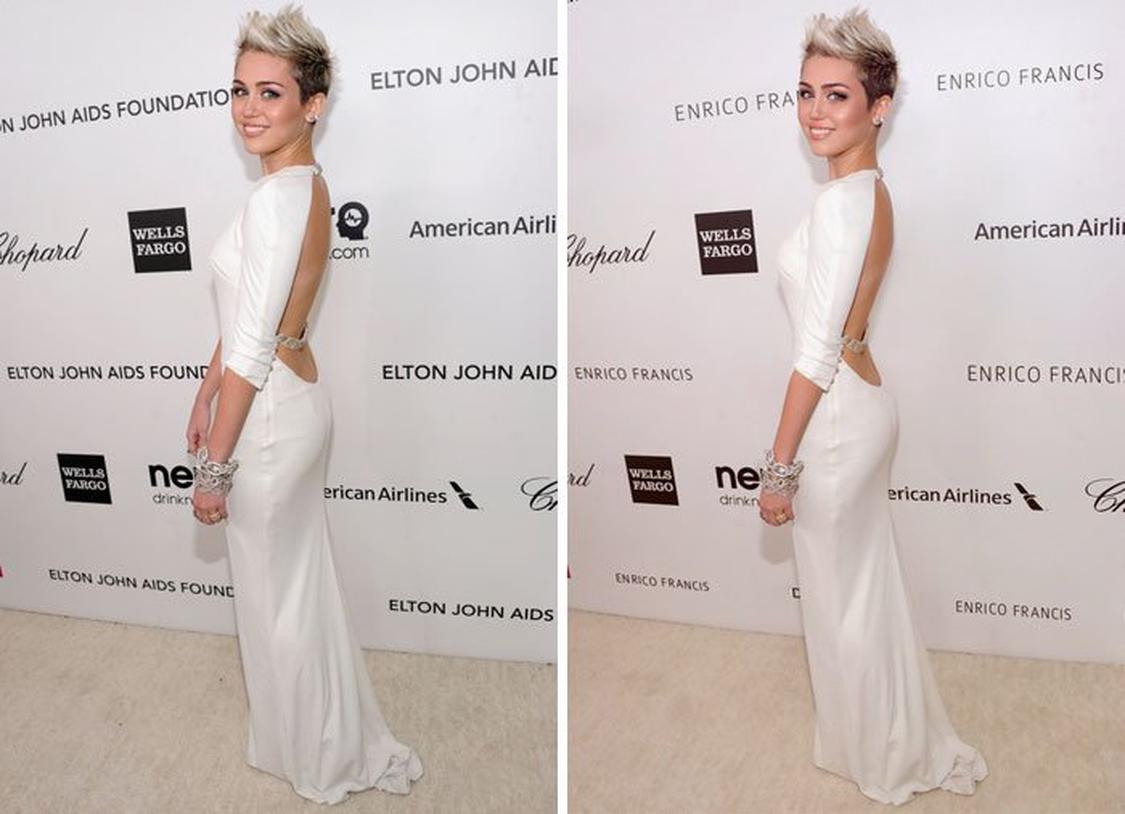 This is a rather radical picture in which her right arm was edited out of the final picture. The editor also enhanced her bosom and butt to make her look even more beautiful in that beautiful white dress.
Kate Winslet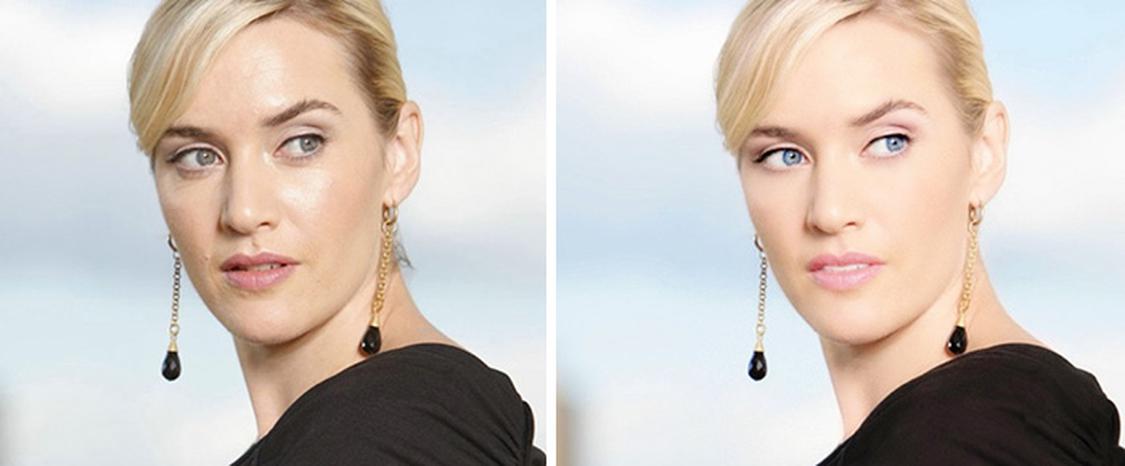 Most famous for her role as Rose from the movie Titanic, this British actress won an Academy Award and is one of the most popular celebrities in the world. She has a classic beautiful face but that did not manage to please the editor who decided to even out her skin tone and make it pale and fair.