Photographer extraordinaire Geo Leon makes taking photographs seem so easy, we kind of want to get a camera to see if we could possibly come up with photos that look this magical. But there are some real nifty tricks that makes everything he takes photos of appear to be extremely glamorous. His tricks and techniques are so easy and inexpensive that anyone can do it.
The Dead-eye Look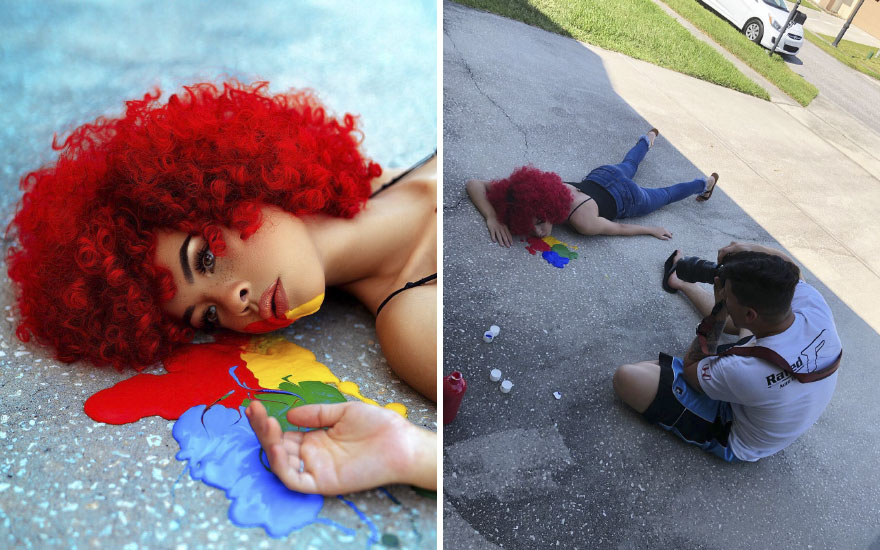 American photographer Geo Leon is an expert at creating otherworldly scenarios using the simplest items like multi-colored paint and a couple of surprising locations like the driveway of this home to take the perfect snap.
Answer the Phone
The photographer's Instagram page currently has 148,000 followers who are thoroughly impressed by his skills. But some people never realized that a beautiful shot of a model pretending to answer the phone with a banana was done at a supermarket.
I'm a Pouty Girl
This photo looks more like a realistic drawing than a photograph. It's so smooth and flawless, and yet it was taken with the model leaning on a glass round table pretending to pout. It's obvious that Geo has the uncanny ability to see greatness in objects we use every day.
The Photo Edited Edition
Sometimes, Geo will create magic by holding a crown over a model's head and then digitally edits the hand out. You'll also notice that the final photo on the left has been enhanced to improve the lighting, too.
She's So Lit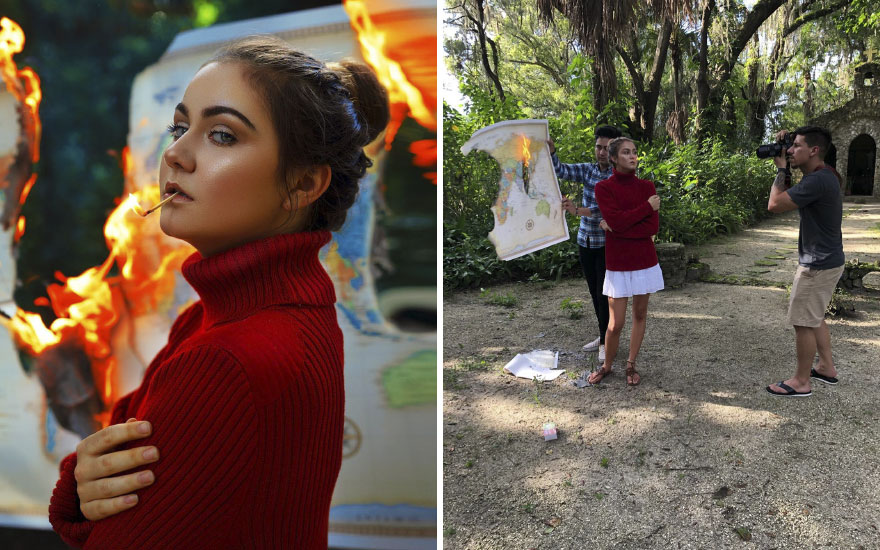 It might look like this model is so hot that she lit the world on fire. But in reality, there's a man behind her holding a world map that's been set on fire.
Longing for the Truth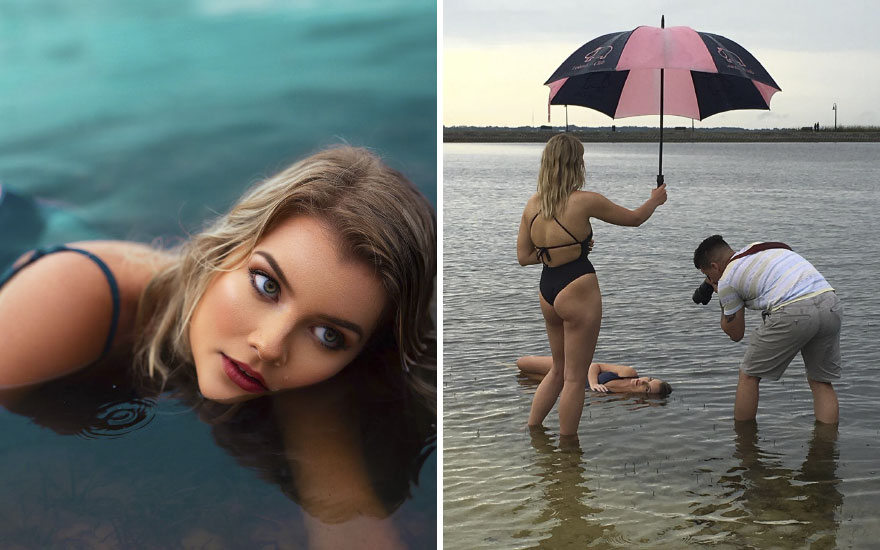 Geo's followers appreciate how honest he is by showing how the illusion works. Take this photo for instance. While the woman on the left looks beautiful floating in the water, you don't realize there's a woman behind the camera holding an umbrella to keep the photographer dry while shooting.
The Doe-Eyed Look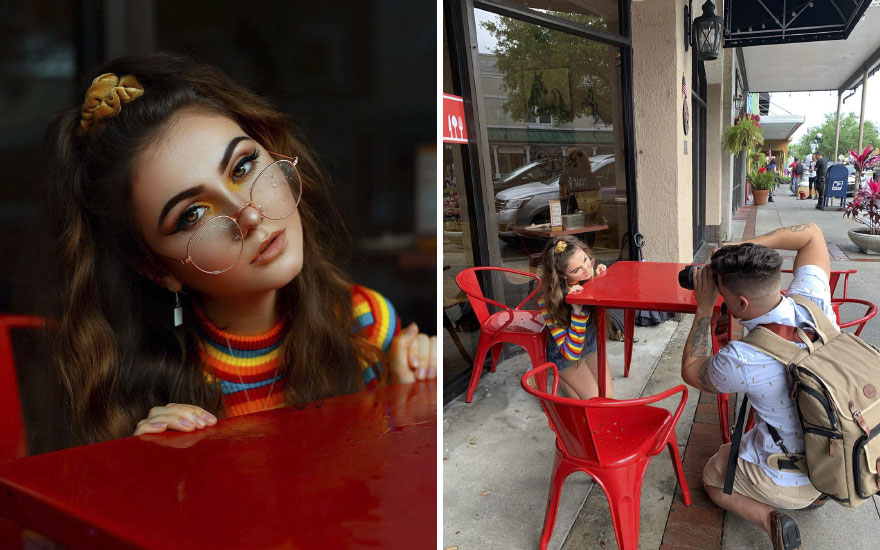 In this snap, you see a beautiful model with her head tilted and a doe-eyed look. But in reality, she looked more like she was getting up after grabbing a pen that fell underneath the table.
Mother Nature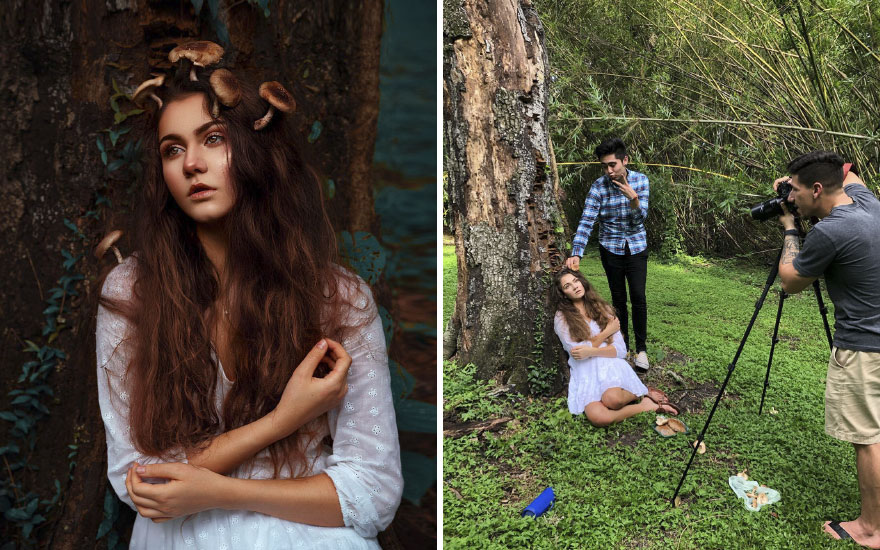 In this shot, you'd swear the model was standing and had mushrooms growing from her head and the side of one of her shoulders. But in reality, she's sitting on the ground and leaning against a tree.
Tipping Out of the Car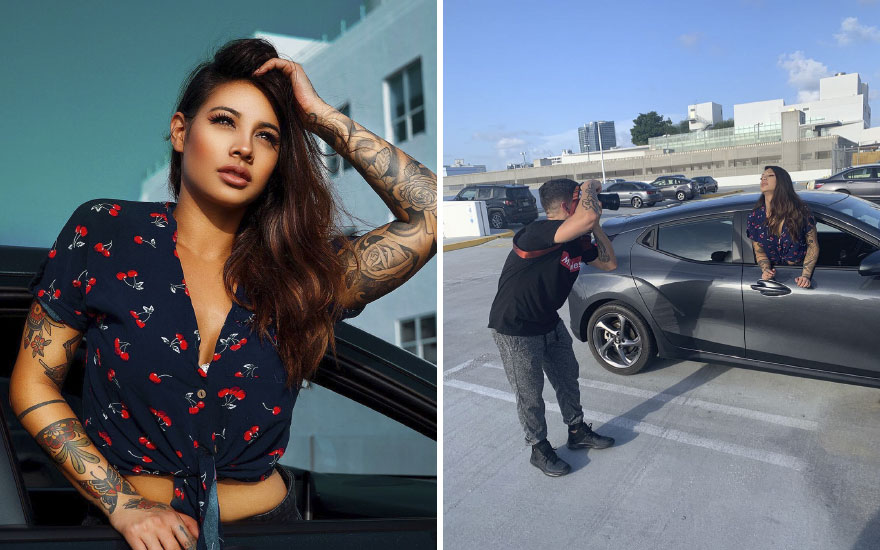 We rarely get to see the entire creative process. But if we did, then we'd see that gorgeous models like this one have to be contortionists to tip out of the car window and look Instagram-worthy.
The Golden Glow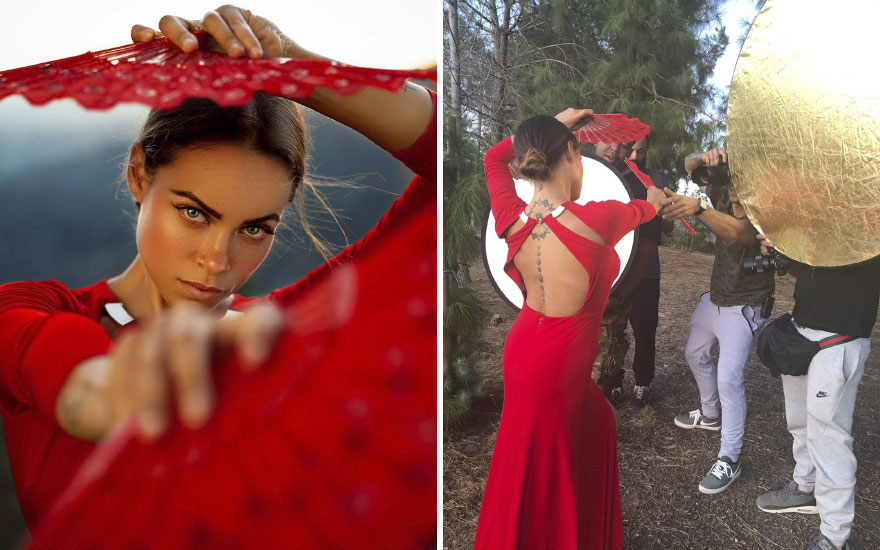 She looks absolutely stunning in this photo. You'd almost swear that her skin was glowing. But it's actually the result of someone holding a golden surface that reflects the glow onto her skin.
The Dicey Photo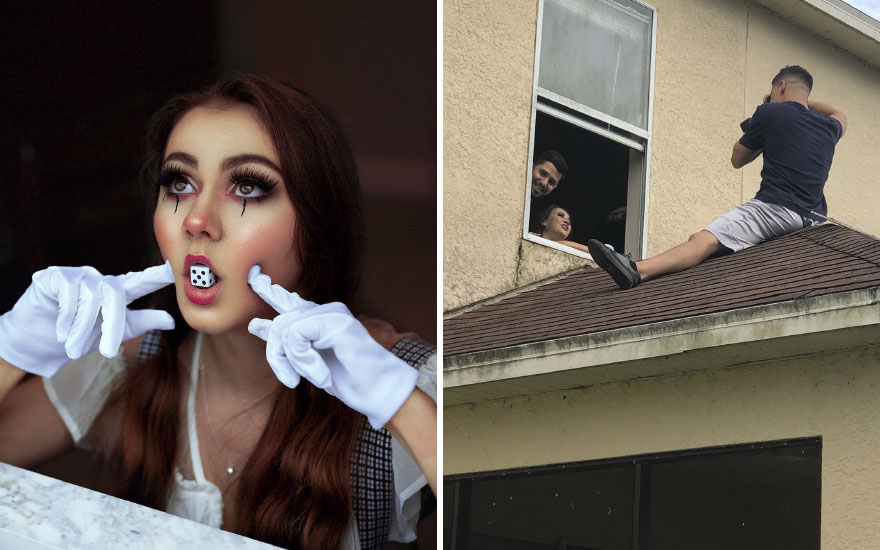 Geo has proven time and time again that a casual location like a bedroom window can become the perfect set for an artistic photo shoot, like the one with this woman with a dice in her mouth.
Want to learn how to take some fantastic Insta pics? Check out YouTuber Valeria Lipovetsky's incredible video: