Kai Böttcher is a self-taught German photographer who started editing photos and creating brand logos when he was 14 years old. But after applying at the University of Kaiserslautern, he started to create breathtaking portraits. And here are some behind the scenes insights as to why his photos are so stunning.
She Stood in Russian Sage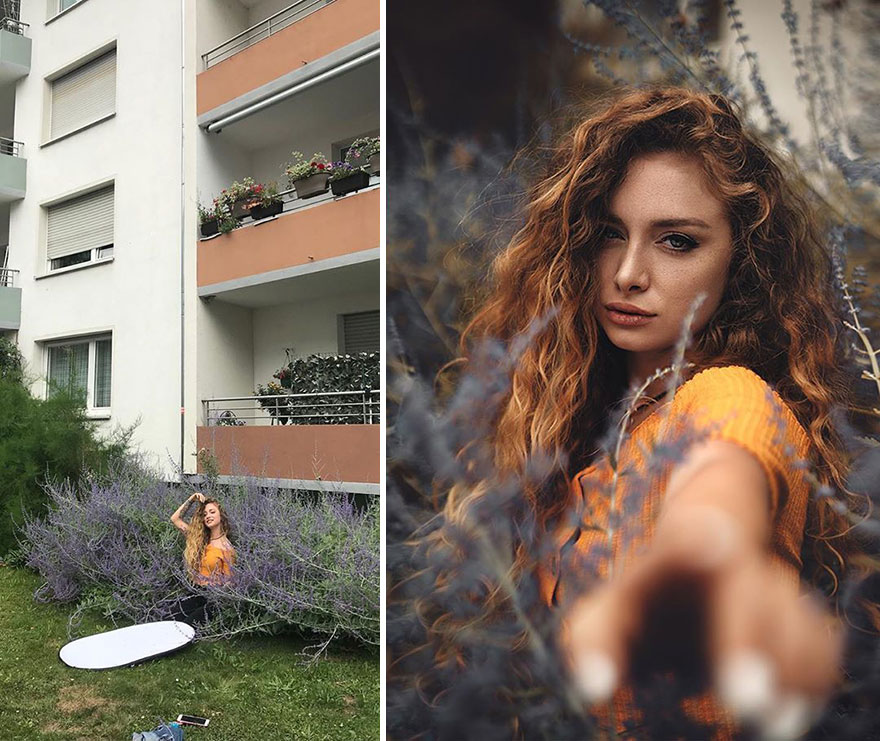 The model might look like Poison Ivy from the DC Comics, but she's actually sitting, not standing in a bush full of Russian Sage. Photographer Kai Böttcher also placed a prop on the floor to reflect the light on the model's skin.
She Posed in the Pool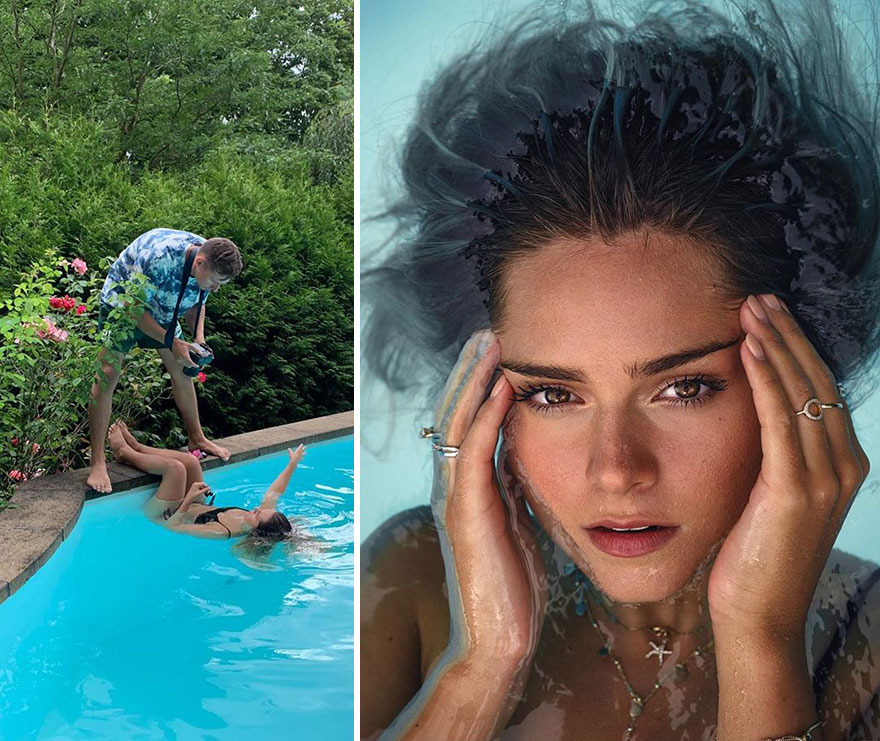 They could have used a bathtub, but Böttcher decided to have his model lay on the edge of a pool, using her legs to keep her afloat. Then he hovered over her and took a photo that is mind-blowingly beautiful.
A Shower Head and a Lamp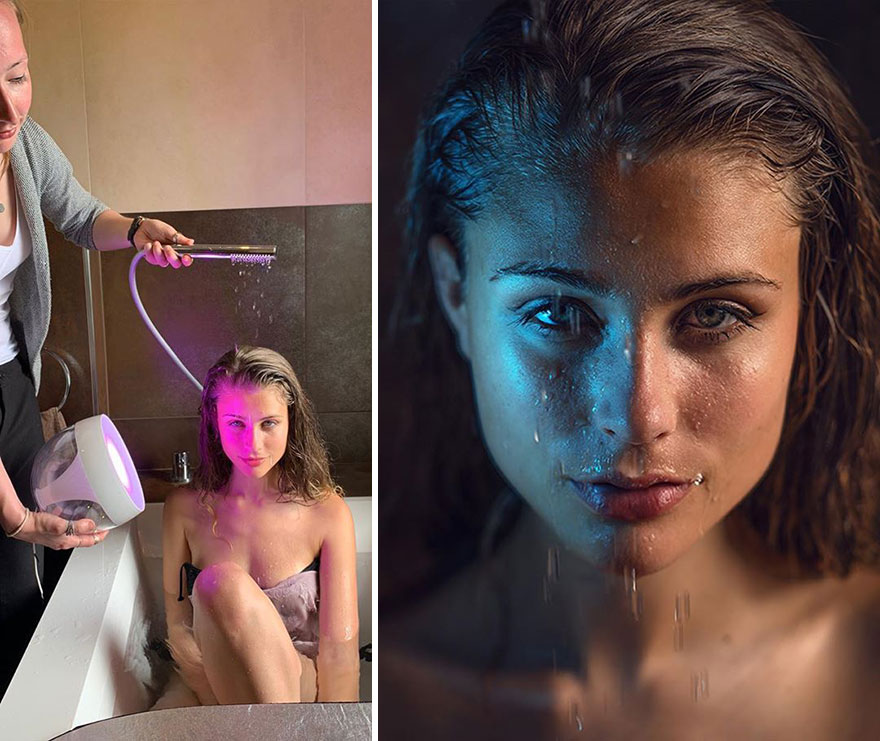 This model looks breathtaking. But to get this look without digital touchup, someone had to hold a shower head over her face so water would sprinkle down her cheeks and eyes while a lamp was held to the side of her face to give off that ethereal glow.
Curtain Created Patterns on Face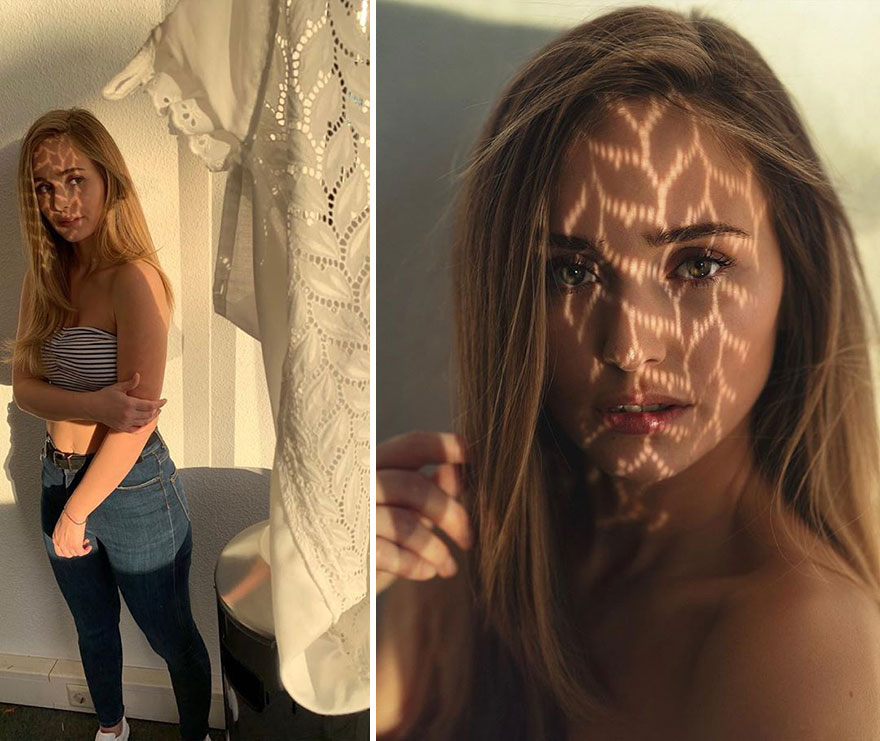 Böttcher proved he was a true photographic master by using something as simple as this curtain to create a pattern light effect over the model's face. And from an artistic point of view, it's actually pretty cool.
She Got a Glitter Shower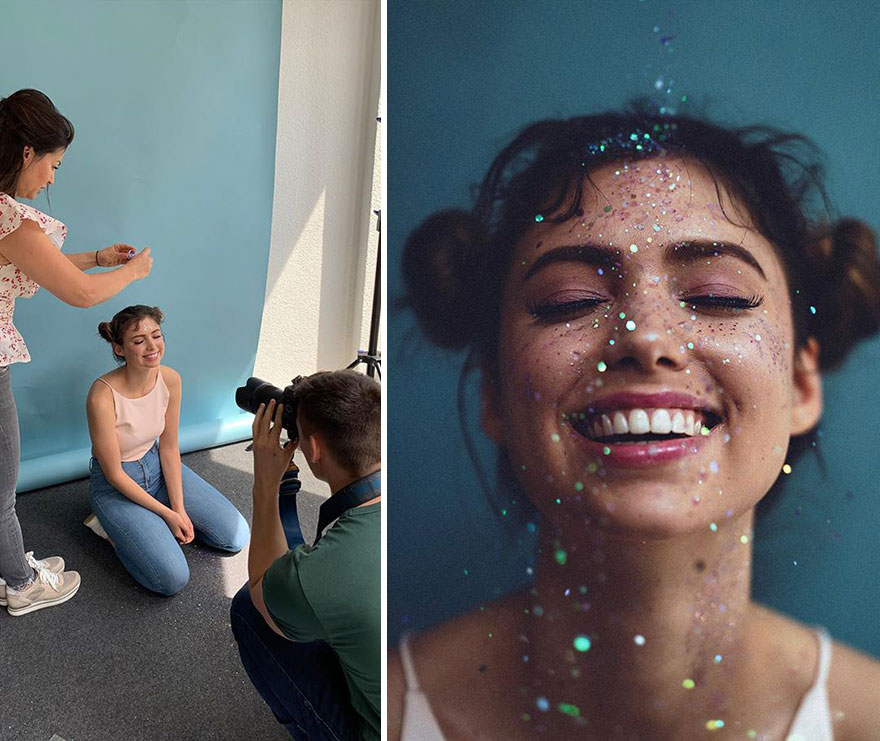 The final shot is super cute. But behind the scenes, there was a woman sprinkling glitter over the model's face. They'll have one heck of a time getting all that glitter out of the carpet, but it's definitely worth the hassle.
He Used a Sliding Door's Reflection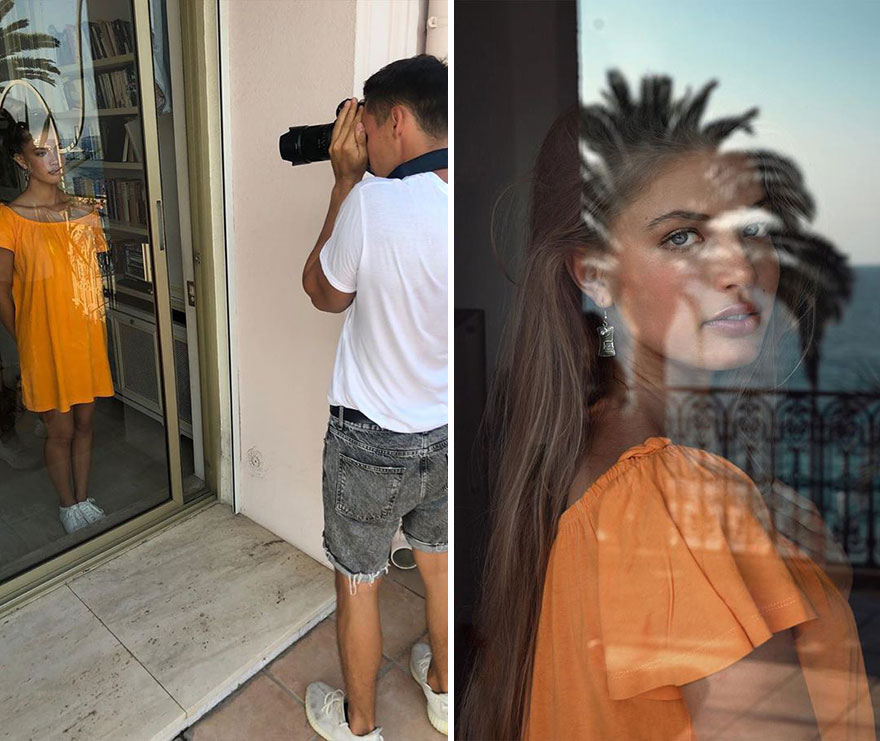 To get this lovely reflection effect of the palm tree and the waterfront, he had his model stand on the other side of a sliding glass door. This created a photo that offered two beautiful things to look at—the model and the background.
Foreground Object Cast Light and Shadow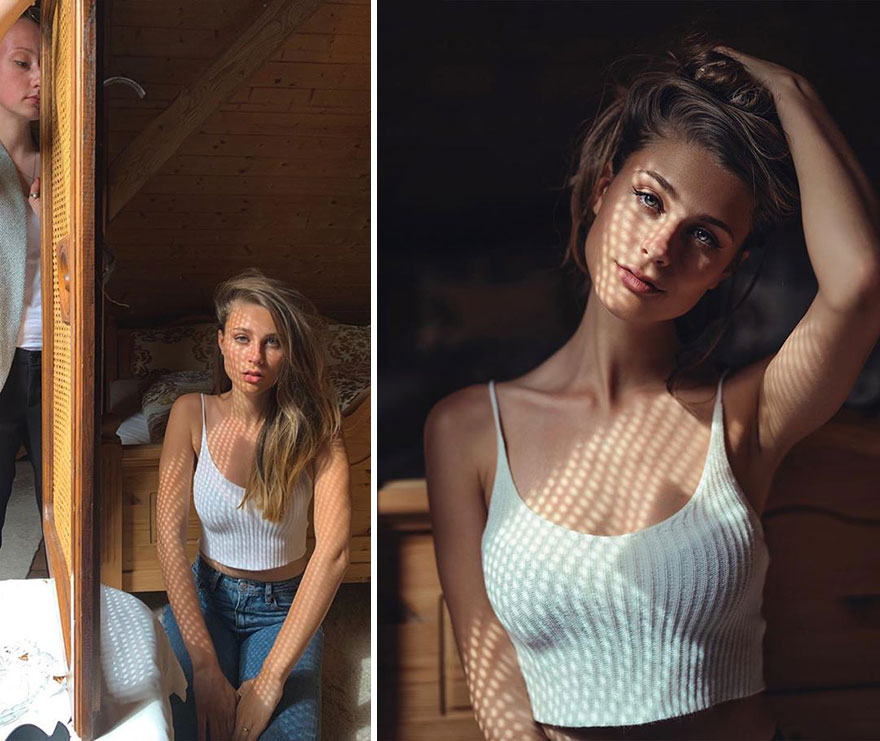 Böttcher is a master of illusion, so it's surprising that he even needs photo editing given that he takes excellent photos using objects to cast light or shadow over a beautiful model like this one.
Blue Lamp Left Her Glowing
Böttcher aimed a blue lamp through the glass partition of a shower while the model stood over a shower head. This created a cool effect that made her skin look radiant. And the photo was snapped at just the right moment, so it looked like the water drops were frozen in time.
Model Lays on Dry Grass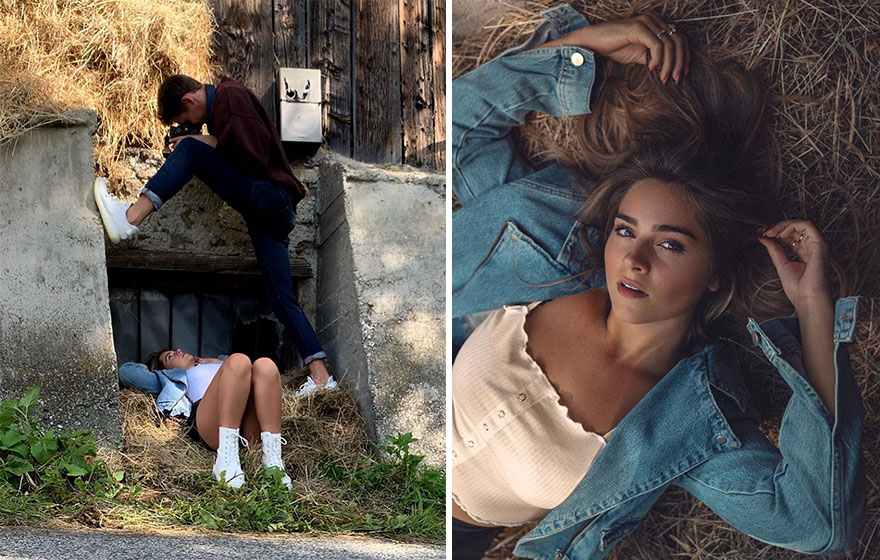 Although it might seem like the model is laying on hay, the behind the scenes truth is not as ideal. It's more like Böttcher found the nearest gutter and asked his model to lay down on the ground to get a nice photo, which in all fairness, he did.
He Made Tiny Lights With Fiber Optics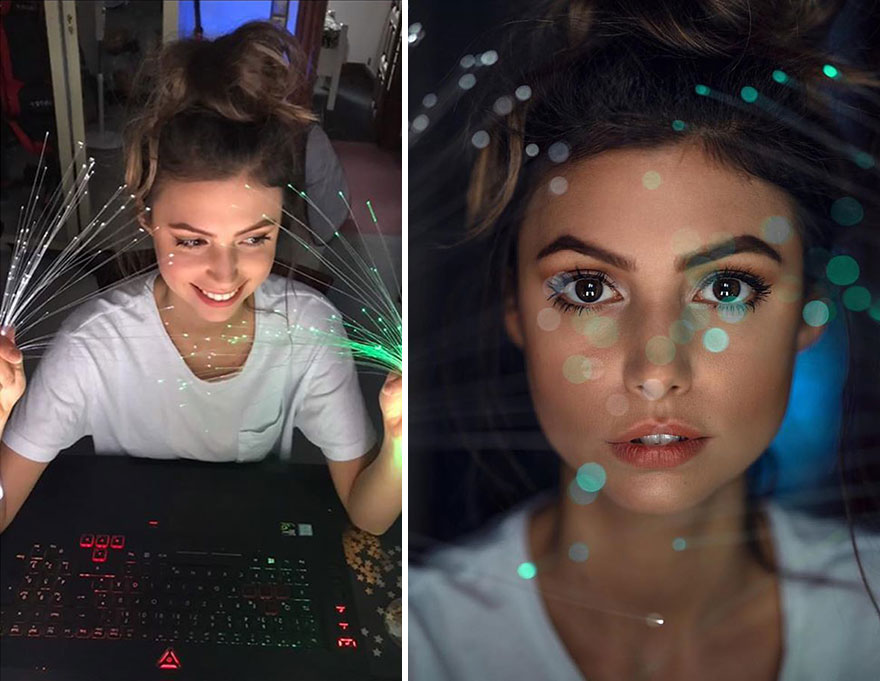 To make it seem like tiny lights were floating around this model's face, Böttcher placed fiber optic cables in front of her to get such a stunning result. It's not only a great idea, but also pretty innovative, too.