We don't blame you if you've started to feel hopeless about true love after seeing many idealistic Hollywood couples break up in the past few years. If you've started to lose your faith in "true real-life love stories," then we are here to help regain that diminishing faith. Here are some amazing couples from around the world who have recreated their old photos and given us a beautiful reminder that "don't worry, true love still exists."
Cake Smashing Tradition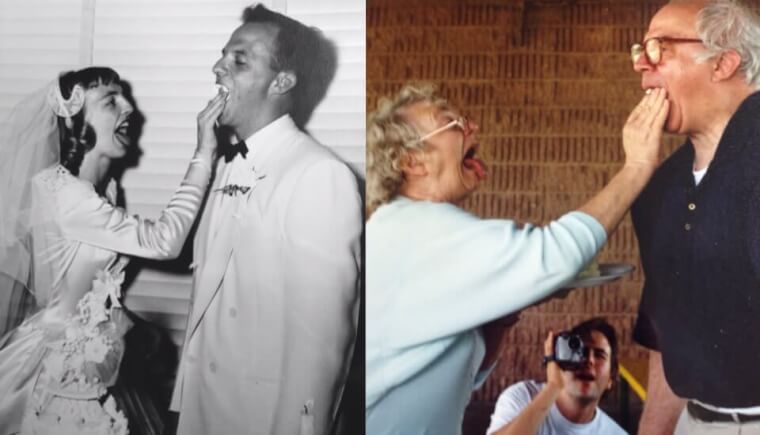 If you think cake smashing became a common thing in the past few decades or so, have a look at this picture. In fact, this tradition is longer than this couple. In the past, there was a weird tradition of husband breaking bread over wife as a form of male dominance. This wife decided to show who the real boss is and it looks like she has been doing it for years.
Recreating a Photo With '56 Chevrolet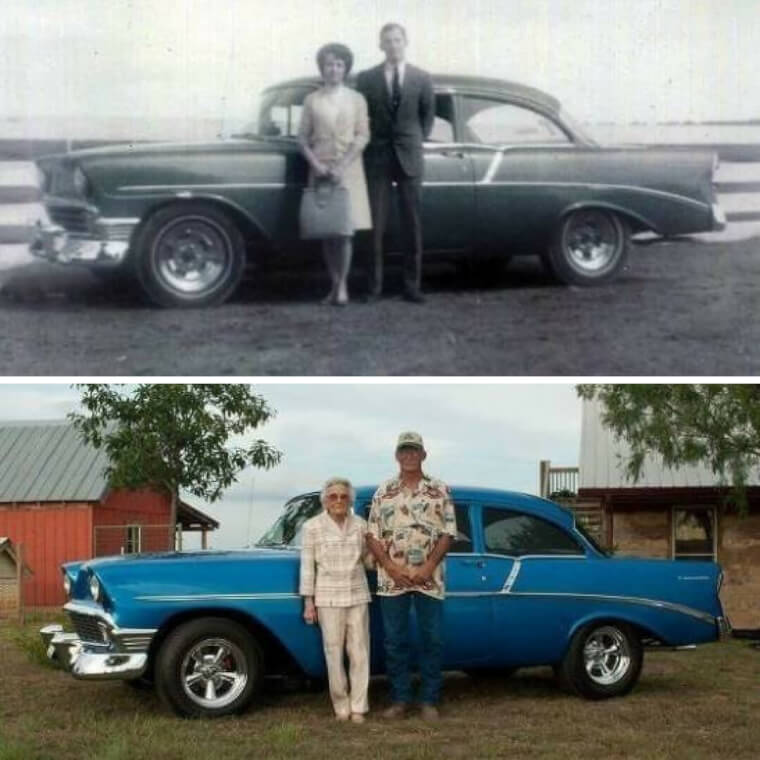 We are not sure what's more impressive here; the fact that they have so impeccably recreated an old photo or their '56 Chevrolet is still in a pristine condition. If you look closely, the husband has the same height but his wife has slowly shrunk over the years.
More of An Upgrade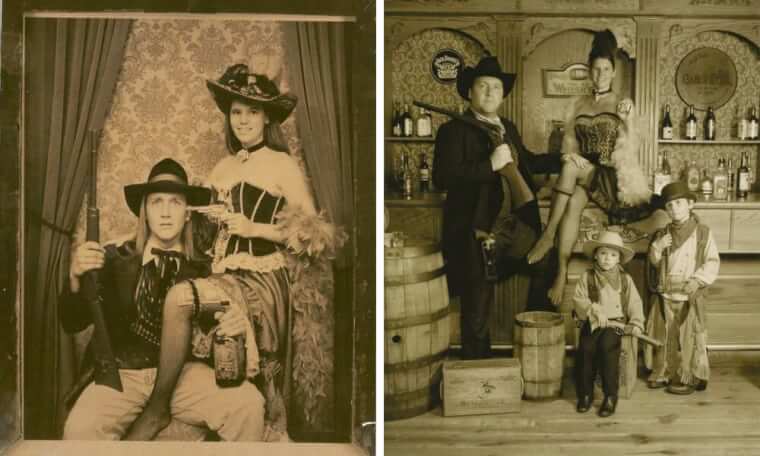 This beautiful couple decided to have their photo taken in Old Western-style and they recreated it after 20 years. But this time, they recreated their photo with two delightful additions.
From Flower Girl and Ring Bearer to a Newly Wedded Couple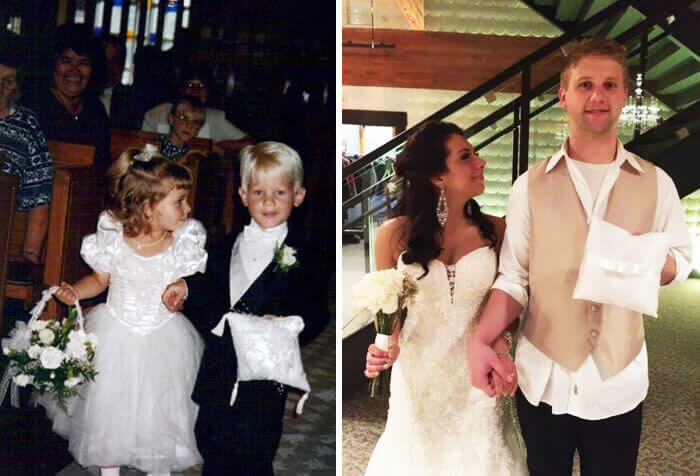 They were only 3-years-old when they were brought together to be the flower girl and ring bearer. And they married each other twenty years later. They don't remember their interaction at the wedding. Luckily, they met at the high school after years and she said to him that, "I think I have a picture of you on my wall at home."
Ride with Me for Life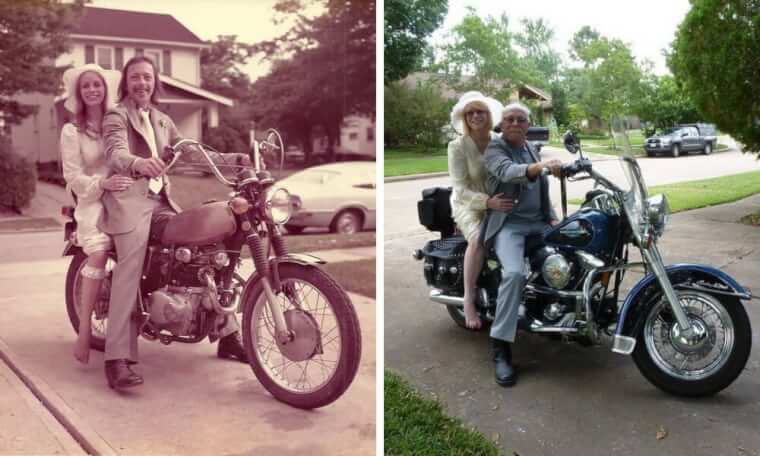 This is such a beautiful photo because she decided to ride with her husband on her wedding day and she got back on the motorbike 40 years later as well. From the look on the husband's face in both photos, it is quite obvious that he knows he got himself a great partner.
Traditional Hora Dance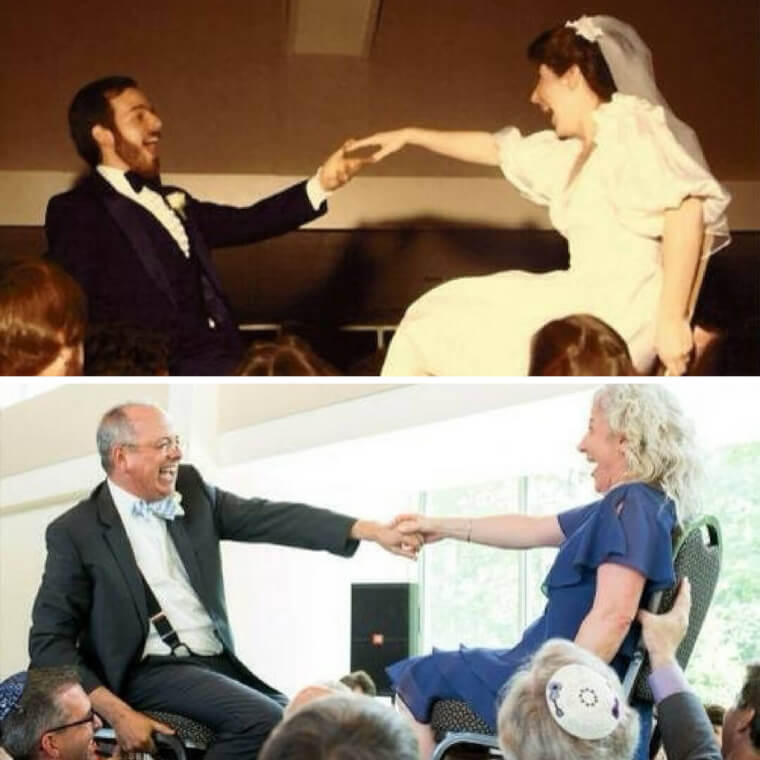 Someone who has attended all kinds of weddings will tell you that there's no wedding like a Jewish wedding. Among all the other fun things, traditional Hora dance is the highlight which involves lifting people above your head on chairs. This couple was lifted during the Hora at their wedding and they got to relive that same experience at their daughter's wedding as well.
The Look in Her Eyes Says It All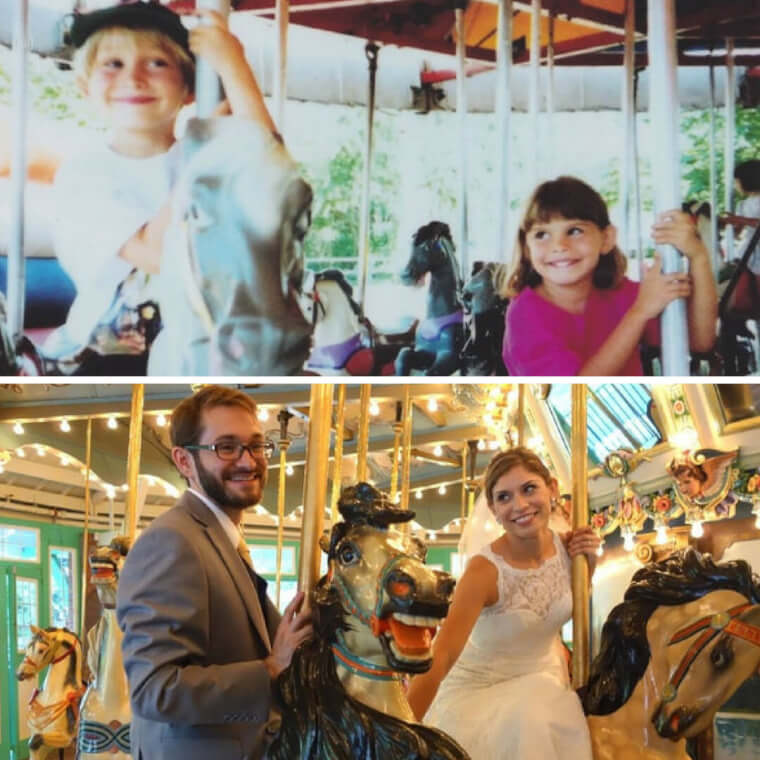 As a little girl, she knew what she wanted and we can tell from the second picture that she feels blessed to have him. We are not certain if they are related or not, but even if they are then still it doesn't matter. Let's just enjoy true love here.
She Kept that Dress for Years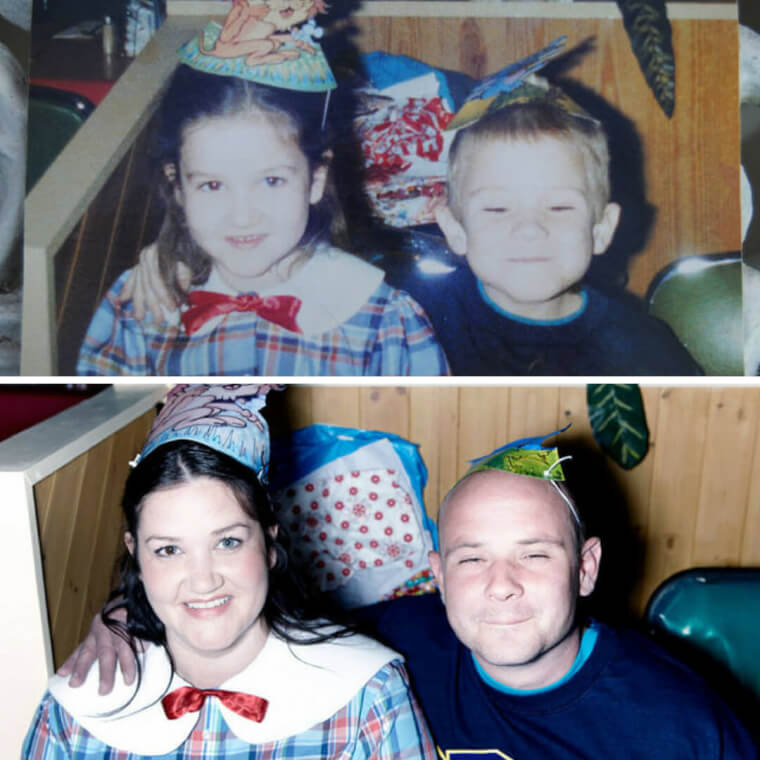 It is an adorable photo that shows no matter how mature you get, there's a part in you that always remains a child. This photo was taken at his sixth birthday party. We are surprised that she kept that dress for years and look at the hilarious facial expression of her partner.
Nothing Has Changed Except for One Thing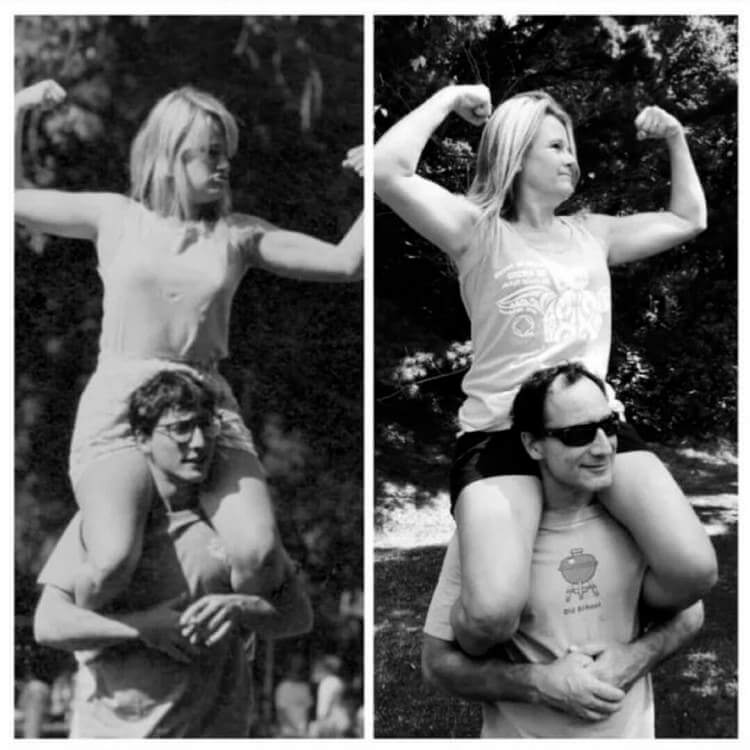 It seems pretty obvious that this couple is still slaying it with their amazing looks and chemistry, but one thing has changed over the years. He has transformed himself from '80s glasses and puffy hairstyle to an ultimate dad. We are sure he loves to grill absolute killer burgers.
Still Going Strong as A Rock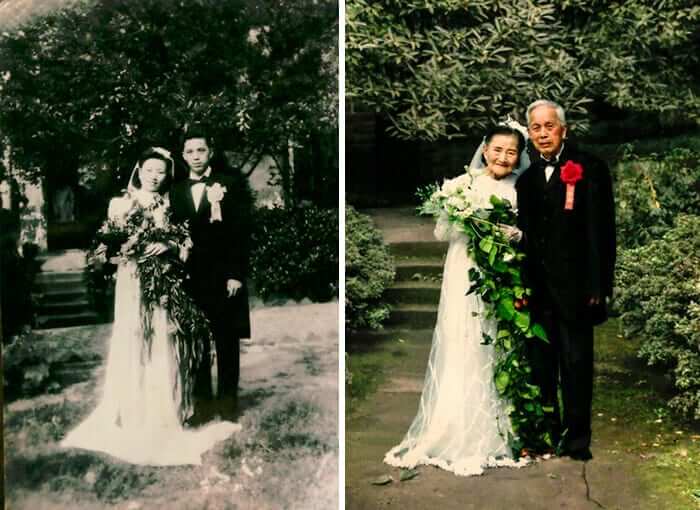 Who said true love doesn't exist. If you have any doubt, just look at this lovely couple from China who returned to the Northern Hot Springs Park for their 70th anniversary. They were married at this park and they wanted to keep those memories alive. So, their kids helped them recreate their wedding photos.