Customers expect nothing but the best possible service when they go to a bar or restaurant. So, these establishments went the extra mile to create an atmosphere and an experience customers would never forget.
Cost of Labor Factored in Menu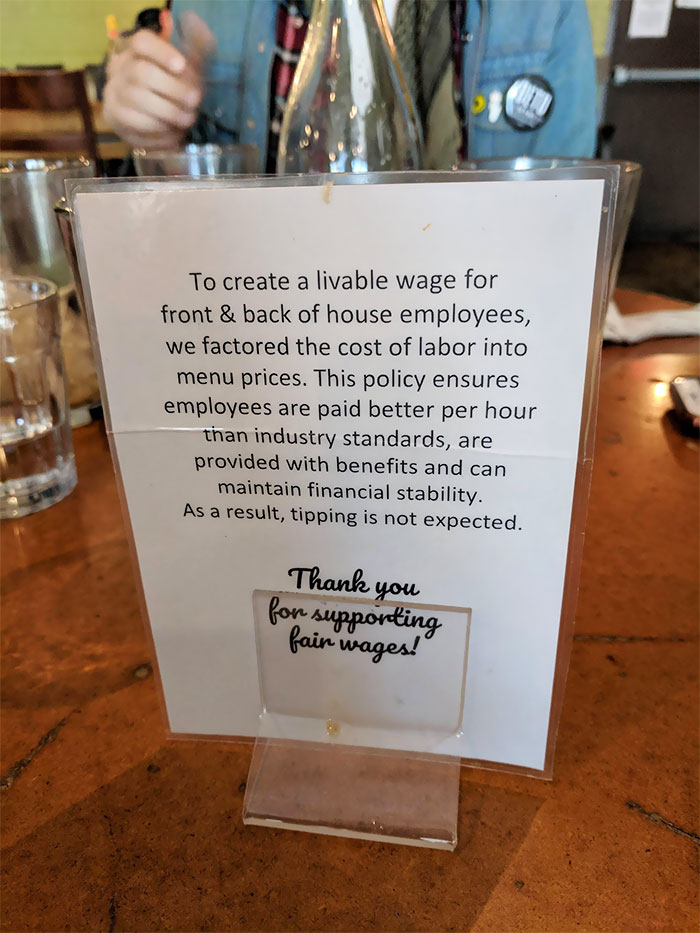 A restaurant in Austin, Texas, has factored in the cost of labor into their menu, so all of their employees are paid fairly, even if patrons don't tip well, or at all. Can we make this a thing everywhere around the world?
Painting of First Customers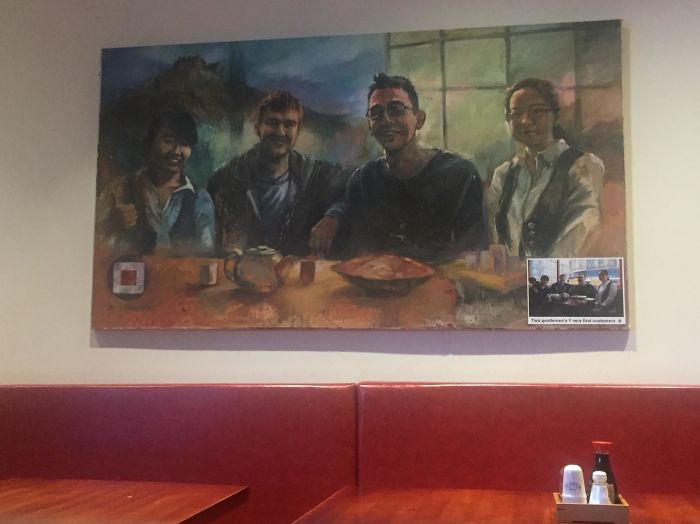 You'd probably eat at this restaurant every day and brag that you were painted on the wall if you were one of the very first customers. The establishment's owners hung a painting of their first customers in the restaurant. Isn't that sweet?
This Bar Dressed Up for Halloween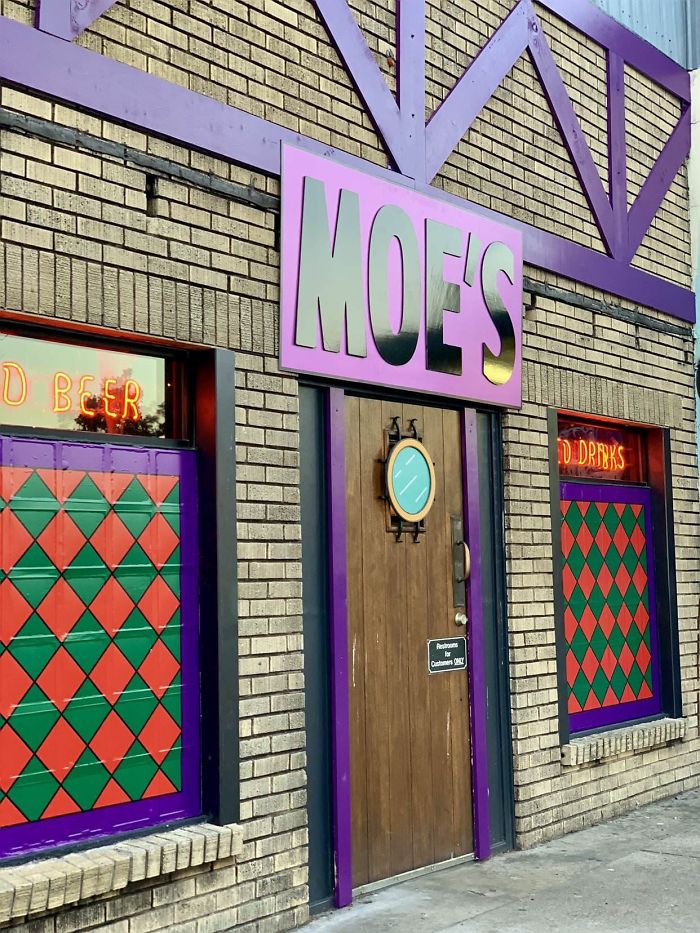 This local bar decided to get in the Halloween spirit and dressed up as Moe's, the popular bar seen in the long-running sitcom, "The Simpsons."
This Café's in 2D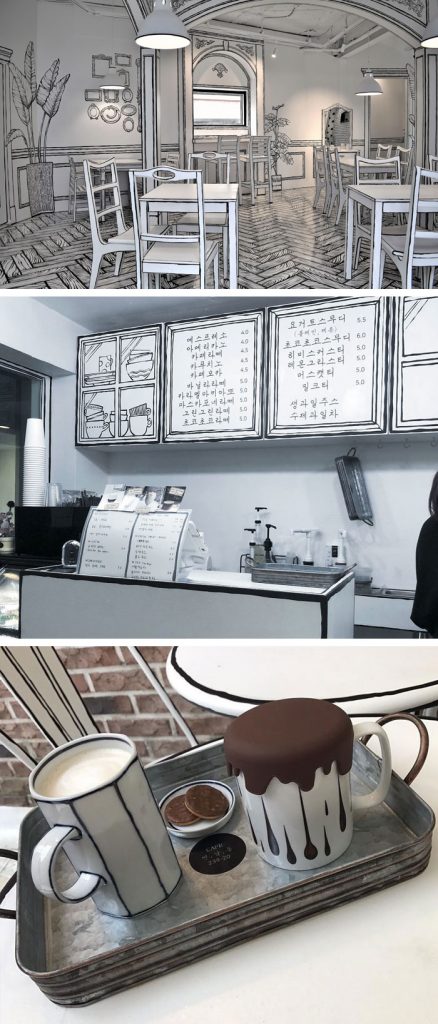 This café is in Seoul, South Korea, and you'd swear you were in the Twilight Zone. Not only is the interior all black and white, but it also gives off the illusion that you're living in a 2D Illustrated world.
The Staff is Only Human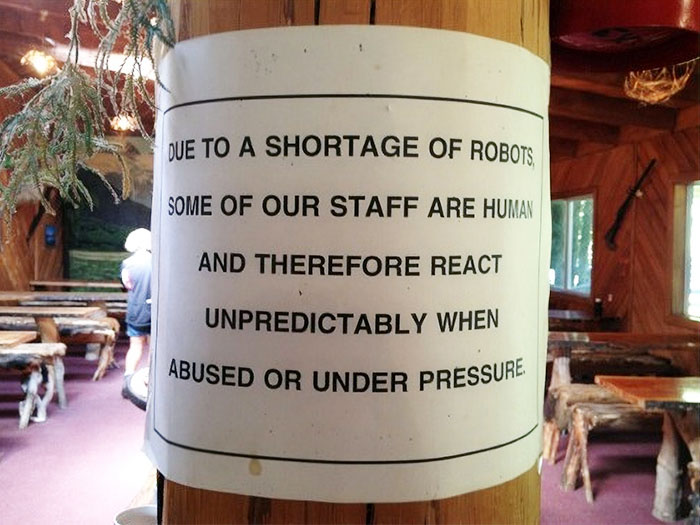 The management at this establishment supported their staff by posting this sign on the wall that reminds patrons that mistreating their waiters can have some unforeseen results.
The Restaurant of Order Mistakes

From June 2nd to June 4th, 2017, patrons who stopped by The Restaurant of Order Mistakes in Tokyo's Toyosu district, were waited on by staff members suffering from dementia. So, whatever you ordered wasn't what you wound up getting.
Restrooms Are Sorta Gender Neutral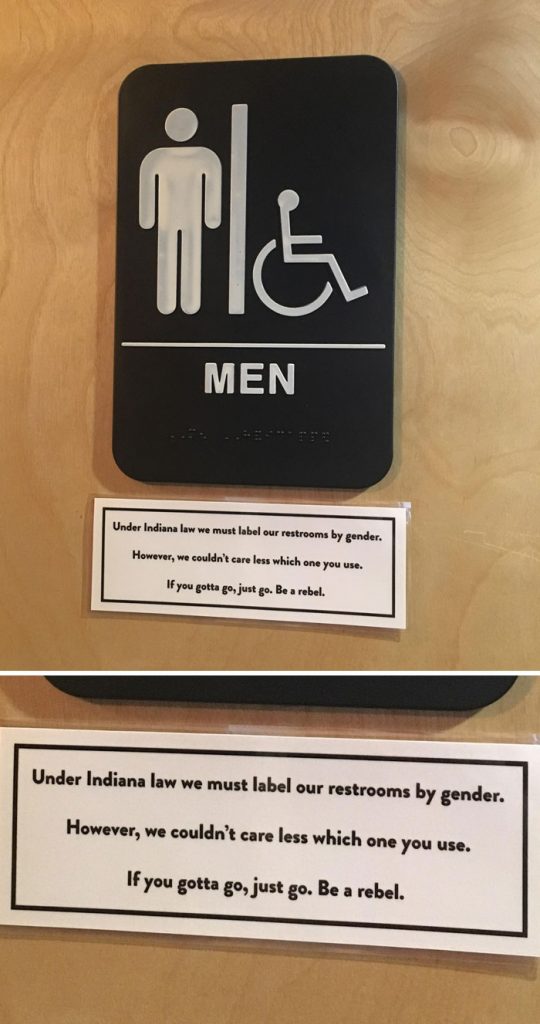 Indiana Law might prevent gender neutral restrooms for now, but at this cocktail bar, if you have to go, then they've got a sign on their bathroom doors that encourage you to use whatever's available.
The Door's a Drunk Tester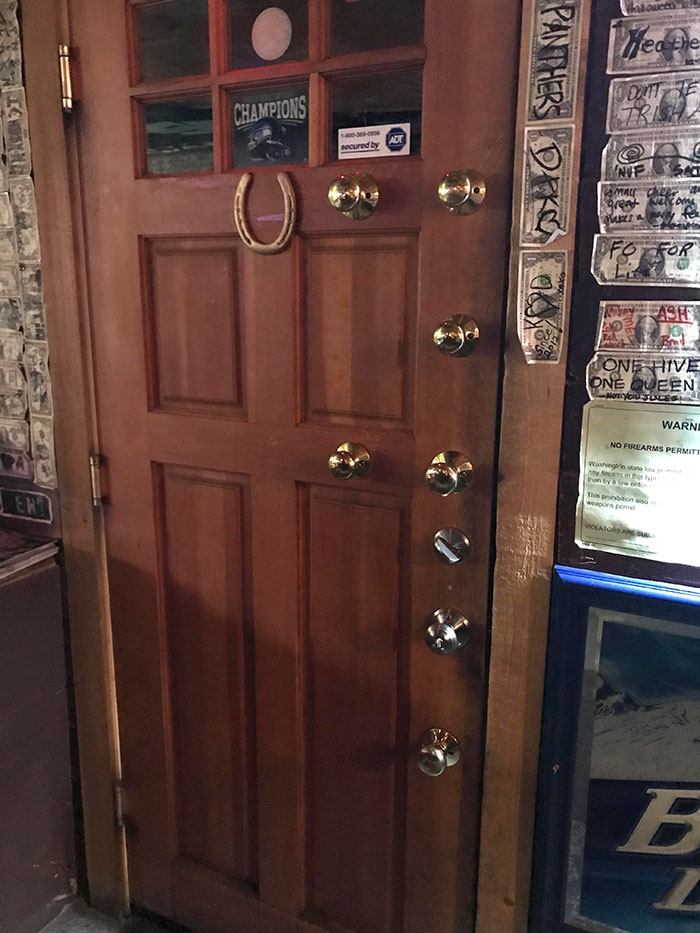 This local bar has a drunk test for any patron getting ready to leave. Just look at all those door knobs. Even the most sober person might get confused.
This London Bar Cures Everything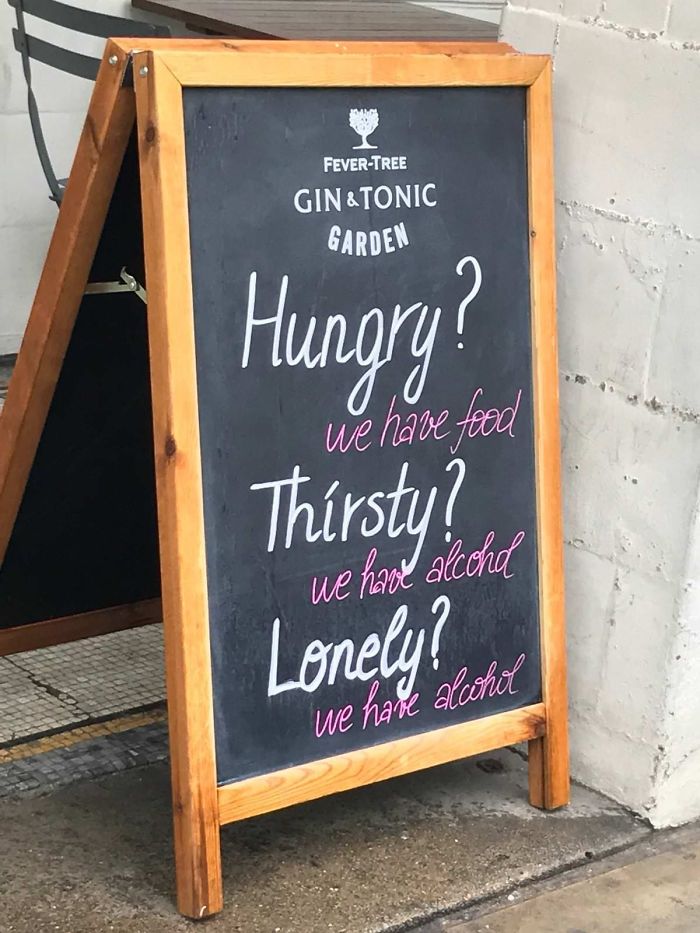 This bar in London has everything to satiate and alleviate everyone's needs, including loneliness. Alright, so maybe it's a crutch but beer has nutritious content so basically it solves all three problems on that board.
Thanks for Not Drinking and Driving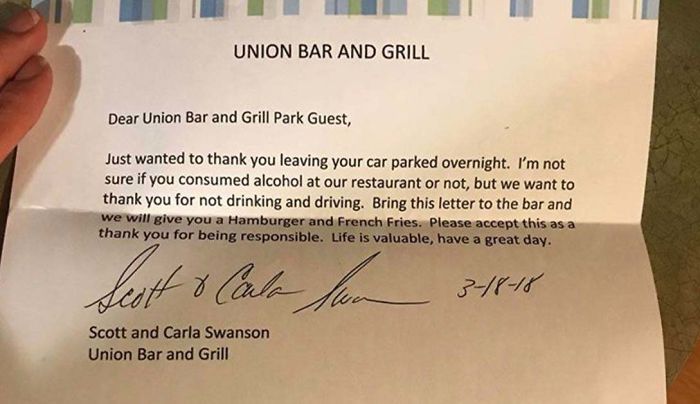 The managers of the Union Bar and Grill left this letter to the owners of a car that was left parked outside overnight. As a thank you for not drinking and driving, they offered to give the driver a burger and fries.
False Advertising in the Window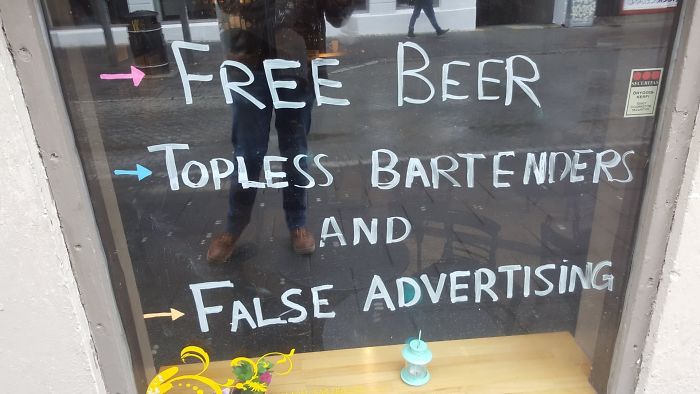 Take everything with a grain of salt when you read the sign on the window in this bar in Iceland. There's a good chance that nothing they're advertising is true. But their sense of humor definitely warrants you pay a little visit.
These Rubber Ducks Warn Guests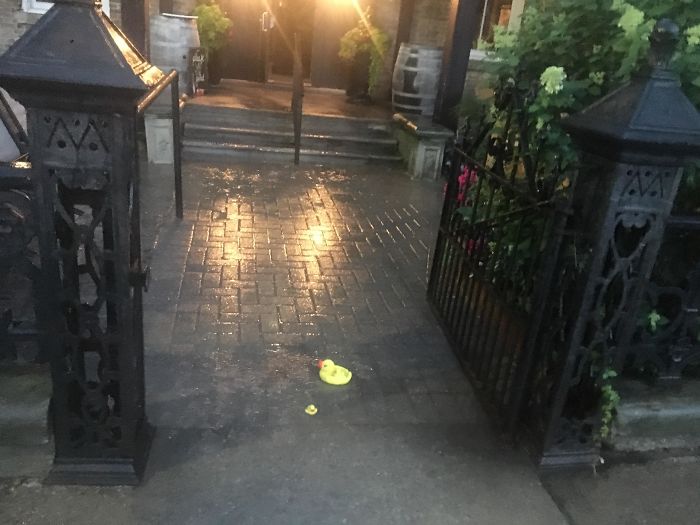 This pub puts rubber ducks outside of their entrance. That way, guests coming in or out will know where the puddle of water is during or after a rainstorm.
Soup of the Day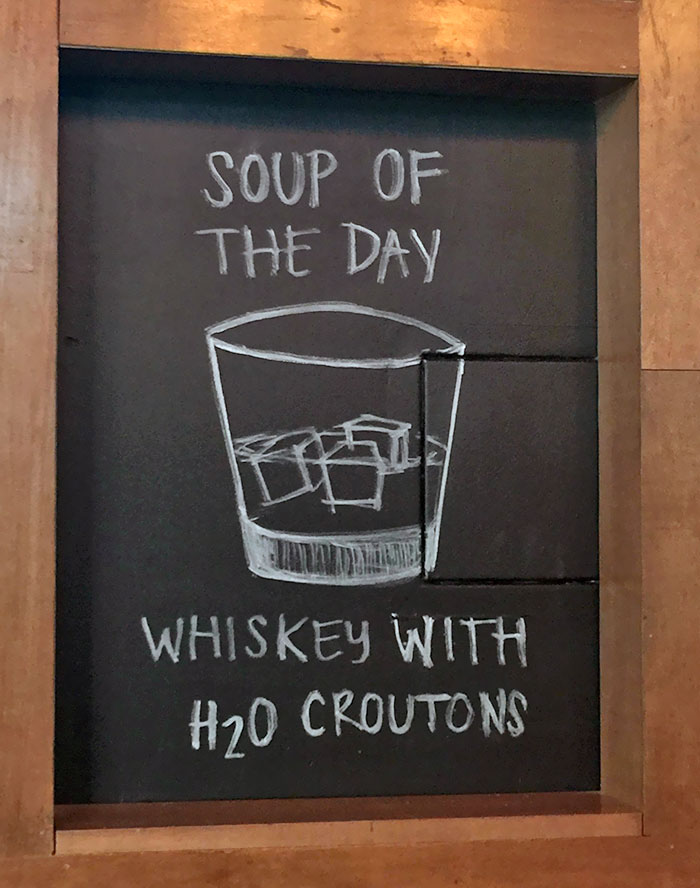 At this restaurant, the soup of the day is whiskey and the croutons are made with ice water.  But by all means, hold the salad. We're on a diet!