There are some animal pics that bring warmth to our hearts. But what brings more happiness to the already adorable pics? If you realize that these animals have been rescued from somewhere or have been adopted, then it doubles the joy? After all, everybody deserves a second chance and these rescues and adoptions show that still, there is some hope and compassion left in this world. So, we bring forth to you 30 pictures of animal rescue and adoption for this month. One rescue for each day!
1. What Happens When Two Brothers Meet After Separation?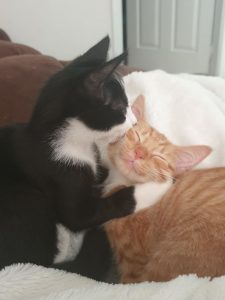 Coco the ginger-colored cat was rescued by his foster parents week earlier than his brother Tux(the black-and-white cat). After both of them were united, they gave each other a lovely hug. Tux seems to do all the hugging and Coco seems to have an awesome response. Blood relations mean a lot more than it is shown in popular literature.
2. The One-Eyed Puss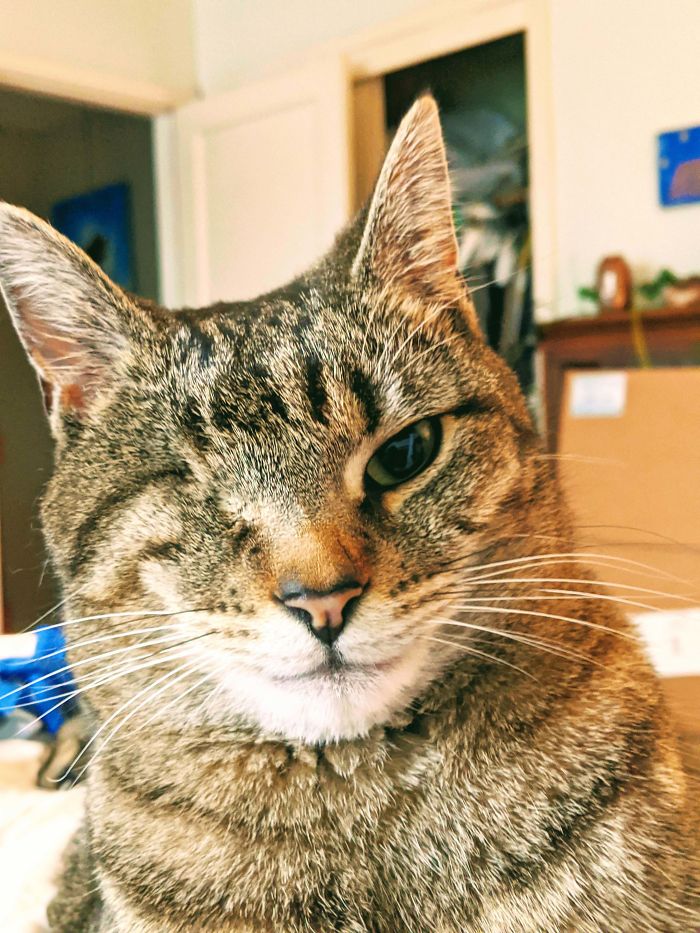 This pet was adopted by a person who did not want a cat, but his wife wanted one. So, what they got was a one-eyed pet. Maybe God also had this in mind, particularly to accommodate the wishes of couple.
3. The Abused Cat Turns Out To Be A Handsome Hero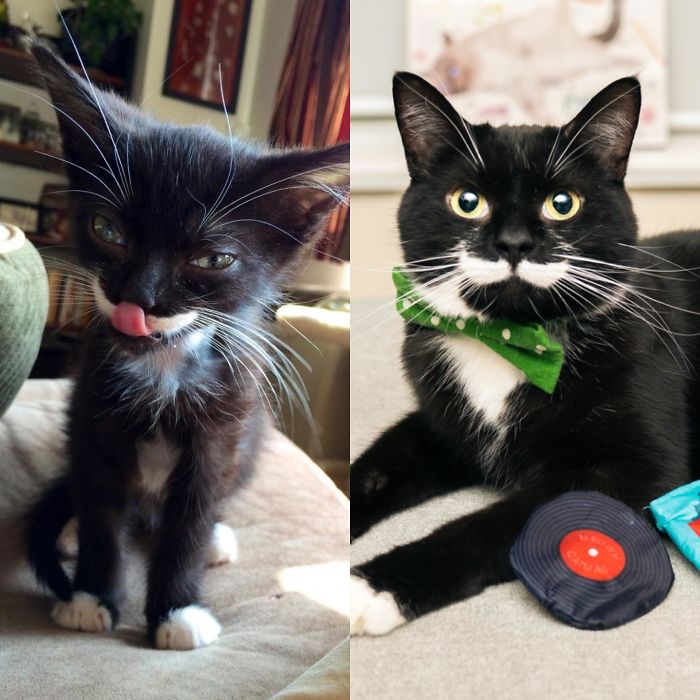 Harvey was a skinny cat who was found abandoned in a ditch, where he was completely drenched. Later on, it was found out that he was severely abused. His skin had several cigarette burns. He was anemic and infested with fleas. After getting adopted, he got the care he deserved. Just look at him now, after 5 years of love and care!
4. Lonely Kitty Gets A Daddy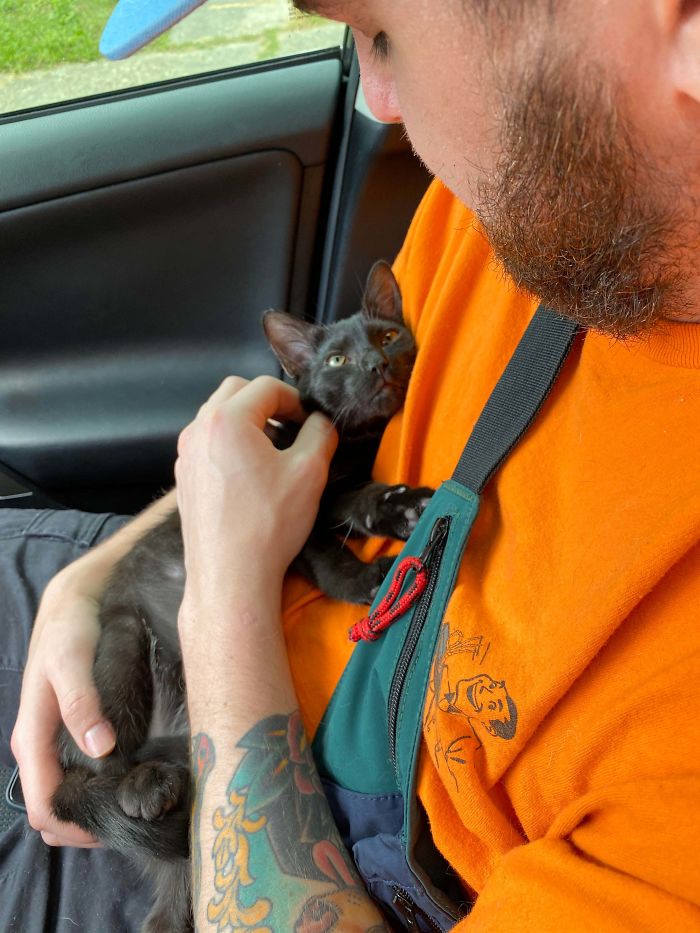 This kitty was lying alone in a field when the whole world went crazy. So, this Daddy dearest adopted this little girl and look at the way she's gazing at her new father! There are still some people who can share the love. It looks like both have won a companion for each other.
5. Is It A Cat Or Leonardo Di Caprio?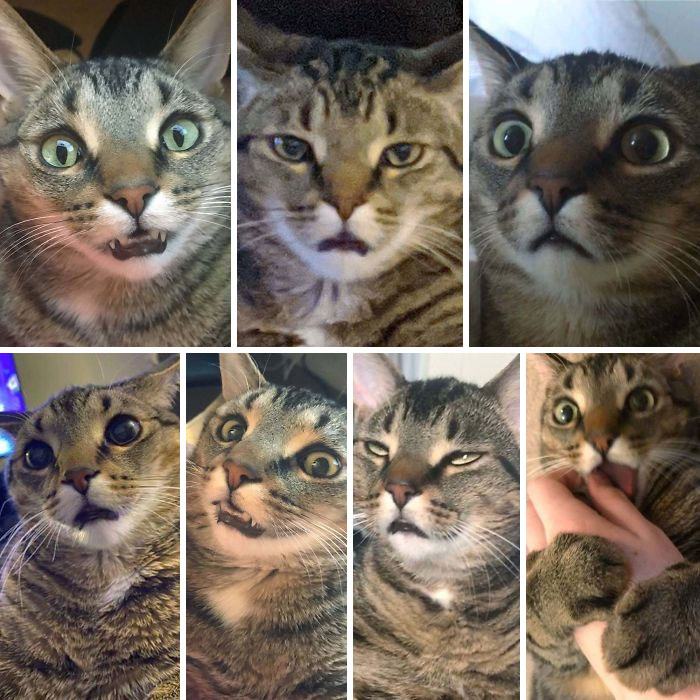 Never will you see such a cat with a range of emotions! And you thought that it was Leonardo di Caprio who could emote well onscreen. Just show this to Leo, because he now has a new competitor in business.
6. Shelter Dog Shows Happiness On Getting Adopted By A Family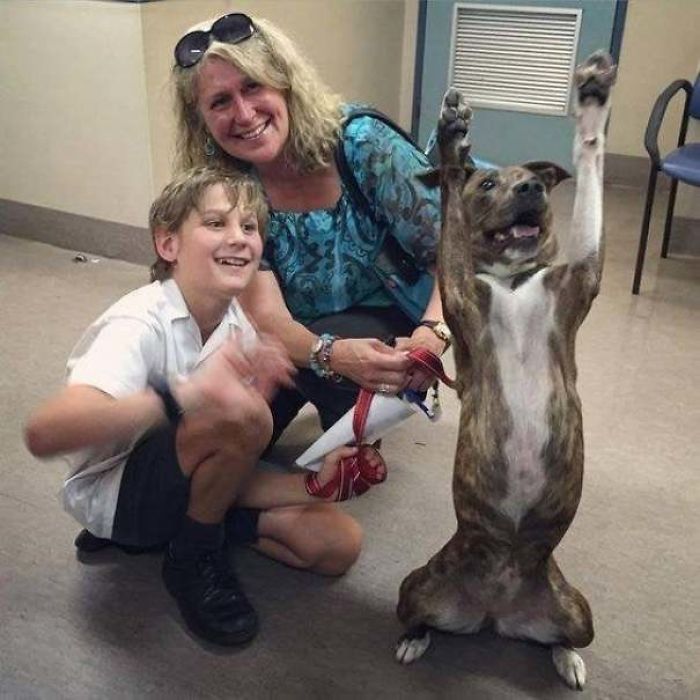 Of course, you are happy when you get to have a family for yourself. Companionship is the sweetest thing in the world. And dogs are known to love humans in the most intense way possible. The chemistry between dogs and humans has been existing from time unknown. Here you see the dog yelping in joy after getting adopted. Lovely!
7. Just Because GF Wanted A Kitten, I Compromised. But It's A Cute Compromise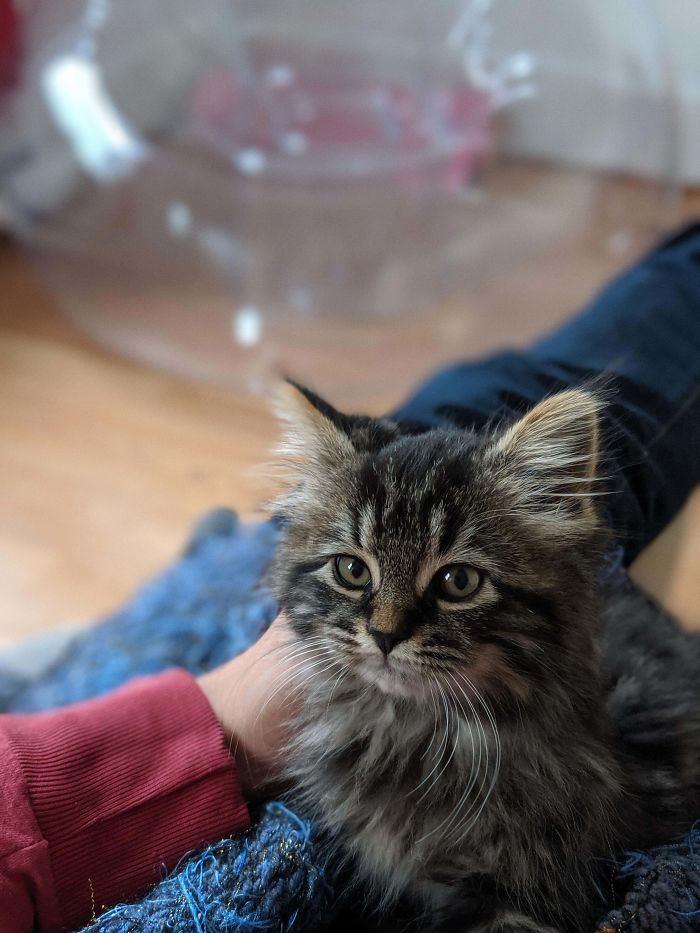 After you have a girl or woman in your life, there are many changes. You need to agree on many things that you would not normally have agreed to. So, there is some compromise involved, and most of the times you will realize it is for the better. Like in this case, the girlfriend wanted a kitty, but the boyfriend was reluctant. He relented later on, but it seems like he does not regret it.
8. Grandma Gets A Baby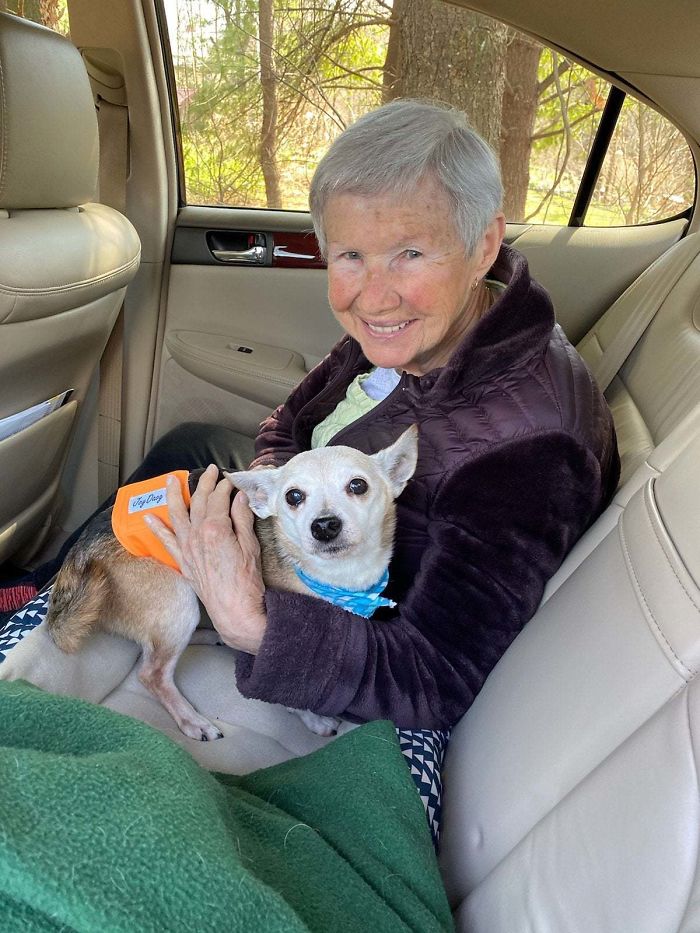 This 87-year old grandma is the proud owner of a 14-year old dog. In the last legs of their life, they will share each other's company. But look at how happy they are! The dog, Peanut has just been adopted and can't wait to get home.
9. The Most Handsome Boy On This Planet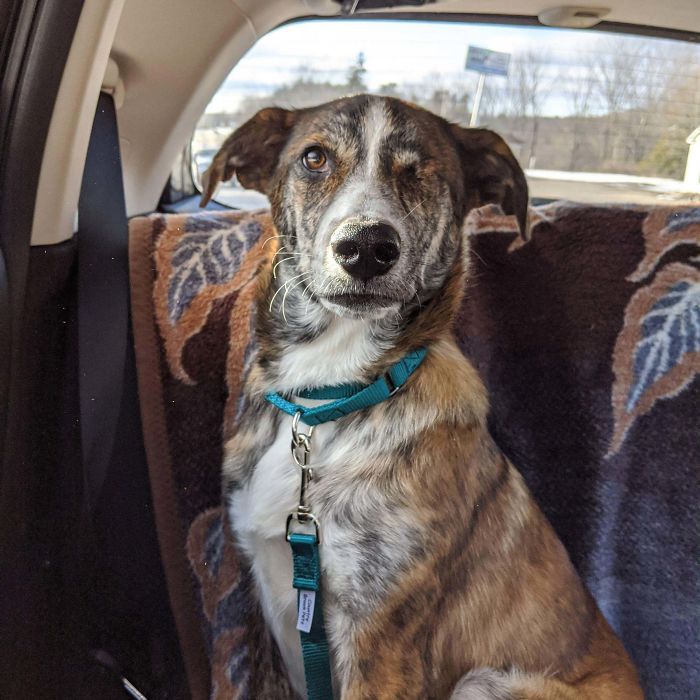 There are a lot of abuse and neglect cases in animals that you find in adoption homes. Just like this dog here who has lost his eye, there are millions of them who have either lost a limb or have been infested with fleas. Our sincere request to readers who are reading this post, give preference to animals like these during adoption, because they need your care more.
10. Did I Adopt A Vampire Or Is It A Cat?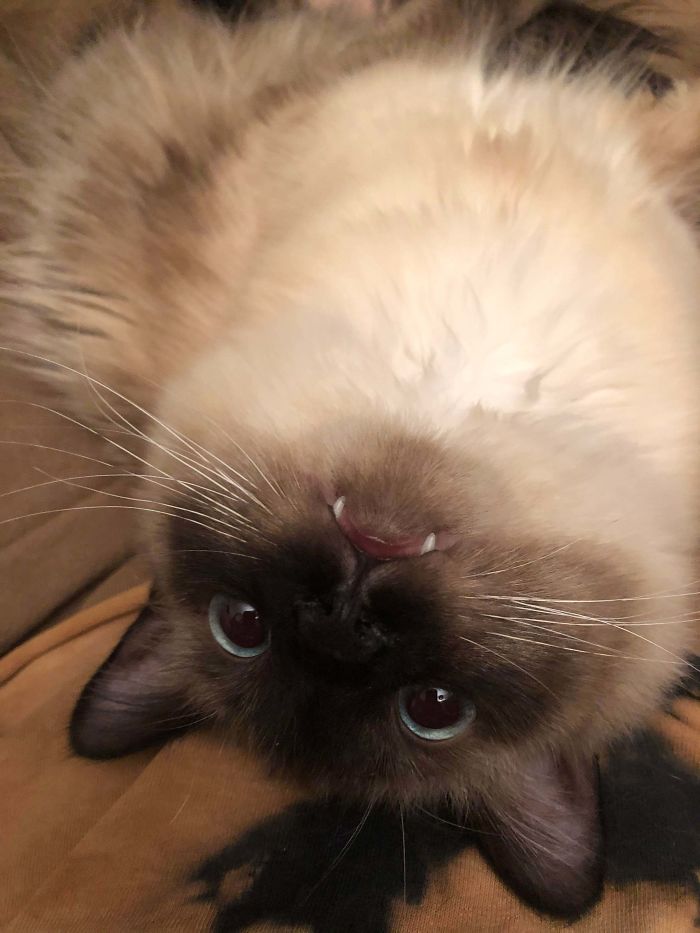 Cats are always in possession of a sharp pair of fangs. They also have an equally vicious bite. That is why you should be wary of their teeth. But have a look at this baby, doesn't it look like a cute vampire?
11. Adopted Kitten Turns Up In Bed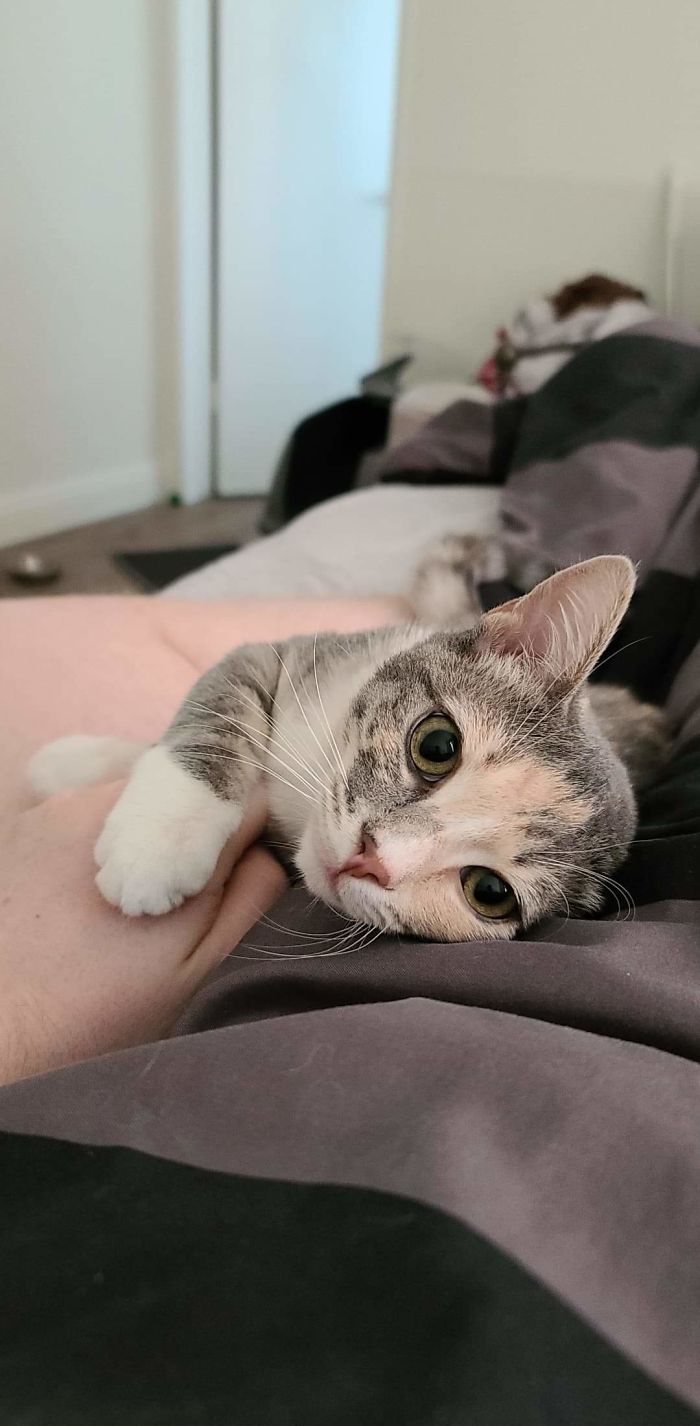 This man adopted two kittens the week before this one, and then he did not see the two blokes anywhere. You know how cats are, they are always on their own. After many days of not seeing them, one fine morning he woke up to this. Cute! 
12. When You Can't Have Kids, Adopt A Pet Instead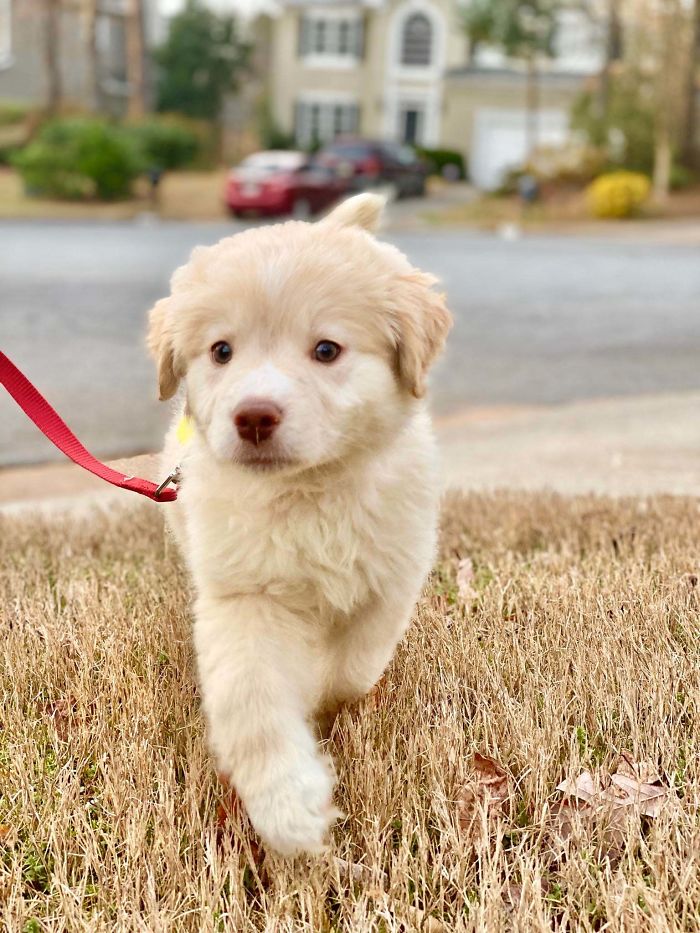 It is good fortune if you are able to bear kids. Having your own kids is the greatest pleasure in the world. But if you are not able to give birth for any reason, then it is sensible to adopt one. It is even better if you adopt an animal instead. They never leave your side!
13. Cotton Loves To Play Hide And Seek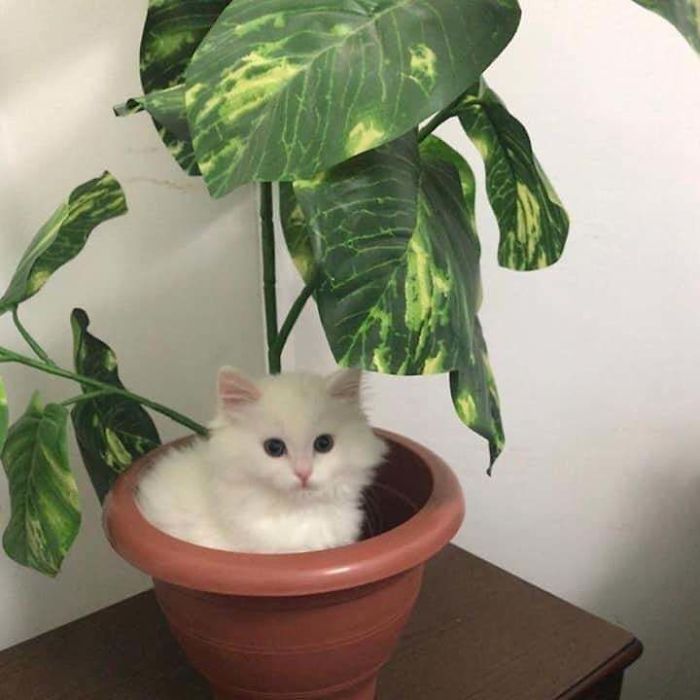 Cotton is a white kitten who resembles a cute furball. She has been adopted just now and do you know what her favorite hobbies are? She loves cosplaying as plants and sleeps in the most random of places. Just look where she has nestled!
14. Adopting The Whole Clowder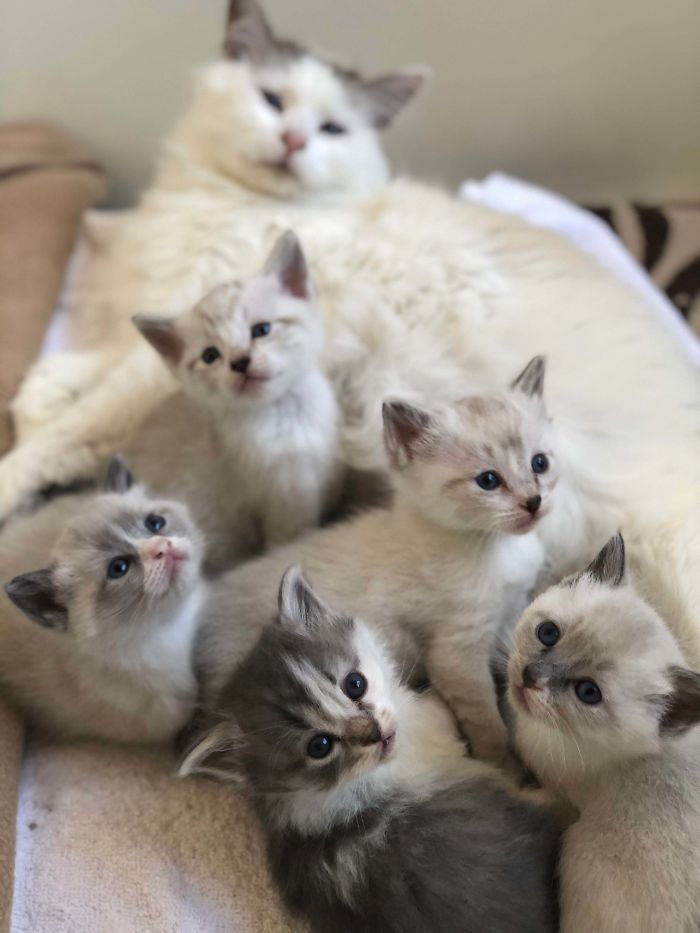 This entire family of cats was adopted by the photographer's mother who thought that they needed shelter. What a kind and compassionate thought! Just look at the five pairs of eyes staring back at you! Aren't they lovely?
15. A Furry Friend From Russia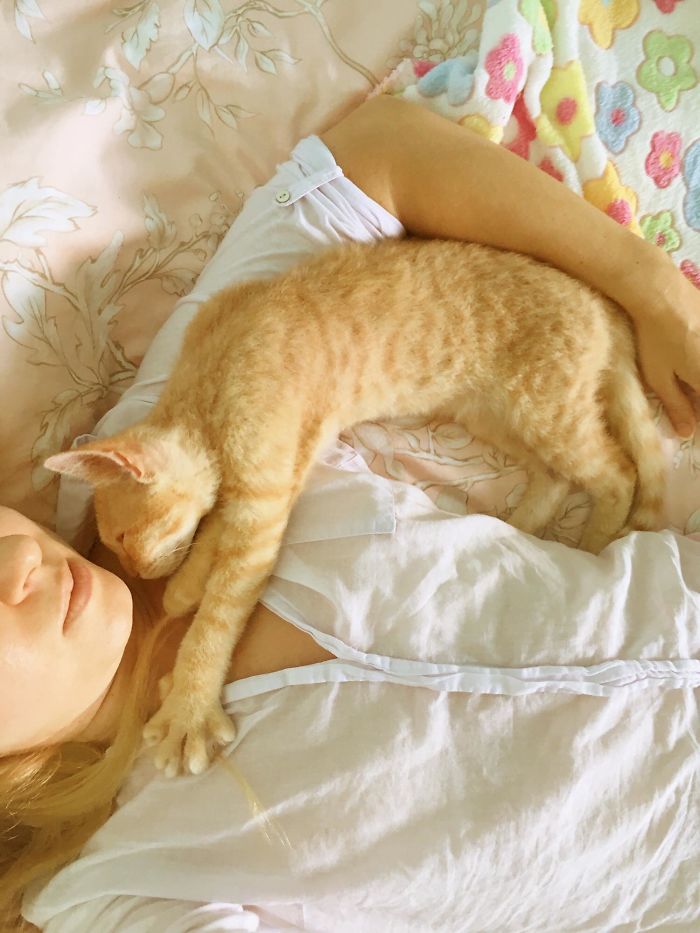 This lady found this cat on a beach in Russia and decided to bring it back to the states. So she brought it back to the states, and you know what? It seems that she did not adopt him, but he has adopted her. Look how they cuddle up to each other. Just like one happy family.
16. Age Is Just A Number For Him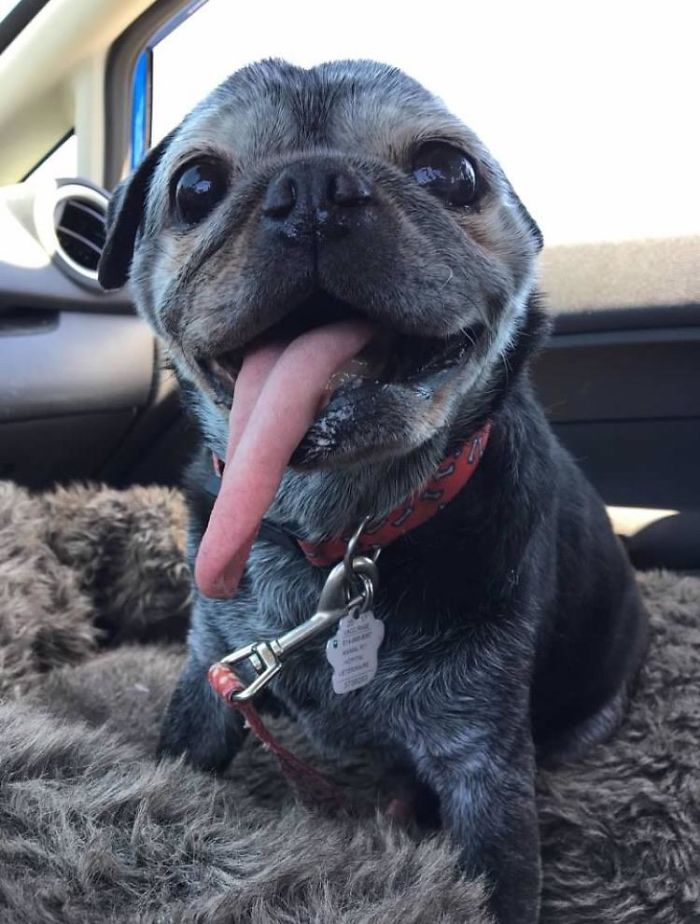 He may look small, but this bloke is a senior veteran. He is 14-years old and was adopted when he was 11 years old. Normally, dogs live to a max of 14-human years. But by the looks of it, he seems to defy this fact and still looks as young as a newborn baby. Just look at the charm he exudes!
17. Cozying Up To Each Other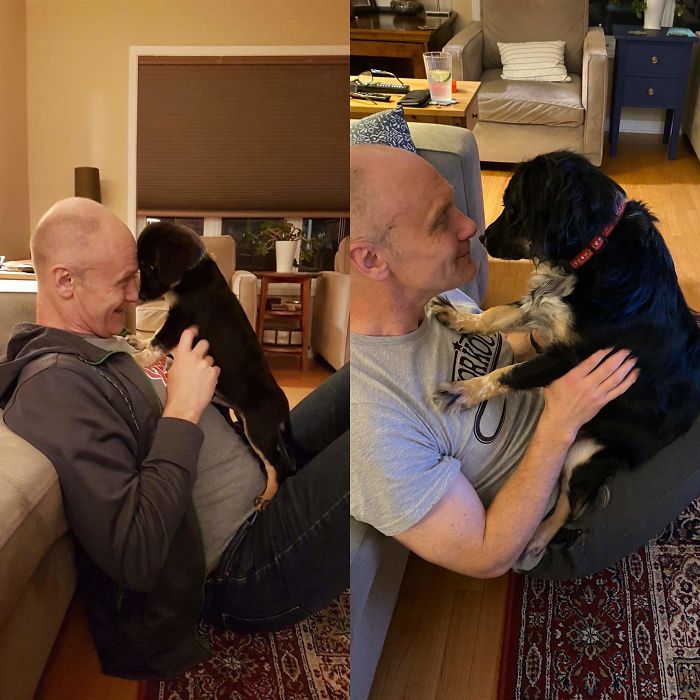 This boy just showed up at this family's doorstep on one fine night. He was immediately taken in and was provided shelter. Slowly all of them grew close to each other and he became a part of the family. It seems that both of them rescued each other by giving each other company.
18. Sharing Each Other's Loneliness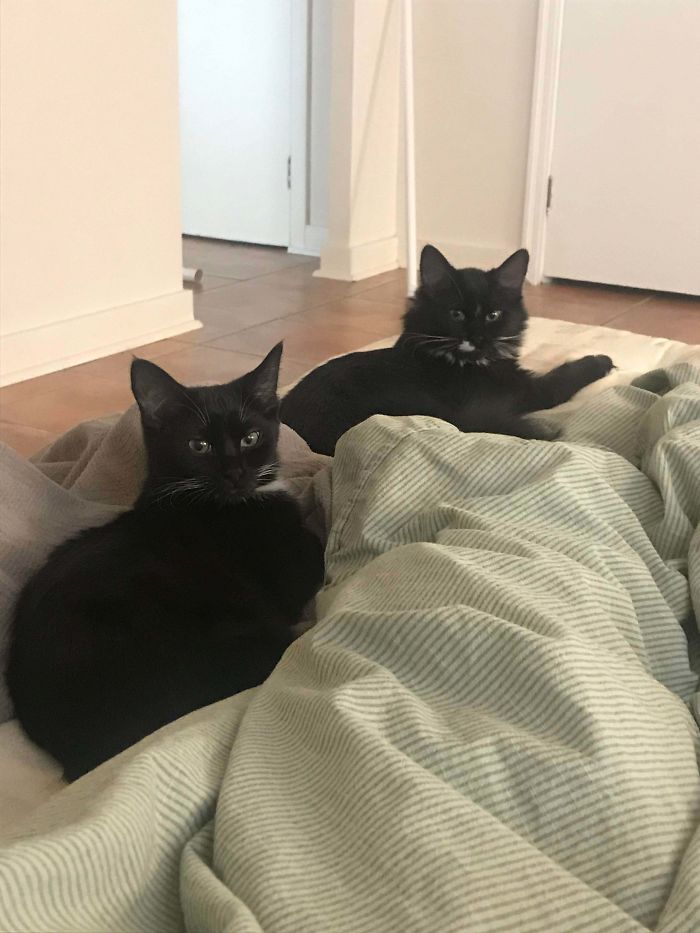 This mommy adopted her so-called "end of the world" team and together, they make one happy family. But why did she perform such a compassionate act? One, the shelters are struggling with keeping the population of abandoned animals under control. Two, she was feeling lonely and needed some companions, for sure!
19. Hopping On To A New Life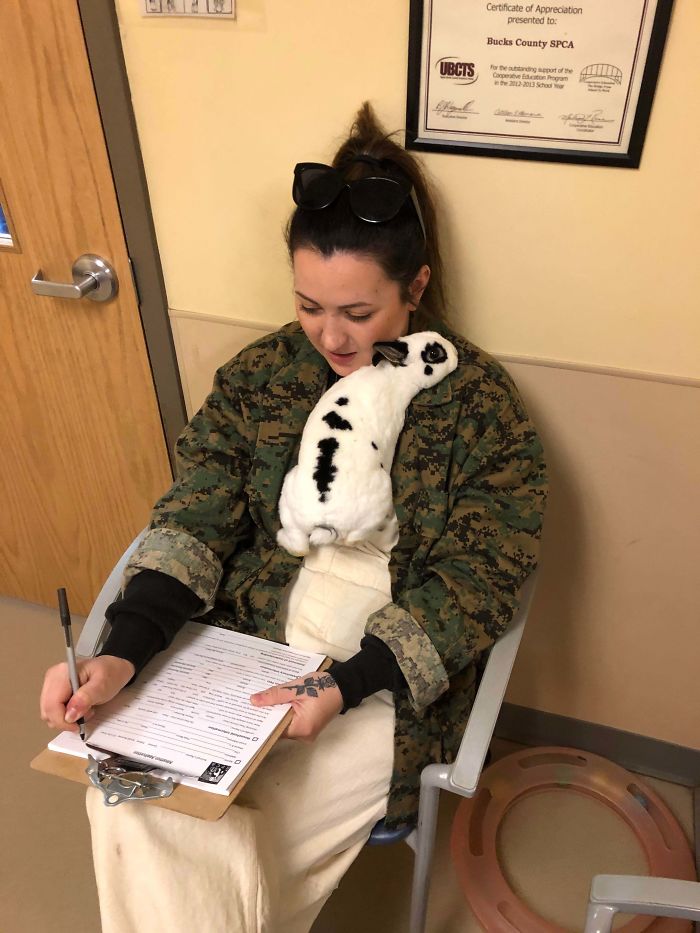 Mommy is signing the adoption papers for her new baby, Moo. But it seems that she is inexperienced and is inviting all sorts of suggestions and tips to take care of her new baby. So who has some sound advice for this new mother?
20. My Boy Flashing A Toothy Grin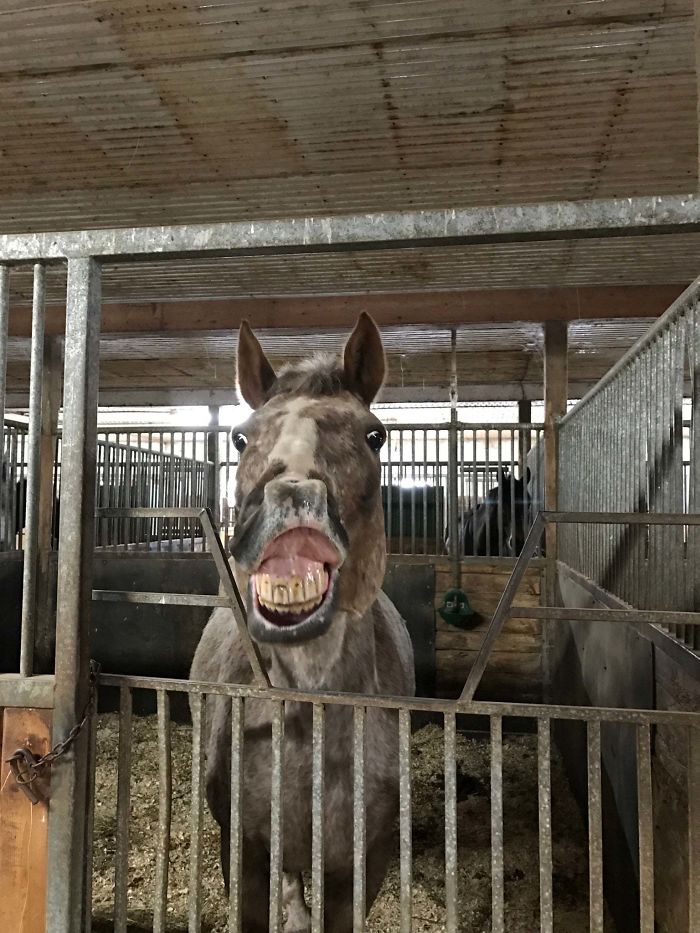 This boy called Strawberry was a rescued pet. He sure does know how to flash a smile for the cameras. Although he has an awesome grin, his teeth are not up to the mark. But don't you tell him that, because that would surely piss him off!
21. Adopting This Girl Was The Best Decision Of My Life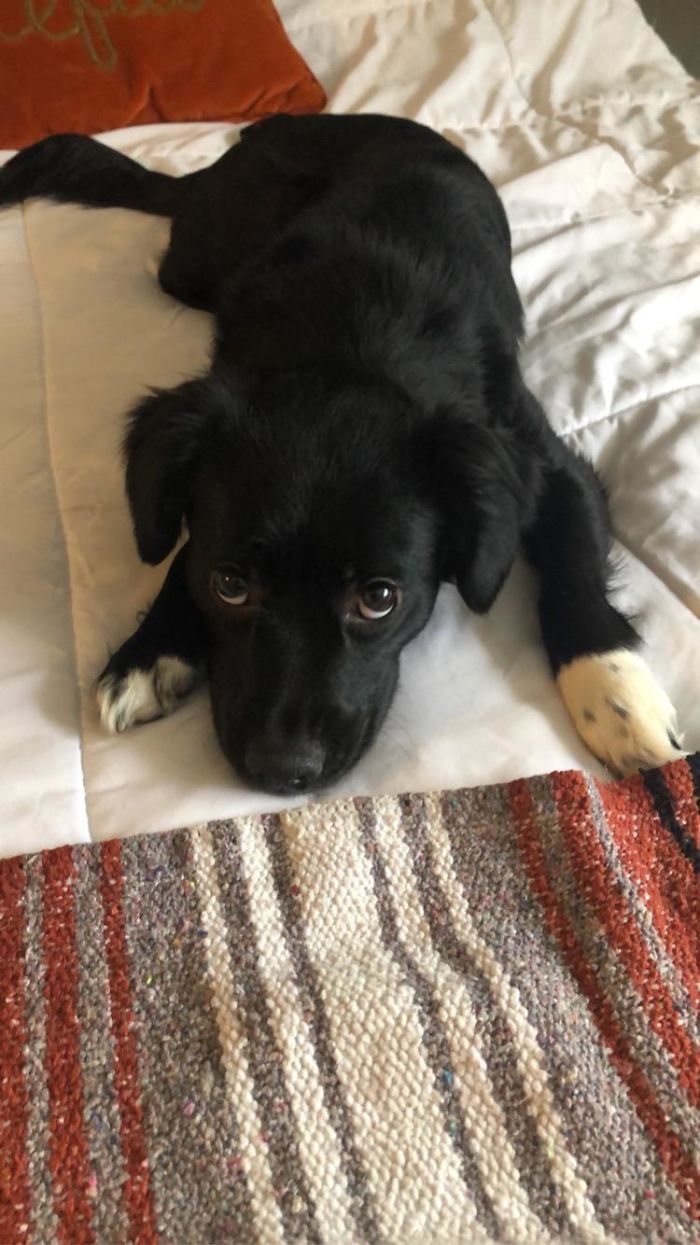 This girl has been adopted a few days back. Just look at her cute eyes! She looks so lovely! But if you are wondering whether you made a good decision in adopting her, then you are foolish. Of course, your decision is absolutely correct. Who can go wrong on this one?

22. Chewy, The Heavyweight Tomcat From Nebraska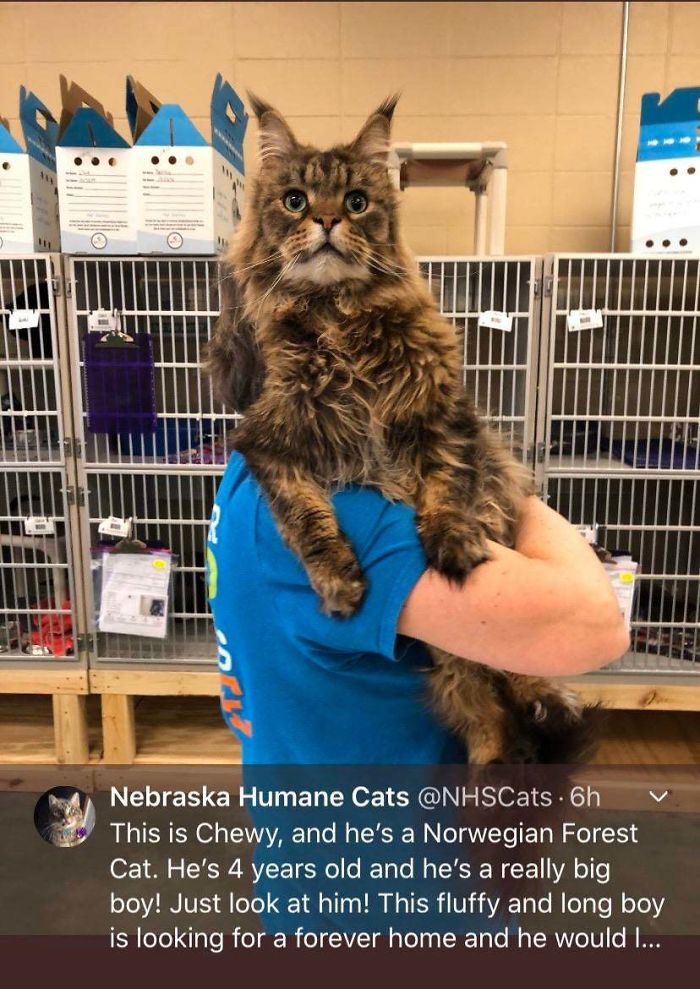 Chewy is a Norwegian forest cat and you can see that it is mentioned the picture itself. Imagine that he is just a 4-year old! This particular species has been known for its size and renowned the world over for making the most awesome pets. Are you game for adopting Chewy?
23. After Daddy Rescued This Baby And Adopted Her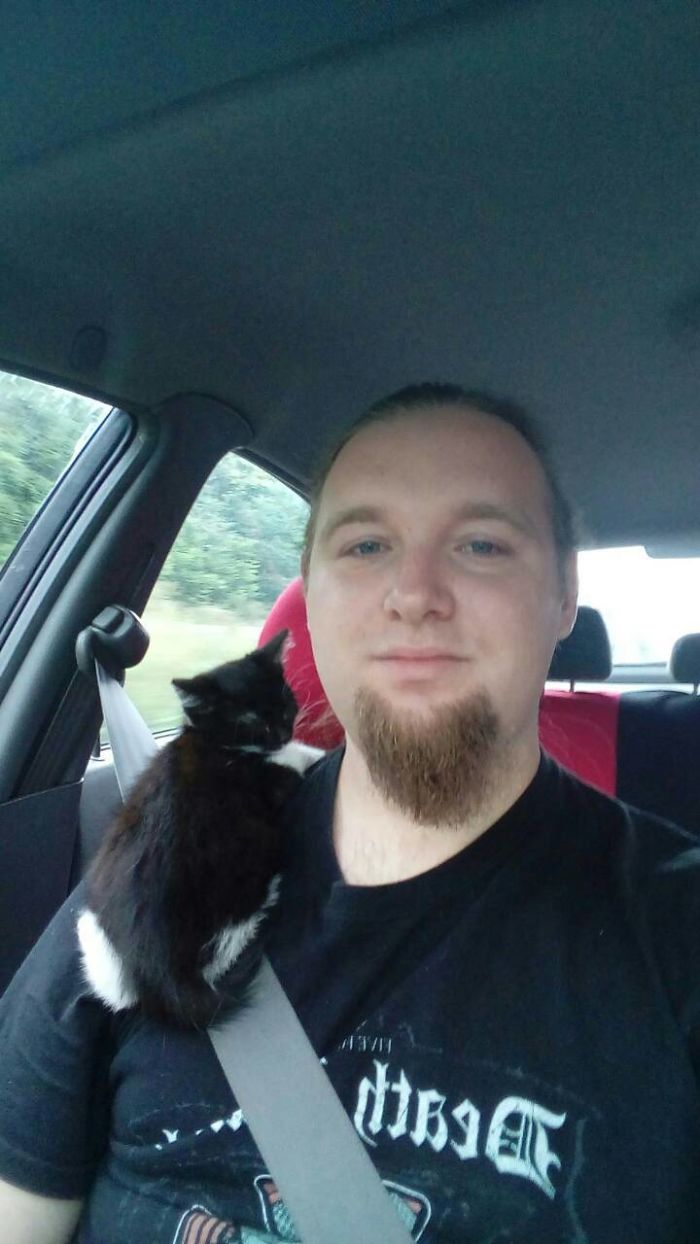 This little kitty was rescued the very day the photograph was taken. For the entire 1.5-hour journey back home, she was like this on the rescuer's shoulder. Something gives me a sneaky suspicion that this kitty knows that she's heading back home.
24. Rescued By My Brother, The Team Of Addie And Chase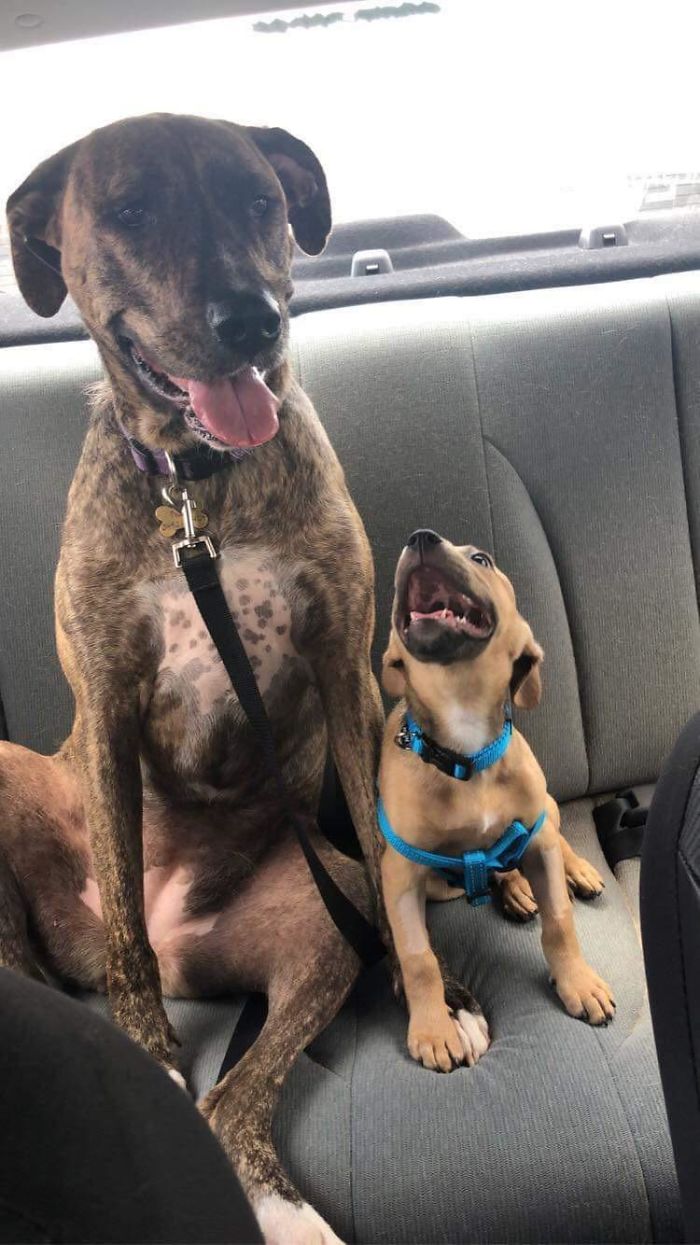 These two boys were rescued by the brother of the person who posted it on a social media platform. Looks like these brothers/close buddies are made for each other. Just look at the young one gazing lovingly at his senior.
25. This Boy Is Going To Get Adopted Tomorrow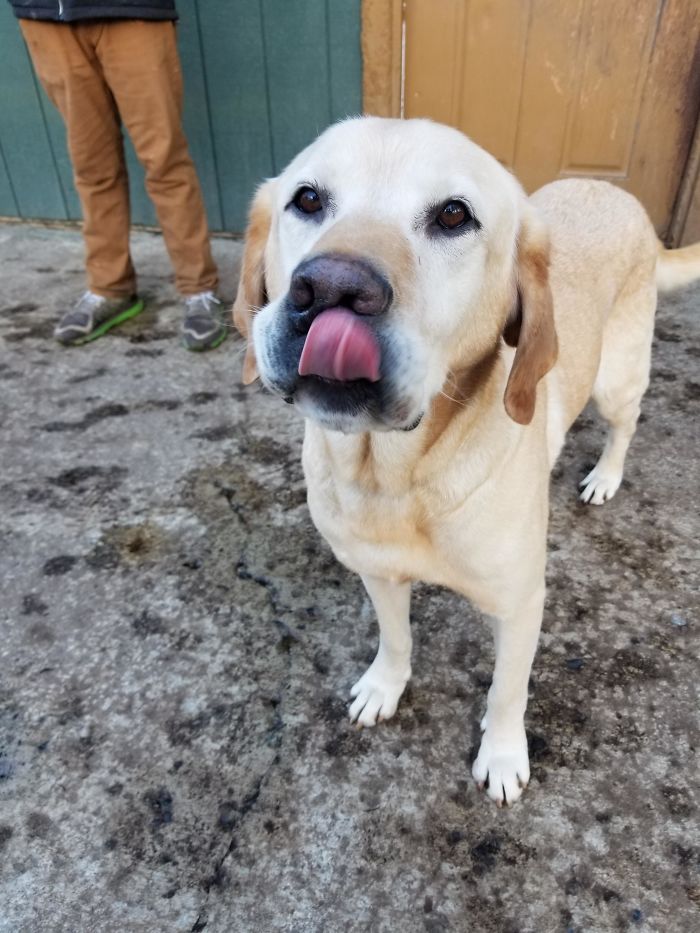 This boy, whose name is Moose was up for adoption. He got taken in by an old couple who have plenty of time for him. Now he plays with them and gets tons of care. Needless to say, the boy also gives back all the love he can shower upon his foster parents. Doesn't he look cute and adorable?
26. These Two Boys Are Inseparable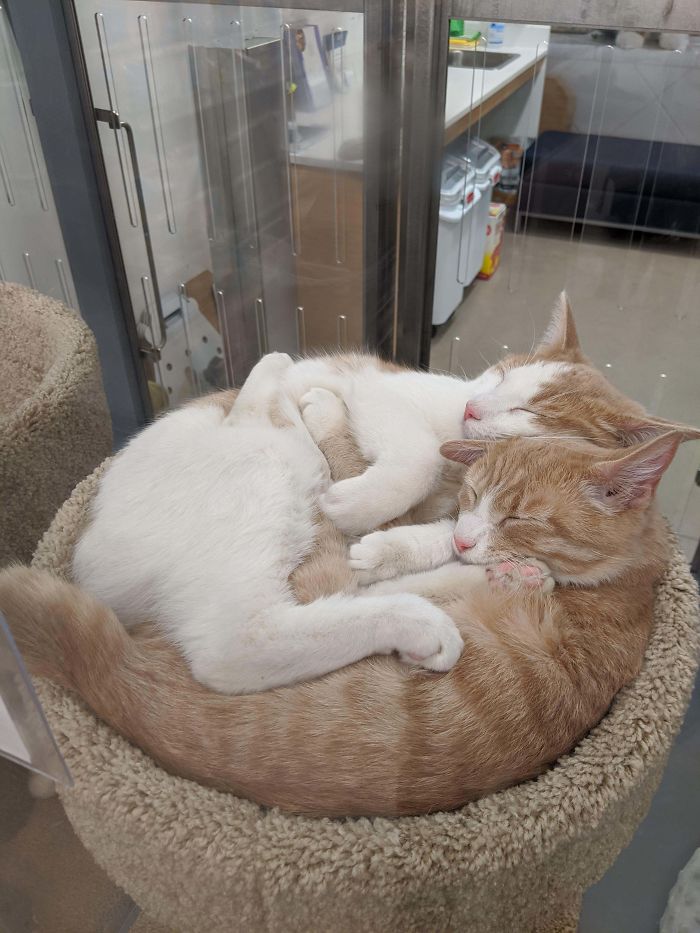 These two cats are inseparable. It's not because of the way they have cuddled up to each other but because they have been named in such a manner that you can't keep them apart. They have been up for adoption at a local pet store. And guess what their names are? Honda and Civic!
27. Toothless But Proud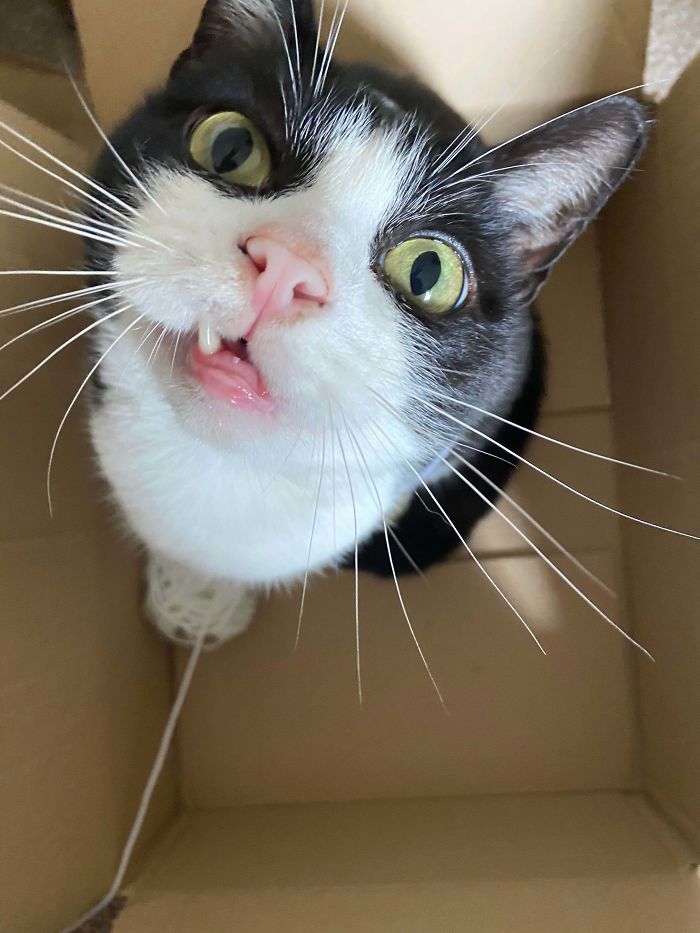 There are many animals that are known to lose their teeth. Sometimes due to abuse and sometimes, it is due to dental problems. This cutie pie here, Sonny, was abused by his owner and has a lot of health problems due to this. But boy, is proud of the tooth that he has. Just look at the way he flaunts it majestically!
28. Old Boy Adopted By Older Parents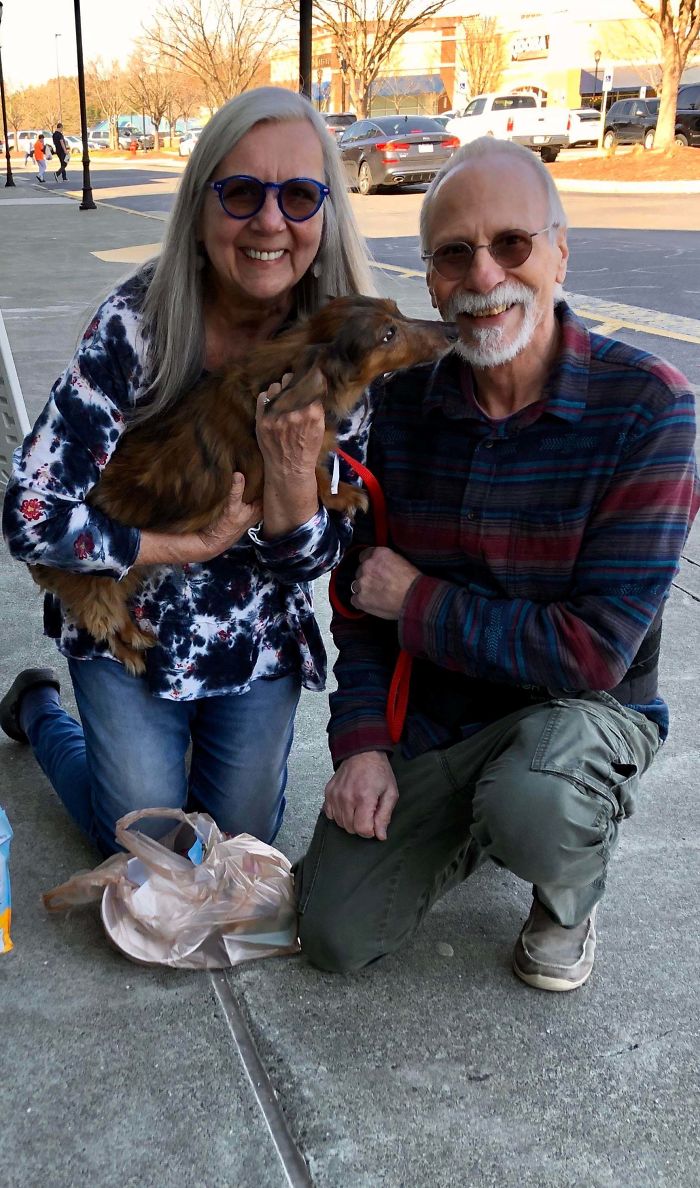 Zak is a 9-year old dog and there isn't much life left for him. Dogs live for 14 to 17 human years at the max, and he needs companions in his final years. As God would have it, his set of foster parents are equally old and understand what companionship means and they seem to be happy with the new addition to the family.
29. My Rescue Playing Outside For The First Time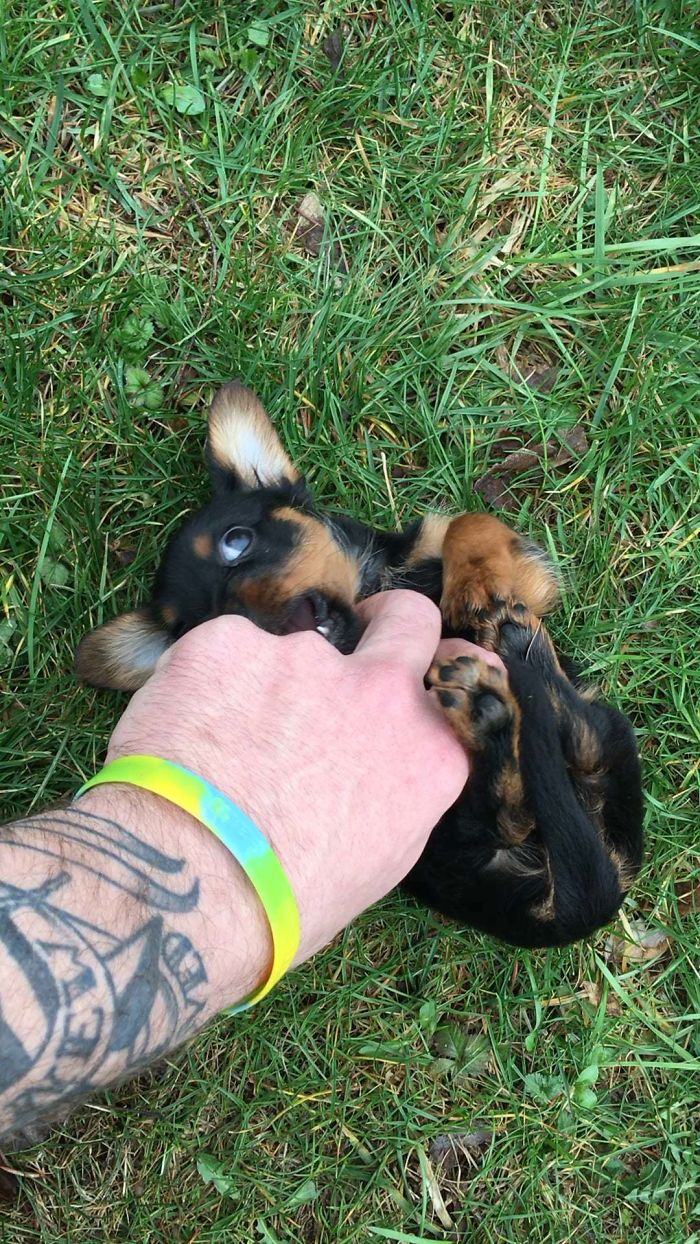 Lilith is a pup, who was found in an abandoned enclosure. Unluckily, there was nobody to take care of her. But this lady found her and now she has taken her outside and she seems to enjoy the surroundings.
30. Bud Is Now A Part Of The Family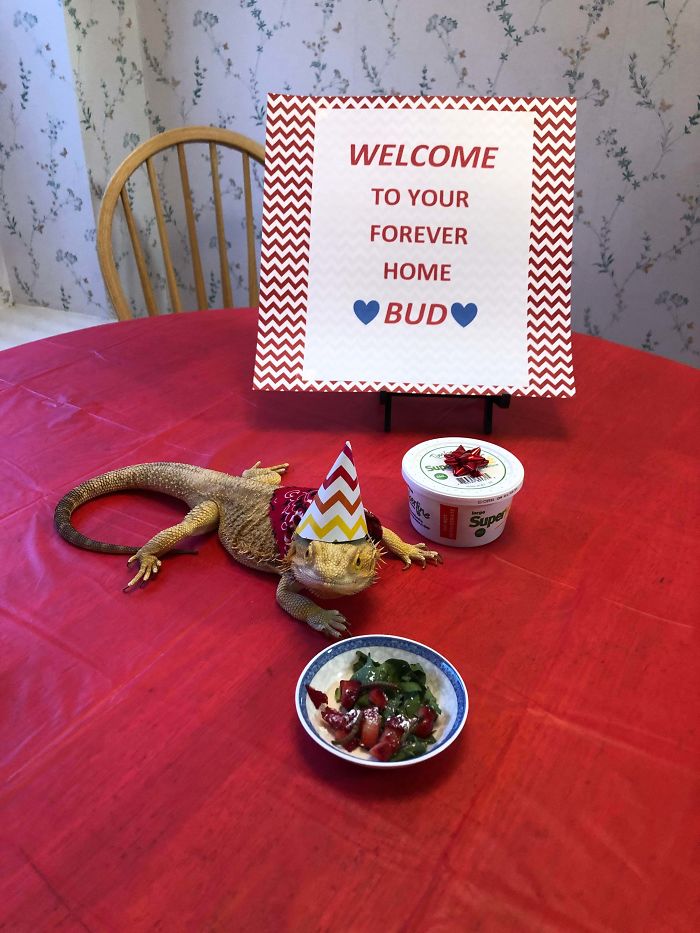 Bud is a bearded dragon. This species is by far the most domesticable lizard species and many people keep them as pets. Just look at how this reptilian darling is enjoying his birthday. His family had adopted him a few years ago, and now, as they say, he's a part of the family.