Some celebs get tattoos to represent the person they're in love with. But unlike tattoos, relationships aren't always permanent. So, check out these celebs who had to remove, cover, or modify their body artwork in order to hide the painful and sometimes hurtful memories of their exes.
Mel B
When Spice Girl Mel B called it quits with husband Stephen Belafonte, she had his name removed from the tattoo on the side of her torso that read, "Stephen, till death do us part you own my heart."
Johnny Depp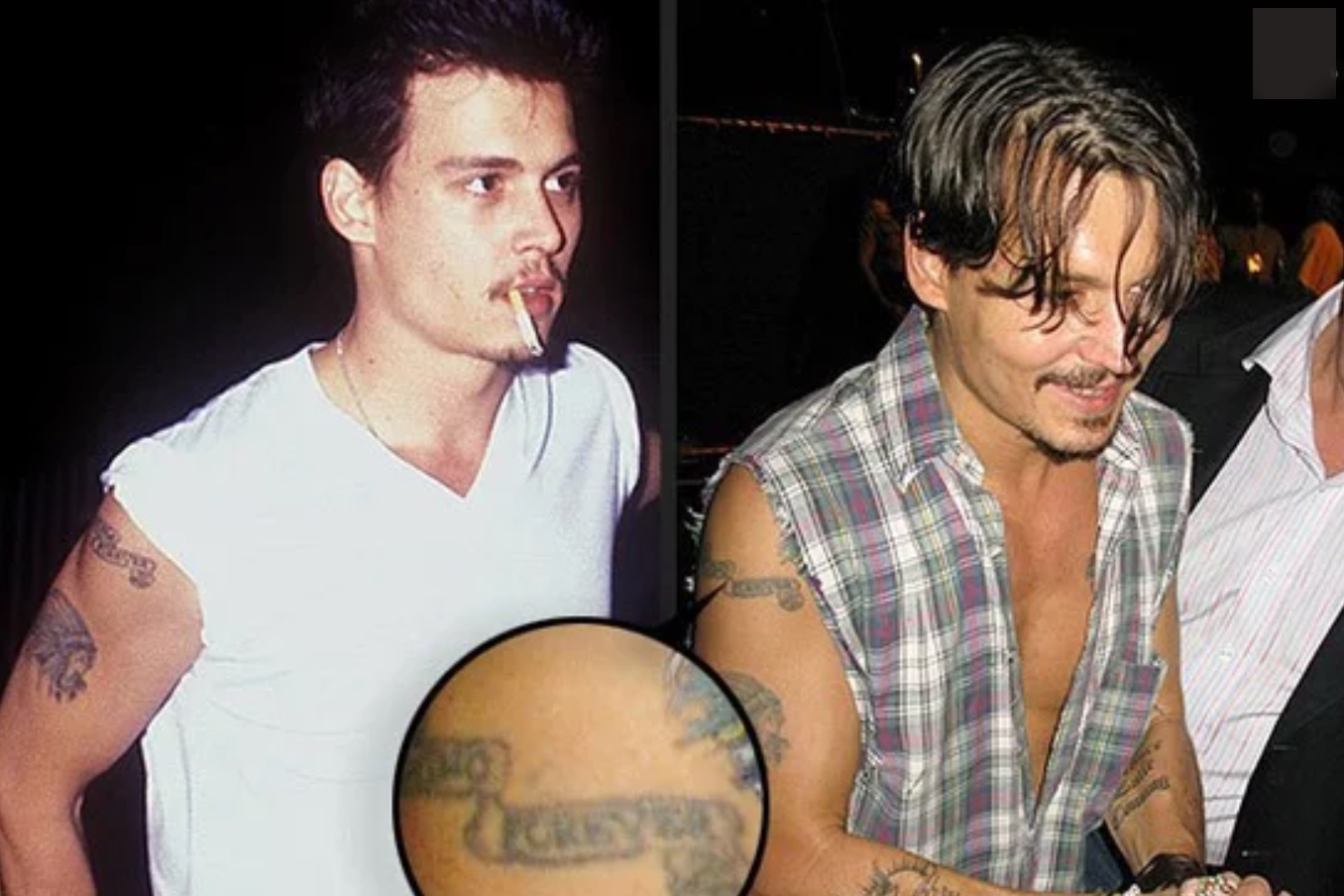 Johnny Depp got the name of his-then girlfriend and "Edward Scissorhands" co-star Winona Ryder tattooed on his skin. But the star couple ended things in the early 1990s. And in 1994, Depp removed the last two letters of Ryder's name. So now his tat says "Wino Forever." Well, it's kind of clever in a way!
Kylie Jenner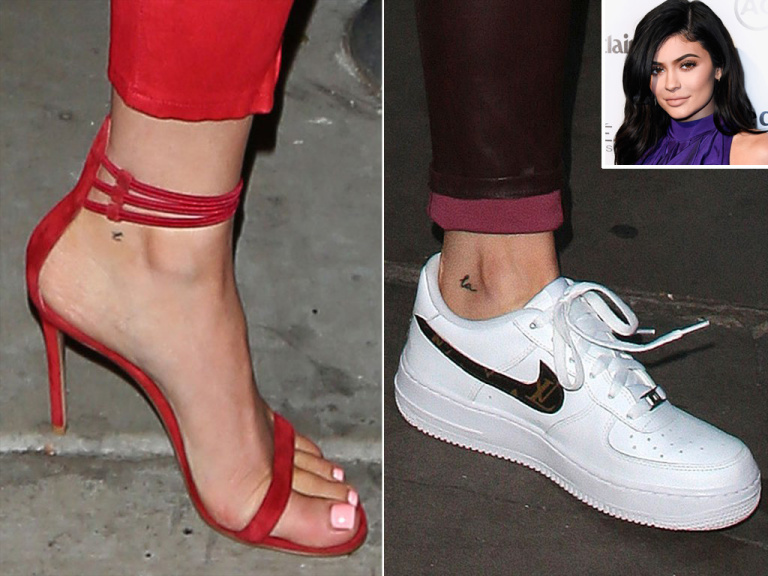 The beauty mogul had a lower case "T" tattooed on one of her ankles, which represented the love she had for her then-boyfriend Tyga. But after their relationship went south, the reality star had the tat replaced with a lowercase "la." Tyga might be gone, but she'll forever have L.A., right?
Angelina Jolie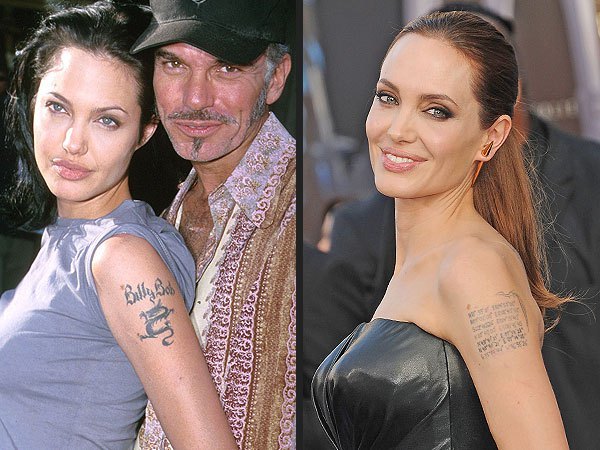 Angelina Jolie sported a tattoo on her left arm of actor Billy Bob Thornton. But after their divorce in 2003, she removed his name and had the coordinates of her family's birthplaces inked on the same spot instead.
Eva Longoria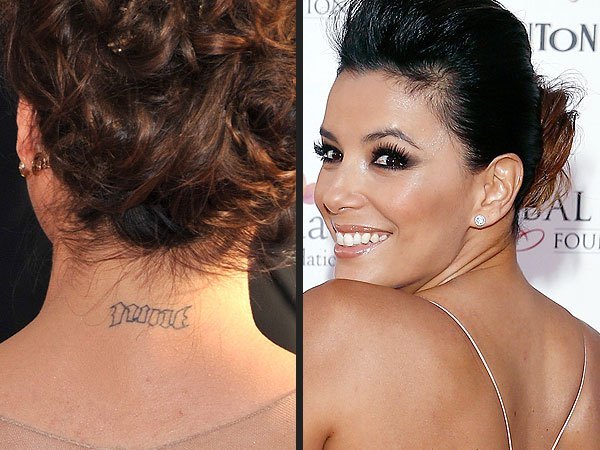 Eva Longoria had three tattoos removed two years after her divorce in 2010. One of her tats read "NINE" on the back of her neck, which was basketball star Tony Parker's jersey number. The second tat was their wedding date on her wrist which was 07-07-07. The third was Parker's initial, which was somewhere in her body.
Heidi Klum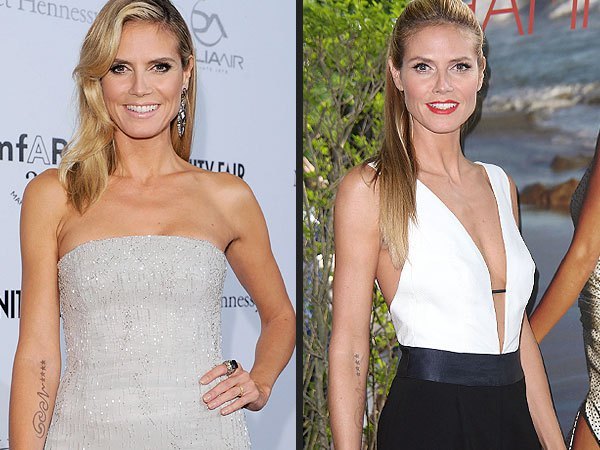 Heidi Klum and musician Seal were once married and very much in love. But much like 90% of Hollywood, these two didn't make it. So, in 2013, she decided to get the tattoo of his name from her arm mostly removed.
Amber Rose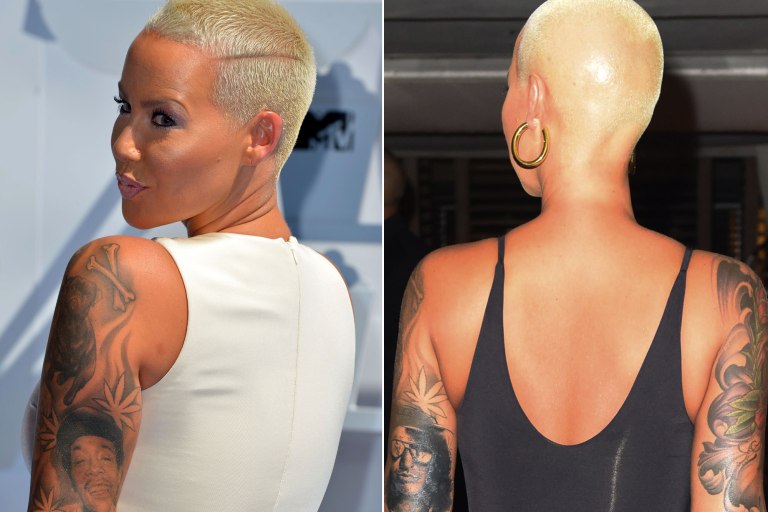 Amber Rose had a tattoo of rapper Wiz Khalifa's face. But when they split in 2014, she decided to have his face removed and replaced by someone who might be the rocker named Slash.
Kaley Cuoco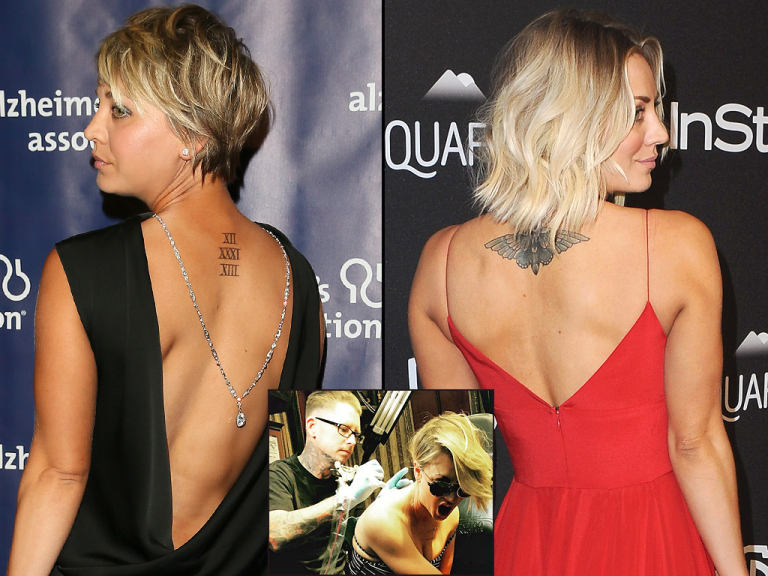 When Kaley got married to Ryan Sweeting, she tattooed the wedding date in Roman numerals on her back. But after her marriage ended, she had the tattoo covered up with what looks like a moth or some other type of winged insect.
Pete Davidson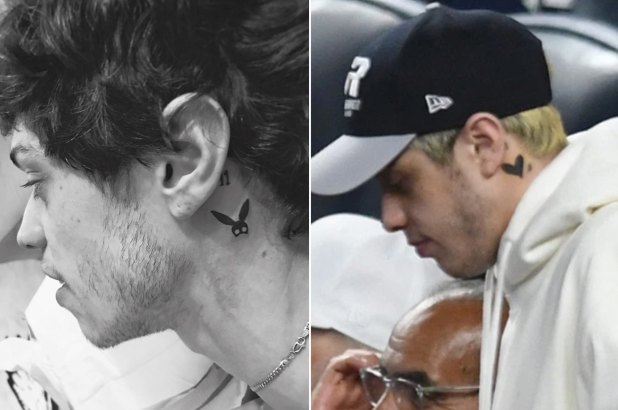 Pete Davidson turned the bunny ears mask tattoo inspired by his then-fiancée Ariana Grande's "Dangerous Woman" album, into a large heart with a lowercase "a" next to it. But according to Page Six, he only did that at the time to match Grande's large heart tattoo, which is somewhere on her body.
Pete Davidson, Part Deux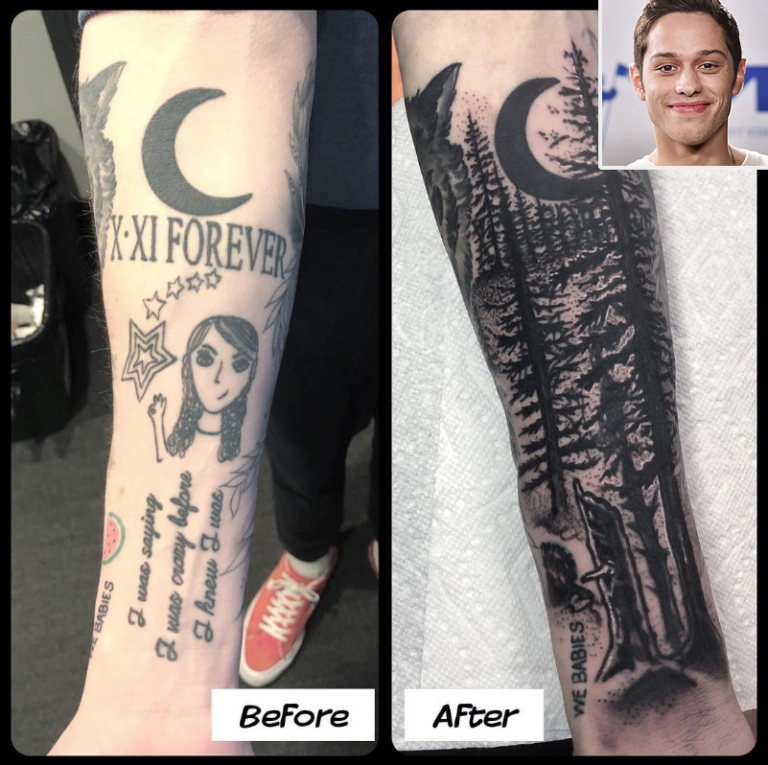 When Pete started dating Ariana Grande, he had to cover the words "I was saying I was crazy before I knew I was," and "X.XI Forever," when he ended things with Cazzie David. He replaced the tat with one of his cartoon drawings that included a forest.
Melanie Griffith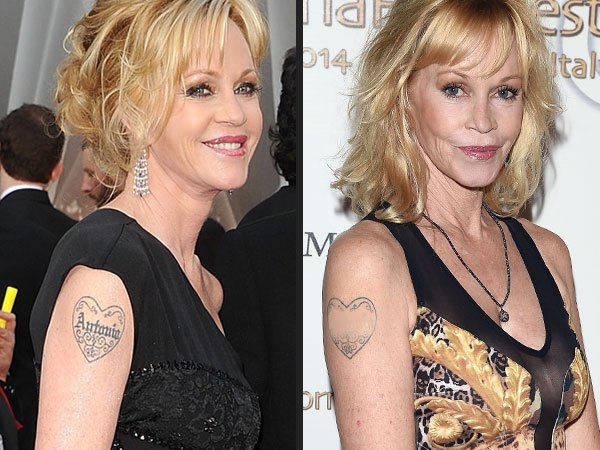 Melanie Griffith tattooed her then-husband Antonio Banderas's name on her arm in the 1990s. But in 2014, she went to the Italian Film Festival and it seemed like she kept the heart but lasered Antonio's name off.
Denise Richards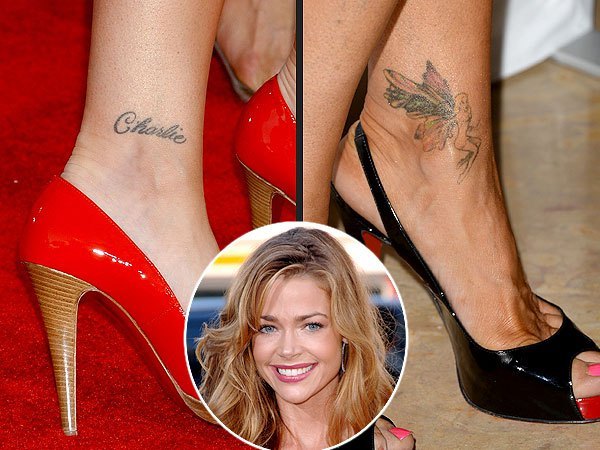 In 2002, Denise Richards and Charlie Sheen tattooed each other's names on their bodies. But five years later, they divorced. When Sheen's new fiancée Brooke Mueller came into the picture, she asked that he removed the tattoo from his wrist and he did. In retaliation, Richards turned the Charlie tat on her ankle into a fairy.
Marc Anthony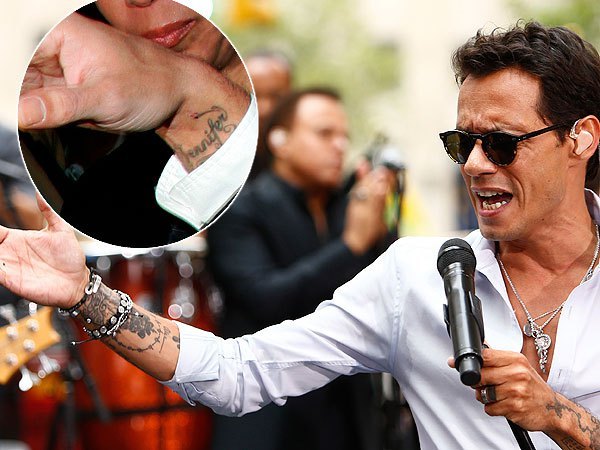 Singer Marc Anthony had J Lo's first name tattooed on his wrist. But after he divorced Jennifer Lopez in 2011, he had the tattoo covered up with some intricately detailed design.