They tell you Halloween is just for kids, but what do people know? Anyone can get into the spirit of this fun holiday. Just ask these celebrities who summed up Halloween with some of the coolest costumes ever. Some of them looked seriously frightening. Others looked terrifyingly awesome. But there's a whole bunch who looked virtually unrecognizable.
Kylie Jenner as Ariel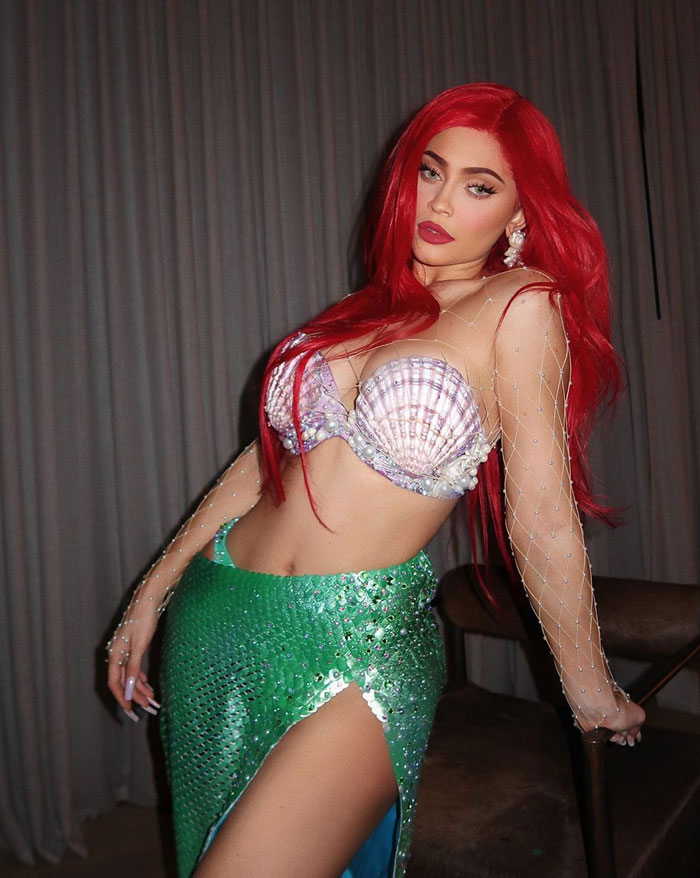 Some would say that the Kar-Jenners are in costume all year long. But for Halloween, Kylie Jenner went dressed as the beautiful, innocent mermaid Ariel from "The Little Mermaid," complete with a red wig, bra shells and all. The beauty mogul won Halloween with this one. Bravo, Kylie!
Stormi Webster as Kylie Jenner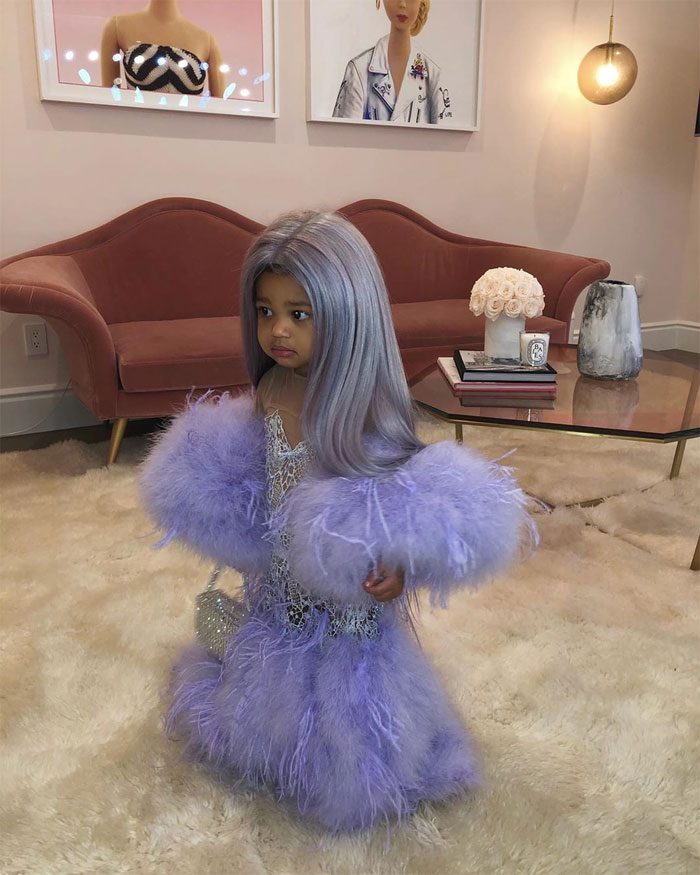 Since Kylie Jenner was busy dressing up as a Disney mermaid, it made sense someone had to fill the void. That's why her daughter, Stormi Webster, went dressed as her reality star mommy complete with a puffy purple dress and gray wig. An iconic moment if we've ever seen one!
Geri Halliwell as Tommy Shelby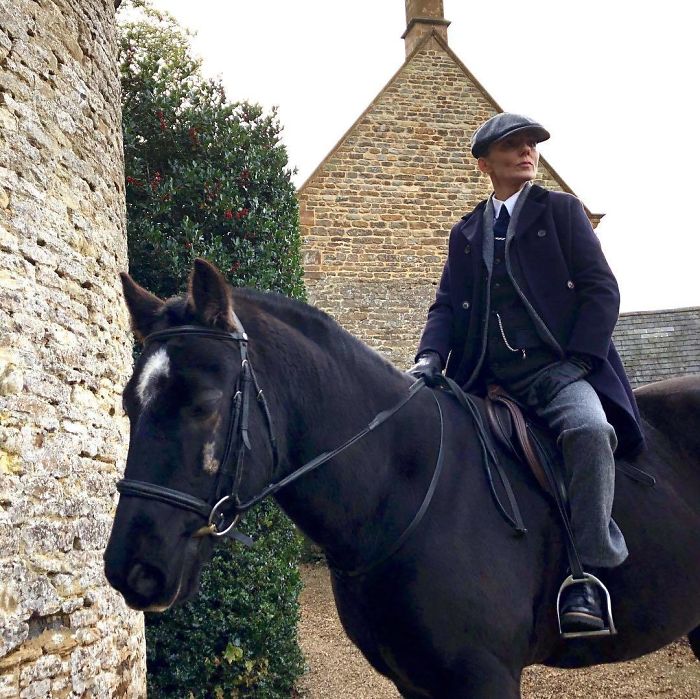 Spice Girls Geri Halliwell dressed up as Tommy Shelby from the British drama series, "Peaky Blinders." Not only did she dress the part, but she even gave off the same vibe as the leader of the show's Birmingham crime gang. How iconic is she?
Cardi B as a Nurse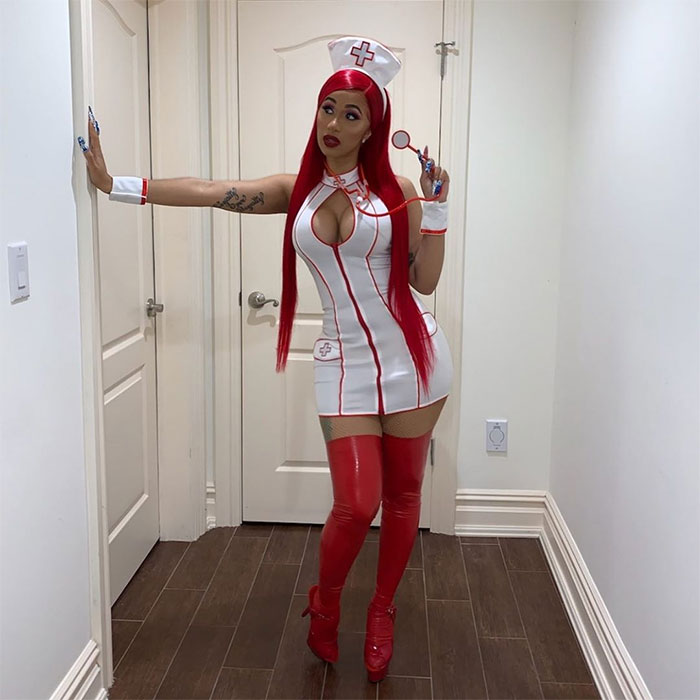 Leave it to Cardi B to take a basic nurse's costume to a whole new level! Nurses might save lives, but the iconic rapper undoubtedly gave quite a few people a heart attack with her show-stopping costume. It may not be as groundbreaking as her music, but it managed to raise a lot of eyebrows!
Black-Ish as Tethered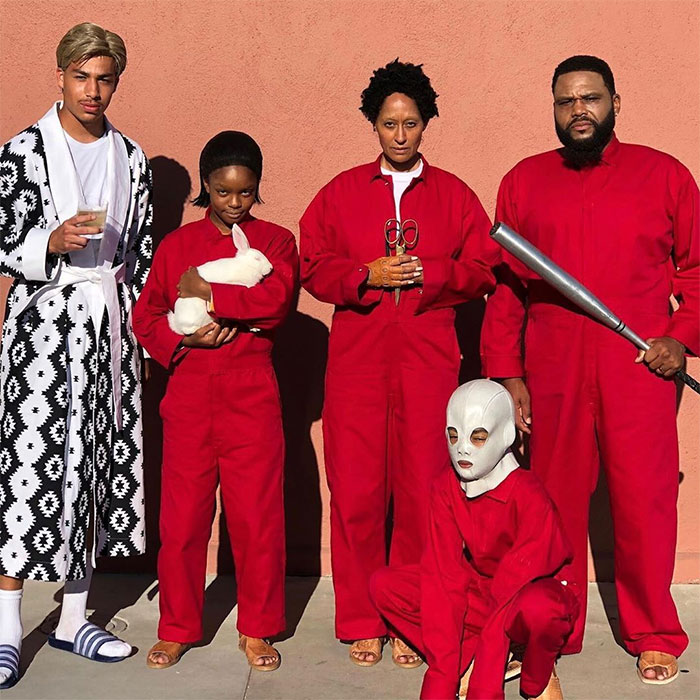 The cast of the hit comedy show "Black-Ish" dressed up as the villainous doppelgangers known as The Tethered from the horror flick "Us." But the little girl takes home the cake for perfecting the creepy stare.
Vanessa Hudgens as Sally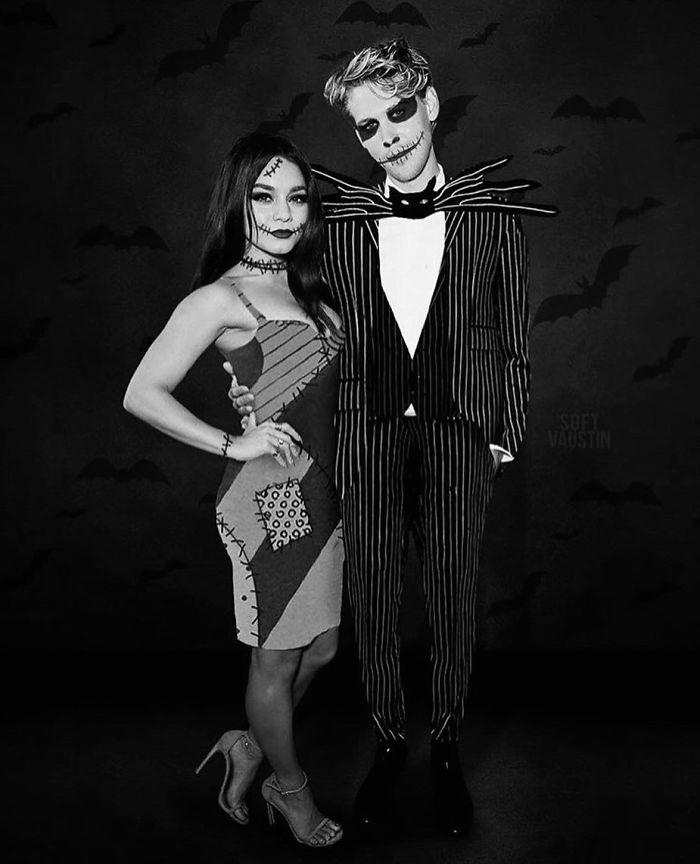 Vanessa Hudgens truly embodied the rag doll made by Dr. Finkelstein in "The Nightmare Before Christmas" right down to the stitches. She even got her boyfriend Austin Butler to dress up as the lovably spooky Jack Skellington. They really stole the show, huh?
Nina Dobrev as Billie Eilish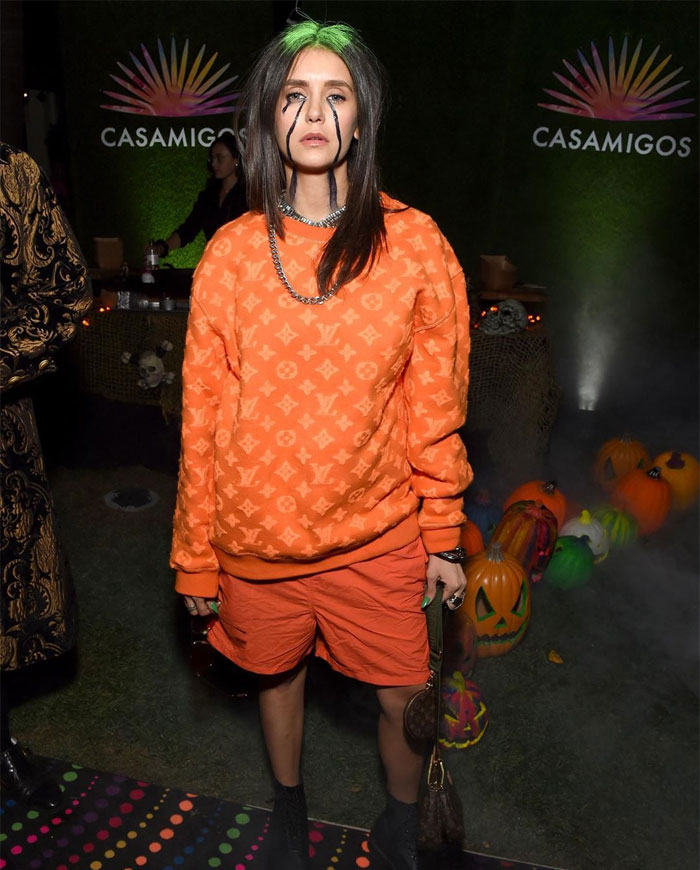 Former "Vampire Diaries" actress Nina Dobrev did an amazing job of mimicking the singer-songwriter Billie Eilish's trendy signature style. She even has black tears running down her face and neck, complete with neon green roots, and a rockstar attitude.
Cindy Crawford as a Punk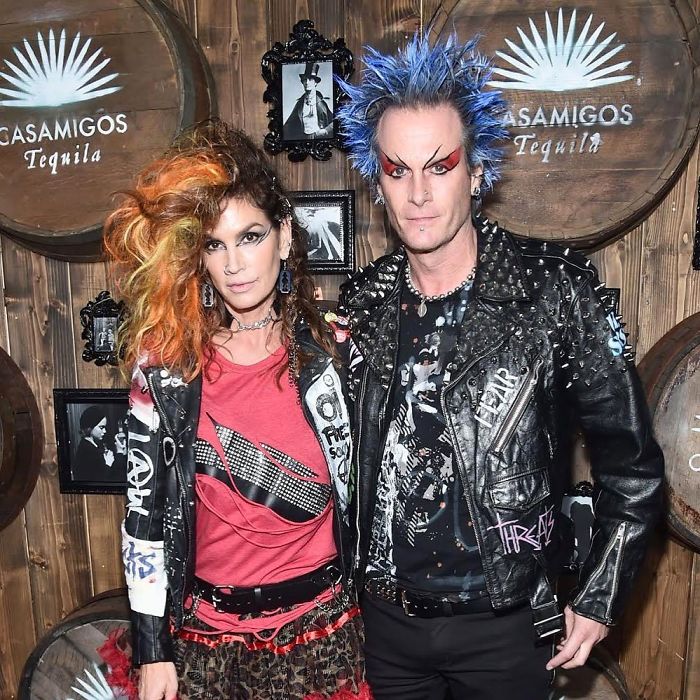 Model Cindy Crawford is totally rocking the 1980s punk rock look. Then again, she is one of the most gorgeous super models around. And her husband, Randy Gerber, was cool enough to join in on the fun and honestly, we can't stop staring!
Patrick Schwarzenegger as Austin Powers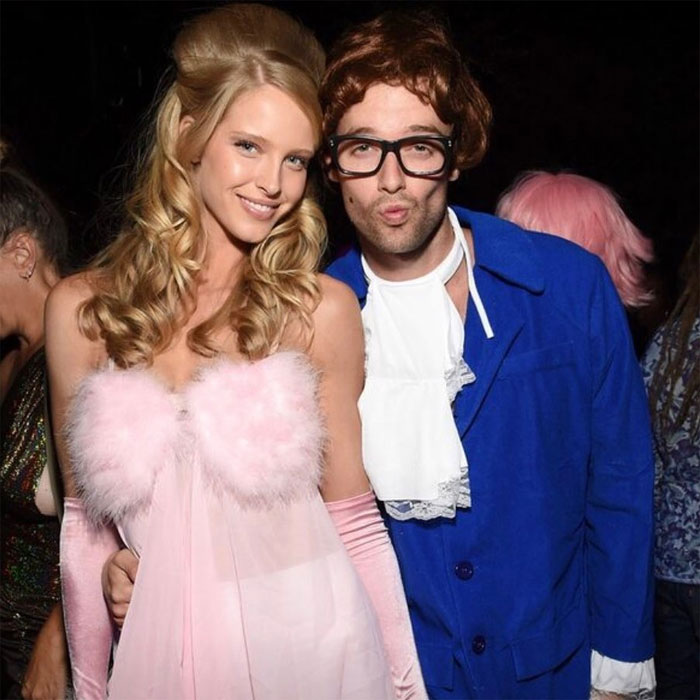 Yeah, baby! Patrick Schwarzenegger went dressed up as the international man of mystery himself, Austin Powers. And his girlfriend, Abby Champion, was by his side dressed as a gorgeous Fembot with a beautiful smile. Now that's a pretty groovy costume, huh?
Jerry O'Connell and Rebecca Romijn as Fire and Rain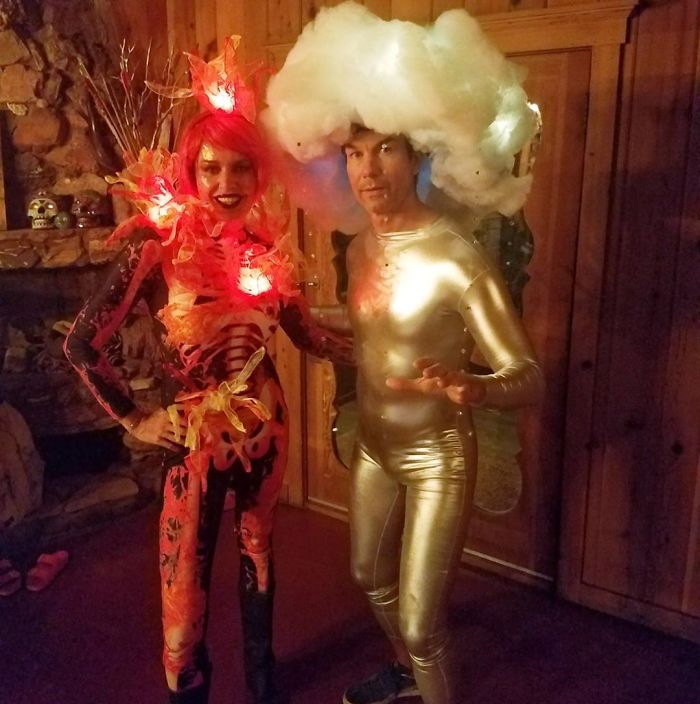 Jerry O'Connell is so lovable. He donned a shiny silver suit and put a cloud on his head to represent rain while his wife Rebecca Romijn went as fire with a skin-tight skeleton costume with glowing flames on her head and upper body. They turned a super simple idea into a colorful creation and we love them for it!
Lily Aldridge as Lydia from Beetlejuice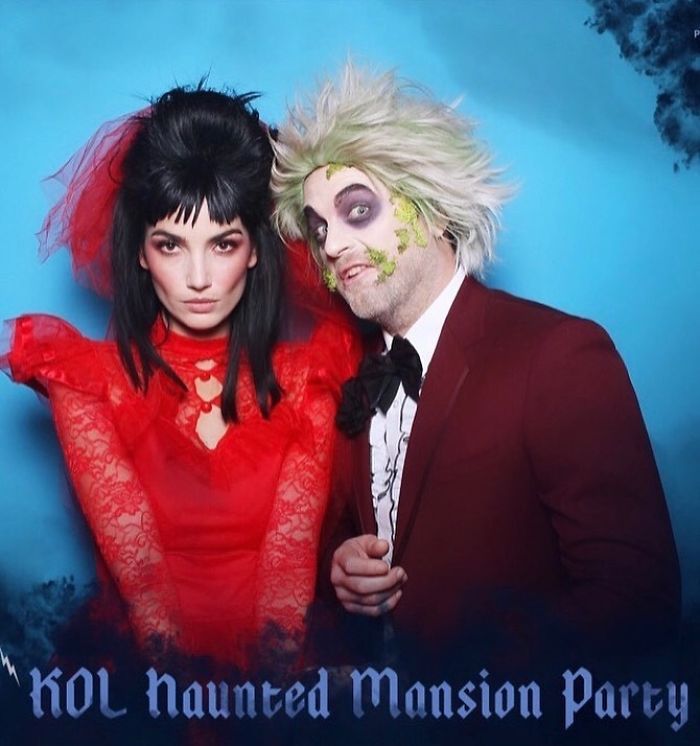 Victoria's Secret angel Lily Aldridge nailed the hollow look with some intense makeup to look like Lydia from "Beetlejuice." And the ghoulish looking guy next to her is her hunky husband, Caleb Followill, the lead singer of Kings of Leon. He's pretty hard to recognize, isn't he?
Drew Scott as Carl from Up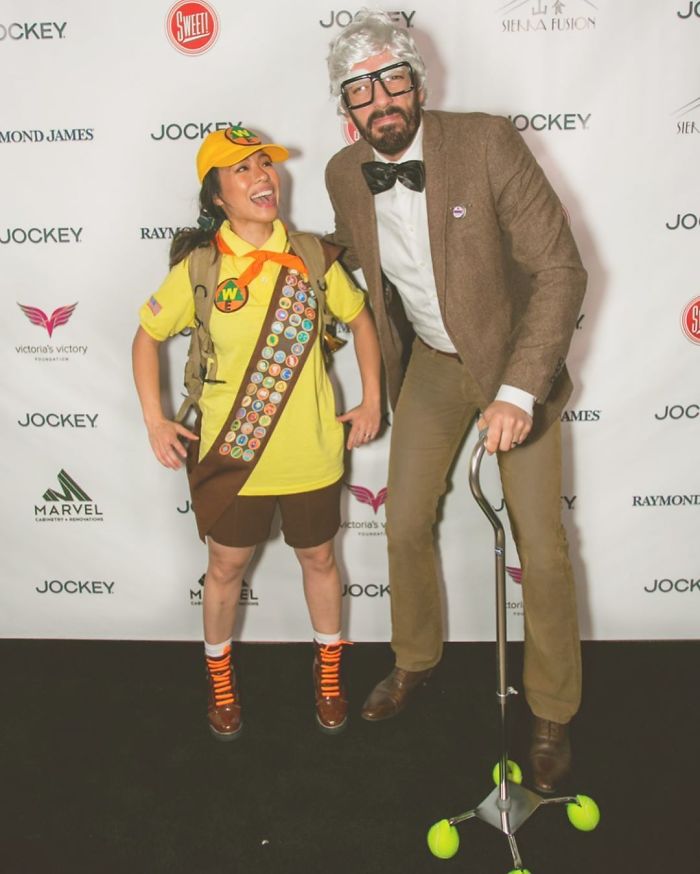 Reality star of "Property Brothers" Drew Scott is looking a little worse for wear as Carl from the animated film "Up." In this shot, he's standing next to him is his wife, Linda Phan, who went as the little boy named Carl and absolutely nailed it.
Elvis Duran as Wonder Woman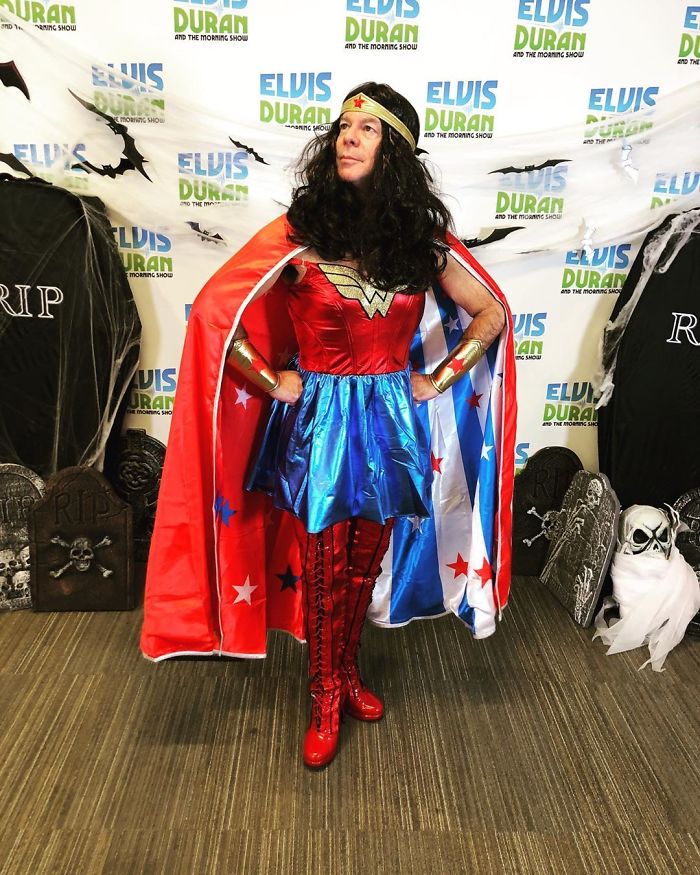 Radio personality Elvis Duran dressed up as Wonder Woman complete with the cape Lynda Carter used to wear during the original late 70s, early 80s series. He must've felt so empowered, he probably had a hard time taking the costume off.
Mario Lopez as Cap'n Crunch
Actor Mario Lopez is such a great dad for getting into the Halloween spirit and committing to a character. He's played many roles on television. But dressing up as Cap'N Crunch to hang with his kids is by far one of the coolest and sweetest of them all!
Chrissy Metz as Beetlejuice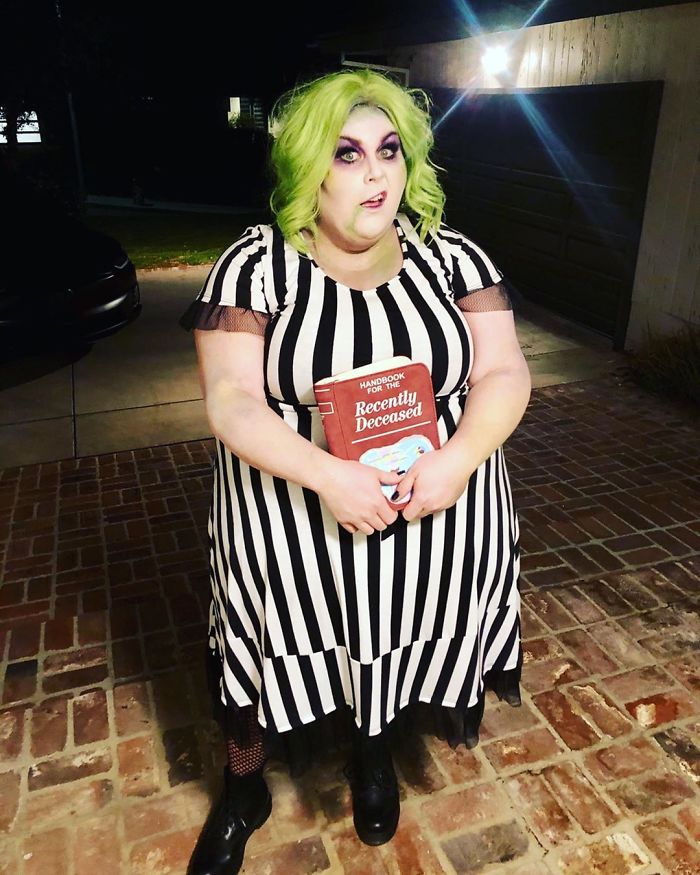 "This is Us" actress Chrissy Metz gave the ghoulish iconic character Beetlejuice a gender bending makeover for Halloween. From the green wig, to the makeup, and the striped dress… she looks hauntingly terrific. And the Handbook for the Recently Deceased adds a nice touch.
Kate Beckinsale as Holly Golightly

Actress Kate Beckinsale went to a convenient store dressed as Holly Golightly, the main character in Truman Capote's "Breakfast at Tiffany's." But she gave the character an even cooler look by wearing patent leather.
Luna Legend as Wonder Woman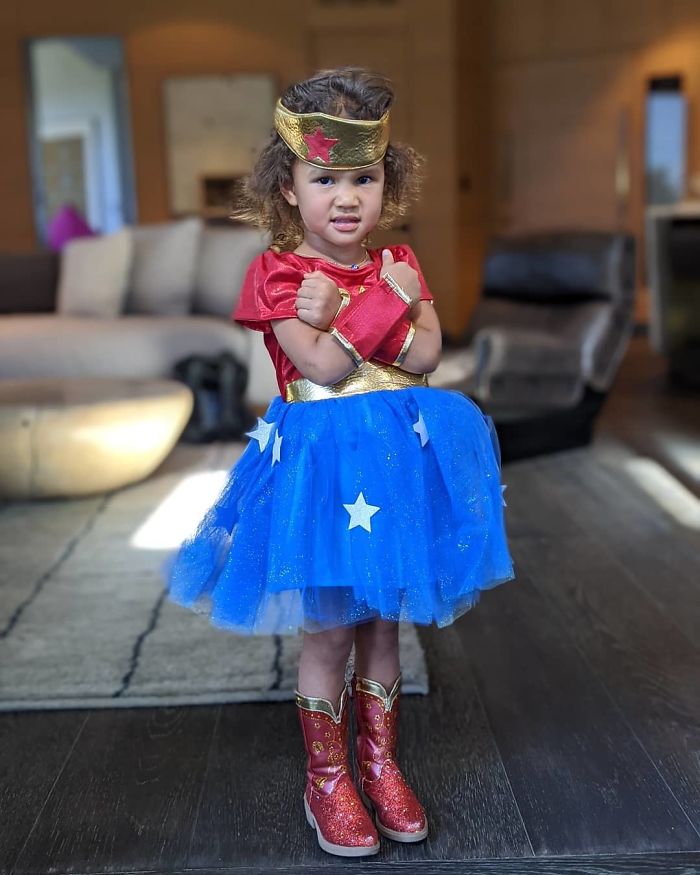 Chrissy Teigen and John Legend's adorable daughter, Luna Legend, got into the Halloween spirit and became the perfect superhero—Wonder Woman! She was undoubtedly the most badass kid trick or treating on her block.
Tallulah Willis as Leeloo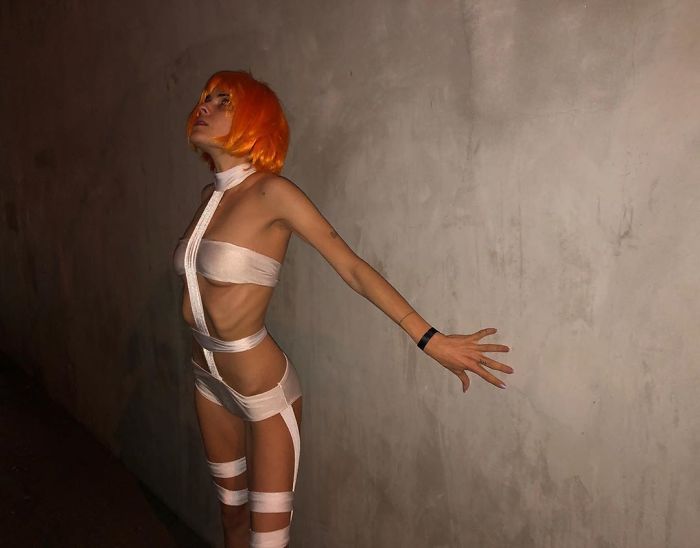 Actress Tallulah Willis went as Leeloo from "The Fifth Element." She even looks like Milla Jovovich, the actress who played the character in the iconic film. But it's kind of a weird costume choice because Tallulah's dad, Bruce Willis fell in love with Leeloo in the film.
Liza Koshy as Anna Wintour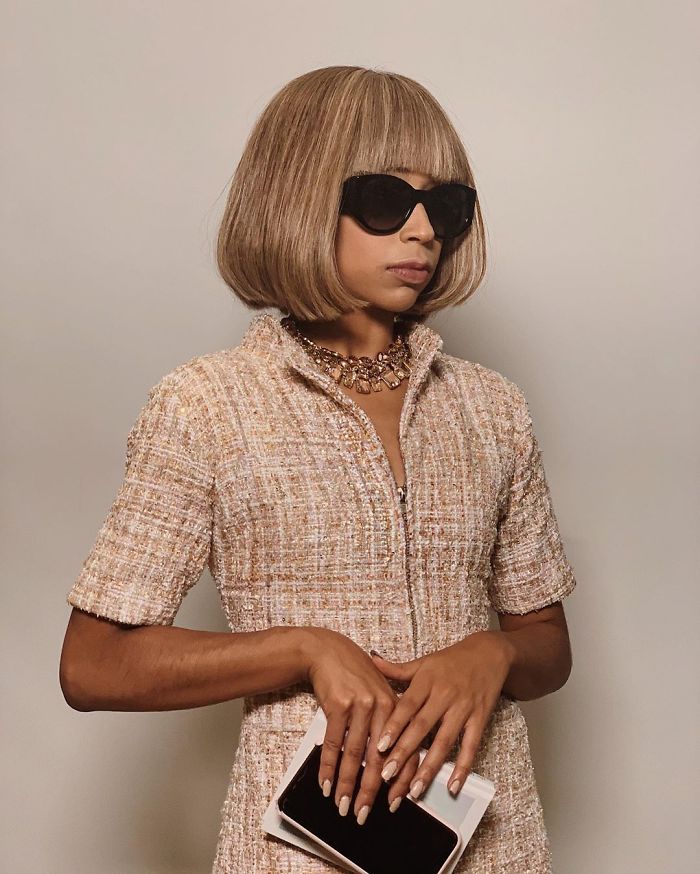 Actress Liza Koshy went dressed as Dame Anna Wintour, the British-American journalist and editor-in-chief of Vogue. But Koshy fans are probably smiling because she's never looked this serious in her life. So, stepping into Wintour's shoes must have been quite a new experience for her!
Nas Getty and Gigi Gorgeous as Jack Skellington and Sally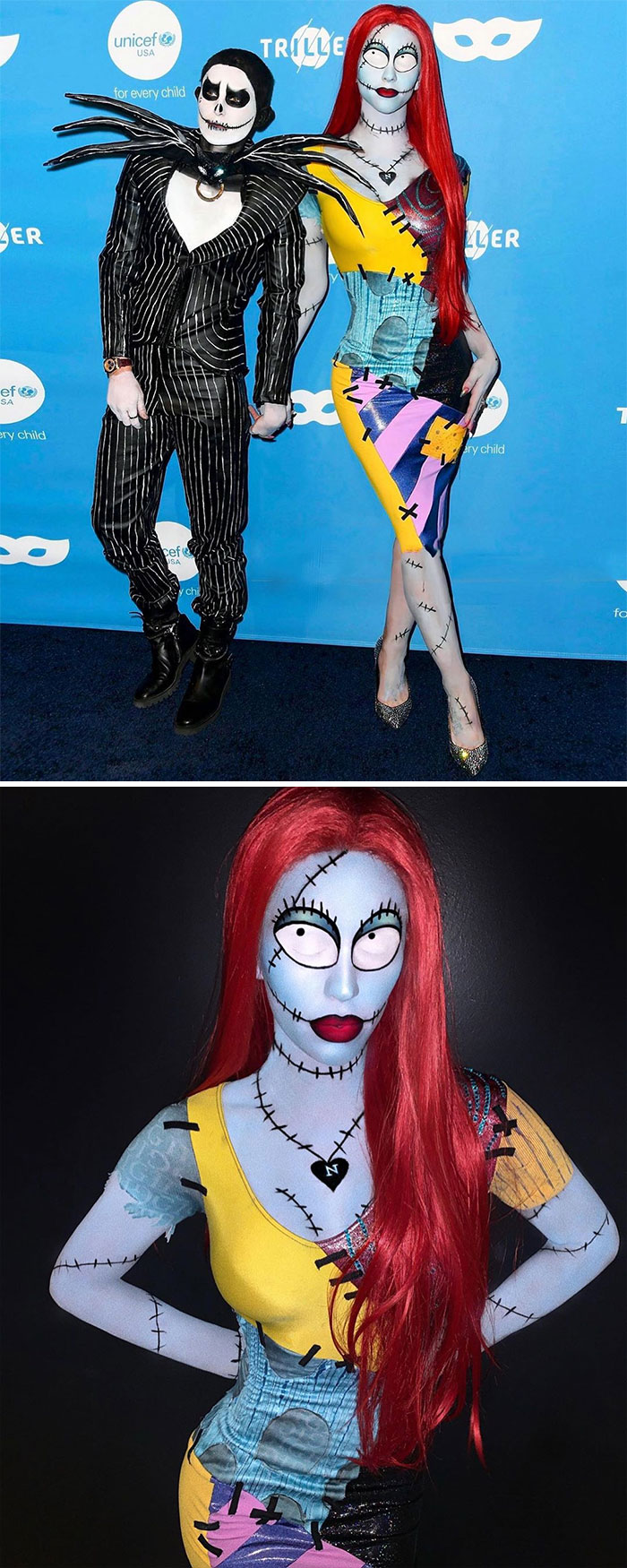 Canadian YouTuber Gigi Gorgeous went dressed as Sally from "A Nightmare Before Christmas." And she brought Nats Gerry along because every Jack needs a Sally standing next to them on Halloween.
Demi Lovato as Marie Antoinette and Pennywise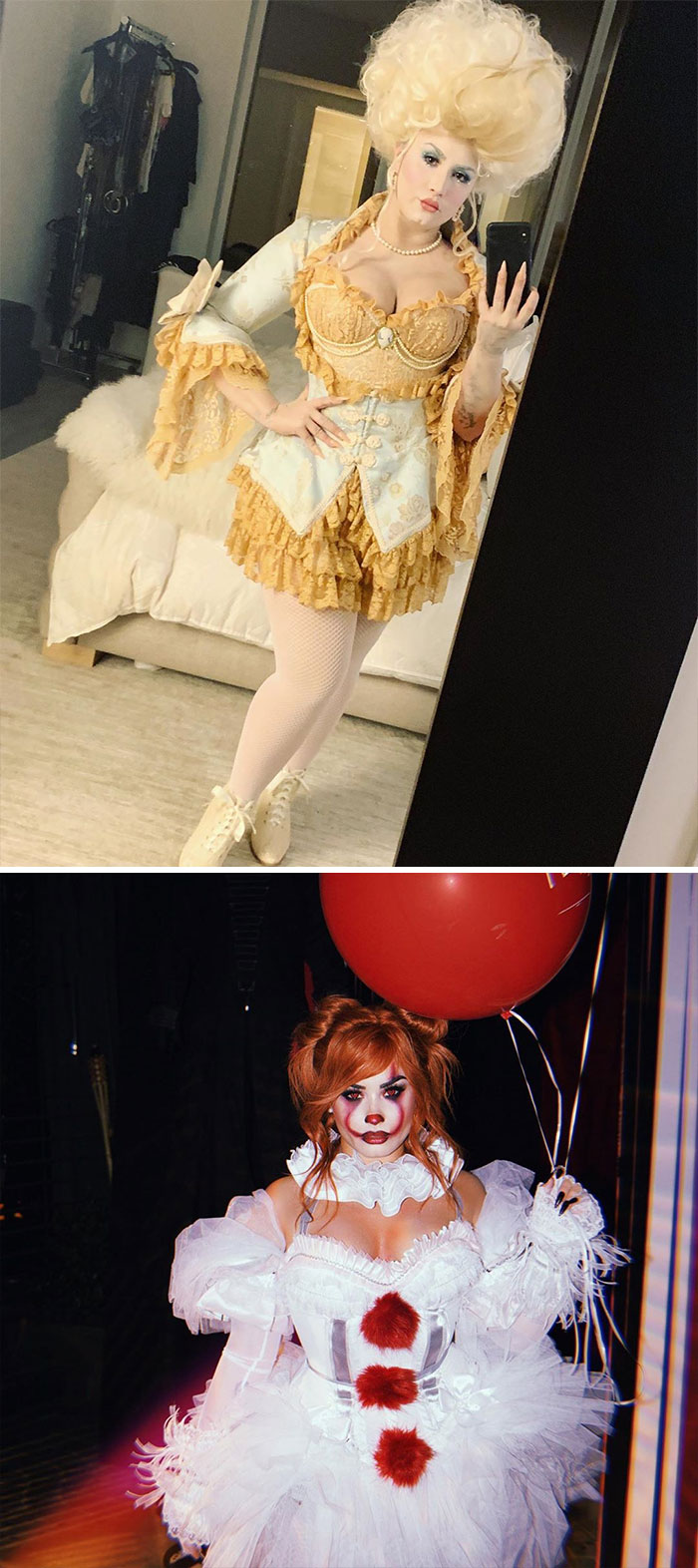 When you're as famous as American singer Demi Lovato, one costume just isn't enough. So, she dressed up as Marie Antoinette, the Queen of France, and also as Pennywise, the clown from "It."  And we totally love her for getting into the spirit of Halloween!
Halsey as Marilyn Manson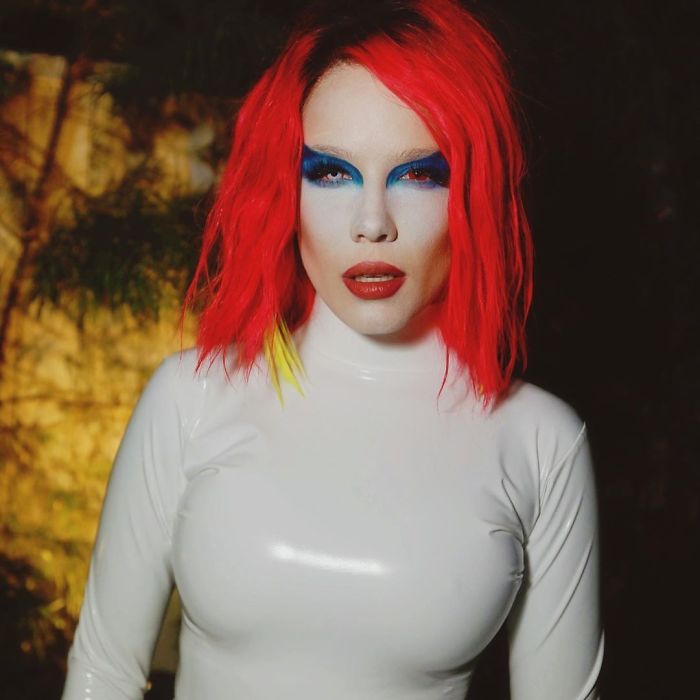 The beautiful singer Halsey has donned all sorts of looks. She's embraced long pink hair to short dark hair with bangs and everything in between. But for Halloween, she took on singer-songwriter Marilyn Manson's ballsy look complete with red hair, extreme makeup, and skin tight leather suit.
Patrick Starrr as Shrek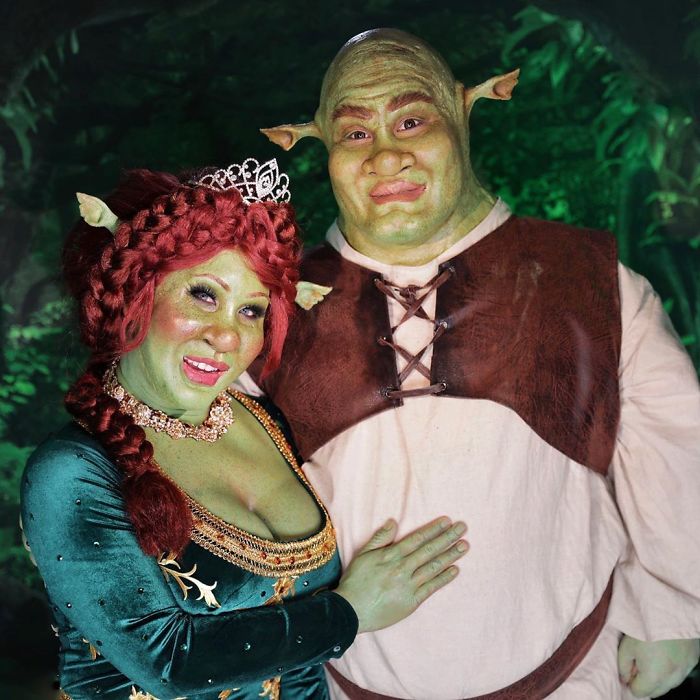 Filipino-American YouTube beauty guru Patrick Starrr turned his love for makeup into a YouTube channel. Not only can he teach people how to turn anyone into a glamorous beauty, but he can do the reverse and turn himself into Shrek.
Bradley Cooper as an Old Lady
Actor Bradley Cooper went full-on geriatric on Halloween by dressing up as an old lady alongside his daughter, Lea. This is just so cute because there aren't a lot of guys who would go all Mrs. Doubtfire to have some plain fun with their little girl.
Michelle Visage as Morticia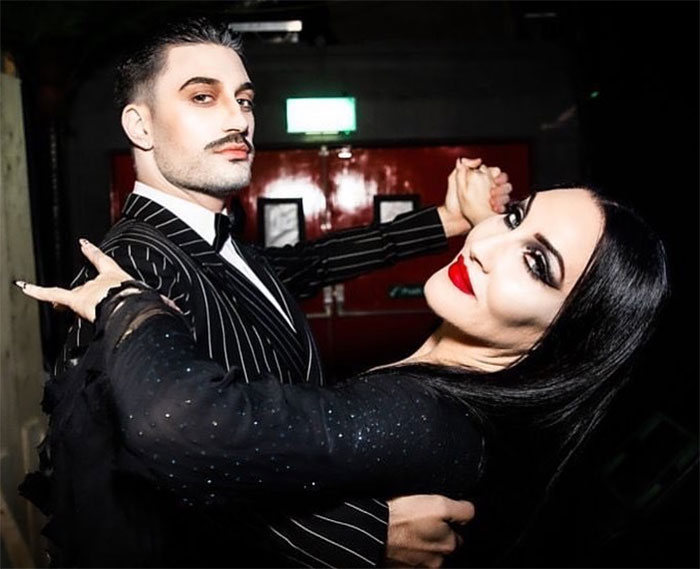 American singer and judge on "RuPaul's Drag Race," Michelle Visage, went as Morticia Addams alongside Italian dancer Giovanni Perniceas. But they didn't dress this way for Halloween. Well, not exactly. They did it for their Halloween performance on "Strictly Come Dancing." Still rocked it!
Drake as His Father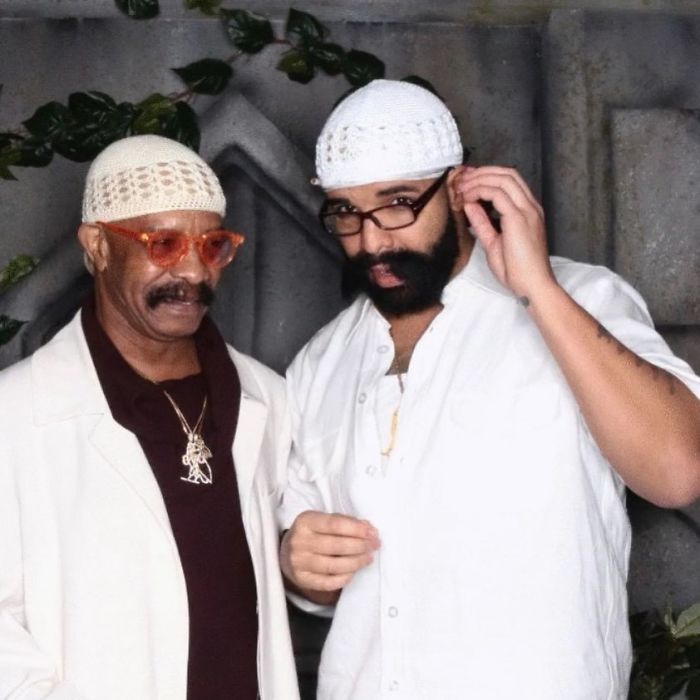 Canadian rapper Drake could have picked from a number of well-known characters to dress up as for Halloween. But instead, he proved he was an awesome son and went dressed as his dear old dad.
Ciara as Beyonce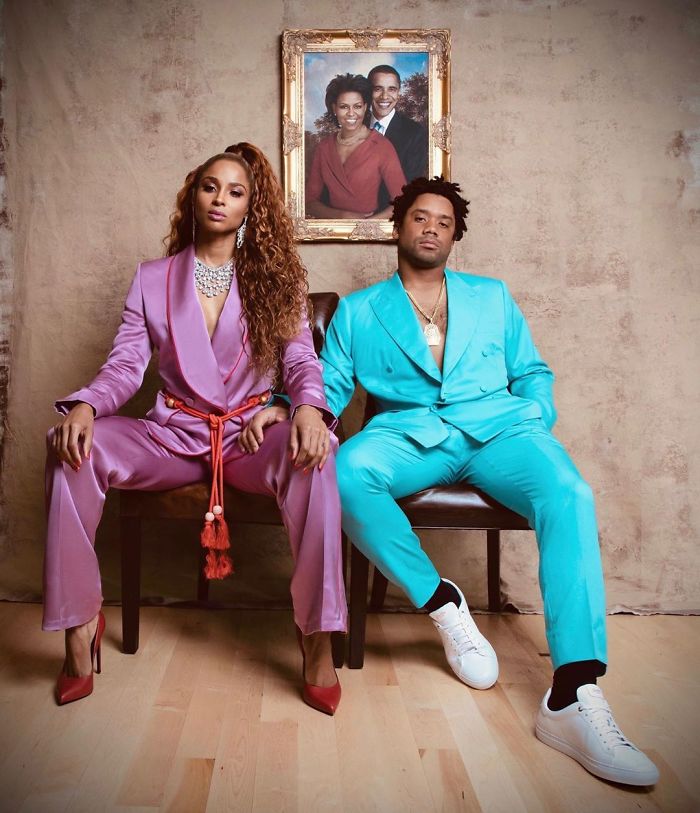 American singer Ciara isn't embarrassed to impersonate the greats on Halloween. So, she went as none other than the queen herself, Beyonce. And her husband, American football quarterback Russell Wilson, went as Bey's husband, Jay-Z, naturally!
Ashley Graham as Jessica Rabbit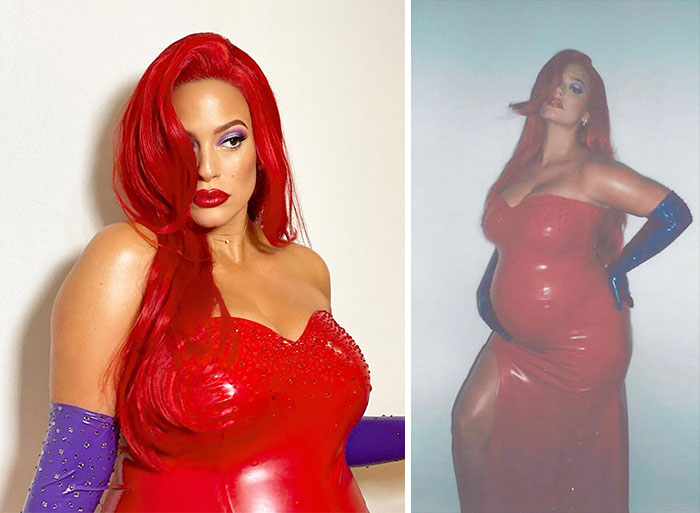 American model Ashley Graham went as the vivacious Jessica Rabbit. And clearly, having a bunny in her oven didn't stop her from wearing a skin tight red leather dress, proving that you can still dress up in a crazy costume when you're expecting.
Gabrielle Union as "Bring It On" Cheerleader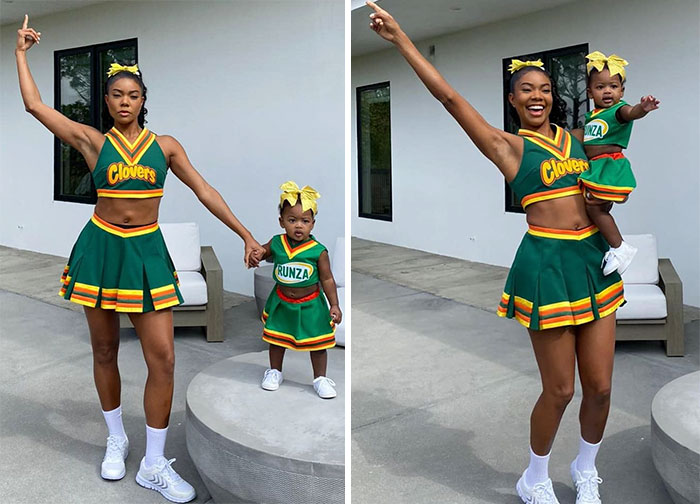 American actress Gabrielle Union's breakthrough role was in the 2000 film "Bring It On." So, it made perfect sense that she would dress up as her cheerleader character. But this time, she had her daughter Kaavia, who was also in a cheerleading outfit, right by her side.
G-Eazy as Three Iconic Characters
American rapper G-Eazy went as Edward Scissorhands complete with wacky hair, makeup, finger blades and leather costume. He also went as the Batman villain, the Joker. And if that wasn't enough, he also dressed up as a Frankenstein monster. Someone really loves Halloween, huh?
LeBron James as Edward Scissorhands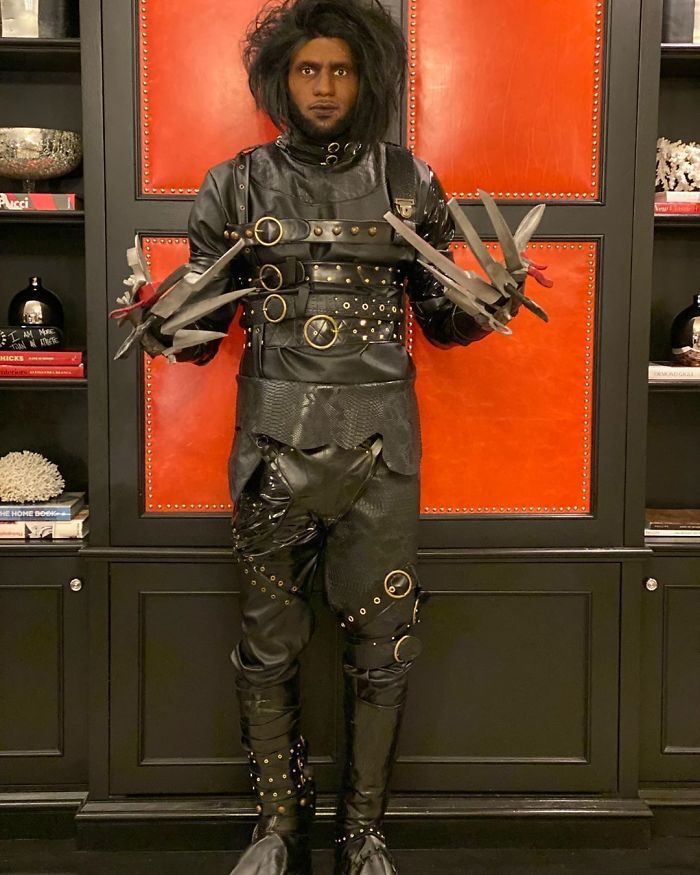 American basketball player LeBron James dressed up as Johnny Depp's Edward Scissorhands. We kind of wish we could have watched him play basketball with those blade fingers. He probably would have impaled the ball in a heartbeat, huh?
Kim Kardashian West as Elle Woods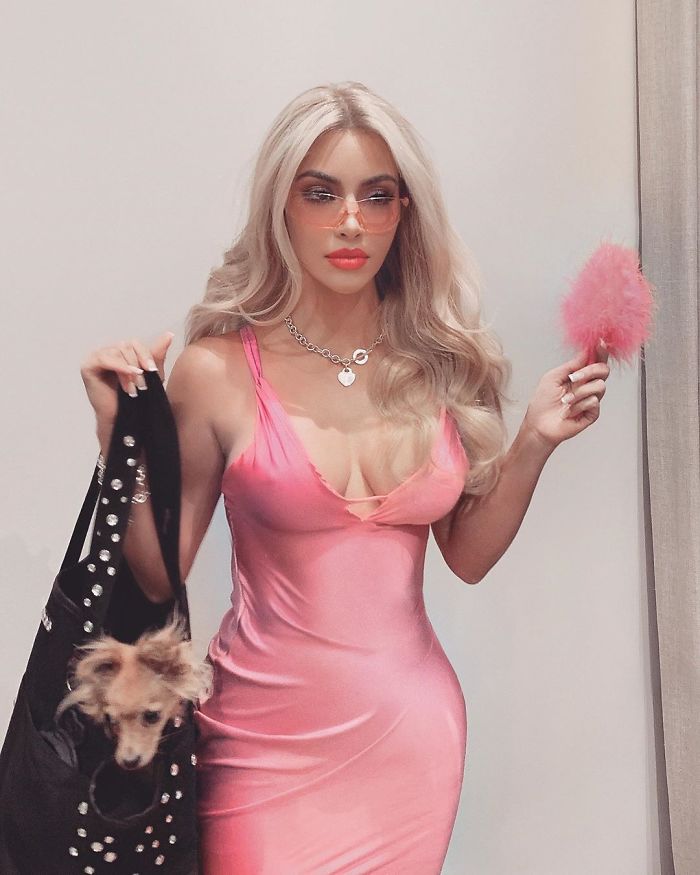 Since Kim Kardashian West is studying to become a lawyer, it makes sense that she would go dressed up as Elle Woods from "Legally Blonde." But we don't remember Reese Witherspoon's Elle wearing what looks like a pink nighty out in public.
Ariana Grande as Twilight Zone Nurse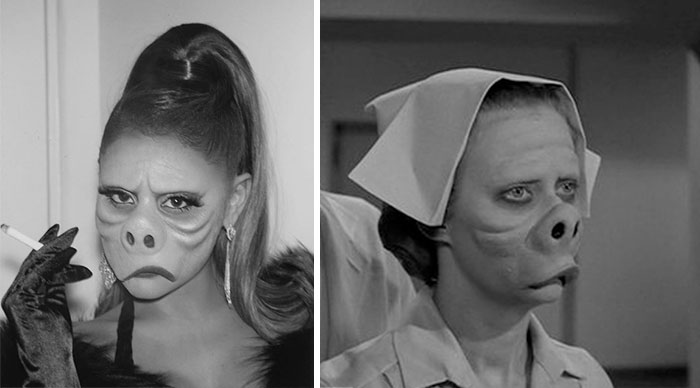 Human cupcake and overall goddess Ariana Grande donned the face of the nurse from the "Twilight Zone" episode "Eye of the Beholder." Of course, Ari glammed it up a bit with diamond earrings, arm gloves and a cigarette in one hand.
Heidi Klum as a Cybernetic Frankenstein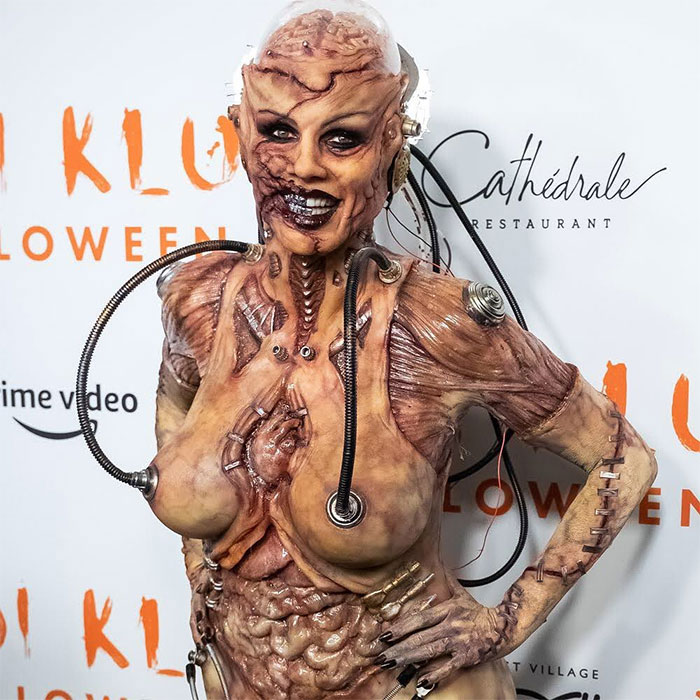 Model and former "Project Runway" host Heidi Klum never disappoints on Halloween. So, with the help of a hefty bank account and a team of makeup artists, she was able to dress up as this cybernetically enhanced female Frankenstein monster who's missing a few layers of skin.
Jessica Biel as Justin Timberlake
Actress Jessica Biel dressed up as her husband, Justin Timberlake back when he had those adorable curls. Meanwhile, Timberlake himself went as a large microphone. But he didn't look very happy. Maybe she dropped the mic one too many times.
Jason Momoa as Elvis Presley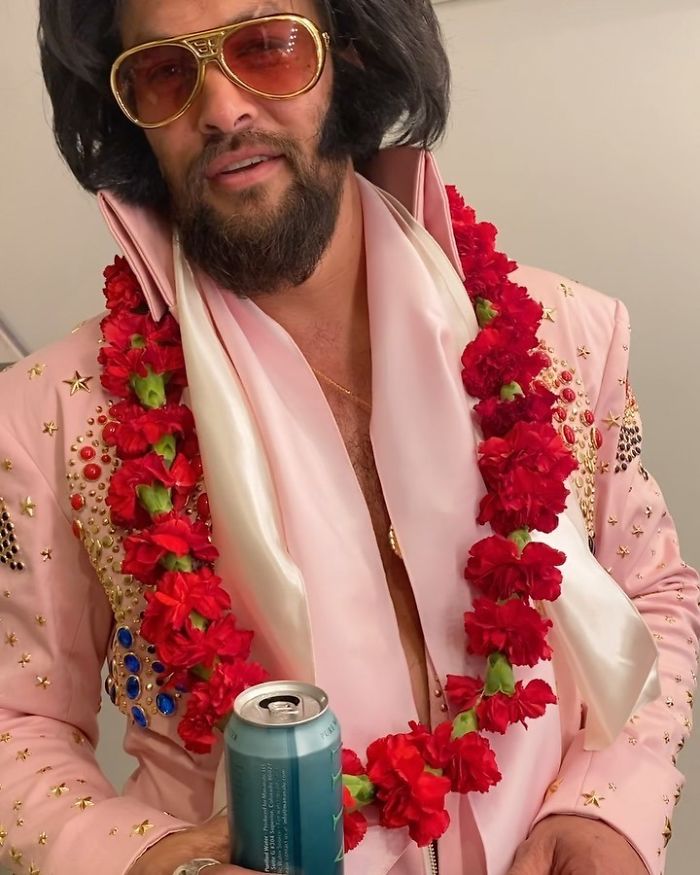 "Aquaman" actor Jason Momoa dressed up as the King of Rock and Roll himself—Elvis Presley. All he had to do was put on a wig, a pair of sunglasses, one of Elvis' pink suits and a lei around his neck and he was all set. He even danced the part on Ellen.
The Weeknd as the Joker
Canadian singer The Weeknd dressed up as the iconic DC villain, the Joker. But he was inspired by Jack Nicholson's Joker look from the 1989 "Batman" film, and not the darker character played in later film roles. We're really digging the retro vibes!
Paul Rudd as Weird Al Yankovich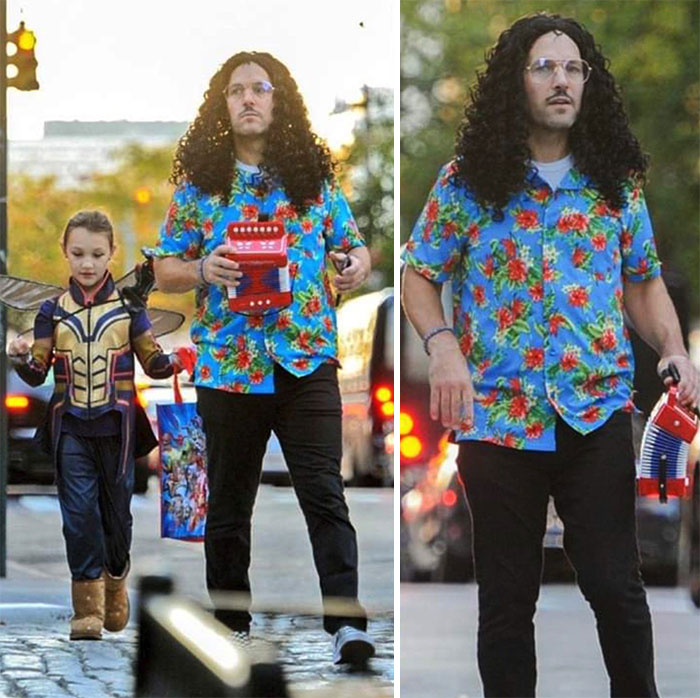 Actor Paul Rudd dressed up as comedian Weird Al Yankovich complete with long, curly hair, glasses and floral shirt. He even brought a toy accordion with him while his daughter walked next to him dressed as the Wasp.
Kevin Hart as Dwayne Johnson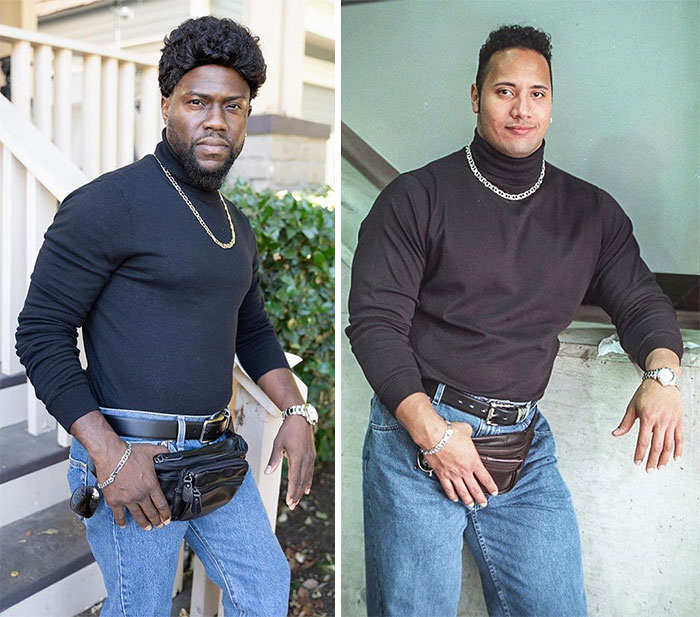 Actor Kevin Hart put on a wig, a tight black shirt, and a fanny pack to recreate the iconic look of Dwayne Johnson back when he was known to the WWE world as The Rock. Hart even put a tissue under his arm so he wouldn't get the sleeve's dirty just like Johnson did.
Maria Menounos as McDonald's Employee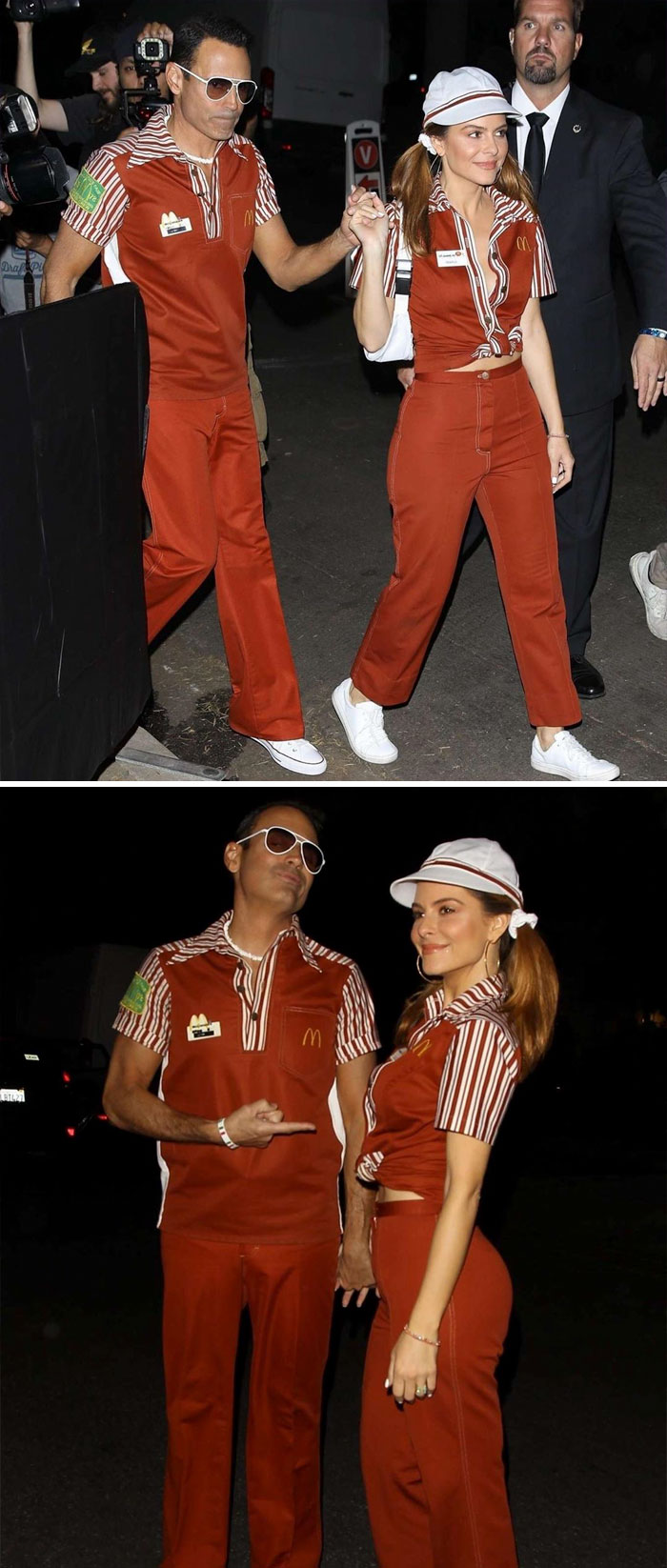 Eentertainment reporter Maria Menounos dressed up as a vintage McDonald's employee complete with pigtails and all. Granted it's not the scariest costume, but it did wonders for her overall look. She looks seriously adorable! She probably made a lot of trick or treaters hungry for McDonald's on Halloween, that's for sure!