Everyone wants perfect wedding photos, but most pictures end up looking like cliché perfection in the wedding album. Well, Ian Weldon, a self-proclaimed "Not a Wedding Photographer" is sharing some hilariously unbiased wedding snaps that show just how chaotic weddings really are.
The Beer Opening Trick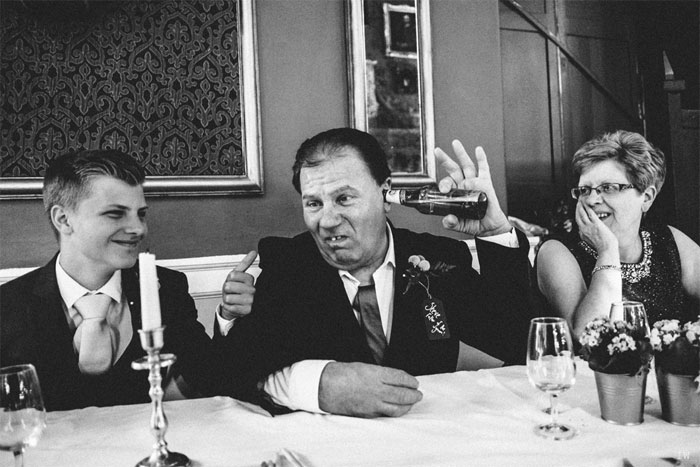 There's always that one family member who is always looking to stand out like a sore thumb, like this guy who seems to be opening a beer bottle with his ear.
Get Out of Here!
You can almost hear the little girl saying "But I want to be in the photo too!" Sorry, girlfriend, but this photo is for boys only.
He Ripped His Pants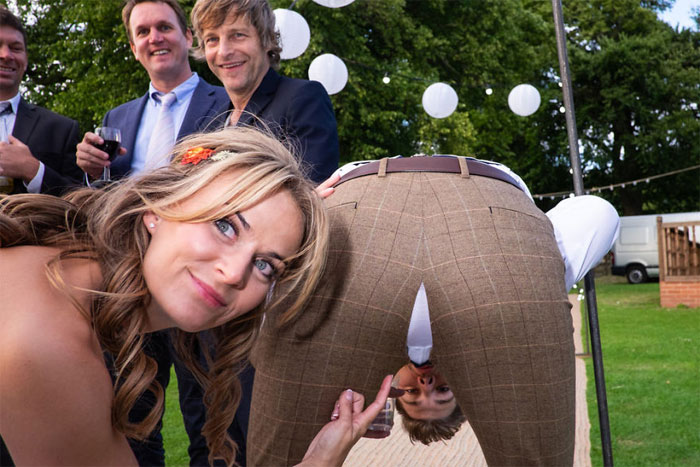 It's all fun and games at the wedding until the groom makes a wrong move on the dance floor and rips his pants. But the expression on the bride's face is absolutely priceless.
I'm Okay, Really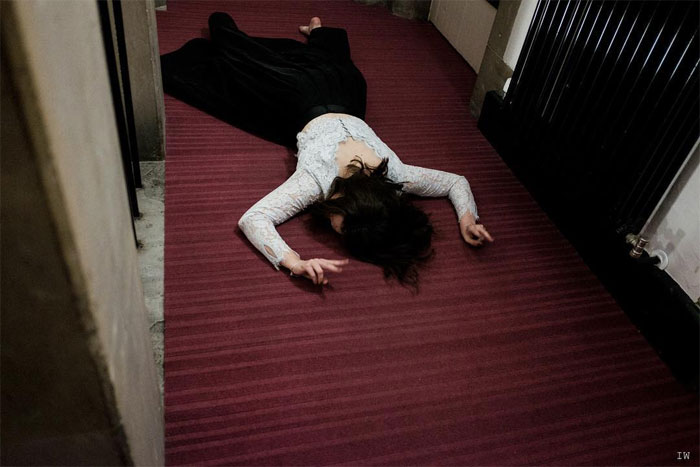 This woman has fallen down and she can't get up. But she's flashing the peace sign so that the guests know that it's all cool and that she doesn't need any help from anyone. "Just keep rolling, everyone!"
She Devours Cake
The bride licking the spatula isn't her finest moment. Meanwhile, the groom seems to be pointing at something. Maybe he's saying, "Try using a spoon or a fork next time, honey."
Cupid's Ready To Strike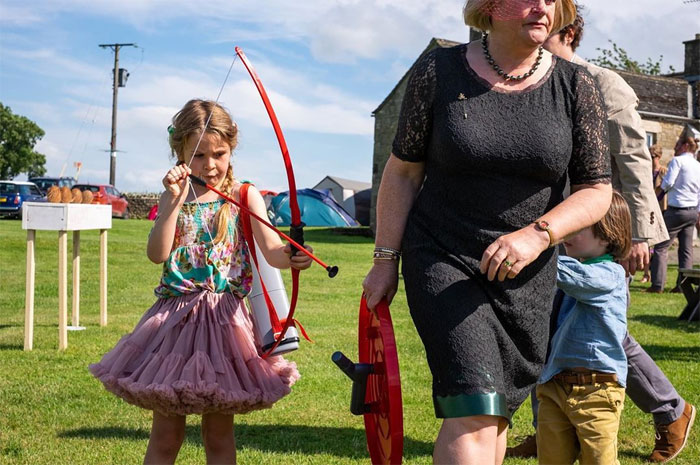 The thing about kids is that you can't uninvite them to a wedding, but you can't expect them to behave themselves either. So, we almost feel bad for that lady who's about to get hit with Cupid's arrow. Almost.
The Kissing Photobombers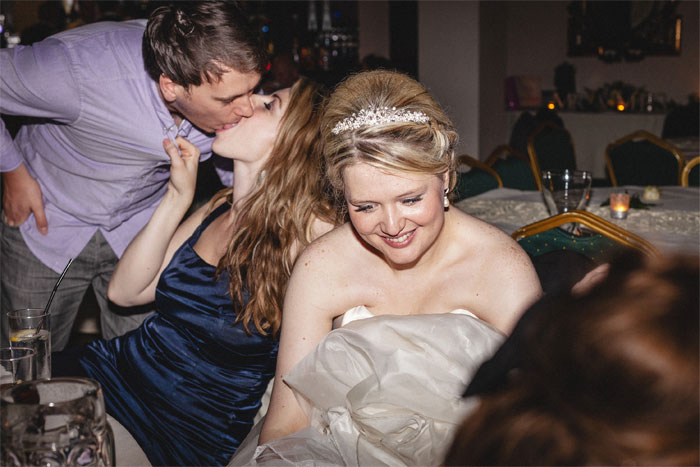 The bride is always supposed to be the center of attention. But in this shot, the blushing bride is being photobombed by that couple who looks like a grown bird feeding a baby chick. Can you say "awkward"?
Smile for the Camera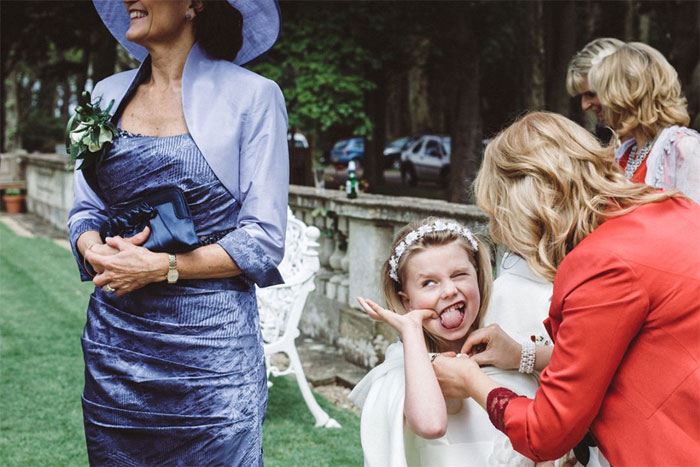 The mom is probably begging her young daughter to behave like a proper lady, but the little girl is determined to act like herself, no matter what outfit her mommy dresses her in. Don't let them change you, girl!
Speech Gone Wrong
This is what happens when you try reading a speech from your laptop and it freezes up on you. The expressions on the bride and groom are priceless. It's like they're saying, "Houston, we have a problem!"
Emergency Crease Removal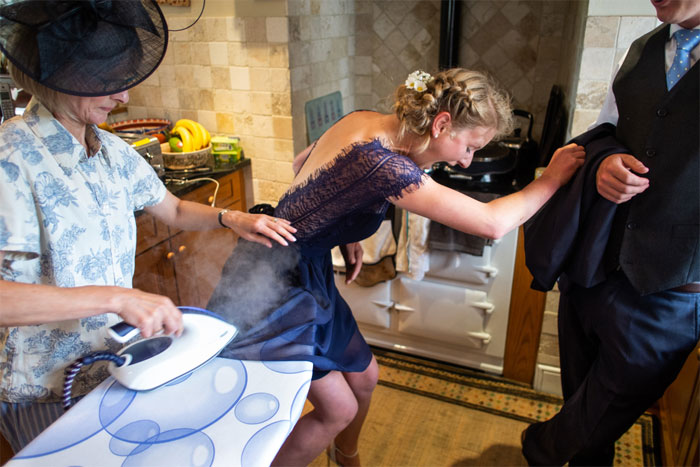 Looks like someone had a crease in their dress that needed a quick fix. So rather than asking her to remove her dress and ruin her hair, she had someone iron the fabric while she still had it on.
Got Rice?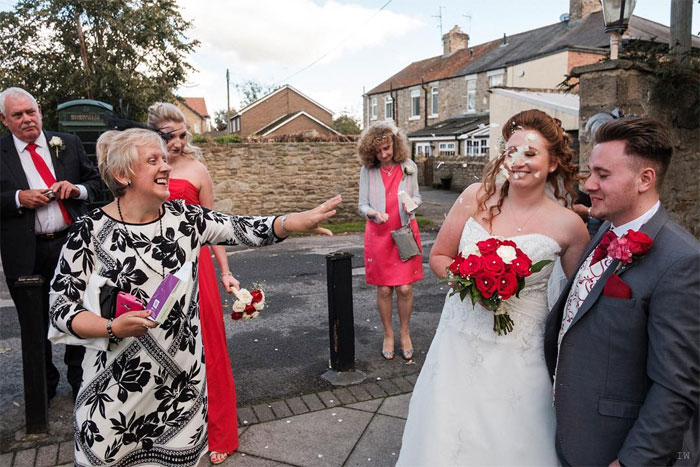 Throwing rice at the bride and groom as they leave the church is a time-honored tradition. But this snap shows that it can sometimes feel like an assault on the happy couple. In fact, it kind of looks like the lady threw cooked rice on them. Yikes!
Let's Get Grandma Drunk
Fortunately, no one had any issues with grandma because she's clearly busy gulping down some champagne even before the official wedding toast. See? Grandmas always know how to survive the chaos that goes on behind a wedding.