We have all heard of Hooters, the famous restaurant chain where the women are hot and the food is good. The first Hooters restaurant opened up on April Fool's Day 1983. The founders of the restaurant were not sure if it will be a success and were prepared for the worst. However, their worst fears were just fears and the restaurant actually became a hit. What started as a small restaurant is now a chain of successful enterprises with more than 400 outlets all over the world. But, what's it like to actually be a Hooters girl? Check out this list of stories from women who used to work at Hooters and see for yourself.
From the Jump Start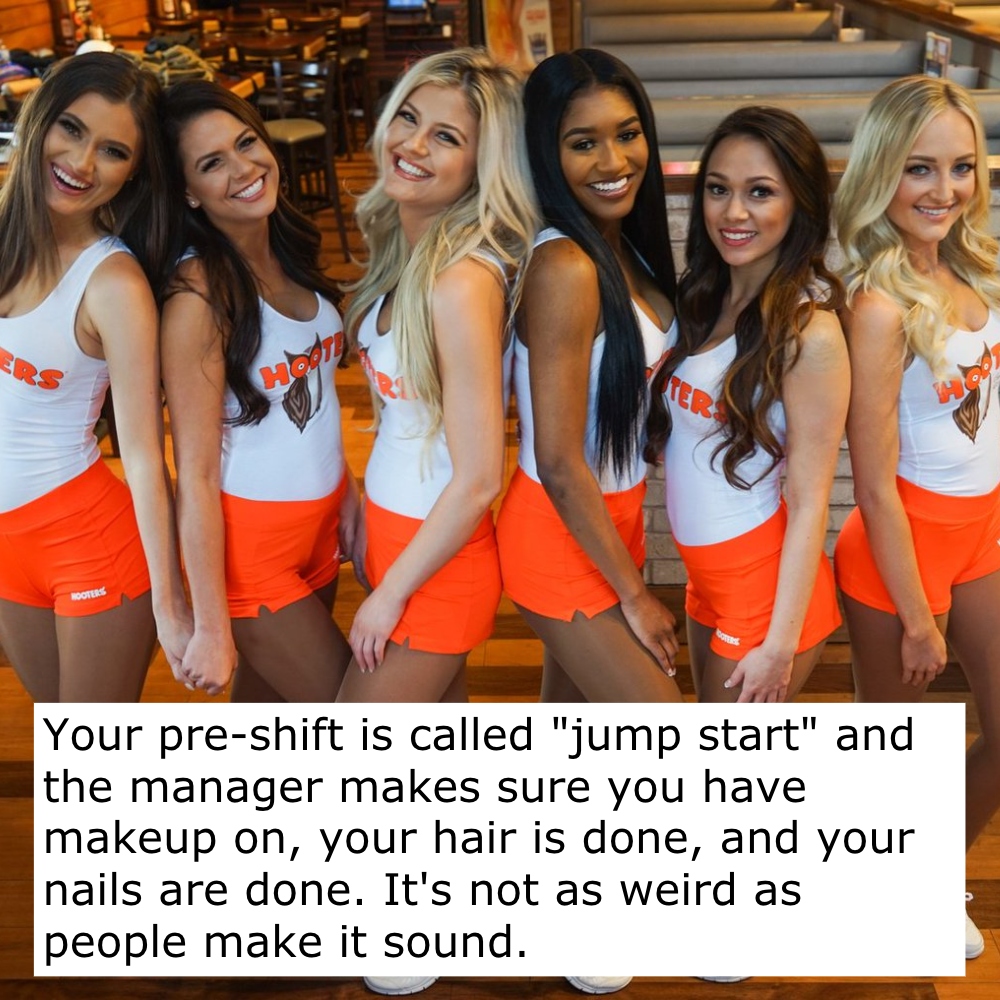 All right, let's kick things off with the Hooters jump start. Apparently, before a shift, Hooters staff members get together and go through a couple of checks. Firstly, the manager makes sure staff are properly made up, and that their hair is both down and styled. For a place that serves food, isn't this a little odd? As well as that, managers check each Hooters girl's nails to make sure they're appropriately painted. According to this former staff member, the jumpstart isn't as weird as it sounds.
Not Raking it In
Shamefully, the wait staff doesn't make a lot of money, especially in the USA where they have to rely on tips to bulk up their wage. According to this former Hooters employee, Hooters girls made a measly two bucks per hour. Seriously, that's not even enough to buy a bus ticket to work. However, this former employee points out that staff members make more money when doing promotional work. This could include driving around in a golf cart or posing for pictures with the public.
Say That You're Smart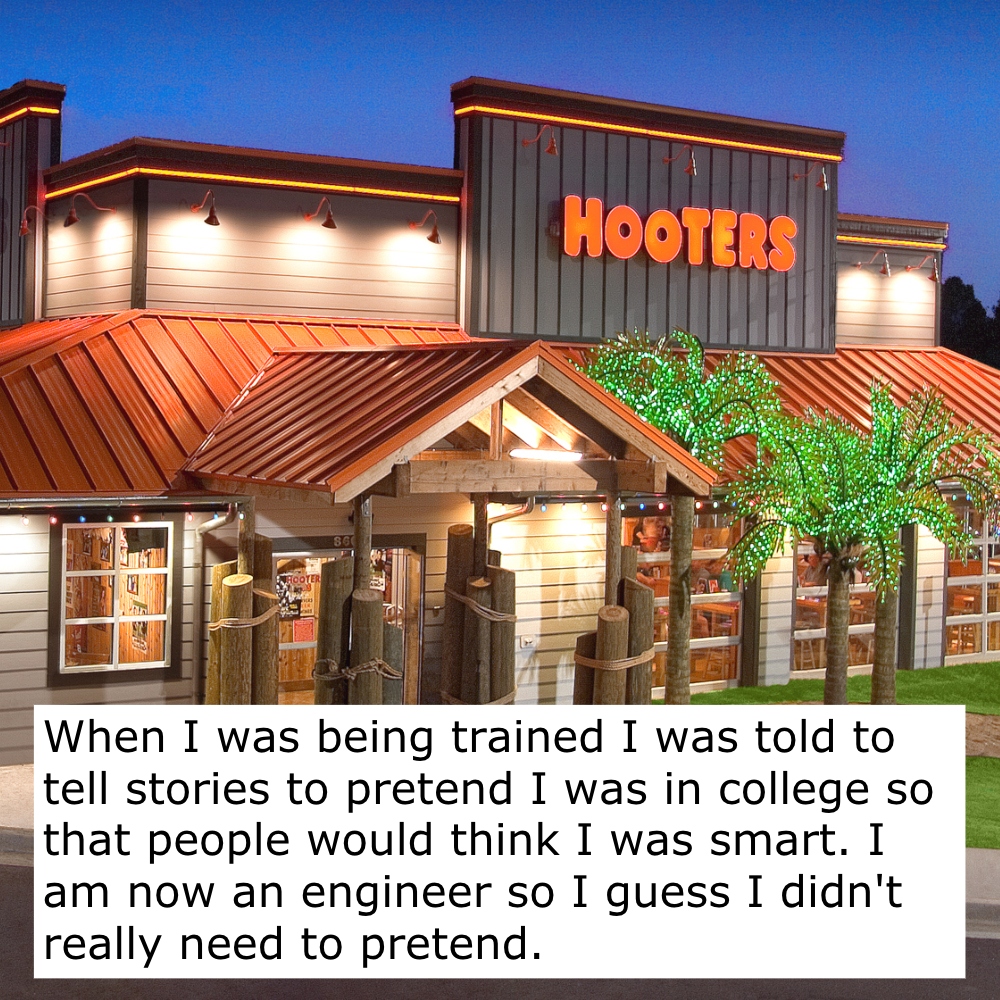 For restaurants like Hooters, the brand relies on hiring a certain type of Hooters girl. For the chain, their ideal waitress appears relatively clean-cut — no tattoos or piercings — but also a "good-time girl." In fact, in the qualifications section in the Hooters girl job advert, it says "Ability to Maintain Attractive Fit & Image." However, the company clearly wants their staff to seem like more than just pretty faces. That's why they told this former employee to talk about college.
Hula Hoop for Hooters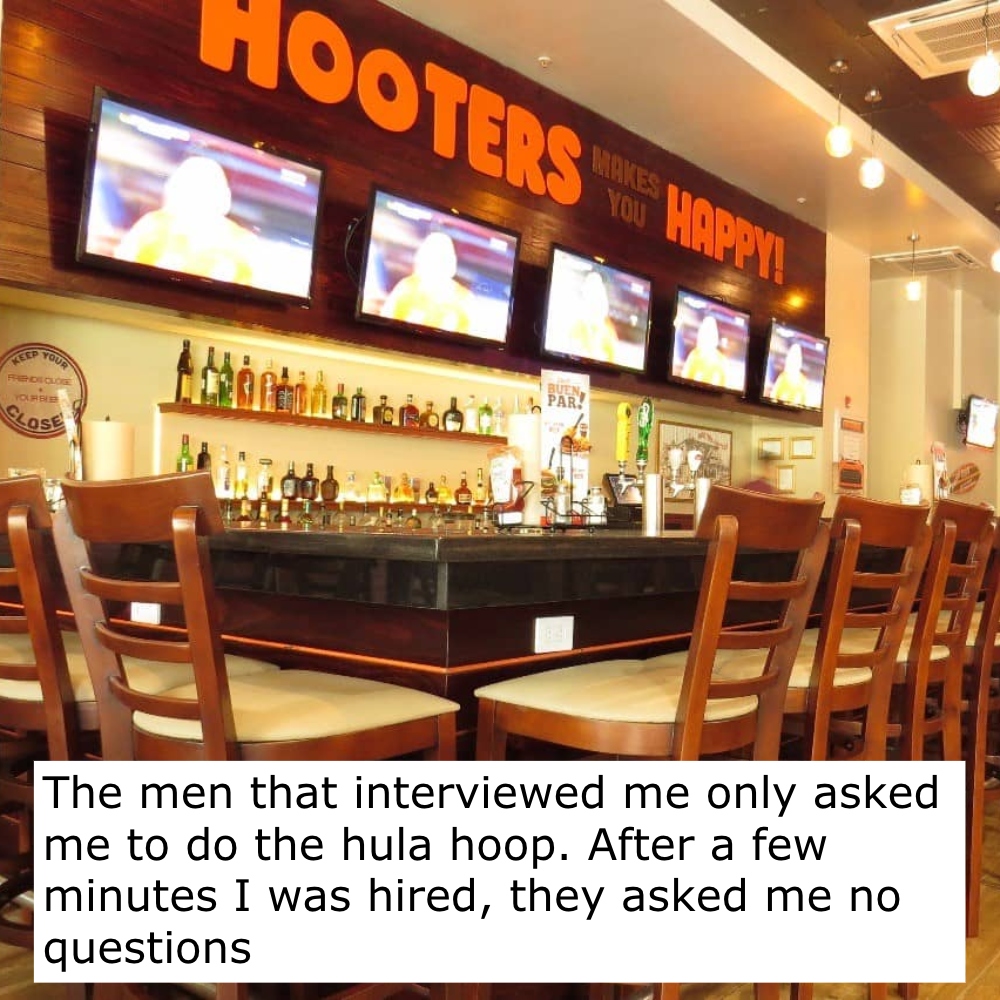 It should come as no surprise that Hooters can be pretty problematic when it comes to hiring practices. After all, if one of your job criteria is the ability to maintain attractiveness, there's going to be a lot of people keeping an eye on how you look. This former Hooters girl didn't exactly have a normal interview when they applied to work at the restaurant. She was asked to hula hoop and then hired with no further questions. Is it just us or is that a little icky?
You've Gotta Get Good Grades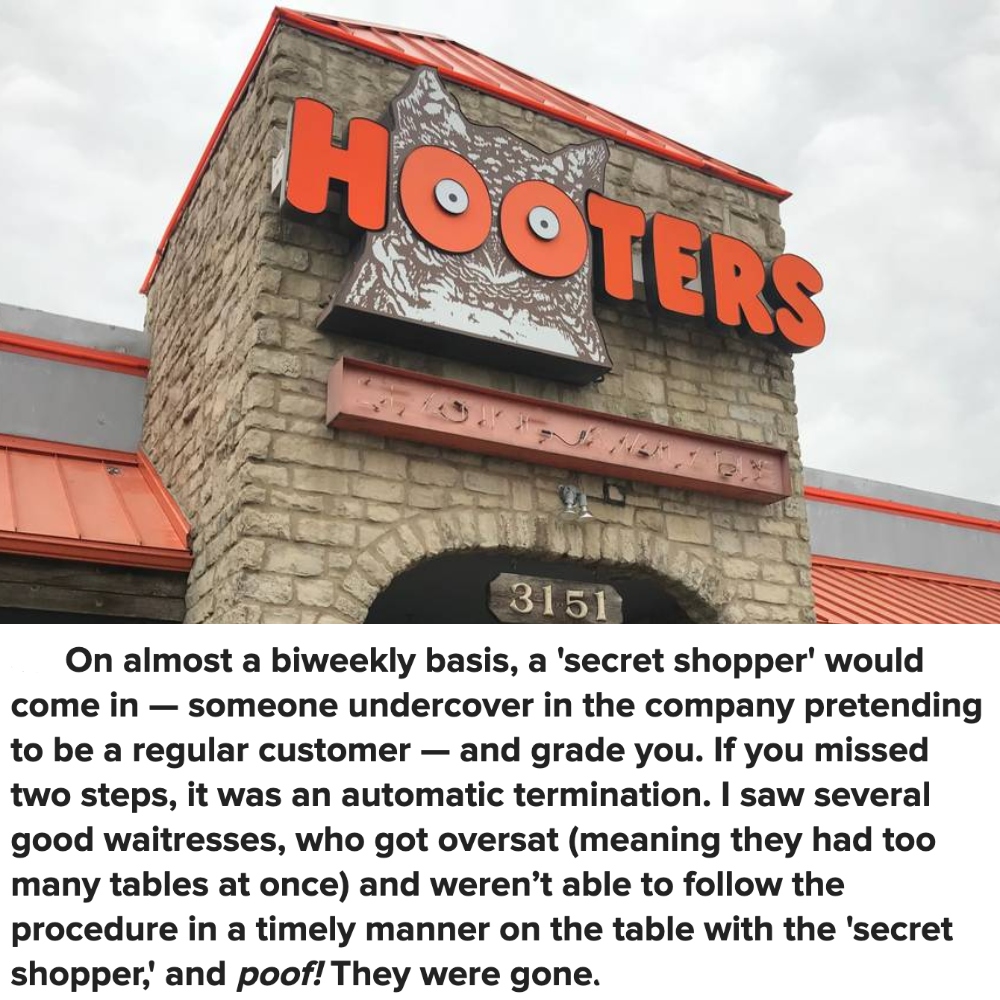 Nowadays, lots of companies use secret shoppers to make sure that their establishment is running as it should be. In Hooters, this means sending in a secret shopper to make sure that staff members are seating and seeing to customers on time. It looks like Hooters is pretty serious when it comes to their secret shoppers. According to this next story, several good waitresses lost their jobs because they didn't adequately impress the mystery shopper.
Alpha Sigma Hooters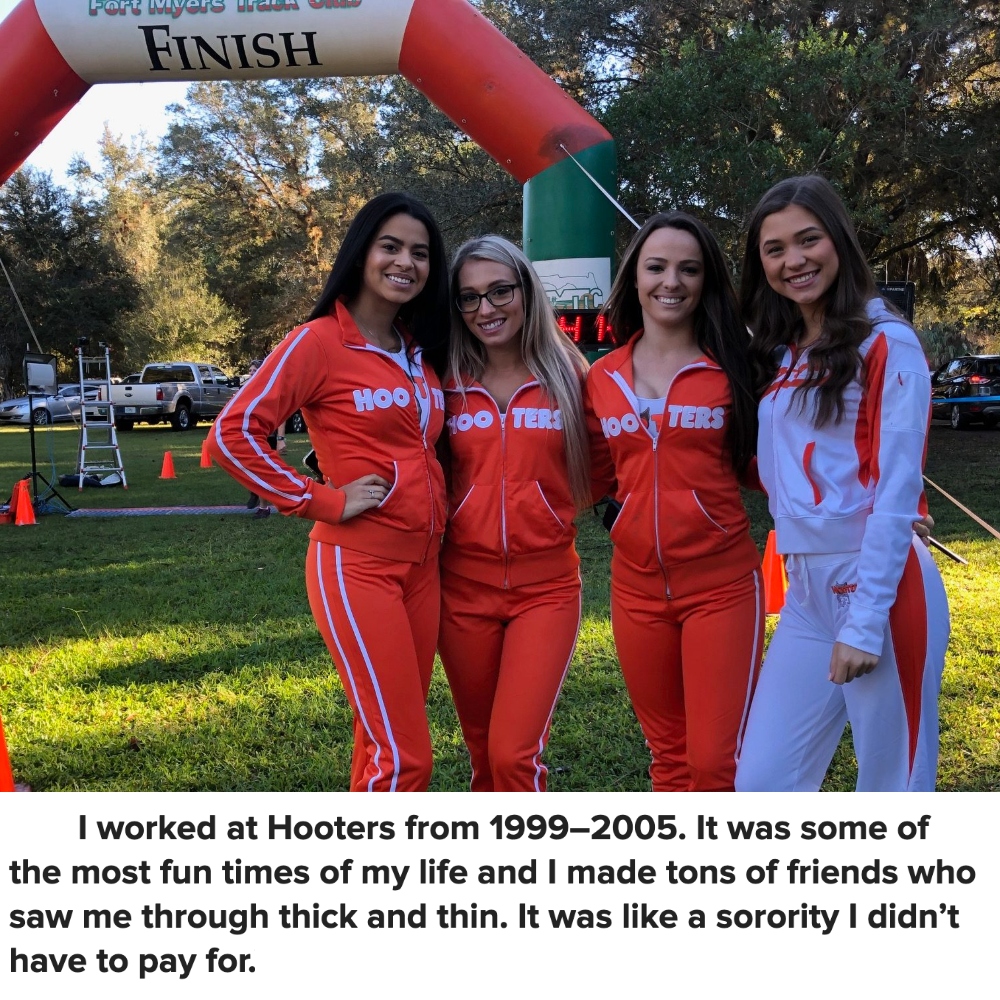 Even though Hooters asks a lot of its waitstaff, lots of former employees seem to have had a good time working there. Sure, the place is full of rafters with creeps and oddballs, but it can also be a fun working environment full of like-minded women. This former Hooters girl was with the chain for six years and felt like she was in a sorority. Hey, being Hooters girls is definitely a shared connection.
Shrimp Tail Tips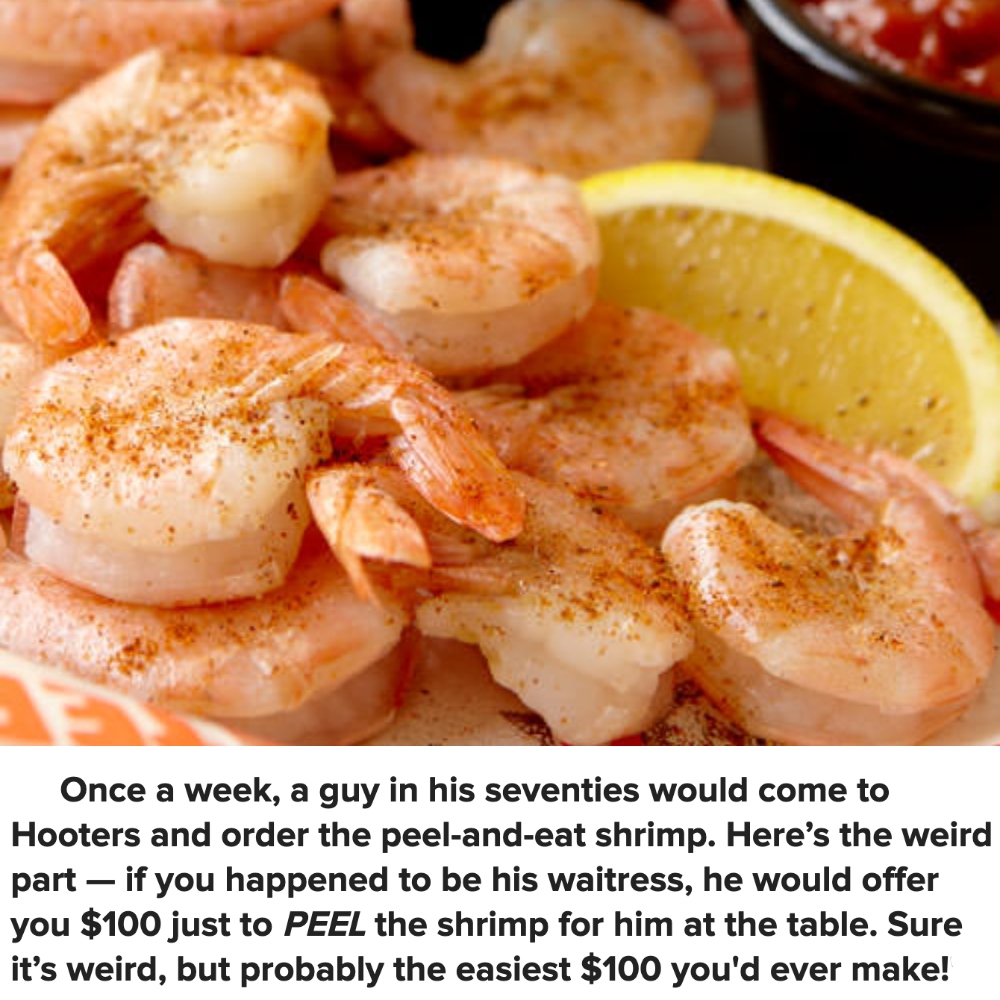 Naturally, working at Hooters comes with its fair share of creepy customers. It's just part and parcel of the gig, and rather unavoidable when all of your wait staff wear tiny uniforms. However, with creeps come cash, as this next story shows. This former Hooters employee used to make $100 for peeling an elderly man's peel and eat shrimp for him. Sure, that might not sound that creepy, but we wouldn't peel someone else's shrimp for anything less.
Hooters Paid for My College
Impressively, Hooters has a college reimbursement program that rewards staff members who go through higher education. This scheme kicks in once you've been with the company for six months. From what we can gather, college students working at Hooters submit their grades to corporate at the end of each semester, and they take into consideration course hours, work hours, and GPA. After that, you can get up to $1,000. This is the one case where we think other companies should follow Hooters' lead!
Wanna See My Album?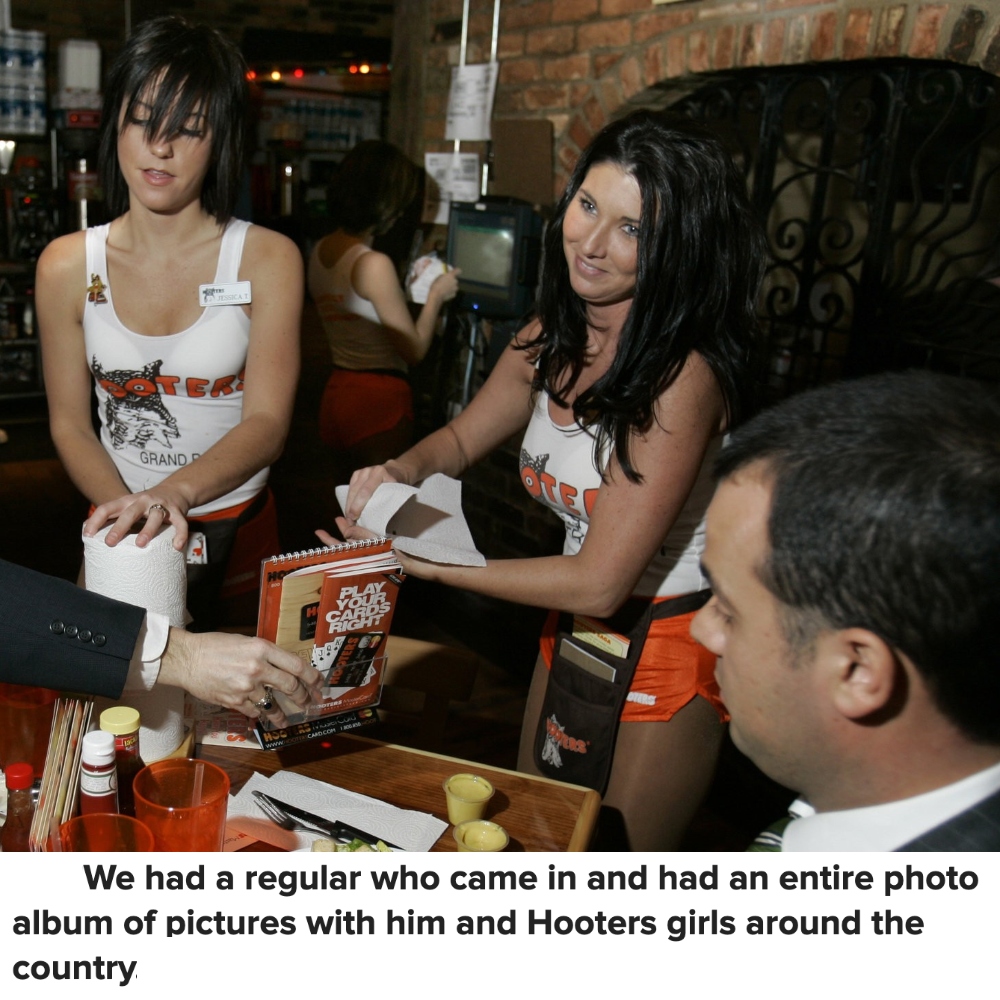 People who've worked in the service industry know that you come across rather a lot of strange folks. Let's be honest — the world is absolutely bursting with strange folks, so it's no surprise that lots of them attend a restaurant with women wearing tiny shorts. The Hooters regular mentioned in this post is clearly a huge fan of the chain. This customer had a whole photo album dedicated to photographs of himself with Hooters girls from around the country.
Get the Greeting Down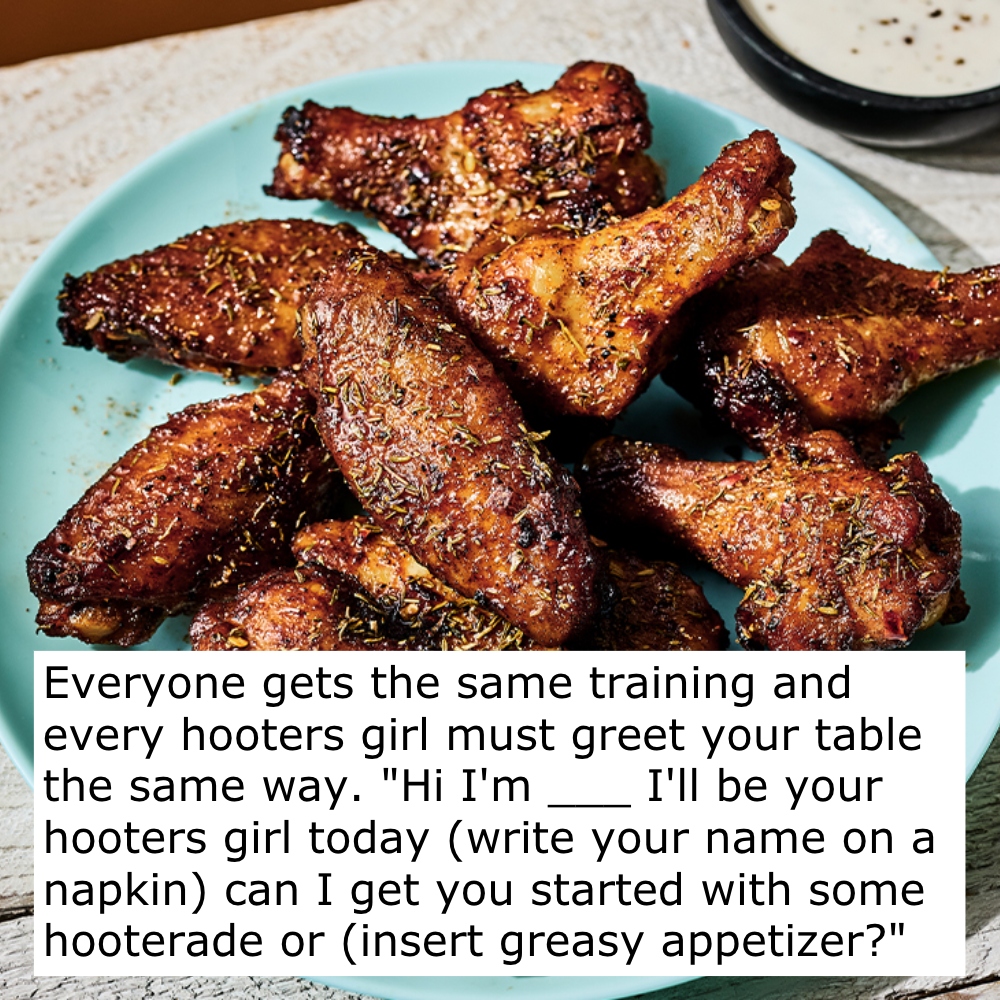 As with most chain restaurants, Hooters has a particular formula for how its floor staff should greet customers. To begin with, the Hooters girl must introduce themselves and write their name on a napkin. Then, they offer customers some Hooterade and tempt them with one of the restaurant's appetizers. For the record, some greasy Hooters appetizers include the Bacon Wrapped Wings, Lots-A-Tots, and Chicken Chips. This means that if you visit any Hooters location, the greeting should be the same.