Some people don't like to travel by plane. But it's not because they're afraid the craft is going to crash. They just don't want to deal with the horrible groping courtesy of TSA agents. But there's a reason why airport security have to be so diligent. Check out some of the most insane things TSA caught travelers carrying!
Contraband and a Knife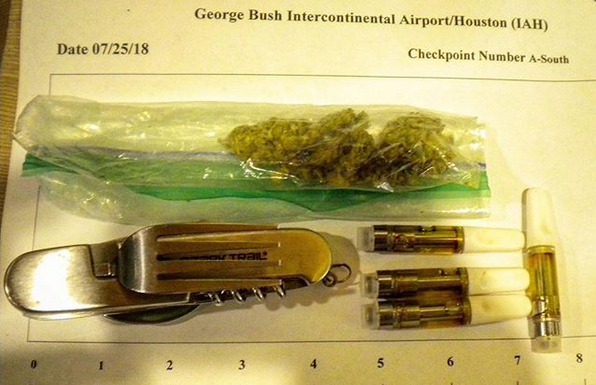 Not packing contraband in your luggage is a no-brainer. But someone at George Bush Intercontinental Airport did. That being said, if you have a State-issued cannabis card indicating you need it for medical purposes, then bring it, but leave the knife at home.
Seahorses in a Bottle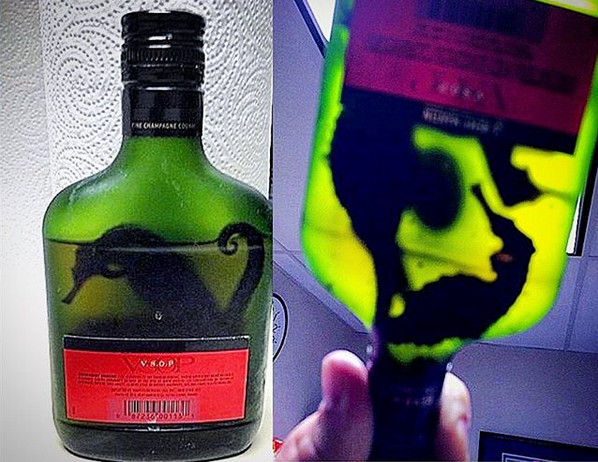 At the Detroit Metropolitan Airport, TSA agents X-rayed a passenger's carry-on bag and found a large alcohol bottle, which in itself was illegal. But instead of alcohol, the bottles had five endangered seahorses and they were all dead. What the heck were they thinking?
Chainsaw in a Carry-On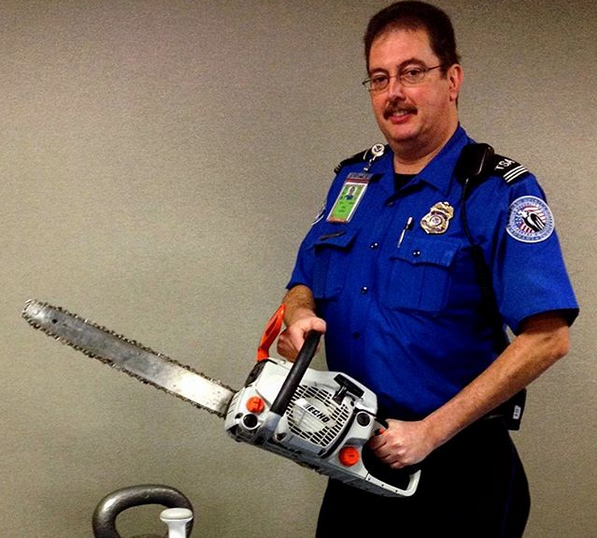 A passenger put a chainsaw inside their carry-on. Luckily, TSA agents at the Albany International Airport confiscated it before the owner could go all Leatherface from "Texas Chainsaw Massacre" on the passengers. But chainsaws are allowed in checked bags as long as there are no traces of fumes or fuel.
A Lipstick Knife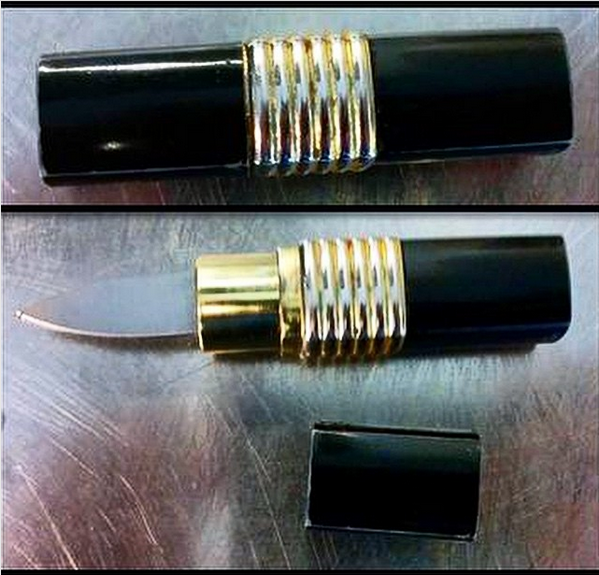 TSA officials have found all sorts of bizarre and outrageous things. But this lipstick was pretty sharp, and we're not talking about the color. It was a knife camouflaged as a lipstick container, which was later posted on TSA's Instagram.
Nightmare on Elm Street Glove
TSA has a pretty strict no-knife policy, as you can imagine. They don't care if it's Freddy Krueger's glove from "Nightmare on Elm Street" either. You can't bring a glove with sharp finger blades to the airport. Period.
Eels and Other Marine Life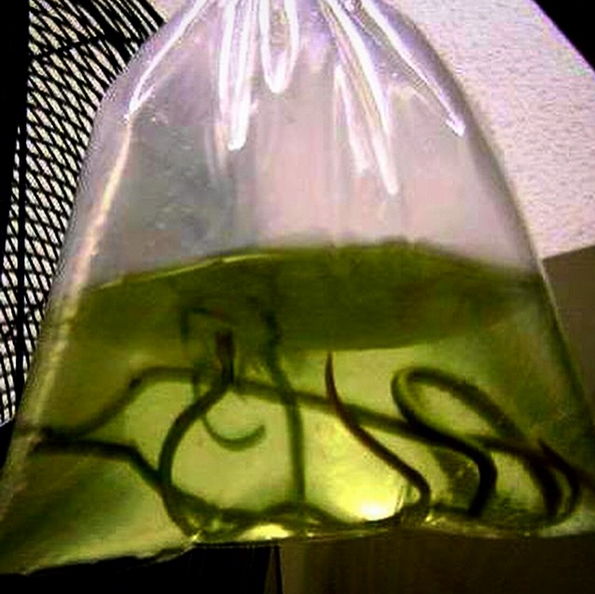 A passenger at Miami International Airport was forced to surrender over 160 marine tropical fish and 22 invertebrates to the United States Fish and Wildlife Service after getting caught. TSA also found a sack full of eels in one of their bags.
Human Skull Fragments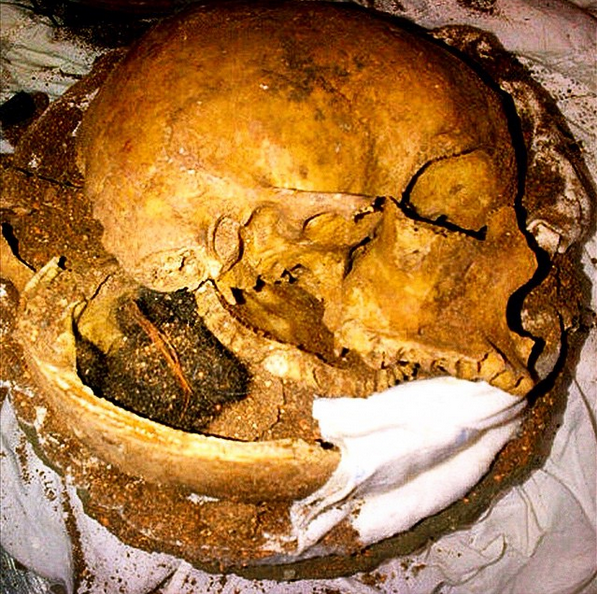 TSA officials at the Fort Lauderdale International Airport discovered something creepy inside a passenger's luggage. They had just bought clay pots and didn't realize skull fragments were inside until agents discovered them. Soon enough, the airport turned into a crime scene.
Avalanche Producing Explosive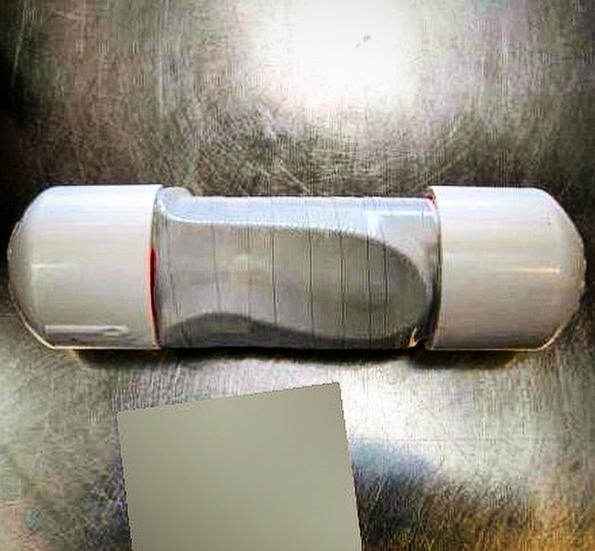 TSA found an avalanche-triggering explosive in a carry-on baggage at Tom Stevens International Airport in Anchorage. The item belonged to an oil worker and mountaineer who was arrested. But authorities found that device didn't have a triggering mechanism, so there was no actual danger.
Hand Grenades in Tuxes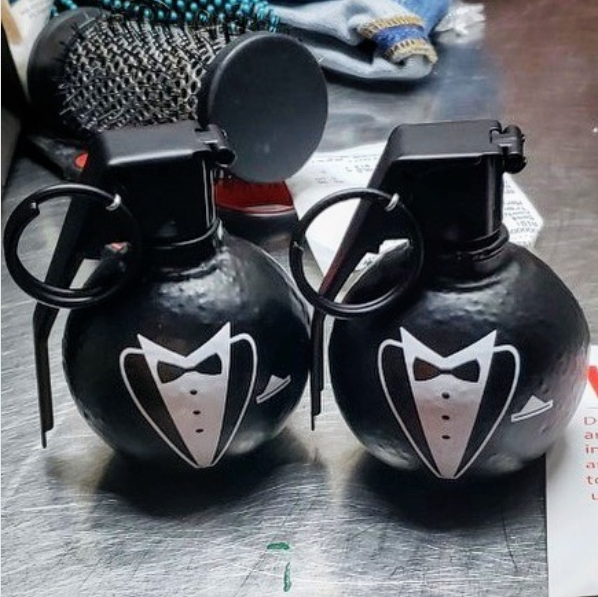 Although these hand grenades were fake and wedding-themed, TSA took it as a serious threat. So explosive specialists were forced to respond, and an evacuation undoubtedly ensued. But hopefully, the bridal party learned their lesson.
Gas Mask With Bullets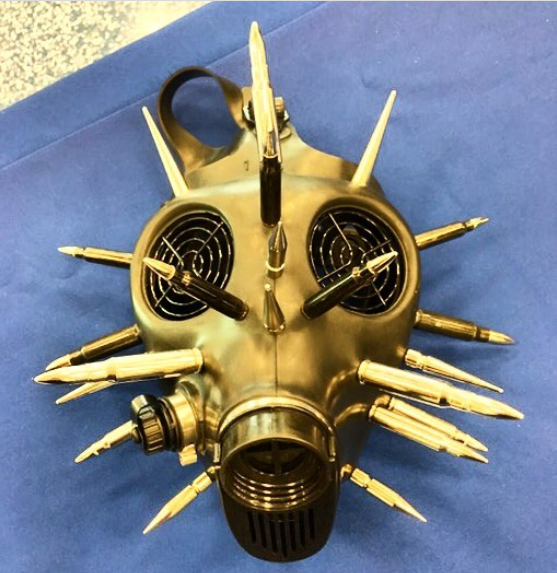 TSA agents at Miami International Airport had no issues with a gas mask they found. They're actually allowed on flights. But this particular mask was decorated with bullets. Alright. So, they were bullet replicas, but real or fake, TSA wound up confiscating the mask.
Firecrackers in Hand Luggage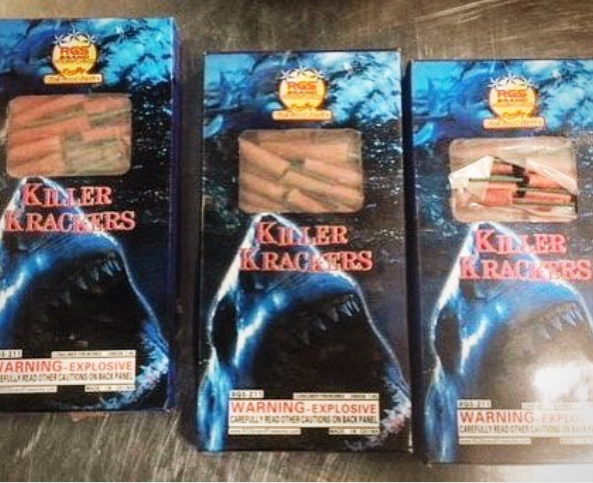 TSA has told people not once, but over a thousand times. Don't put anything that was designed to explode inside your hand luggage or any luggage. This includes firecrackers with a brand name like Killer Krackers.
Firearm Hidden in Clay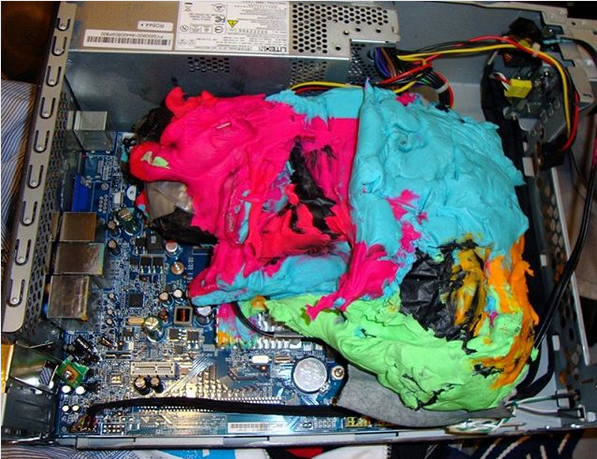 TSA officials at George Bush Intercontinental Airport found a loaded 9mm firearm covered in modeling clay. The blob was hidden inside a computer hard drive. But as it turns out, guns are allowed in luggage so long as they are unloaded and packed properly.
Giant Wooden Hammer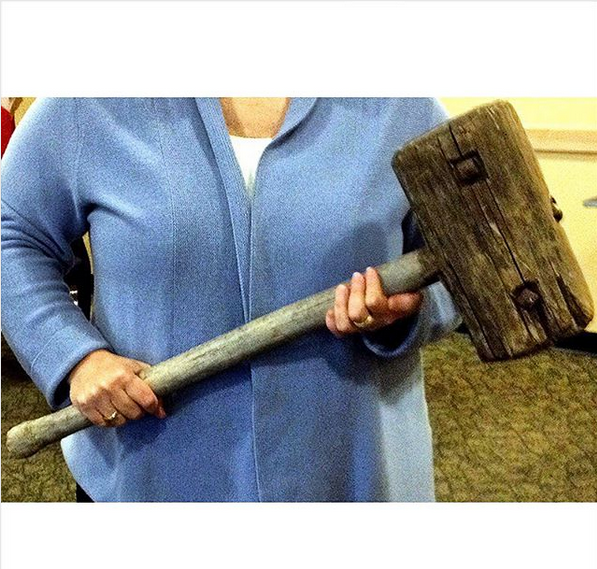 Officials at the Burlington International Airport confiscated a humongous wooden mallet. Since mallets and sledgehammers can be used as a weapon, they're now allowed as carry-ons. But they are allowed inside checked baggage.
Fake Bomb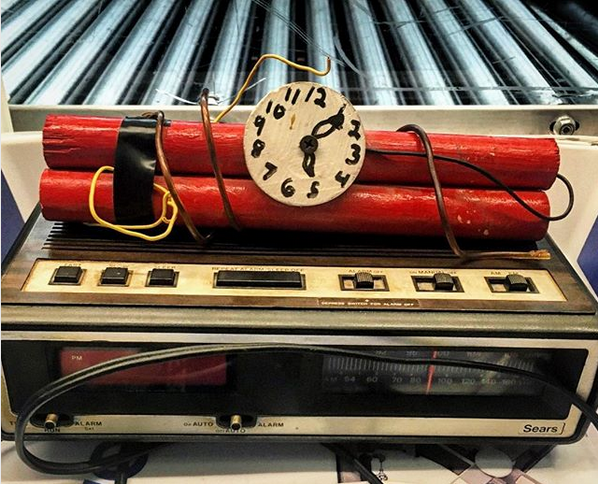 It might look like an old Sears alarm clock jury-rigged into dynamites. But security at Chicago O'Hare International Airport discovered that it was completely fake, not that this stopped TSA from performing a more thorough security check that led to delays.
Monster Holding a Grenade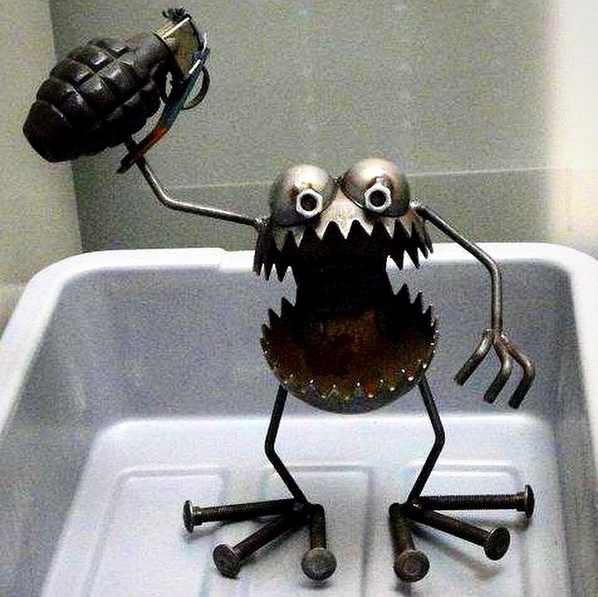 TSA officials confiscated this odd-looking metal monster holding a hand grenade at the Eagle County Regional Airport in Colorado. The device was inert. Not that this mattered to security. Grenades, inert or otherwise, are forbidden in luggage.
Python in a Hard Drive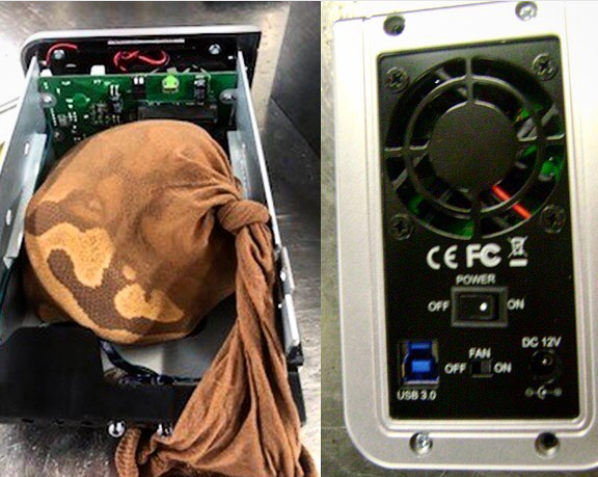 TSA found this ball python which was curled up in a nylon stocking inside a seemingly harmless CPU's hard drive. Who knew the mother of all snakes would be lurking inside an unsuspecting item like a motherboard?
Knife in an Enchilada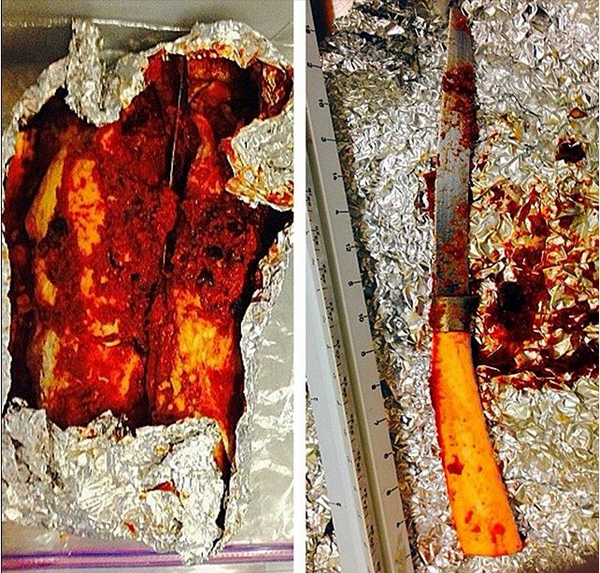 A passenger arrived at Sonoma County Airport and attempted to board a flight with a knife in her enchilada. The meal and weapon were wrapped in aluminum when TSA officials confiscated it. But when they realized she just wanted to use it to eat her meal, they allowed her to board the flight, minus the knife.
A Cell Phone Stun Gun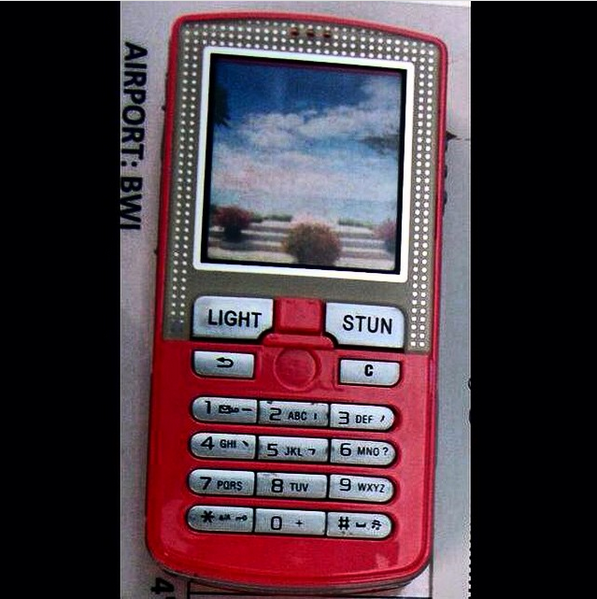 TSA officials at the Baltimore-Washington International Airport confiscated a stun gun designed to look like a retro cell phone from the early 2000s. Stun guns aren't allowed in carry-on bags, but they can be packed in checked luggage.
Giant Scissors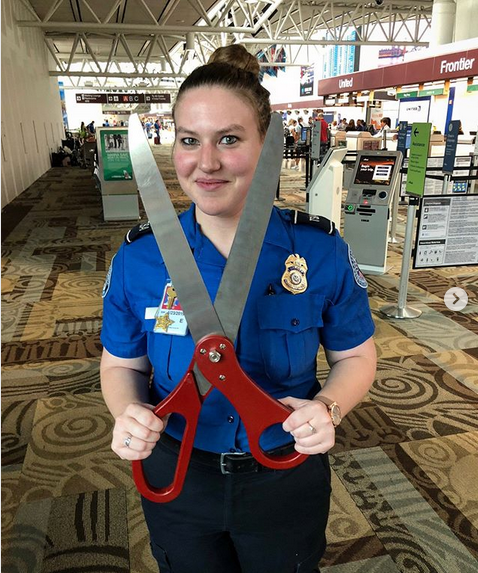 You can't bring any type of knife with you on the plane. But oddly enough you are allowed to bring scissors in your carry-on luggage. They just have to be shorter than four inches from the fulcrum. Which explains why these humongous scissors designed for ceremonial ribbon-cutting were confiscated at the Nashville International Airport.
Knife Hidden in Belt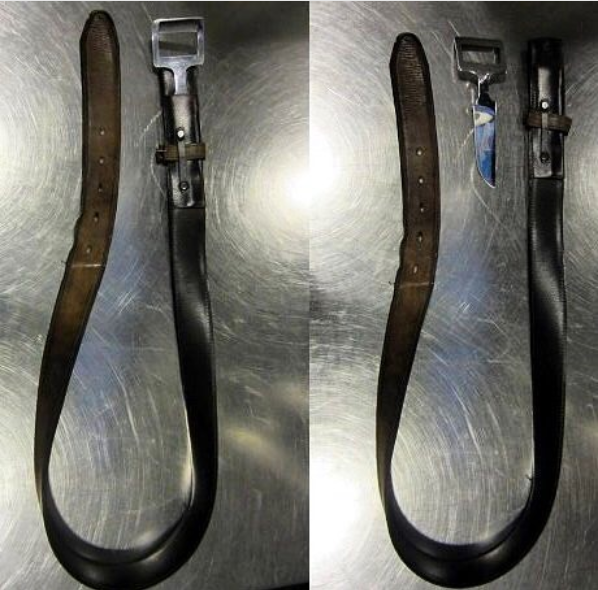 It looks like a harmless belt, but TSA officials at Detroit Metropolitan Airport found that the belt had a knife hidden inside a compartment. If the belt had been placed inside their checked luggage, it would've been okay. But it was confiscated because concealed weapons aren't allowed in carry-ons.
Live Kitten Hidden in Luggage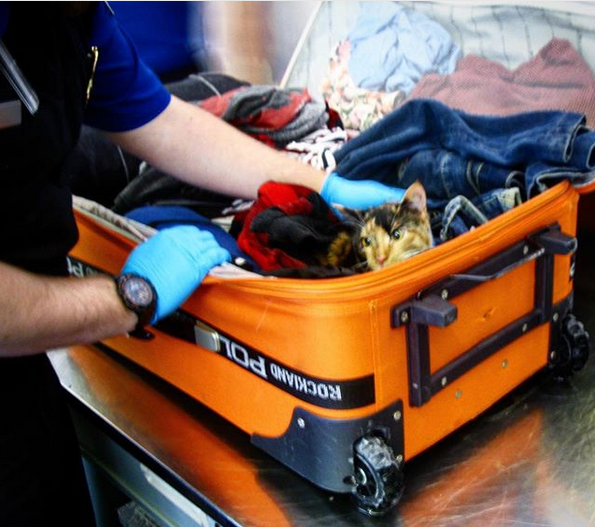 There are ways to transport domestic animals. This wasn't one of them. When TSA agents at Erie International Airport checked a Florida couple's luggage, they found a cat stowed away inside. It was turned over to the Humane Society of Northwestern Pennsylvania. The couple faced animal cruelty charges, which was to be expected.
Chihuahua Stowed in Luggage
During a random baggage check, TSA officials at New York's LaGuardia Airport spotted a chihuahua inside a luggage bag. But he wasn't smuggled. He actually snuck into his owner's luggage while she was busy packing. Fortunately, officials were able to find the owner and reunite her with the pooch.
Bear Deterrent in Luggage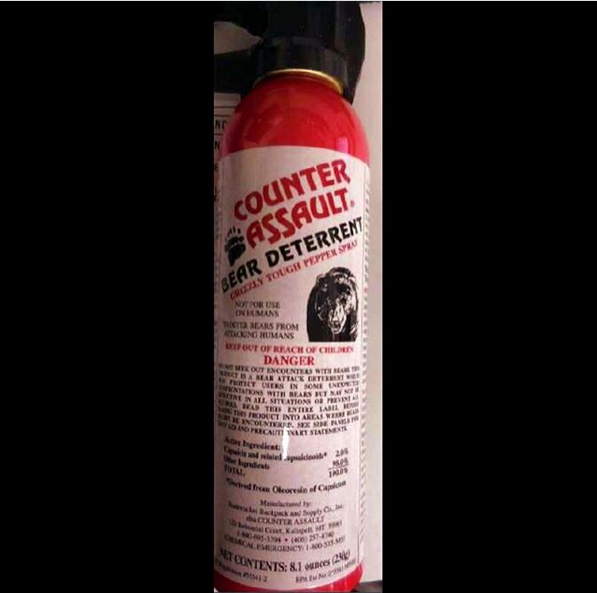 TSA agents confiscated a can of bear deterrent at the Seattle-Tacoma International Airport. But it's not because it wasn't allowed. Bear mace and other types of mace are allowed aboard a plane as long as they are in a checked bag and only if it's under four ounces. Unfortunately, this can wasn't.
Batman's Batarangs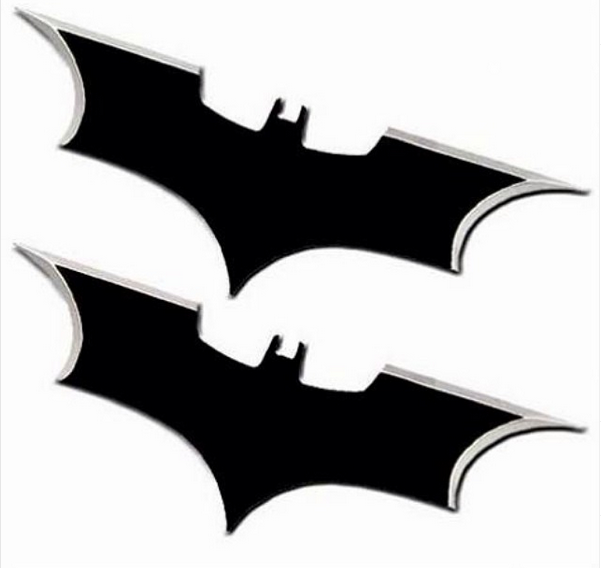 Batman fans know that the Dark Knight uses boomerangs he calls Batarangs. But when a passenger at Newark Liberty International Airport tried hiding a pair inside a carry-on bag, airport security confiscated them because as cool as they are, they're still sharp as knives.
Cannonball and Antique Flare Gun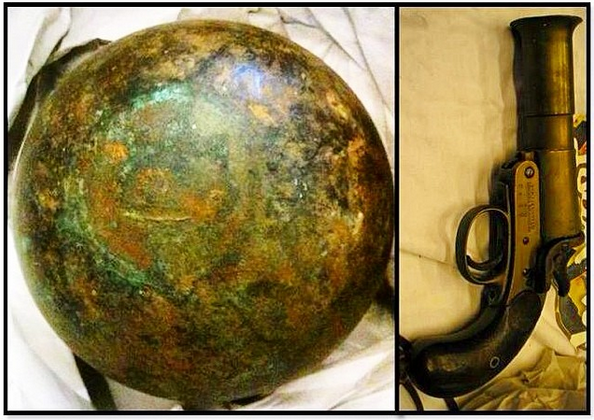 TSA officials at the Kahului Regional Airport in Hawaii discovered someone bringing a cannonball and an antique flare gun inside their carry-on bag. Even though souvenirs like these are nifty, they can get you kicked off a plane or worse.
Ninja Climbing Claws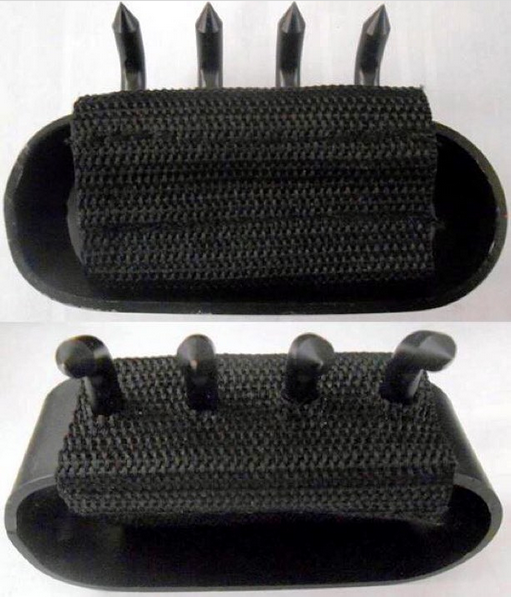 TSA officials at Savannah/Hilton Head International Airport don't play games. So, when they found a pair of ninja climbing claws in a carry-on bag, they confiscated it immediately. But here's a future reference for all you ninjas out there: these claws can be packed in checked bags.
Exotic Birds in Socks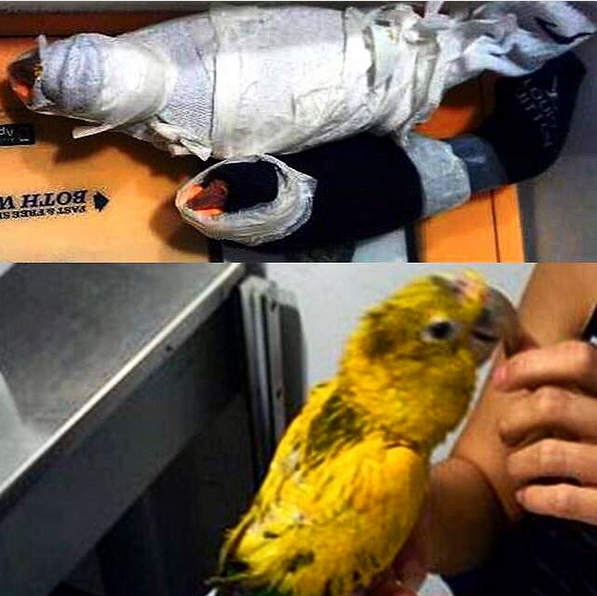 TSA officials at Los Angeles International Airport did a pat-down on a passenger and discovered two birds wrapped in socks and taped to her chest and leg. The woman was arrested on suspicion of smuggling and exporting an endangered species out of the United States.
Dinosaur-Shaped Grenade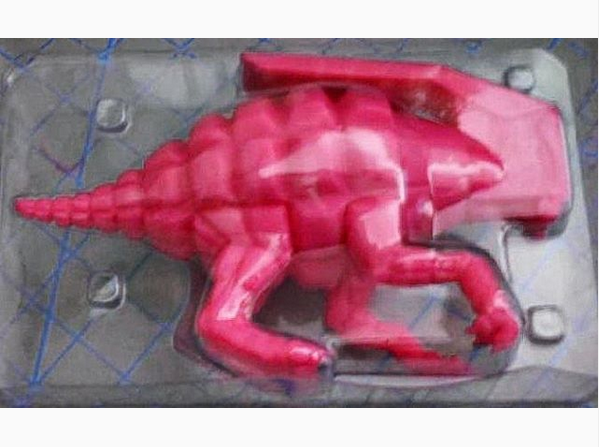 It's a harmless pink plastic toy. But this dinosaur is shaped like a grenade. So, when a TSA agent was inspecting a carry-on bag at the airport in Denver, Colorado, they confiscated it right away. The passenger also learned that you can't put anything that resembles a grenade in your bag, even if it is just a kid's toy.
Knife in a Comb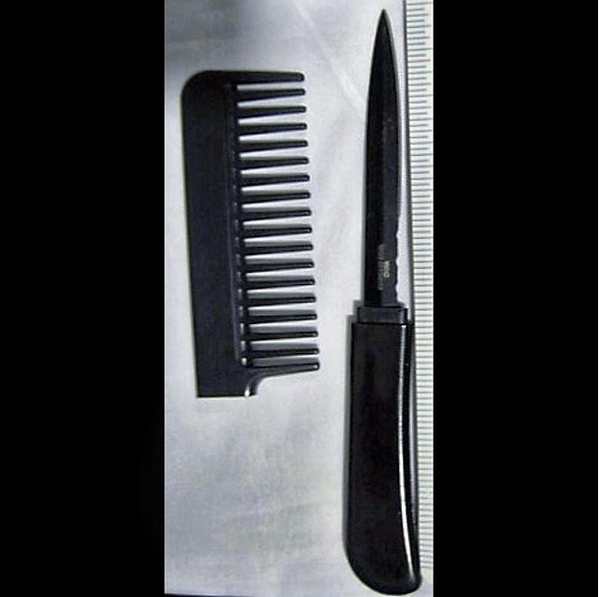 TSA officials at the Boise Airport discovered that a passenger was trying to sneak into a plane carrying a knife disguised as a hair comb. But when they pulled the top open, they realized what it truly was. The individual could have faced a fine or even gotten arrested.
Knife in a Spork
Some items might not be what they appear to be. Take this fancy looking spork that TSA agents confiscated at Myrtle Beach International Airport. When the bottom half was removed, it revealed a terrifyingly sharp knife. It's a good thing authorities discovered it before the passenger boarded the plane.
Contraband in a Microwave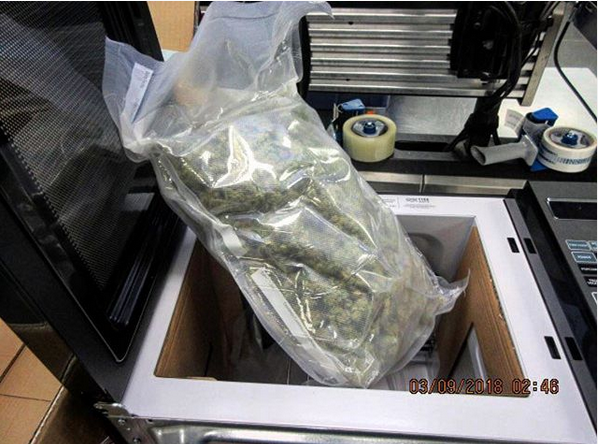 TSA agents at Ted Stevens Anchorage International Airport in Alaska found a bag of contraband stuffed into a microwave that was transported as checked baggage. Once it was discovered, the agents were forced to notify the police right away.
Stun Gun Disguised as Lipstick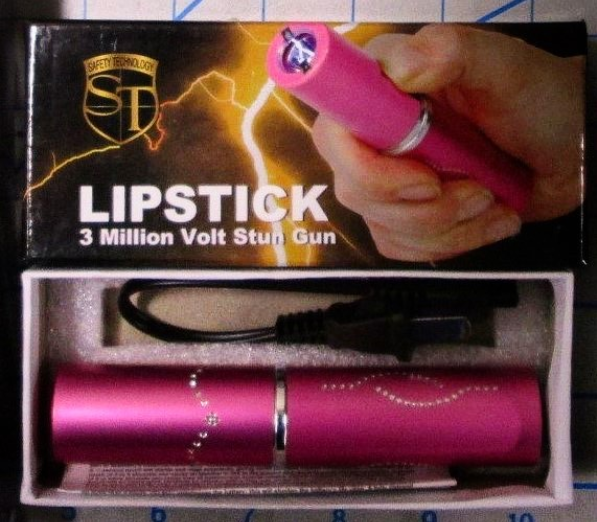 TSA officials at the San Diego International Airport in California made an electrifying discovery when they realized that the only shade of lipstick one passenger had been carrying was 3 million volts. It was confiscated immediately. TSA agents later warned passengers on Instagram that stun guns can get you grounded.
Blade in a Cross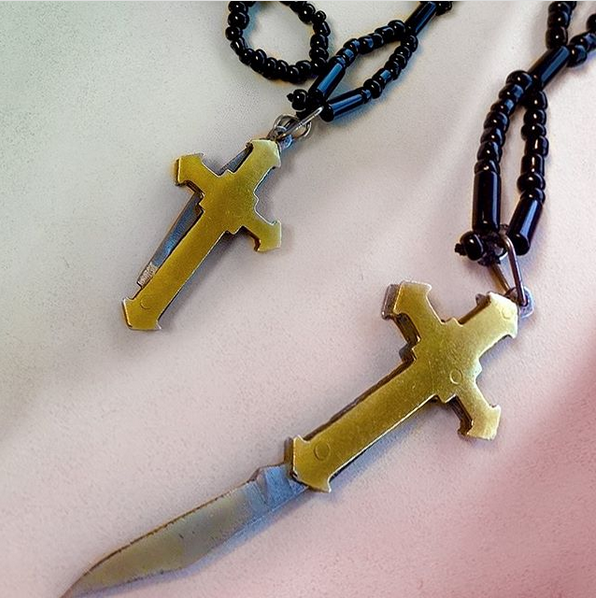 Jesus might love this, but TSA agents didn't. These crosses had hidden blades, which forced authorities at Dulles International Airport to confiscate them. The only type of knives that are allowed aboard include round-bladed butter knives and plastic cutlery, according to TSA.
Umbrella With Knuckle Dusters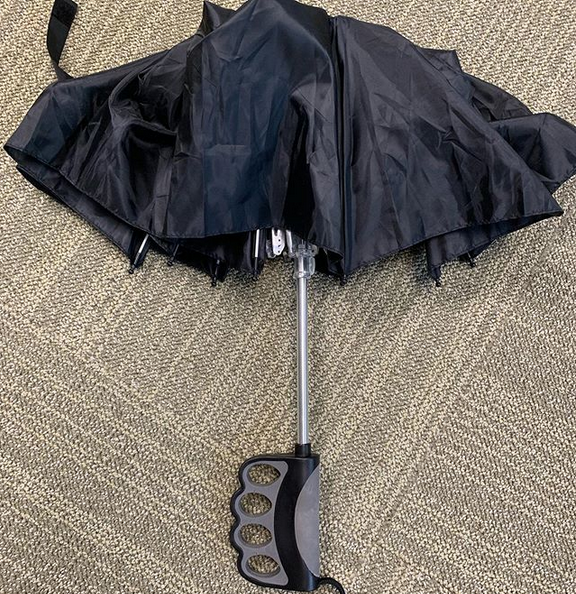 TSA authorities at Dulles International Airport confiscated this umbrella from an elderly passenger. But it's not as though the man was innocent either. The umbrella's handle was a knuckle duster, which is a pretty handy self-defense weapon to have (no pun intended). Just not when you're at the airport.
Blade With Cobra Handle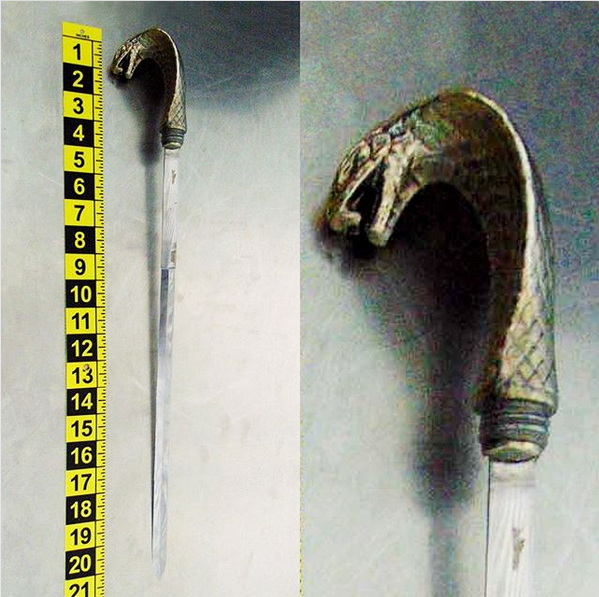 A passenger at an unnamed airport tried to go all Jafar from "Aladdin" and put this cobra-handle blade in their carry-on bags. But TSA agents had to take it from them. If the passenger had just placed it in their checked bags, they'd still own it.
Inert Mortal Round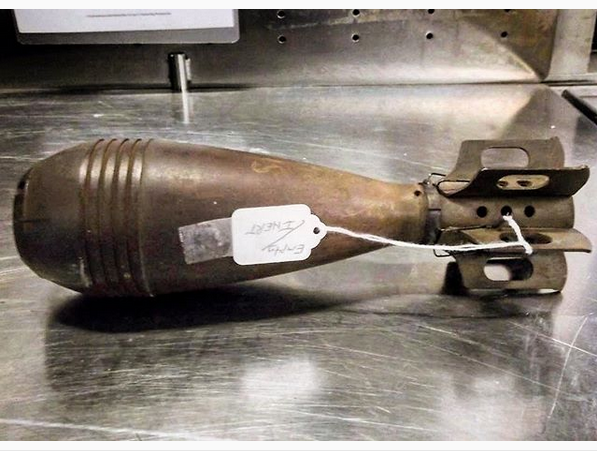 TSA officials at the Evansville Regional Airport discovered a traveler carrying a mortar round in one of their checked bags. Even though it was inert, it was still seen as a threat and taken. To deter others from doing the same, they warned others that such an incident can lead to delays, hefty fines and arrests.
A knife in a Carry-On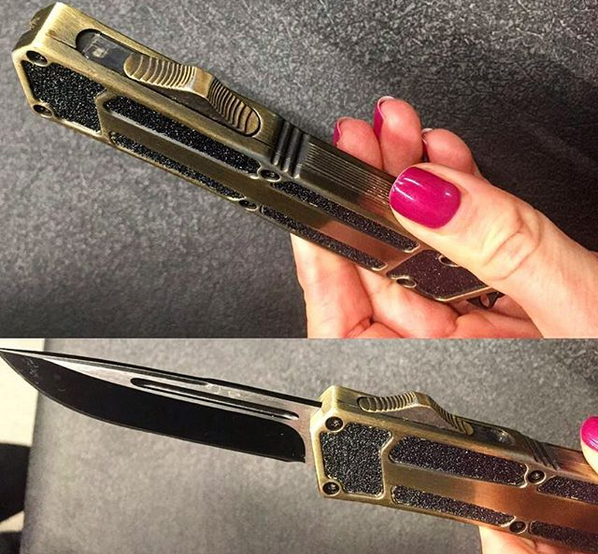 TSA agents at Chicago O'Hare International Airport found this knife with a cool handle inside a carry-on. Had it been left in a checked bag it wouldn't have been an issue. Unfortunately, this proved TSA's point, literally, that knives and air travel just don't mix.
Paint Roller With Nails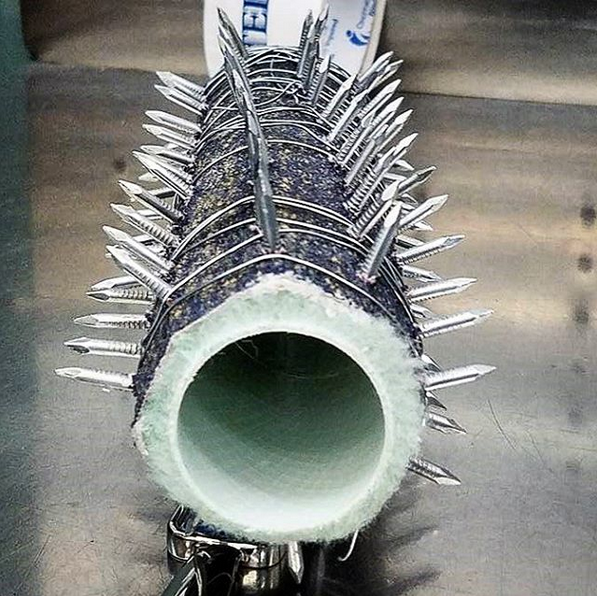 TSA agents at Chicago O'Hare International Airport discovered this paint roller wrapped in sandpaper with nails protruding from it. It looked a bit like Negan's weapon from "The Walking Dead." But as cool as it is, the passenger shouldn't have brought it.
Torch in a Carry-On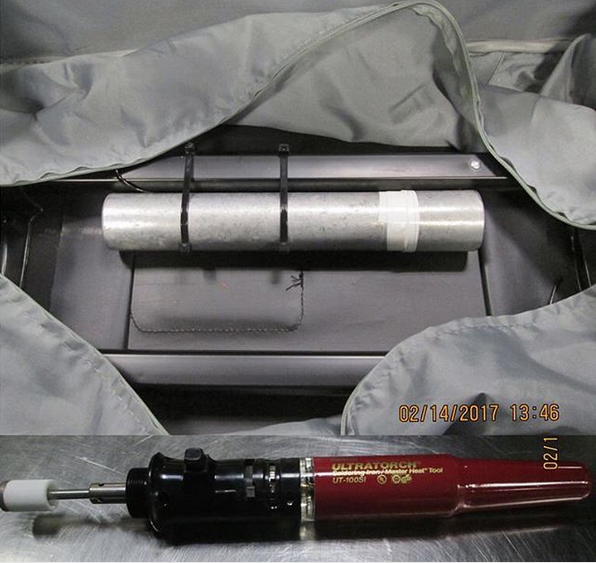 TSA officials found a passenger trying to sneak in a torch at the Reno-Tahoe International Airport. He placed the device in a metal pipe and tied it to the handle mechanism under his bag's lining. But his pipe dreams were shattered when it was taken from him.
Grim Reaper Knife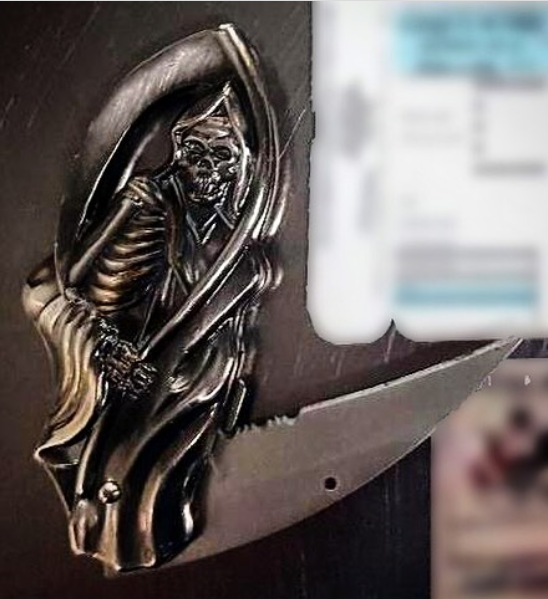 TSA agents confiscated this creepy looking Grim Reaper knife in a carry-on bag at the Daniel K. Inouye International Airport in Hawaii. Officials had no choice but to take it from him before he boarded the plane and knocked everyone dead with it.